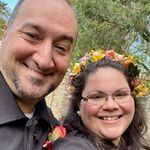 W-K
My wedding was October 2019. Simple and elegant on a shoestring budget. My husband and I have decided to renew our vows every year because after the... View More
My wedding was October 2019. Simple and elegant on a shoestring budget. My husband and I have decided to renew our vows every year because after the panorama, it's worth celebrating every moment of being married.
Happily married 🎉
October 11, 2019

a Safe Space for the Unconventional Weddings
After reading so many comments about what a travesty having a gap in-between your ceremony and cocktail hour is, I was terrified that no one was going to want to come to our wedding. Why? Because,...