33 Reviews
Recommended by 100% of couples
Quality of service

5 out of 5 rating

Average response time

5 out of 5 rating

Professionalism

5 out of 5 rating

Value

5 out of 5 rating

Flexibility

5 out of 5 rating
17 User photos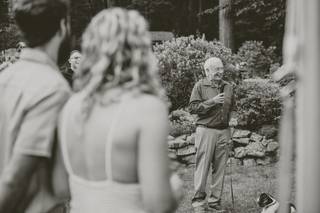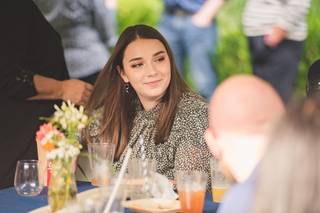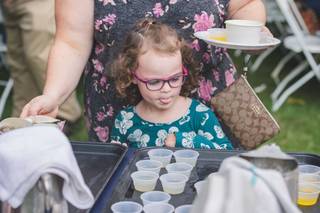 + 13

photos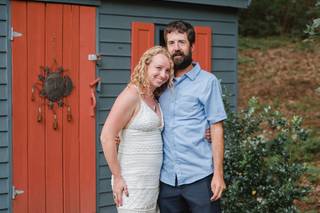 Julie O.

Married on 09/11/2021

Brooke Whicher Photography Magic

Like many brides in 2020/2021, our wedding celebration was changed and rescheduled 3 times before we were finally able to celebrate with our family in a casual back yard event. The location changed 3 times but Brooke was always a constant! Brooke was extremely flexible and helpful throughout the whole process. Not only was her photography beautiful but she was really helped walk me through many suggestions about how to make the DIY event work and flow. I appreciated all the expertise she gave me! Brooke was very friendly, professional and extremely responsive. During the event she was a pleasure to work with and I absolutely love the results. After the bumpy road we had being a Covid couple, I am so happy with the photos that Brooke produced. They came out gorgeous and will always be so special to us. We are extremely happy with our decision to use Brooke and she truly made the event so special. Thank you Brooke! Photos included are examples of her magic!

+ 3

photos

Susan

Married on 07/27/2019

Absolutely amazing!

Brooke was absolulty amazing to work with. From the begining she spent the time to understand what was important to us at the wedding and what we really wanted to make sure she captured. She ensured that that her piece of what was a very hectic day was for us was one in which we didnt need to worry about. In fact, she went above and beyond to help make other parts of our wedding go smoothly. After she took the time to meet with us she stayed in contact up until the wedding to make sure we would get every picture we wanted, which was a very long list. She even helped me find a better place to get my cake from.

Brooke captured every moment of the wedding with such quality that we literally cannot decide on which pictures we want to print and hang because they all came out so perfect. Her ability to identify when something special is happening and capture it perfectly, especially outside of the normal ceremony and formal pictures, is second to none. We also loved the way she framed and captured the small things, from our rings to the dress to the cake, she took the time to make sure we will have ever lasting memories of everything.

We were lucky to have Brooke shoot from the time the bridal party and I started to get ready at the saloon before the wedding up through the last formal wedding activity was complete. With her bubbly personality and awesome sense of humor it was really like having a friend you had known for years hanging out and taking pictures, as opposed to some lurking stranger giving direction and snapping off pictures. The end product was amazing. It only took about 2 weeks to get the pictures back and we were blown away by the presentation and quality of them.

Overall we couldn't have been happier and Brooke is awesome. If you get the opportunity to have her shoot any of your events do not hesitate to book her. You will not be disappointed.

Brooke Whicher Photography, LLC's reply:

Thank you so much for this! The pleasure was all mine and I'm so happy that I was able to witness such beautiful love.

Pam N.

Married on 06/16/2019

Professional, Creative and Efficient

Brooke had a quiet, confident style that allowed what can sometimes be chaotic (group photos) to be a smooth efficient process. She was organized before the event so day of she had a plan and all the important pictures were captured. It was important to my daughter (the bride) to have outdoor pictures so despite the torrential rain she made that happen. The sneak peak pictures I've seen are great and can't wait to see the rest!

Brooke Whicher Photography, LLC's reply:

Awww thank you, Pam! I was honored to be part of her big day. Love your family! Thank you for taking the time to leave me a review!

Are you interested?

Send a message

Kirstie

Married on 06/08/2019

nothing short of amazing!

What can I say about Brooke other than she is AMAZING! We have received a sneak peak our wedding photos and are already in love! Brooke has a way of making you feel like you have known her forever. We have never felt so comfortable allowing someone to shoot the most important day of our lives! Plus he was totally ok with our pup joining our photo shoot! Her communication, flexibility, and knowledge are everything you want in a wedding photographer! We can't wait to use her again!

Brooke Whicher Photography, LLC's reply:

Thank you, Kirstie! I had a blast and I love love love that we incorporated Bailey the pup into your engagement session and some photos at the wedding! What a blast!

Erin N.

Married on 05/11/2019

Excellent!

We had so much fun working with Brooke! Her communication with her clients is impeccable and she catered to my every wish. I wish we could relive this day again and again!

Keith

Married on 09/22/2018

Brooke is amazing!! We hired her for our wedding day and could not be happier that we did. Our photos came out better than I could have imagined and she got them to us in exactly ONE week from our wedding! I've never even heard of such a thing, it was lightning fast.

We did not want to do an engagement shoot and I told Brooke this the first time we talked on the phone. She said that was fine, although I was nervous because I have read that enagagement shoots are the time you and your photographer bond and get to know each other's style, and especially for the couple to be comfortable being photographed before the wedding day. It was never even an issue. Brooke makes you feel so at ease, it's like she wasn't even there. Some of the shots she captured, I'm surprised it's even me! She is so talented.

She brought along her second shooter, Allison, who was also phenomenal and she was very fun and great to work with. All in all, we are so happy we had Brooke with us on the most important day of our life. We will cherish these photos forever.

Alyson

Married on 06/16/2018

Brooke was the photographer for my wedding on June 16, 2018 at Granite Links Golf Club in Quincy, MA. When my fiance first met Brooke, it was like we had known her for years. She is so easy to get along with, professional, and most of all RIDICULOUSLY TALENTED! We opted to take advantage of the engagement session which I highly recommend, as it gave us a chance to work with Brooke before the wedding and feel comfortable around the camera- and we had a blast doing it! Brooke was insanely responsive with texts/emails/phone calls which, I think, any bride would appreciate. She helped plan a timeline with us which eased my anxiety greatly. Her positive energy and bubbly personality were essential to my wedding day. She kept me SO calm (way more than my wedding coordinator) and most importantly, ensured that we had an absolute blast shooting. My entire bridal party loved Brooke, she fit right in with us, it was like having a friend with us the whole day! Needless to say, our pictures came out phenomenal. SO many guests/ facebookers have reached out to me saying how amazing our photos came out.. and that's all thanks to Brooke! Sorry for her, but she is going to be stuck with us for years to come... :) Love you Brooke!

Kara

Married on 12/02/2017

My friend Brittany is a photographer, when I told her that I wanted her in my wedding, she pointed me in the direction of a few of her friends. Upon seeing her website and her photos, I fell in love. We set up a meeting to discuss everything and ended up staying for 2 hours and that is saying something. Brooke has a way about her to make you feel extremely comfortable during the entire process. My husband and I had our engagement pics done with Brooke in North Conway and she was a champ! 10 degrees and she was game for everything. We cannot say enough good things about Brooke and her incredible talent. She got our photos of our wedding to us on Christmas of this year and let me tell you...no one can stop saying great things about her. Do yourself a favor and book Brooke! You will not be disappointed!

Elysia

Married on 09/10/2017

I cannot say enough great things about our experience working with Brooke as our wedding photographer. One of my co-workers had Brooke shoot her son's bar mitzvah and suggested I consider her, and I am so glad I did. First of all, Brooke is such a professional. She comes to each meeting organized and ready to collaborate on ideas. When I had questions, Brooke was always able to give me advice based on her years of experience, so I felt confident we were going in the right direction. On the day of the wedding Brooke kept our photo checklist by her side, which ensured that no formals were missed and that things were kept moving at a brisk pace, yet she was still so kind and courteous when interacting with our family members, especially the older generation. Brooke also has a great sense of humor, which made us so comfortable working with her. During one of our meetings I brought up that it was often hard to coax a smile out of my husband-to-be in photos, so she started brainstorming ways to make him laugh to loosen him up on the day of the wedding, which I loved. Above everything else, though, Brooke is a skilled photographer. We are so happy with how the photos turned out (and how quickly she sent us a link to the online gallery – they were done before we were back from our honeymoon!). Brooke truly captured the spirit of the day, from the lovely setting to the emotions on our guests' faces, and made my husband and I look incredible. I can't thank her enough!

Rebecca

Married on 06/24/2017

Brooke Whicher's photography and professionalism is outstanding! She was an absolute pleasure to work with not only during the wedding but, through out the planning process. She helped us feel more comfortable for the big day by helping us capture beautiful engagement pictures. We knew from the moment we met her that we made the right choice, but her photography speaks for itself. I got married 5 months ago and still all my family and friends can talk about is the breathtaking pictures she captured. The day flew by, so we are thankful we have our beautiful pictures to cherish for a life time! Good luck choosing just a few to frame! We cannot recommend Brooke enough!! <3

Ali

Married on 05/27/2017

Where do I even begin. She was so organized and captured some of the best moments. I was so happy that she was part of our day. She made it all so easy and helped make us both feel so comfortable. I never felt more beautiful and I really believe she captured all of the best moments. I cannot wait to see the rest of our photos but I know by the handful that I saw so far as a sneak peak, i'm going to be so happy!! She became a friend a long the way and i'm so happy. She helped make it a truly magical day! Would recommend her over and over and over again!

Jessica

Married on 05/21/2017

What can I say about Brooke without sounding like an obsessed fan girl. Our first phone call made me feel so confident that we were making the right choice. When we met for the first time Jason and I left knowing that we had a life long friend who was going to capture our wedding day perfectly. She was genuinely interesting in our story! She's smart, she is efficient, and she has an eye for what is beautiful and natural. She made sure our timeline was adhered to (including wrangling all of those family members for formals). More importantly she made Jason and I feel amazing! Thank you does not seem like enough!

Marissa

Married on 05/05/2017

Brooke is a fabulous photographer and person to work with on your wedding day! She was so responsive beforehand with all of the planning and we truly felt comfortable with her when taking all of the photos. I was absolutely amazed at how beautiful all of the pictures turned out and how she was able to capture so many great candid moments between our family and friends. I had never worked with a professional photographer before and Brooke has set the bar high! I hope to work with her again:)


Ali

Married on 09/30/2016

Brooke photographed my wedding a couple weeks ago & she is by far the BEST! She is incredible at what she does. She is so organized before & at the event, I honestly felt like she was my wedding coordinator for the day!

With her spunky personality & sense of humor I knew she was the perfect fit for our wedding.

We are so thankful that she was able to help us celebrate our day & capture the moments that matter. Xo

Paula

Married on 09/24/2016

Brooke is absolutely amazing at what she does. She is so kind and personable. I had such a hard time finding a photographer who understood my vision and who connected with me and then I talked to Brooke on the phone and immediately booked her. We did our engagement photos with her and they were stunning. When we sent out our save the dates all of our guests were amazed. Then in did a boudoir shoot to make a gift for my now husband and I was SO nervous and then I got to Brooke's studio and she made it so easy. The book that I gave him on our wedding day came out better than I imagined. At our wedding Brooke and her second shooter were so calm yet cheery which is exactly what I needed! At our reception I could see them getting every moment and at the end of the night I felt like they were our guests! They were so friendly and when a family member pulled them over to get a photo they did it. Love her, I would most definitely recommended her to anyone getting married. She is the best out there.

Rachel

Married on 09/10/2016

Brooke captured our wedding on September 10, 2016 at Portsmouth Country Club. My husband Scott and I were absolutely thrilled with how professional and amazing she was. She has a truly amazing talent and was a pleasure to work with throughout the entire process- even after our wedding day! Both Brooke and her second shooter went above and beyond for our big day and we are eternally grateful to have these stunning photographs to look back on for years to come. I highly recommend her to anyone looking for a photographer for any special life events, especially your wedding day :) Cheers Brooke, and thank you so much!

Rebecca

Married on 02/20/2016

Brooke photographed our wedding back in February 2016, and I have nothing but amazing things to say about her! I discovered her through a friend who also had great things to say about her from photographing her wedding. For us, Brooke was always very attentive to our needs, always answered questions promptly (even those questions I had that I thought were silly!), and always made us feel comfortable, while also being honest and fair. Our engagement photos came out beautiful and she got them to us so quickly! When it came time for our wedding, she always knew how to direct us even in a setting she hadn't been before (not to mention, it was a hike for her to get to!), but yet she was never pushy with us and let us also enjoy our night. Our guests kept saying how awesome she was at always sneaking into the right spots to get great shots and she blended herself in easily!! The final portfolio was truly breathtaking and we are currently in the process of getting our favorites printed. Brooke is an amazing photographer (and friend!) overall and I am definitely recommending her to all my friends and family!

Tanya

Married on 10/17/2015

Brooke Whicher completely exceeded my expectations as a wedding photographer. When I started the planning of my wedding, I knew photography was going to be one of the most important factors. Finding a photographer that we could trust, feel comfortable with and take photos that would fit the vision of my wedding was no easy task. After meeting with Brooke, we immediately knew that she would be the perfect fit for our day. Not only is she personable and easy-going, her photography is adaptable and she can channel your aesthetic and bring to life the ideas you have. You also don't consider how uncomfortable it can feel to have your photos taken if you aren't use to it so Brooke set up an engagement shoot so we could get a feel for the process and establish our rapport with each other. My now husband and I were immediately as ease and comfortable in her presence. With her direction, it was actually a really fun process. It's almost as if you are having your photos taken by a friend and not a professional photographer – she has such an easy going presence. On the actual day of our wedding, she was professional, determined and completely in the zone. The photos she captured of the whole day are beautiful and I feel extremely lucky to have had her apart of our big day. For the rest of our lives, we'll be able to look at these stunning photos with fond memories and I'm so grateful to her. I couldn't recommend her enough.

Kelly

Married on 07/18/2015

I can't speak highly enough of Brooke's ability to create the most stunning photographs. She knows how to make a photograph look classic without making it look stuffy. She was able to place my husband and I in such a way that it looked natural but also polished. Brooke is quick to respond to emails and flexible with meeting times. She is friendly and personable which made the whole experience that much greater. I received a compliment from a colleague yesterday on a black and white photo stating that it was classic and the kind of photos one sees in a wedding magazine. I can't speak highly enough of her talent and would recommend her to any bride and groom.

Kelly

Married on 07/18/2015

I can't speak highly enough of Brooke's ability to create the most stunning photographs. She knows how to make a photograph look classic without making it look stuffy. She was able to place my husband and I in such a way that it looked natural but also polished. Brooke is quick to respond to emails and flexible with meeting times. She is friendly and personable which made the whole experience that much greater. I received a compliment from a colleague yesterday on a black and white photo stating that it was classic and the kind of photos one sees in a wedding magazine. I can't speak highly enough of her talent and would recommend her to any bride and groom.

Katie

Married on 06/27/2015

Brooke was great to work with! SUPER responsive (I love seeing pics on Facebook right away!)--we got out wedding pics within a week of our wedding. She is very laid back and easy to work with. Everything thought that the pics really captured the spirit of our wedding, which is exactly what we wanted! We hired a second shooter as well and she was also great.

Elisabeth

Married on 10/12/2014

We were lucky enough to have Brooke Whicher photograph our wedding this fall and we couldn't have been more grateful that we did!
Brooke is unbelievably talented and so much fun to work with. Photographs last a lifetime, so selecting the right photographer to capture those special moments was crucial for me. A friend recommended Brooke, When I called her and told her that I wanted a glitter themed wedding, She was ecstatic! I could tell right then and there that she was the photographer I needed to have. She has a perfect way of making everyone feel comfortable and relaxed while capturing the best moments. Not only does she put up "sneak peeks" the next day, she gets pictures back to you, edited, and in lighting speed! I would highly recommend Brooke, not only is she an amazingly creative photographer, but very responsive and professional. A true pleasure to work with!

Autumn

Married on 10/04/2014

Brooke Whicher is a truly amazing photographer. She is so wonderful and easy to work with, and always makes you feel so comfortable. Brooke makes any "awkward" situation un-awkward and can bring out the confidence in anyone! If you come to Brooke with an idea she will capture that plus so much more. Her candid shots are to die for, and I could not be happier that we had Brooke for the most important day of our lives. I look forward to hiring Brooke again as our family grows, and trust her completely to capture all of our special moments.

Alisha

Married on 09/27/2014

I was referred to Brooke Whicher Photography through a co-worker and after talking to Brooke on the phone I immediately hired her because she was so professional, answered all of my questions, and just made my whole planning experience really enjoyable. My husband and I had a long engagement but Brooke stayed in contact with us the entire time to check in, discuss details of our day, took the time to meet me in person, and in the meantime I also got to view a lot of her current work. The day of the wedding went better than I could have ever imagined and both Brooke and her second photographer received rave reviews from our guests. The finished photos she provided me really illustrated our whole day and I'm so happy to have so many great photos to choose from. Brooke was the easiest and best decision we made throughout the whole wedding process. I highly recommend Brooke Whicher Photography!

Kristen

Married on 08/22/2014

Brooke has been an amazing photographer from day one. I started working with Brooke when she first got started and was starting to build her business, fast forward to 6 years later she is photographing my wedding. Brooke has a way of making everyone feel immidatley comfortable, which also brings out the best pictures. I honestly cannot speak higher of her as person and a professional. I would highly recommend her to anyone, whether it's for a wedding, boudoir, head shot, or family picture.
Are you interested?
Send a message