Who's Responsible for Enforcing COVID Safety Guidelines at Your Wedding? (Hint: Everyone)
Wedding vendors, couples, and their guests must work together to keep everyone safe at a COVID wedding. Here's how.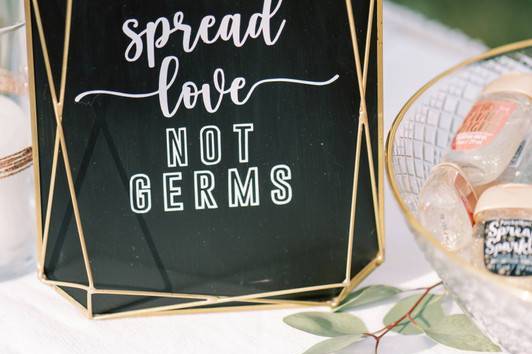 When it comes to hosting a wedding during the COVID pandemic, putting safety protocols such as mask wearing and social distancing in place is one thing—but making sure guests follow them is an entirely different matter. Turns out that couples and guests don't agree on who exactly should be enforcing these guidelines on the wedding day. According to a recent WeddingWire study, guests are most likely to say venue staff should ensure attendees are following safety protocols, while couples say that guests should self-monitor or staff at the venue should take responsibility. This confusion is compounded by the fact that guidelines from national, state, and local authorities aren't always in agreement.
So, whose responsibility is it? As a wise Zac Efron once sang: "We're all in this together." It may seem like a tall order, but couples, vendors, and guests must work in tandem to ensure everyone stays safe—and each group has an important role to play. Pointing fingers or assuming that someone else will enforce wedding safety guidelines can be a recipe for disaster. We talked to experts about how different groups can come together to ensure a safe and successful event.
Planners and Venue Staff: The Rule Setters
They set the protocols and get the vendor team on the same page.
If you're a couple planning a wedding, look to your wedding planner and/or venue staff who will likely be up-to-date on current national, state, and local guidelines and will set the safety protocols for your event. "Planners are looking at safety guidelines from a liability standpoint," says Summer Newman of Summer Newman Events in North Hollywood, California. "It's important for us to make sure that we are well aware of all of the regulations so we can manage other vendors." After discussing safety protocols with the couple, wedding planner and venue staff will communicate with other vendors to ensure everyone is on the same page.
They'll also handle day-of details.
On the day of the wedding, your planner and venue staff also monitor your guests and other vendors to make sure all protocols are being followed. "A venue will let me (the planner) know that guidelines aren't being followed and if that doesn't change, the event will be shut down," says Abbey Nims of Abbey Rose Event Planning & Design in Oregon City, Oregon. "The site contact then goes to the couple, and lets the couple essentially make the decision to keep the party going or not." Often, guest communication needs to come from the couple and fellow attendees, as some may not heed the warnings of wedding pros.
Note that if you're a couple hosting an at-home wedding and don't have a planner, you'll need to take on the above responsibilities—researching and following laws and guidelines, coordinating with your vendor team, and monitoring guests and vendors on the day of—yourself. If you haven't hired a planner, this might be a good time to consider it. Says Abbey: "With COVID specifically, it's so important to have someone to not only take some of the stress off of you, but someone who purposely keeps up to date on gathering guidelines to make sure your wedding goes off without a hitch."
Couple: The Communicators
Trust vendors and their expertise.
We can't say it enough: Couples and their wedding vendors need to communicate, if not over-communicate, and make sure everyone is in agreement about the protocols that will be followed on the wedding day. Make sure your wedding vendors have been introduced, if they don't already know each other, and can work together to ensure the event runs both safely and smoothly. "Couples have a responsibility to trust their vendors, and listen to their vendors," says Summer. Always err on the side of safety—for your vendors (and in effect, their families), your guests, and yourselves. You might not love the idea of having a plexiglass barrier around your bar area, but if it's to prevent someone from getting sick, don't push back.
Communicate safety protocols to guests.
Perhaps the couple's most important responsibility is communicating these safety guidelines to their guests. "Guests are more likely to follow protocols if they hear them firsthand from the couple," says Summer. That means sending an email a few weeks before the wedding to inform attendees of the safety measures, finding ways to remind guests of these protocols at the wedding (social distancing signage, sanitizing stations, etc.), and having conversations with close friends and relatives about monitoring guest behavior. While the couple should spend most of their time enjoying their day, they're also setting an example to their guests by following all protocols to the letter. It may also become necessary for the couple to enforce safety measures, or even ask a guest to leave if they're flouting the rules.
Wedding Vendors: The Experts
They'll share their knowledge with the couple and other vendors, and follow safety guidelines.
One of the main reasons to hire wedding vendors is because of their knowledge of their chosen field. Your wedding pros likely have been keeping up-to-date on specific safety measures in their area of expertise—in fact, according to a 2020 survey, 94% of wedding pros told us they understand their local restrictions as they relate to weddings very or somewhat well—and should keep couples and other vendors informed. For example, a caterer should share their best practices on food service, and a photographer can provide information about how best to handle family portraits. These guidelines should be communicated to the planner and venue staff so protocols and a wedding-day timeline can be created. If at any time a vendor feels uncomfortable or that safety guidelines are not being followed at the event, they should alert the planner or venue staff to remedy the situation. And according to Abbey, the wedding's DJ or emcee has a particularly important role to play, as they can make announcements and remind guests of guidelines if they're not being properly followed.
Guests: The Eyes and Ears
Read, understand, accept, and follow the safety protocols.
These days, guests are not only taking on the usual pre-wedding tasks like sorting out travel arrangements, buying a gift, and choosing attire. They also need to ensure they understand the safety guidelines set forth by the vendors and couple—and are prepared to follow them. Hopefully, the couple will provide their loved ones with all of the safety protocols well in advance of the wedding, so guests can make an informed decision about attending. Guests have a responsibility to ask the couple any questions to ensure they're totally clear about how the event will be run. If a guest cannot or does not wish to follow the safety protocols for whatever reason, they should RSVP no and attend the event virtually, if that's an option.
Party responsibly and serve as "eyes and ears" throughout the event.
Since the couple and venue staff can't be everywhere at once, they may enlist a few guests (such as their immediate family or wedding party members) to help enforce the safety guidelines, but all attendees should look out for any issues. While everyone will probably want to enjoy a drink (or two) and have a good time, the protocols shouldn't fall by the wayside after a few beers—so party responsibly. If a family member or friend feels comfortable approaching a fellow guest about a safety concern, they should do so. If not, they can let the planner or venue staff, or the couple, know.