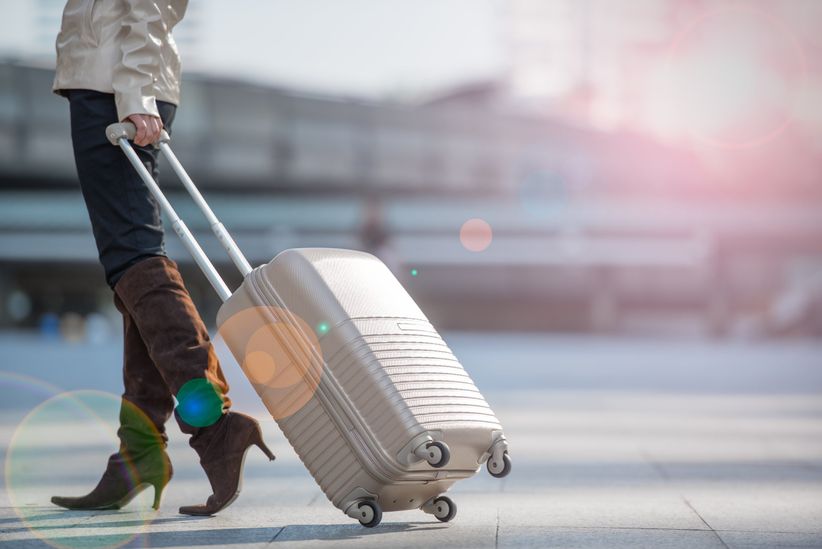 If you're flying to your wedding destination, whether it's a tropical island or your hometown, you're probably already stressing about packing. Traveling with a wedding dress and your other very important items might seem scary, but if you pack like a pro you'll ensure that all your belongings arrive to your wedding site safely.
Here's our guide to what to check and what to carry on when traveling with a wedding dress and other wedding-related items.
Carry On: Wedding Attire
If you're traveling with your wedding dress or tuxedo, you'll want to make sure it's close by at all times. You can carry on your wedding attire on pretty much all airlines, but some have spaces where you can hang your attire and on others, you'll have to put it in the overheard compartment. Call your airline in advance for most details, and talk to your flight crew, as most will be willing to help out to ensure that traveling with your wedding dress or tux goes smoothly. Also, be sure to bring a steamer (or have one waiting for you at your destination) in case your attire gets any wrinkles while in transit.
Carry On: Rings
While traveling with a wedding dress can be cumbersome, it's pretty easy to keep your rings safe. Stow them in a small interior pocket in one of your carry-ons and don't let said bag out of your sight—don't remove the rings from your bag, no matter how tempted you may be to admire them. You'll also want to carry on any other jewelry you'll be wearing on your wedding day.
Carry On: Legal Documents
Depending on where you're traveling, you'll likely need several forms of identification or other documentation in order to file for a marriage license. Be sure to make copies of your driver's license, passport, and any other necessary documents you'll need, just to be on the safe side.
Carry On: Rehearsal Dinner Outfit
If you're traveling with a wedding dress, your rehearsal dinner outfit might seem second-tier, but it's a good idea to carry it on if you can. Hopefully there won't be any issues with your checked bags, but in case there are, you don't want to be scrambling to find the another perfect rehearsal dinner outfit in the days (or hours!) before the event.
Carry On: Makeup
You'll likely want to have your makeup on hand, as it can be difficult to replace—especially if you're traveling to a foreign country. However, if you're traveling with a huge stash of makeup, you might want to check some of it and carry on the smaller, easily portable items.
Carry On: Cash for Tips
Compiling tips for your vendors is often saved for the last minute, but if you're traveling to your wedding, you'll want to organize your tips before you step on the plane. Organize these tips into envelopes and stow them in a bag that you'll have on your person during travel. If you're getting married in another country, talk to your planner or venue coordinator about what is customary when it comes to tipping.
Check: Daywear
Whether you're bringing swimsuits and sarongs or sweaters and parkas, any attire that's not directly related to the wedding can be checked. Yes, we know that you carefully picked each outfit you'll be wearing for every minute of your wedding weekend, but we have to draw the line somewhere.
Check: Honeymoon Attire
If you're leaving directly from your wedding location to your honeymoon, you should bring your honeymoon attire with you (and organize it in a separate suitcase if possible).
Check: Larger Toiletries
We all know by now that you can only carry on travel-sized toiletries. If you're bringing larger-sized items, you'll want to check 'em. However, medications or other important drug items should be carried on.
Check: Favors and Gifts
Ideally, you'd have any wedding favors or gifts sent in advance to your wedding location. If this isn't possible, these items should be carefully packaged and checked with your luggage. When shopping for favors and gifts, consider if they'll be transported via plane—avoid purchasing favors or gifts that are easily breakable or very large.
Check: Décor Items
As with any favors or gifts, your preference should be to ship any décor items to your wedding destination in advance. However, if you can't, you'll probably have to check them. These items, while important, aren't necessarily valuable enough to warrant space in your carry-on bag. You'll need to pack them extremely carefully (hello, bubble wrap!) to ensure they aren't damaged in transport.
Check: Copy of Your Invitation
This is an item that's often forgotten, but a definite must. Your photographer will likely want to take some stylized shots of your wedding invitation suite, so be sure to pack a copy or two of your invitation (including envelope, inserts, etc.) so you'll have one on hand for the big day.