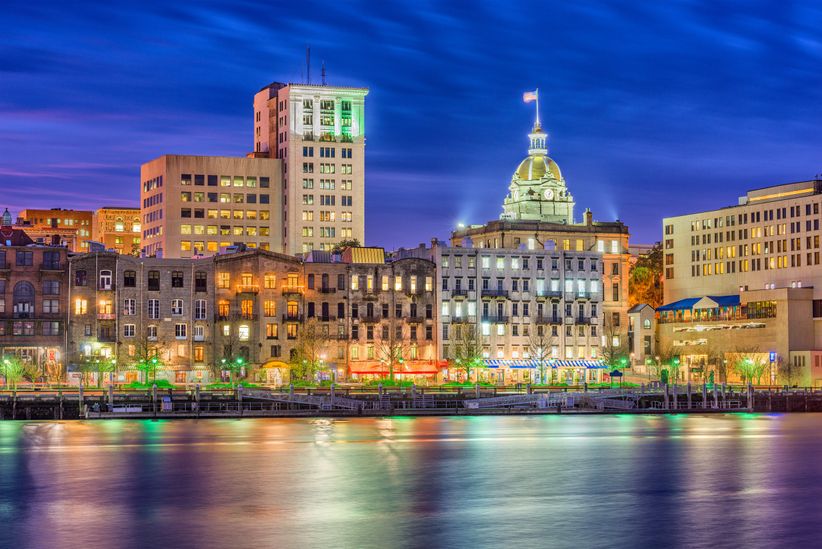 This Southern city has everything you need for an epic bachelor party from waterfront views and plenty of charm to good eats and an open container law. To make the best of your Savannah bachelor party, all you need is a good pair of sneakers, a hungry appetite, and a thirst for fun.
Oh, and a handy app doesn't hurt. Did you know that there's a tool called BACH designed to make planning, organizing, and booking your trip easier? With a whole section that spotlights Savannah attractions, it's worth checking out.
Ready to plan your Savannah bachelor party? Learn more about this amazing destination.
What to Do
A Savannah bachelor party is a great opportunity to hit the links, with prime weather, plentiful options for courses, and great views with your putting greens. If you and your friends want to play a round of 18, consider a round at The Club at Savannah Harbor or Bacon Park.
If you're more of the sea-loving types, Savannah's coastal location means plenty of opportunity to charter a boat, catch some rays, and reel in some fish. Consider taking to the waters with Amick's Deep Sea Fishing, among many other options. For other ocean-friendly excursions, head to Tybee Island where you can try body surfing or kite boarding.
Back on land, take advantage of that open container law with Savannah Slow Ride. On this 15-passenger peddle bike, you'll see the best of downtown Savannah, and stop at bars along the way for drink specials. Best yet, take a roadie from each bar to continue your ride.
There are plenty of places to quench your thirst throughout Savannah, including the famous frozen drink bar Wet Willies. But for local and craft bears, you can't beat spots like Service Brewing Co. or Moon River Brewing Co. There are also plenty of pubs to check out for sporting events or just a good time: Churchill's Pub is a great for a British vibe, while Kevin Barry's is for the Irish variety.
Of course, there's always the darker side of Savannah: its haunts. With its old history and plenty of mystery, there are plenty of ghost tours to be taken throughout the city. Creepy Crawl combines the eerie spooks of the city with a drink-all-you-can pub crawl (it will help you keep those goosebumps away!).
For your night out, there are plenty of bars throughout Savannah that offer great drinks and fun. Rocks on the Roof is a swanky waterfront spot with great views and fire pits on the rooftop digs. At Savannah Smiles, you'll mingle with plenty of other bachelor and bachelorette parties to watch the famous dueling pianos—and the drink specials are so good you might find yourself on stage singing along soon enough. (Book ahead so you and your crew will have tables, this place gets crowded.)
Where to Eat
One of the best parts of a Savannah bachelor party is the food. Whether you prefer southern comfort foods, quick bites, or tasty fresh seafood, this town has it all. For some local favorites, gets some world-class 'que at Wiley's Championship BBQ. Or head to the Green Truck Pub for fantastic burgers—they offer more than 10 varieties, including the Trailer Park, a burger with pimento cheese, bacon, tomato, and onion.
If you happen to wake up in time for brunch, there are some great options to check out. Among them is The Collins Quarter, an Australian-focused spot with unique breakfast options like braised pot roast potato hash, brioche French toast topped with pulled pork, and a harissa lamb burger.
At The Ordinary Pub, take in gastropub fare like pork belly donut sliders, loaded fritter tots with gouda cheese sauce, bacon, and chives, and stuffed meatloaf. For a high-end seafood and steak dinner, check out Belford's Savannah Seafood & Steaks for award-winning jumbo lump crab cakes or 38-day age filet mignon.
Then there are Savannah staples: The Olde Pink House is a Lowcountry dining experience set in an 18th century mansion. Menu options include deep dish chicken pot pie, crispy fried lobster tails, and bone-in cowboy rib eye. At the Crab Shack on Tybee Island, you'll find a more casual setting and fresh seafood options like oysters on the half shell, Alaskan king crab legs, and a low country boil plate. Don't forget to check out their 78 live baby 'gators.
For late night eats, there's nothing better than Vinnie Van GoGo's pizza, open till midnight on weekends. Their fresh Neapolitan pizzas will be everything you need to keep your night going.
Where to Stay
There are plenty of houses to rent in Savannah, from downtown city charmers to coastal reprieves along the nearby beaches. Then there are plenty of hotels, which make getting around the city (which you'll do mostly by foot) a breeze.
The Westin Savannah Harbor Golf Resort and Spa is a great place for a luxe bachelor party right on the waterfront.
The DoubleTree by Hilton in Savannah's Historic District is in easy walking distance to almost everything you'll want to see, and a great mid-range option that includes comfy rooms and a breakfast buffet.
For the suite life, check out the Old Harbour Inn, this boutique riverfront hotel offers two-level suites and lots of luxe amenities for an escape from the party life.
Disclosure: This post contains affiliate links, some of which may be sponsored by paying vendors.