California's sunny beaches might be top of mind for a lot of people when it comes to West Coast scenery, but the countryside is just as impressive. If you're getting married in the Golden State, you won't be disappointed by the gorgeous views at these Santa Barbara wedding venues and wineries. From rustic mountainside wineries to luxurious European-inspired villas, there's a Santa Barbara vineyard venue for every wine-loving couple. We're sharing just a few of our favorites below!
Read more about these stunning Santa Barbara wedding venues and wineries.
Firestone Vineyard
Surrounded by the Santa Ynez Valley and the rolling hills of wine country, Firestone Vineyard is one of the most picturesque Santa Barbara wedding venues and wineries along the Central Coast. The venue offers seemingly endless possibilities for your big day, with eight different event spaces to choose from, including indoor and outdoor options. One of the most popular (and scenic) locations at this wedding venue is the Vineyard Mesa, a spacious lawn with oak trees and mountain views. For outdoor events, there's also a secluded terrace, a garden and a landscaped courtyard. If you'd prefer an indoor space, choose from the winery's tasting room or barrel room. Firestone Vineyard's maximum guest capacity is 200 people, but the number varies depending on the exact location you're using.
Learn more about Firestone Vineyard »
HammerSky
This idyllic venue located in Paso Robles specializes in elopements, small weddings (less than 50 people) and destination weddings near Santa Barbara. HammerSky brings a touch of New England charm to the West Coast, thanks to the venue's restored century-old farmhouse and a two-story barn that was originally built in New Hampshire. With 50 acres of property and three different event spaces, HammerSky provides plenty of room to host the picture-perfect winery wedding. Spend each part of your day in a different spot at the venue: the ceremony on a shaded lawn overlooking the vineyards, the cocktail hour on the stone patio, and the reception inside the barn. HammerSky also has options for overnight accommodations, event setup, event planning, tables, and chairs.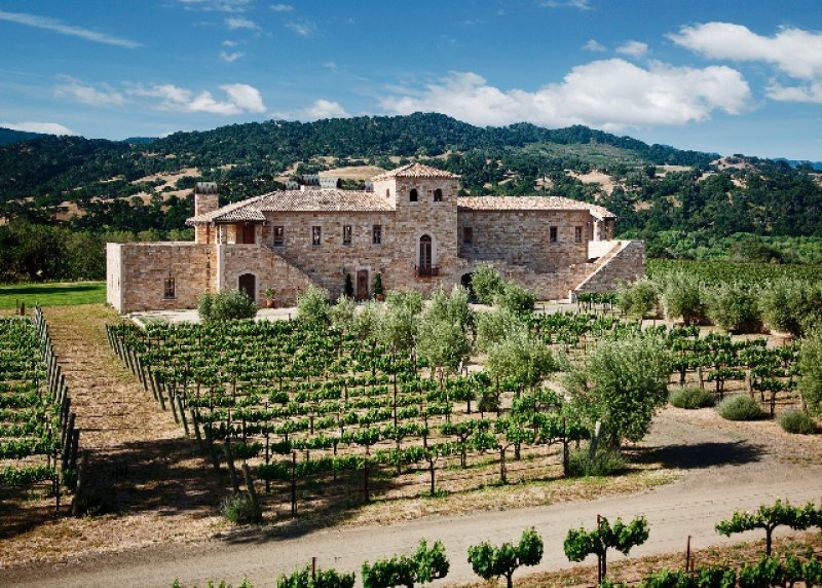 Sunstone Vineyards & Winery
Built entirely using materials that were salvaged from a 19th century lavender factory in France, Sunstone Vineyards & Winery is Santa Barbara County's own little slice of the European countryside. It's one of the most unique Santa Barbara wedding venues and wineries, featuring a main house with five master suites, eight fireplaces, multiple terraces, and a central courtyard — not to mention incredible views from nearly everywhere on the property. Sunstone Vineyards & Winery can host weddings and private events for up to 80 people, with a personal chef and concierge available upon request. Not only would it make a great choice for an intimate wedding, but this venue would also be suitable for your rehearsal dinner, post-wedding brunch or mini-moon location.
Learn more about Sunstone Vineyards & Winery »
Villa San-Juliette Winery
If you have a larger guest list, Villa San-Juliette Winery is one of our favorite Santa Barbara wedding venues that can accommodate more than 300 people. The venue is a short drive from downtown Paso Robles and features Tuscan-inspired elements, including a 14,000-square-foot villa and a beautiful area for wedding ceremonies that overlooks the vineyards. Villa San-Juliette Winery was built with entertaining in mind, making it a completely functional and versatile space for your wedding day. The venue only hosts one event per weekend and will provide vendor recommendations, decor rentals, bartending service, overnight accommodations, and event management.
Learn more about Villa San-Juliette Winery »
Greengate Ranch & Vineyard
If you need an even larger venue in the Santa Barbara area, Greengate Ranch & Vineyard in San Luis Obispo is an excellent option. This venue can accommodate up to 1,000 guests (seriously!), making it one of the largest Santa Barbara vineyard wedding venues, but it also works beautifully for smaller weddings, rehearsal dinners, and send-off brunches. The vintage barn is just one of six event spaces at the venue, and the ranch itself is a perfect backdrop for couples who love rustic chic style. Greengate Ranch provides almost everything you'll need for your special day, including event rentals, lighting/sound equipment, wedding coordination, dressing suites, and more. You can even choose to rent the venue for an extended stay, whether its just for your wedding weekend or for the entire week leading up to your I do's. Optional activities, such as wine tasting tours, yoga and spa treatments, can be arranged through the ranch if you want to plan a pre-wedding getaway or destination wedding.
Learn more about Greengate Ranch & Vineyard »
Margerum Wine Company
You don't have to leave downtown Santa Barbara to have your dream winery wedding. Located in historic El Paseo, Margerum Wine Company is one of the few Santa Barbara wedding venues and wineries in the heart of town. The venue features Santa Barbara's famous Spanish Colonial architecture and is ideal for elopements and informal weddings. MWC can accommodate up to 50 people and rental fees include two hours of of property usage (additional time is available for an extra fee). Event spaces include the venue's tasting room and adjacent patio/courtyard. The venue can provide floral arrangements for an additional cost, and other decor is permitted with approval from the event manager.
Learn more about Margerum Wine Company »
Sogno del Fiore
As soon as they set foot on this private estate, your guests will be wondering if they've been whisked away to the Tuscan countryside. Nestled in the heart of Santa Barbara wine country, Sogno del Fiore is an unparalleled location for your ceremony and reception if you've been dreaming of a vineyard wedding. This venue only hosts a limited number of weddings each year and is an amazing choice for couples who want to showcase the natural beauty of the Central Coast. Sogno del Fiore can host weddings for up to 150 guests and provides optional overnight accommodation for you and your wedding party. The venue has two bungalows, a saltwater pool, built-in dance floor, bocce court, and fire pits.
Learn more about Sogno del Fiore »