Santa Barbara is known for its exquisite wine country, which is home to some of the most enviable wedding venues in the country, but it's also a perfect place to get married if you're dreaming of a beach wedding or waterfront wedding. If you're looking for Santa Barbara wedding venues with an ocean view, you won't be disappointed by these breathtaking options. Rooftop decks, a cliffside pergola, and expansive oceanfront resorts are just some of the ceremony and reception locations we're sharing for your special day.
Read more about our favorite Santa Barbara wedding venues with an ocean view.
Rincon Beach Club
If you're looking for both mountain and ocean views, we suggest the Rincon Beach Club in Carpinteria. This upscale venue has two gorgeous options for your ceremony, including a secluded spot on the beach. Head back to the club for your reception at the venue's romantic garden, which is surrounded by tall hedges, mature trees and features a grass and stone patio. The Rincon Beach Club is a full-service venue, with a skilled team of in-house event professionals who can assist with planning and carrying out your big day. In addition to catering and bartending services, the Rincon Beach Club offers optional decor rentals, from cabanas, chairs, and glassware to signage, vases, and lighting.
Learn more about Rincon Beach Club »
Santa Barbara Sailing Center
If you dream of getting married overlooking the water, why not get married on the water instead? The Santa Barbara Sailing Center makes it easy to say "I do" while you're cruising through the Pacific Ocean. You'll be treated to amazing views of Santa Barbara and the southern California coastline, especially if you're sailing at sunset. You choose the size of the boat and the length of the trip, whether it's a one-hour cruise or day-long excursion to the nearby Channel Islands. The Double Dolphin catamaran can fit 41 passengers — perfect if you're hosting a smaller wedding and are in search of unique venues in Santa Barbara. For even smaller groups, the Santa Barbara Sailing Center has a fleet of Catalina yachts, which hold up to six passengers each. Once you're back on land, you have the option to rent the waterfront clubhouse, which is a great space for enjoying a few cocktails or a casual meal with your wedding party.
Learn more about the Santa Barbara Sailing Center »
Hotel Californian
If you're looking for a modern wedding venue with stunning rooftop views, this trendy hotel in downtown Santa Barbara (Funk Zone, specifically) is the place for you. With red terracotta roofing, white stucco walls and colorful tile floors, the brand-new Hotel Californian embodies Santa Barbara's signature Spanish Colonial Revival style. On the big day, enjoy incredible panoramas of the Pacific Ocean and the Santa Ynez Mountains from the Mirador, the hotel's swanky rooftop deck, which can be used for your wedding ceremony and reception. There are a number of other venue choices at the hotel, including a grassy courtyard and Moroccan-style ballroom. Other perks include an on-site spa, farm-to-table catering, and craft cocktails noteworthy enough to attract the locals.
Learn more about Hotel Californian »
Santa Barbara Maritime Museum
The Santa Barbara Maritime Museum has pretty much everything you'll need for a beautiful waterfront wedding. For starters, the museum has three different locations to choose from, each with its own unique feel and amenities. The Ocean View Patio overlooks the Santa Barbara Harbor, with a max capacity of 75 guests for a seated reception or 150 for cocktail-style. At the Crow's Nest (a rooftop deck that seats 12), you'll have an even better view of the water and mountains in the distance. There's also an indoor option, the museum's theater, which accommodates 88 guests. For larger guest counts, you can choose to rent the entire museum. Along with your venue rental, the Santa Barbara Maritime Museum will provide tables, chairs, a dance floor, audio/visual setup, and catering packages. Weather and availability permitting, you can hop aboard a museum yacht for some memorable wedding photo ops.
Learn more about the Santa Barbara Maritime Museum »
Ragged Point Inn & Resort
Head a few hours north to Big Sur and you'll find the beautiful Ragged Point Inn & Resort. Situated on a cliff high above the ocean, this venue is the epitome of California scenery. A redwood ceremony pagoda sits at the edge of a spacious lawn, overlooking both the water and the mountains of the Central Coast. Host your reception in the venue's enclosed solarium, which features glass walls and 360-degree views. Catering is provided by the inn's gourmet restaurant, known for its seasonally inspired and locally sourced menus. You can reserve the resort's Cliff House, a private five-bedroom home that works perfectly as a bridal suite or headquarters for your wedding party if you're having a destination wedding. The rest of your guests can stay at the resort overnight in cozy garden view rooms or cliffside rooms.
Learn more about Ragged Point Inn & Resort »
Bacara Resort & Spa
Spanning nearly 80 acres of coastline, The Ritz-Carlton Bacara Resort & Spa is one of the most elite Santa Barbara wedding venues with an ocean view. An oceanfront lawn gives you an unobstructed, panoramic view of the water, while landscaped gardens and charming Spanish-style architecture add to the resort's serene, laid-back atmosphere. Couples rave about the staff's impeccable service, from wedding coordination to catering and personal attention. The pampering doesn't stop there. During your wedding stay, treat yourself to a relaxing spa session at the resort's holistic wellness center, and enjoy five-star accommodations in the upscale suites and penthouses.
Learn more about Bacara Resort & Spa »
Crowne Plaza Ventura Beach
Located in the heart of Ventura, this top-rated hotel is easily accessible from Santa Barbara — about 27 miles south or a short 30-minute drive on Highway 101. The beachfront ceremony location is one of our top picks for Santa Barbara wedding venues with an ocean view. The beach ceremony location gets you as close to the ocean as possible, with the historic Ventura Pier not far off in the distance. If you're looking for something indoors, this venue has multiple ballrooms and banquet halls that overlook the water. The Crowne Plaza Ventura Beach is a one-stop-shop for your wedding day, offering additional services including guest room blocks, event rentals, and all-inclusive wedding packages. Plus, it's pet-friendly! Just across the street, you'll find the Ventura Pier and oceanfront promenade, where you can grab a bite to eat or take in a picturesque sunset.
Learn more about Crowne Plaza Ventura Beach »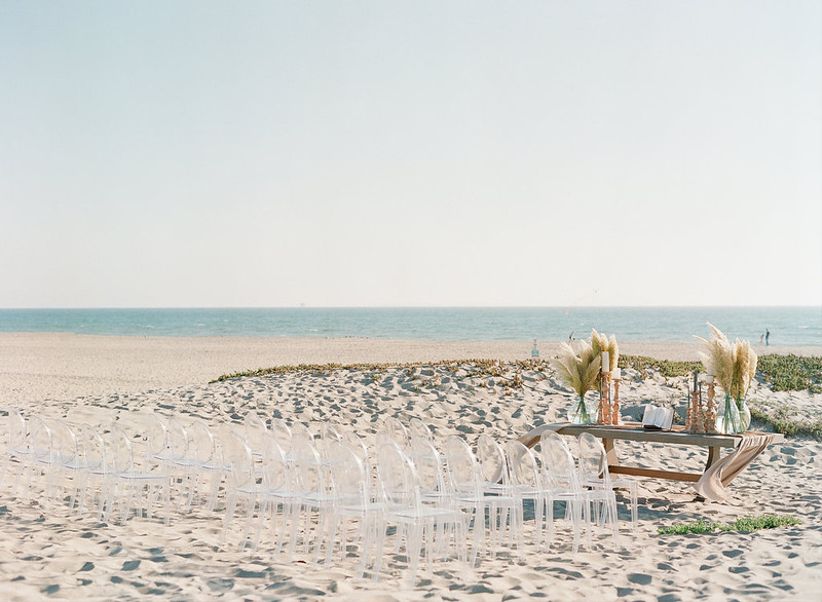 Embassy Suites Mandalay Beach Hotel & Resort
Whether you want a ceremony overlooking the beach or actually on the beach, the Embassy Suites Mandalay Beach Hotel & Resort has options for both. The Presidential Lawn, the venue's most popular location, is a semicircle of grass surrounded by palm trees that backs up to the sand — think beach wedding meets tropical garden. For your reception, choose from several private ballrooms and banquet spaces. Catering, bartending, decorative rentals, and setup are all included with your rental. As an added bonus, couples receive two complimentary nights at the hotel.
Learn more about Embassy Suites Mandalay Beach Hotel & Resort »