6 Gardens That Double as Outdoor Wedding Venues in San Antonio, Texas
These scenic outdoor wedding venues in San Antonio are blooming with on-trend greenery and abundant charm.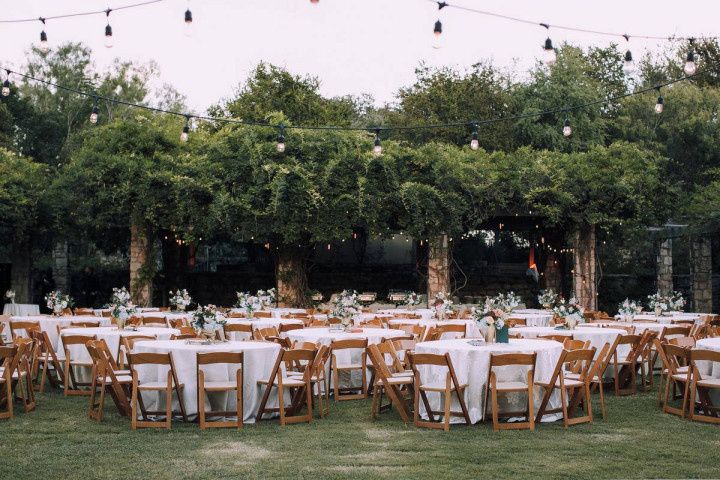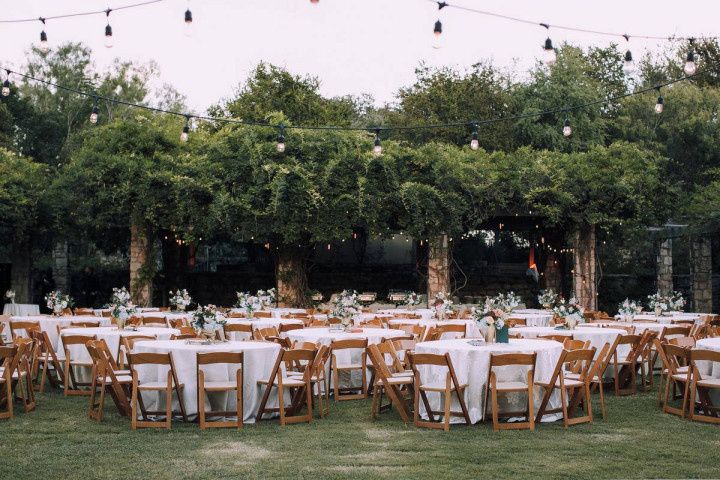 Being green is definitely having a moment in weddings. From potted plant decor to floral print wedding dresses, we can't get enough of garden-inspired details and greenery accents. To fully embrace the trend of "going green", you can even get married at a garden, thanks to the many outdoor wedding venues in San Antonio. These spaces range from blooming gardens to lush fields and countryside escapes with romantic extras, like waterfalls and freshwater pools. Whether you want a downtown San Antonio wedding venue near the Riverwalk or prefer a location just outside the city with more room to spread out, we're making it easy to find your dream space in no time.
Don't miss these gorgeous gardens and outdoor wedding venues in San Antonio.
Lambermont Events
Enjoy the stunning Texas sun and starry nights with a ceremony and reception at Lambermont Events, a historic mansion just north of downtown. As one of the largest outdoor wedding venues in San Antonio, this stunning stone castle and sprawling lawns can host events for up to 300 people. Arrange your guests in wide circles around the wooden ceremony arch to exchange vows before moving to other parts of the grounds for the reception. Choose to host a tented reception or spread out your guest tables on the lawn without a tent. Perfect for romantic Old World wedding themes, Lambermont Events is conveniently located near the Riverwalk and other central Texas points of interest.
Learn more about Lambermont Events »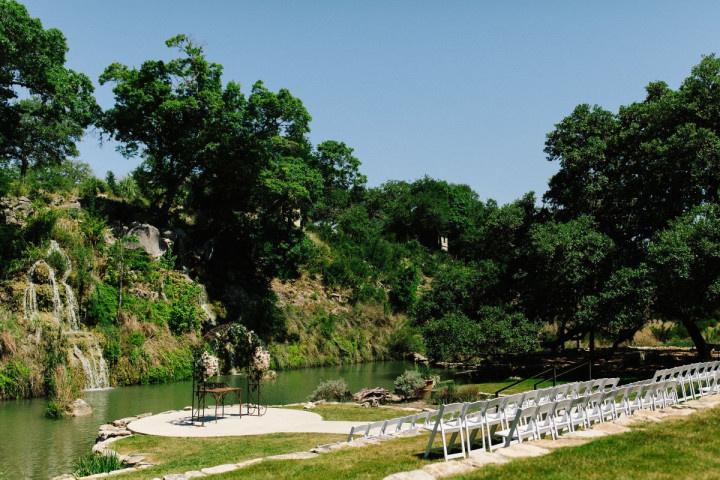 Hidden Falls
Your guests will wonder if they've exited the freeway and magically come across a tropical rainforest when they take in the natural splendor of Hidden Halls in Spring Branch, Texas. Wonderfully lush and full of towering, mature trees, this outdoor wedding venue in San Antonio is perfect for nature lovers. Hidden Hills couples can choose between two backdrops at the venue. Hayes Hollow (pictured above) is shrouded by a serene waterfall and a canopy of 100-year-old oak trees. The open-air pavilion, which can accommodate 250 people, is ideal for outdoor ceremonies before moving into the ballroom for the reception. This second venue, Remi's Ridge, is also home to its own outdoor ceremony space, which is also backed by a stone-flanked waterfall. The reception site can accommodate 300 people and features a suspended dance floor overlooking the property's creek.
Learn more about Hidden Falls »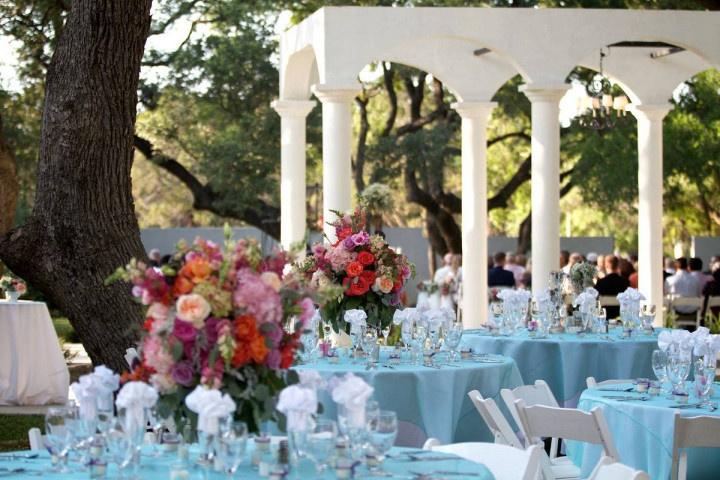 The Gardens at West Green
Couples who love vintage wedding style will fall head over heels for the rustic-meets-antique vibe at The Gardens at West Green. A black iron ceremony structure steals the show at the venue's garden ceremony space, which is decorated with a stone fountain. Receptions are also held outdoors at The Gardens at West Green, with a stylish white loggia (a veranda-like design structure) serving as the backdrop.This affordable outdoor wedding venue in San Antonio provides white folding chairs with your rental and can accommodate up to 120 guests.
Learn more about The Gardens at West Green »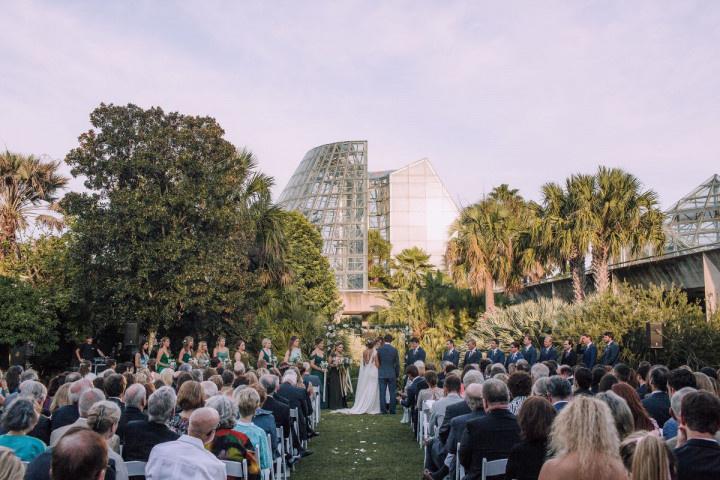 San Antonio Botanical Garden
Spanning 38 acres full of plants, trees, and flowers, the San Antonio Botanical Garden is like a burst of color in the middle of the city. As one of the certifiably lush outdoor wedding venues in San Antonio, you can choose from several indoor and outdoor spaces at the garden. The historic amphitheater, a former water reservoir, is one of the most popular ceremony sites, thanks to its Tuscany-inspired feel. The Lucile Halsell Conservatory Courtyard (pictured above) is another stunning option for ceremonies and reception, with a glass pyramid landmark serving as a dramatic backdrop. The San Antonio Botanical Garden has four additional spaces that you can use for your ceremony, cocktail hour, or reception and the venue hosts weddings big and small, from 50 to 200 guests.
Learn more about San Antonio Botanical Garden »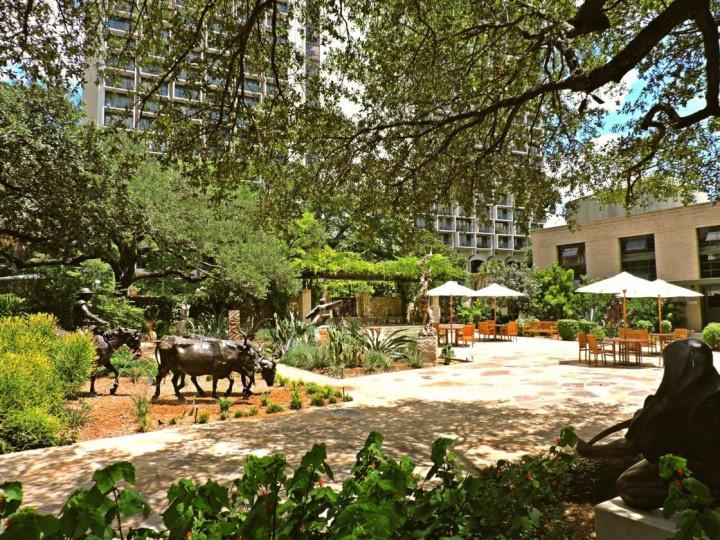 The Jack Guenther Pavilion
At this modern outdoor wedding venue in downtown San Antonio, you'll have a virtual blank slate to design a totally personalized wedding. The Jack Guenther Pavilion offers various wedding packages for a range of budgets, and the in-house events team will work closely with you to pick the best services for your day. The venue's McNutt Courtyard and Sculpture Garden is a popular wedding space, featuring a stone tile floor and an oversized wooden pergola where you can exchange your vows. Host your cocktail hour in the courtyard or head inside to one of three banquet rooms. The Jack Guenther Pavilion is one of the biggest outdoor wedding venues in San Antonio, with a max capacity of 1,500 guests.
Learn more about The Jack Guenther Pavilion »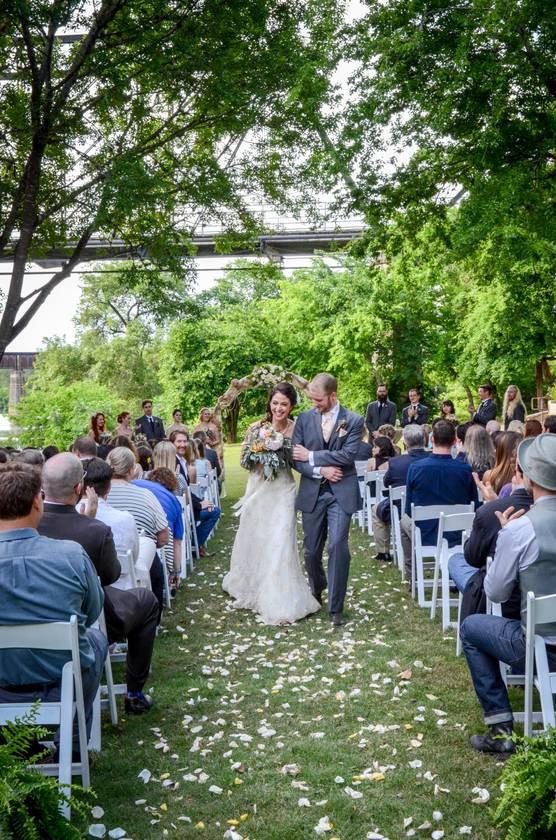 Milltown Historic District
If you want your special day to have a rural Texas feel while not being too far from the city, this New Braunfels stunner might be right up your alley. Milltown Historic District is actually three outdoor wedding reception venues in one location, each with different decorative elements and guest capacities. There's the intimate and industrial Gallery, which has an outdoor ceremony space and a stone rancher that seats up to 75 people. Next up is The Grande, a ballroom that accommodates 175 guests and has a garden with a classic white gazebo. The largest ceremony and reception combo is the River Venue, which seats up to 200 guests and gives you a front-row view of the Guadalupe River for a romantic waterfront ceremony.