6 Couples on How Postponing Their Weddings Brought Them Closer Together
Six real couples share their stories of how postponing their weddings amid the coronavirus pandemic was actually a blessing in disguise.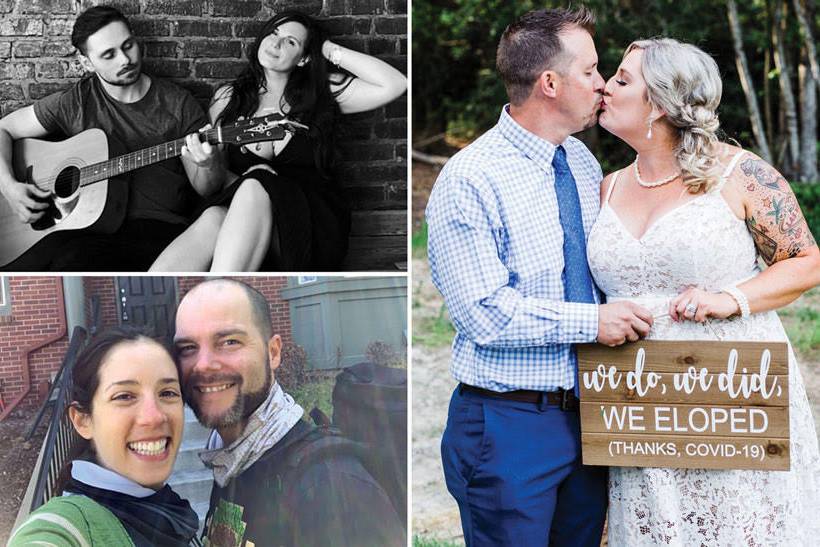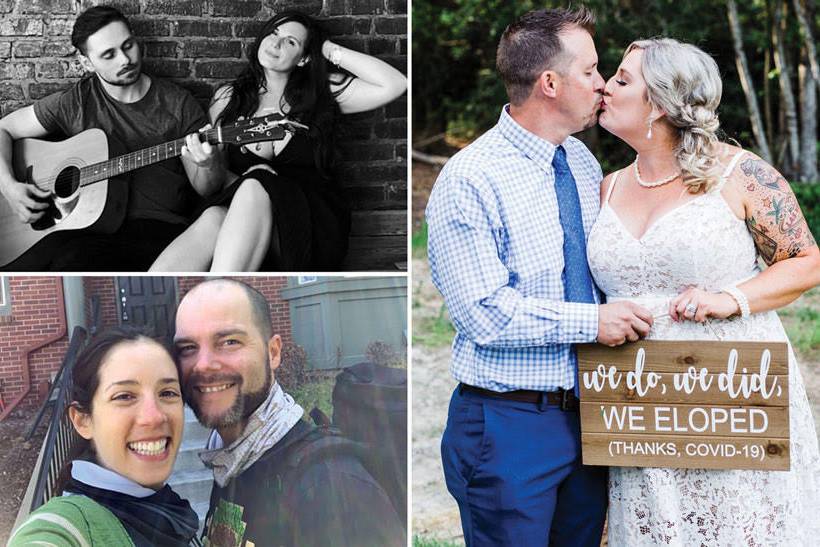 For those couples who were counting down the days until their 2020 wedding, the coronavirus pandemic has thrown quite the curveball into planning. With many lockdown orders limiting more than ten people congregating in one place, and social-distancing guidelines nationally, the concept of a ceremony has vastly changed. While a disappointing and sad decision, the choice to postpone, cancel, or reimagine their big days also provided an opportunity to connect as a team. After all, a party is fun, but the purpose of saying "I do' is to start your life together.
Here, six couples share how the pandemic has brought them closer than ever before:
"It's helped us to live in the moment and to appreciate every day."
"I have to say that postponing the wedding—and overcoming the coronavirus—brought us closer in so many ways. Through all of this, we've realized that the only thing that truly matters is being married to one another and knowing that our closest loved ones will be there to celebrate with us. I live by the words, 'tomorrow isn't promised, so make the most of today,' so we now focus more on the little blessings in life. We go for daily walks, we started meditating and practicing yoga together, and we sing—really loud!—to our favorite old school songs while we cook. I wouldn't trade the new 'us' for the world." —Christina Monteleone and Craig Boyarsky. They have been dating for four years and were planning on marrying on June 19, 2020. Their new wedding date is June 20, 2021.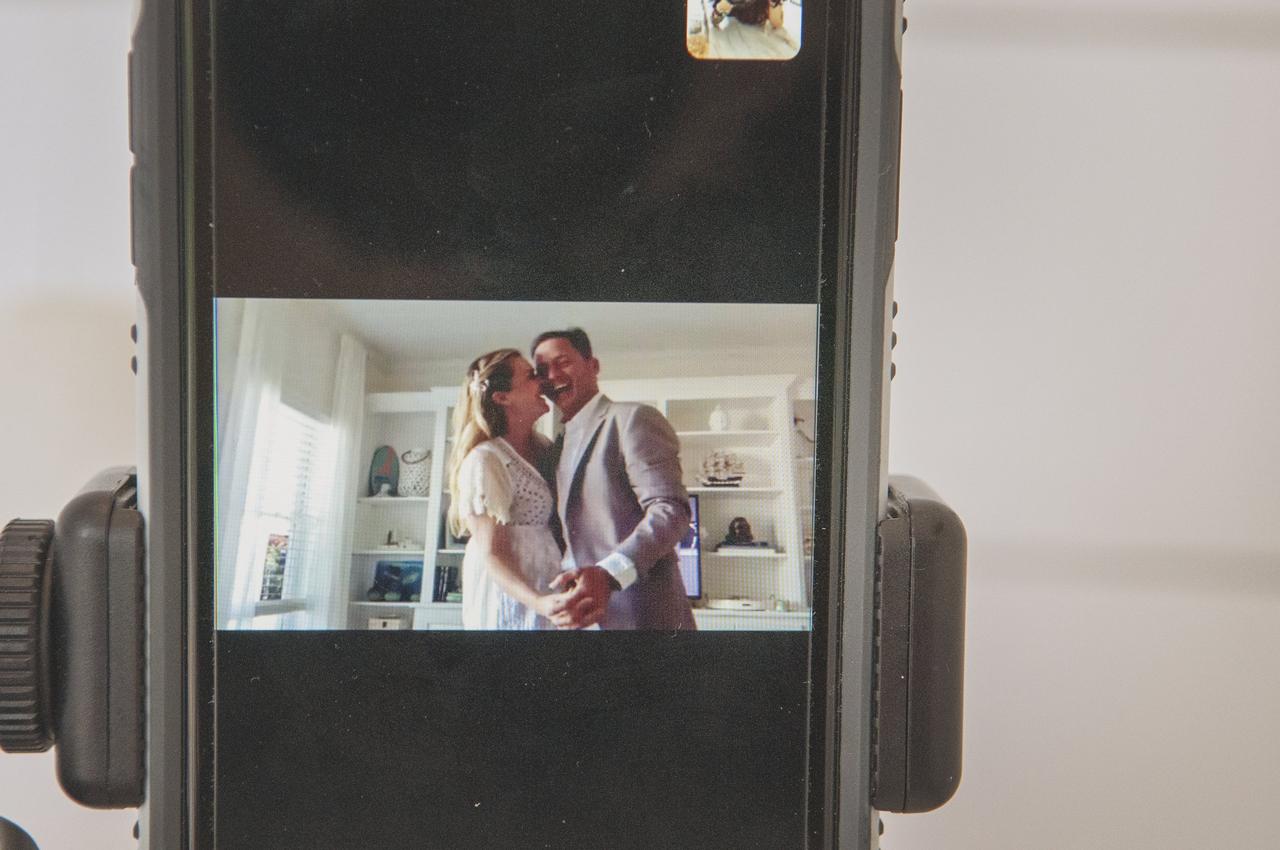 "We are thankful to be stuck in the pandemic together."
"Postponing our wedding certainly wasn't fun, but we know it is just a party, and the marriage is what matters the most to us. We do everything together anyway, so being in quarantine has been fun for us. We love each other so much, and who wouldn't want to be stuck with the person they absolutely love more than anything? We celebrated our wedding date on Zoom with our friends and family. Dave and I both got dressed up. (PS: Not in my actual dress, which is stuck in a Nordstrom in DC!)
During this time, we find ourselves binge-watching shows together and taking more time outdoors with our dogs. We have celebrated our wedding 'anniversary' weekly (and monthly now...) by counting the time since our 'non-wedding.' And we have enjoyed date nights on our porch from our favorite restaurant (and wedding caterer) Beaufort Grocery Co.," —Samantha Perry and Dave Nelson. They've been dating for six years and were planning on tying the knot on April 4, 2020. They intend to elope on their honeymoon in November and throw a big party in April 2021.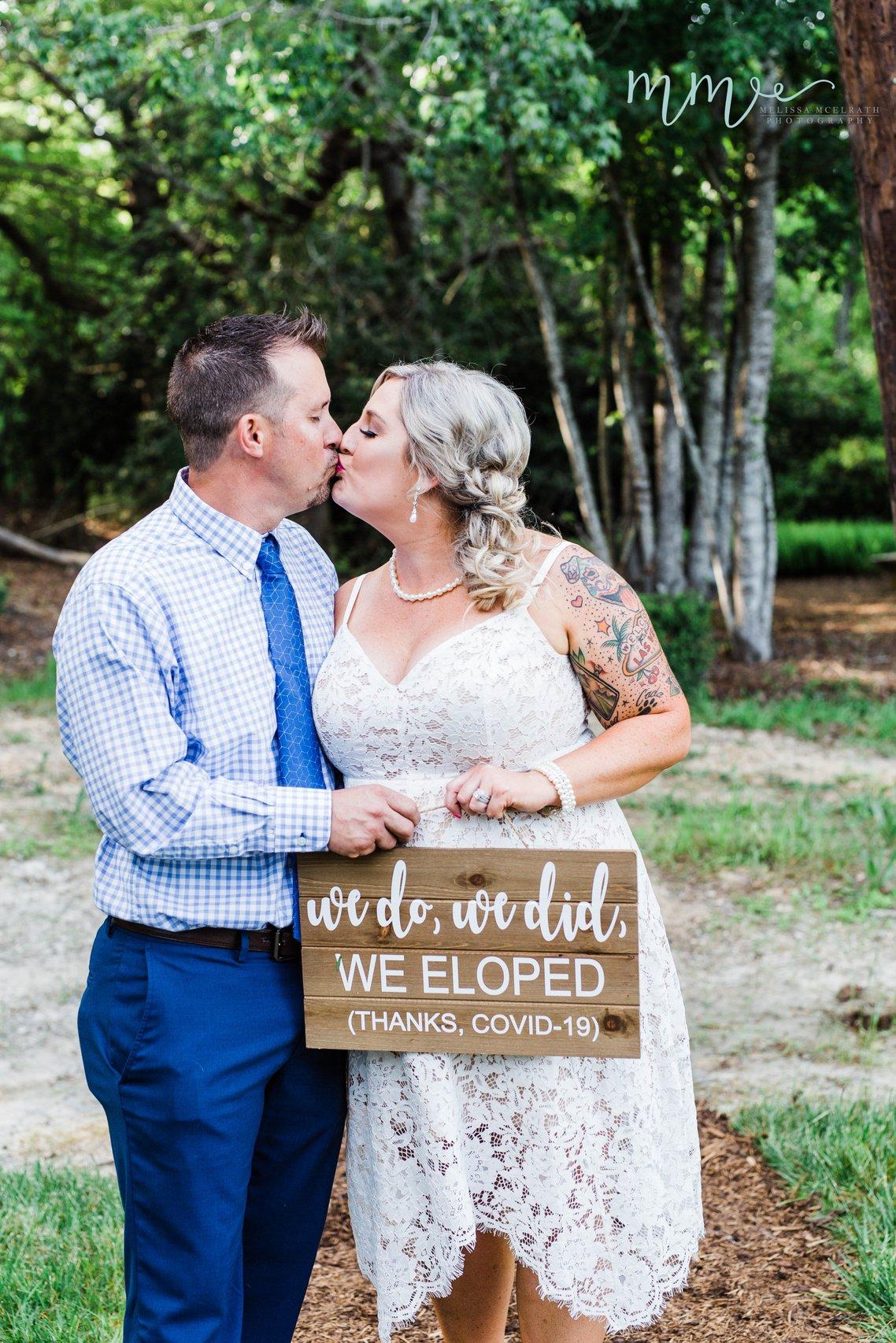 "We got married anyway."
"We chose our wedding date because it is the day we met in 2012, and it is the day he proposed in Times Square last year. We thought we might be in the clear to have the wedding, but when I realized we weren't, I texted one of my bridesmaids, and I just cried my eyes out. Brandon was so encouraging the entire time. If there is one thing this pandemic did, it proved that I absolutely couldn't wait to marry the man who I fell so in love with.
Because of that, we decided to look at different options, including elopement. We quietly agreed that was what we were going to do. We had our immediate family and kept it under ten people to adhere to the restrictions in North Carolina, where we live. Instead of a traditional cake, we had a cake shaped like a toilet paper roll because we thought it was fitting, given the circumstances. We also had a cloth mask made for each guest as a 'thank you' for coming to the elopement.
During these past two months, this pandemic has brought us closer. We were able to find a happy ending when in the beginning, it seemed like everything was against us. In the end, we were still married on the day we wanted. I absolutely can not wait to meet him at the end of the aisle one day. You really get to figure out whether you and your partner are compatible when you spend almost triple the amount of time together and in close quarters. I'm not sure I would have been able to get through this time without him by my side." —Kristin and Brandon. They've been together for eight years and eloped on their original wedding date of May 16, 2020. As of right now, they have rescheduled their wedding for July 11, 2020.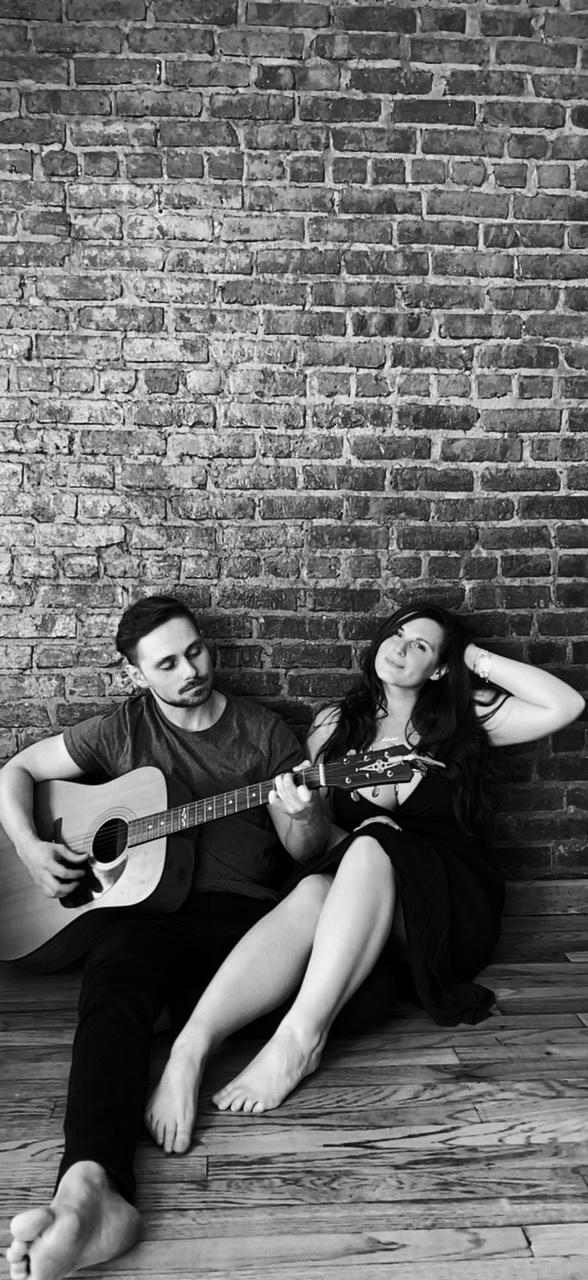 "We really like being around one another."
"We are already domestic partners and planned to wed in a small ceremony and then throw the big bash two days later. We were excited about the big party that brought together all of our friends and family for a long weekend. I keep joking that no one puts 'for 70 days in and out in a one-bedroom with no one besides you' in their vows—but here we are, and they will be in ours.
Because of COVID-19, our industries tanked, and we are both without work. At first, I had significant anxiety about the whole circumstance: careers, the wedding, being on lockdown in Astoria, New York. But honestly, we've been having a pretty solidly good time.
I've always really liked having him around, and him me. I'm less worried about retirement now. We really enjoy cleaning out cabinets together, and he started a small apartment garden. It's been a nice experience to get to match our values. We want people to feel safe, happy, and healthy at our wedding, and that's what's most important.
When our ceremony date came, I scheduled a FaceTime photoshoot with a wonderful photographer, and it was a very special way to mark that day. We had drinks and ordered in. On the day of our wedding reception, a friend organized a Zoom surprise party, and I started to worry about how I'd make it through the actual wedding since I was so emotionally knocked out from the Zoom event. It's still completely absurd that our wedding was postponed for reasons out of our hands. But, come May 2021, we'll be celebrating a decade together. And that's kind of even more exciting." —Genevieve Dreizen and Andrey Kats. They have been together for nine years and planned to wed on May 16, 2020. Right now, they are rescheduled for September 5, but anticipate it will not be possible. They're now looking at another date next year: May 29, 2021.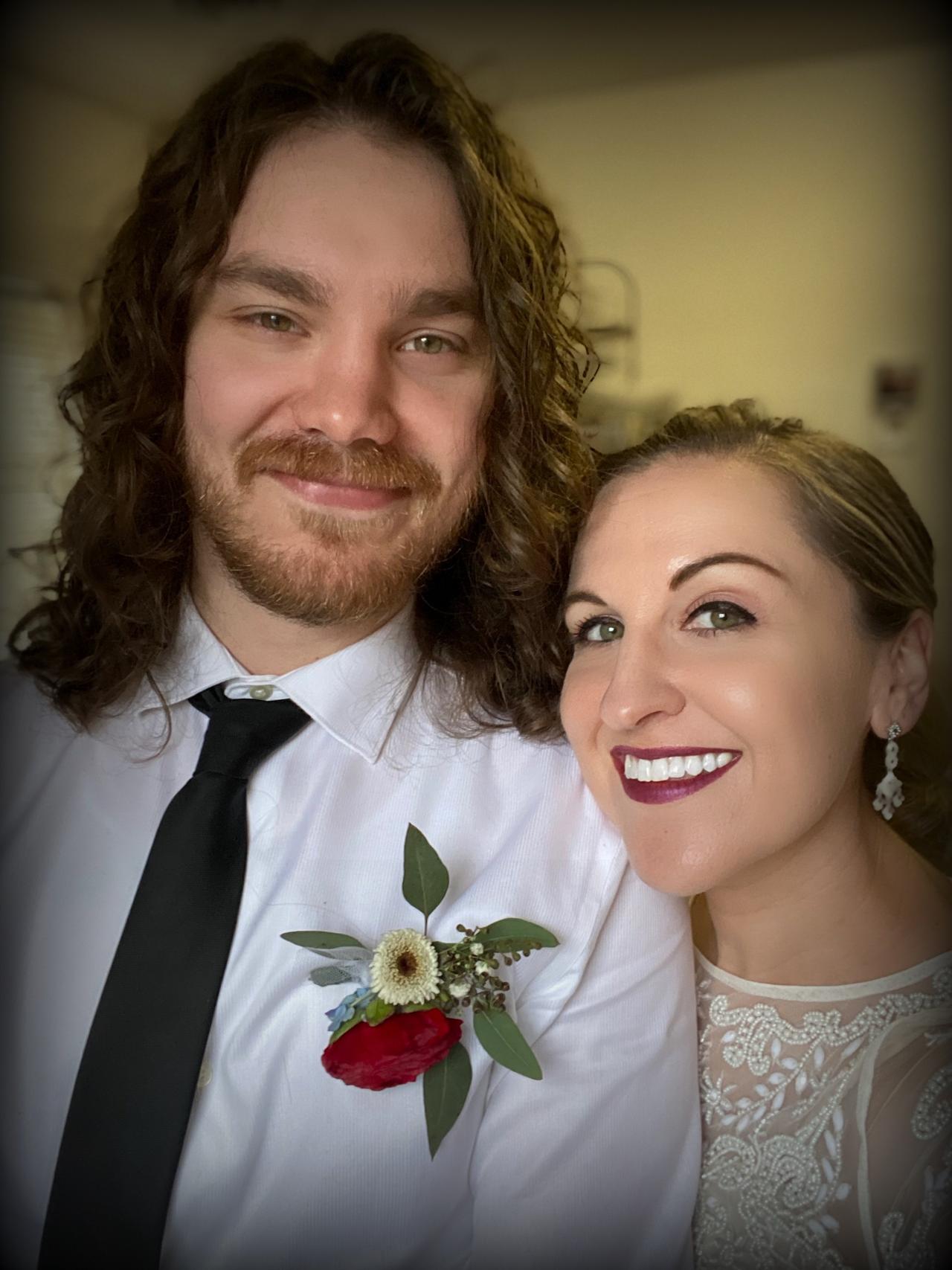 "We can—and will—get through anything together."
"Having to cancel the initial wedding plans was a tough decision because there were so many moving pieces involved. There are a bunch of vendors, family, and friends from all around the country who have to move all of their arrangements around, and it was a real pain in that regard. So right off the bat, it's an exercise in patience.
It was also one of those opportunities to assess where each other's priorities are, which is very telling. In our case, certainly, there were and still are moments of frustration as we face a lot of uncertainty, when we don't even know if things will be safe for our new date. So we're feeling stress all over again.
But the one thing that continuously emerges is that we already have what's really important, and that's each other. It's really easy to get caught up in the planning and excitement of the event, but this has swept all of that away and reframed essentials. It's a thing we're going to get through together and, if our experience so far is any indication, we anticipate coming out on the other end stronger than we entered it. On our original wedding date, we officially got married in a small backyard ceremony, while practicing social-distancing measures with limited guests." —Stefanie Bucholski and Mike Reisman. They've been dating for four years and intended to say 'I do' on March 28, 2020. Their new wedding date is December 5, 2020.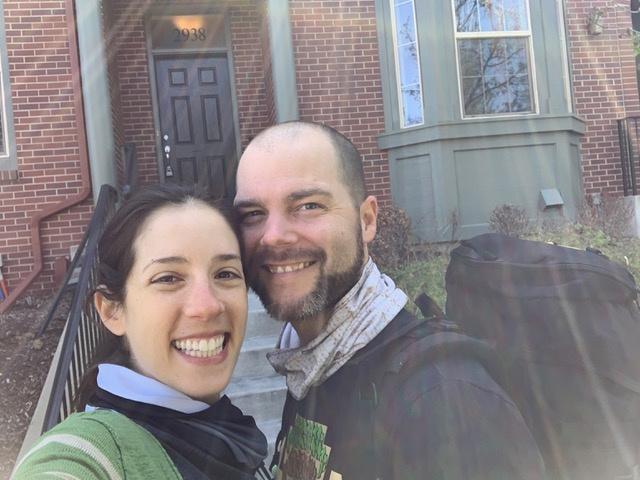 "It's been a true test of our whirlwind romance—and we have passed with flying colors."
"Sean and I met through on Hinge and got engaged eight months after our first date. Don't hate me for saying this, but when you know, you know. We basically had everything planned for the wedding in March, but then COVID-19 hit. Initially, we weren't going to make any decisions until the end of June, but based on what was going on, it was pretty clear that things would be far from normal by August. Many of the guests would be traveling to attend the wedding, and quite a few are a tad older as well. We didn't want to compromise anyone's health, and I didn't want people wearing masks, so a few weeks ago, we decided to postpone the wedding a year.
Before coming to that decision, I was a mess. I've been looking forward to walking down the aisle for quite a long time, and although it was worth the wait, waiting even longer was so disappointing. Despite my mood swings, Sean was always there with kind words and unconditional love. Of course, he was upset about the postponement too, but he'd always offer rational support, which instantly made me feel better. Going through the rollercoasters of emotions and his reactions to that rollercoaster reiterated why I love him so much. Luckily, Sean and I are actually legally married already. Last November, we went to the courthouse, along with my parents and his best friends, and made it official. Now, we just have to wait for the big party.
Postponing the wedding has been a real test of our relationship—especially in quarantine! We've said that it's the best kind of premarital counseling. Dealing with the uncertainties and recognizing what is truly is important has brought us closer. He's taught me to be a bit more patient and adaptable while being the best partner I could've asked for. We've had to make tough decisions, but we always make them together." —Abby Oppenheim and Sean Daniel. They've been dating for a year and a half and planned on marrying on August 29, 2020. Their new wedding date is August 29, 2021.