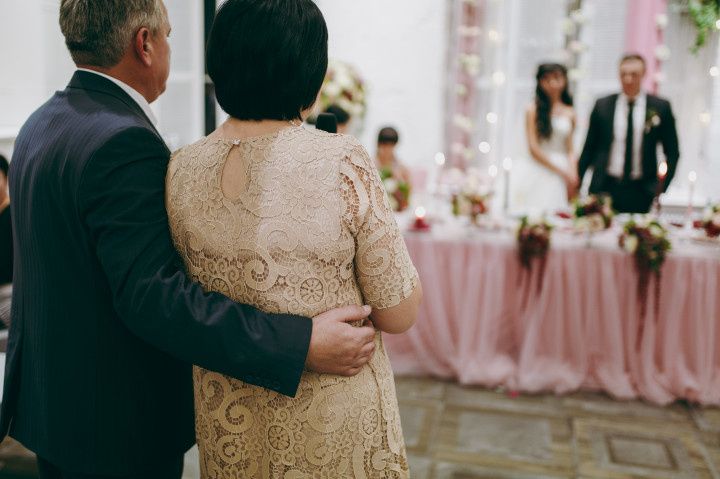 Parents! Also known as, our own personal Life Assistants. As with most major events in your life, your parents will likely play an instrumental role in planning your wedding, offering anything from advice and opinions (for better or for worse!), financial assistance, and, yep, history lessons ("Back when I got married, a barn wedding would have been obscene!"). But believe it or not, there are some things your parents shouldn't help with during wedding planning—some terrains they should be gently requested to downright keep out of—so that all of you can retain your sanity and make it to the big day still a family unit (kidding, sorta).
Here are some tasks your parents' shouldn't help with during wedding planning.
The Overall Theme
Selecting the theme of your wedding isn't only one of the most important decisions you'll make, it's also the most personal. Everyone has their own idea of a "perfect wedding," and chances are, yours are going to look quite different from your parents', since in your parents' day, weddings looked and worked very differently! This isn't at all to say that you all won't find common ground, it's more that you should be fully in charge of setting the tone of your wedding long before any parents (or anyone else) weighs in, because once you firmly decide on a direction that's everything your heart desires, it will help keep everyone (especially lovingly pushy moms!) in line and focused. Long story short: No one gets to tell you to have a black tie gala wedding when what you've always wanted is a fairytale summer camp wedding.
The Seating Arrangements
Plotting out the entire social topography of your wedding reception is hard enough—it's a lot of work to find a place for everyone and strategize around family drama and friendship conflicts. But adding in all of your parents' opinions on friend and family drama will make the whole process even harder. As much as you'd like to be able to take under consideration everyone's unique social requirements, you simply can't do it. And mom and dad weighing in on where to put Nana based on who is and is not in her will? Totally not worth the headache for you. Reassure your parents you'll put everyone in a spot you believe they'll be happiest in, and then calmly ask them to mind their own business. Remember, your wedding is not a social networking event for your parents. (Believe me, it can definitely feel that way sometimes, just by default!
Honeymoon Planning
Duh! This is the one part of getting married that's entirely, wonderfully, exclusively about you and your partner—no guests, no vendors, and no, I repeat no, parents. (Unless you're planning one of those whole-family honeymoons, which, more power to you.) Just like with your wedding theme, honeymoons are a lot different nowadays compared to how your parents remember them and probably still imagine them today. So you don't really need your dad telling you about the marvels of an all-inclusive resort in Bermuda when you have your heart set on jumping out of a plane somewhere over the Andes. Plan your honeymoon in total isolation, and ask for forgiveness ("Sorry Mom, we're absolutely going to sleep in a yurt under the Northern Lights for three weeks!") rather than permission—because having to explain your dream honeymoon really sucks the fun out of it.
Your First Dance
Again, this is an extremely personal detail that's mostly for you and your new partner, even though it is really lovely for guests to watch. I'm sure your parents will have many opinions on this, but only you two know the song that means the most to you. Maybe it's a deep cut, maybe it's goofy, maybe it's hip hop, whatever—only you get to decide. And no parents and their traditional ideas of what a wedding song should be get to intercept that decision. Bottom line? You don't have to waltz if you really want to tango. Or Harlem Shake. You get it.
Who's In Your Wedding Party
Parents are notorious for orchestrating wedding parties into oblivion. Hence every wedding you've ever been to where the bride's cousin's horse trainer who once complimented the mother of the bride's outfit ended up as the maid of honor. This is not your jam. No one knows your inner circle as well as you and your partner do (not even your parents, try as they may to insert themselves into your weekly happy hours), so no one gets to decide who you ask to stand by you on your big day. Which means no mom gets to enlist your random cousin as your bridesmaid, and no dad gets to force you to let your anti-wedding bro into the groom squad. The way to keep your parents out of this? Make this decision early on in the wedding planning process, and by the time your parents are up to speed, your squadron will already very much be in place. It's not like you can fire a bridesmaid, Mom. Even if she did steal a sip of your Shiraz back in high school.