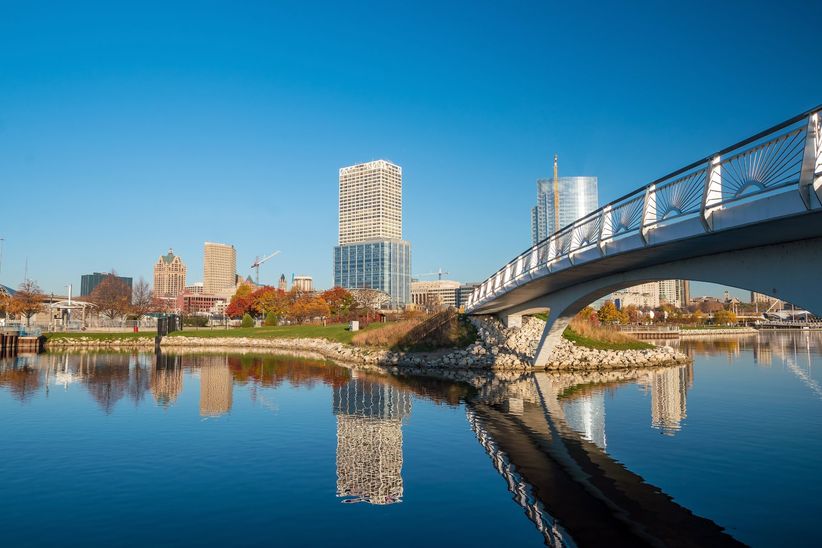 If you're planning to say "I do" in the Brew City then we definitely think you should check out these outdoor wedding venues in Milwaukee. Filled with scenic views of Lake Michigan, cream-colored brick buildings, and award-winning breweries, Milwaukee has been a hotspot for weddings in the Midwest. Wisconsin couples love the wide variety of outdoor wedding venues in the Milwaukee area, too. From dreamy garden terraces, to ceremony settings overlooking the Great Lake, we've rounded up some of our favorites to share with you.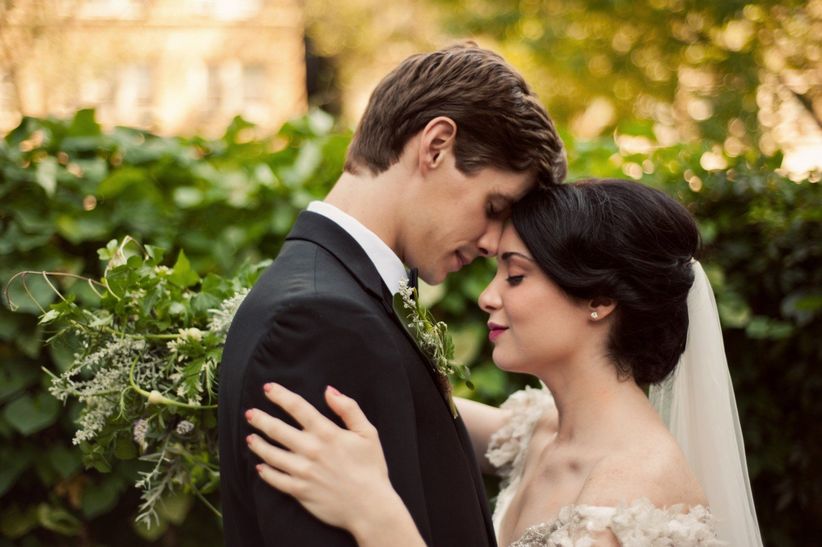 Photo: Villa Filomena
Villa Filomena
Conveniently located on North Marshall Street in downtown Milwaukee—this mansion is a wonderful setting for couples browsing outdoor wedding venues in Wisconsin. Villa Filomena has an outdoor garden terrace that easily seats up to 125 guests and creates an oh-so perfect setting for "I dos." The private terrace includes the use of wooden folding chairs and other amenities to ensure that your big day is everything you've ever envisioned. If you also want an indoor option, Villa Filomena has an inside ballroom that's filled with historic beauty and charm—
like hanging crystal chandeliers and antique carpets
. Some other amenities the mansion provides couples with is the use of the mansion's large catering kitchen, a wedding party prep room, valet parking service and more.
Learn more about Villa Filomena here »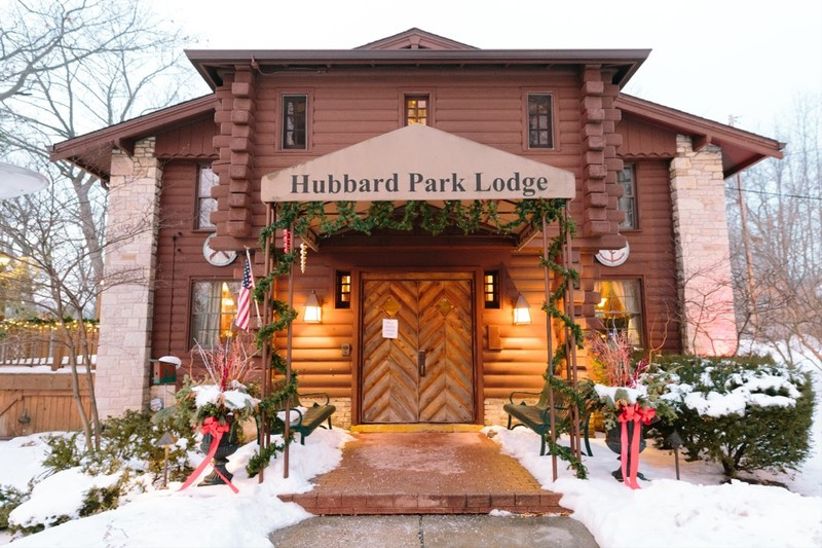 Photo: Hubbard Park Lodge
Hubbard Park Lodge and Shorewood River Club
If you're looking for
a waterfront backdrop
for your big day, then this will be one of your favorite outdoor wedding venues in Milwaukee. The Lodge is nestled right along the Milwaukee River—hello dreamy ceremony backdrop—and can hold up to 175 guests. With several catering menus to choose from, a spacious indoor banquet hall and rustic aesthetic, this country park is perfect for your outdoor wedding.
Learn more about Hubbard Park Lodge and Shorewood River Club here »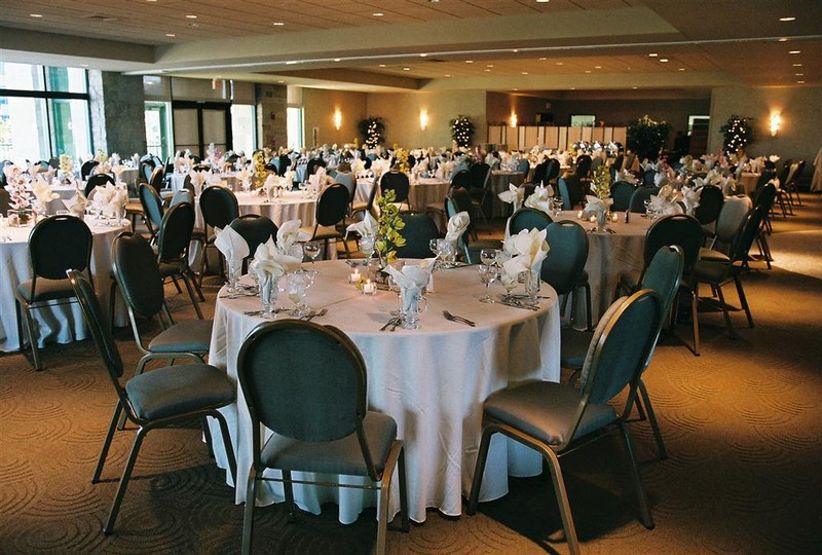 Photo: Miller Room
The Miller Room
This recently renovated event space provides couples with unparalleled views of Lake Michigan and is a great choice for
an outdoor soiree
. Along with and indoor banquet hall, The Miller Room also has a gorgeous landscaped terrace that wraps around the shoreline of Lake Michigan and the South Garden. The L-shaped venue also overlooks the Milwaukee Art Museum and is perfect for hosting ceremonies, cocktail receptions and more. With a maximum capacity of 250 guests, this outdoor wedding venue is a superb pick for couples looking for a classic setting.
Learn more about The Miller Room here »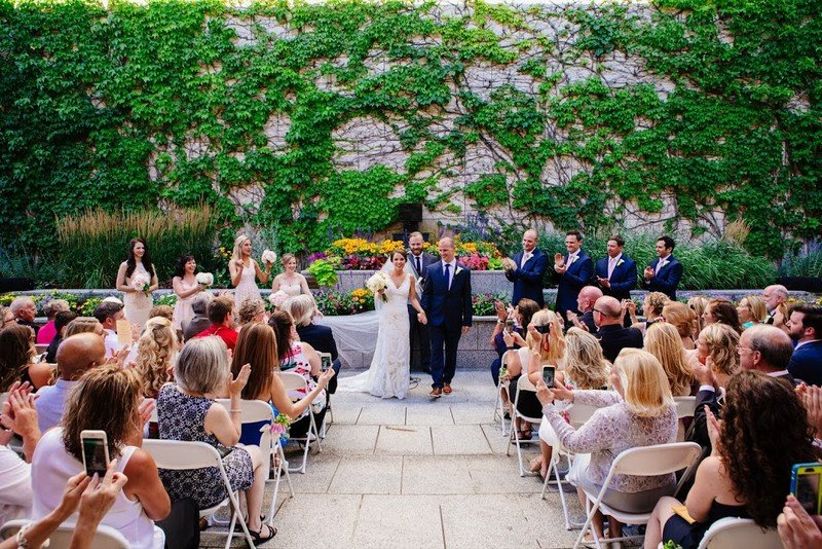 Photo: Marcus Center for the Performing Arts
Marcus Center for the Performing Arts
Artsy couples looking at outdoor wedding venues near Milwaukee will fall in love with The Marcus Center for Performing Arts. This art center wedding venue has a pavilion with floor-to-ceiling glass windows, a private balcony and even a whimsical garden patio for couples hoping to wed outside. The Fitch Garden patio is filled with flowers, fountains and greenery that's made for an intimate ceremony or cocktail hour. It's also a great pick for small or larger scale weddings, since the event space can hold up to 750 guests. The Marcus Center is located in downtown Milwaukee and should definitely be added to your venue list.
Learn more about Marcus Center for the Performing Arts here »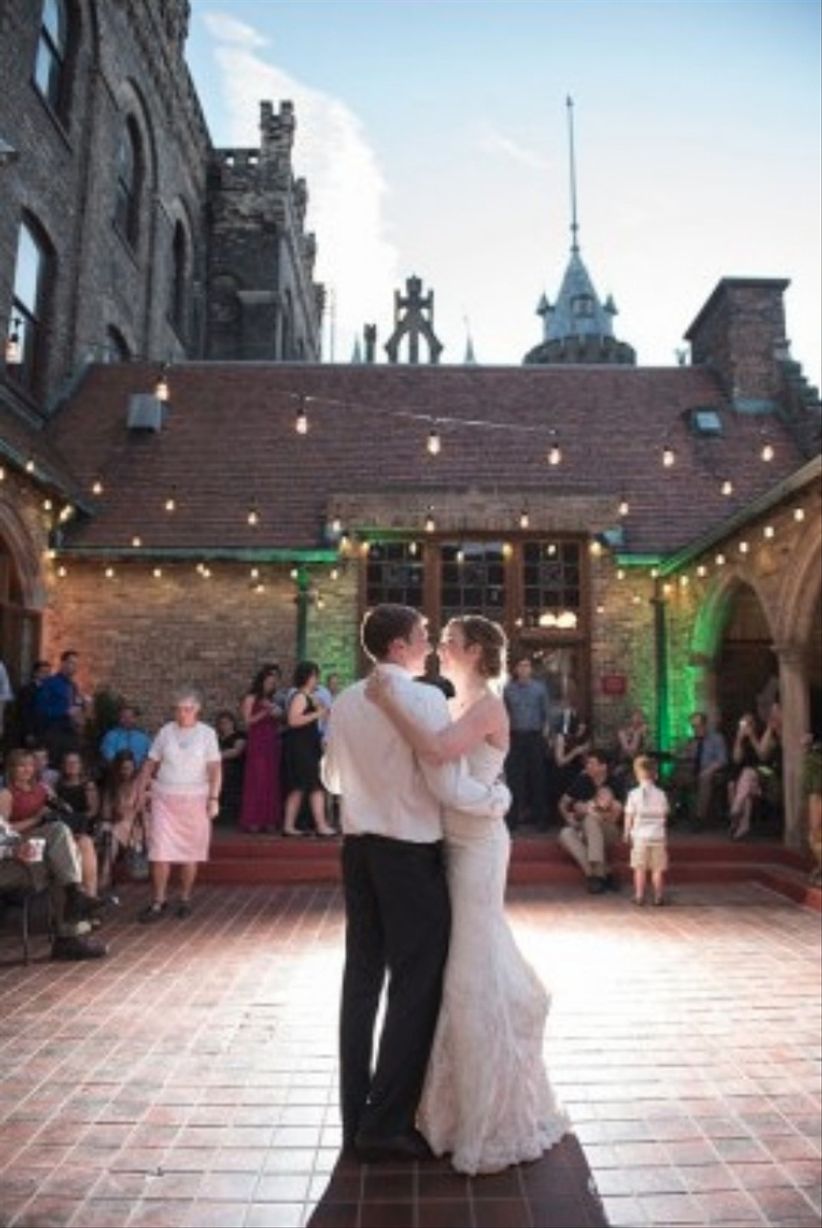 Photo: Pabst Brewery Best Place
Pabst Brewery Place
Calling all beer-loving couples
, this Milwaukee brewery is a fab choice for an outdoor celebration. Pabst Brewery Place is one of the first great Milwaukee brewers and still evokes an Old World charm, since the building is filled with wooden ceilings and rich brick walls. The brewery also has a beautiful courtyard for couples to host a one-of-a-kind party. With twinkling string lights and a brick patio, we can't think of a better setting for a seated reception or for dancing the night away. If you're hoping to have an indoor option, don't fret! Pabst Brewery place has a variety of different spaces to choose from including several indoor ballrooms and halls.
Learn more about Pabst Brewery Place here »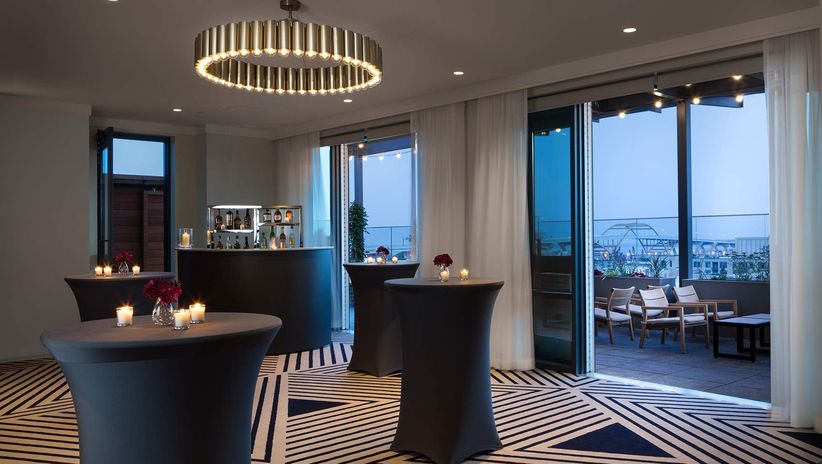 Photo: The Kimpton Journeyman Hotel
Kimpton Journeyman Hotel
This downtown Milwaukee hotel venue is another great pick if you're hoping to wed or celebrate outside on your big day. Along with a 2,800-square-foot ballroom the Kimpton Journeyman Hotel has a rooftop bar and lounge that provides couples with killer sunset views. If that doesn't have you sold on this hip venue, then you definitely should check out their catering menus from their on-site restaurant Tre Rivali. The hotel even provides couples with room block rates that your out-of-town guests can use. Whether you're hoping to host an outdoor ceremony on the rooftop or a cocktail-style reception, this outdoor wedding venue in Milwaukee provides a dreamy setting for celebrating.
Learn more about Kimpton Journeyman Hotel»
Photo: War Memorial Center
War Memorial Center
The War Memorial Center is another wedding venue that has a killer view of Lake Michigan. The scenic landmark is located right on Milwaukee's lakefront and is
perfect for ceremonies and receptions
. The event space even has an indoor banquet hall if you're looking for a Plan B option. The banquet hall can easily accommodate up to 260 guests and still overlooks Lake Michigan. The War Memorial Center includes a professional staff to help make sure everything runs smoothly on the big day. The venue even offers other amenities to use for the big day, such as white wooden chairs, tables and a gorgeous wooden dance floor.
Learn more about Memorial Center here »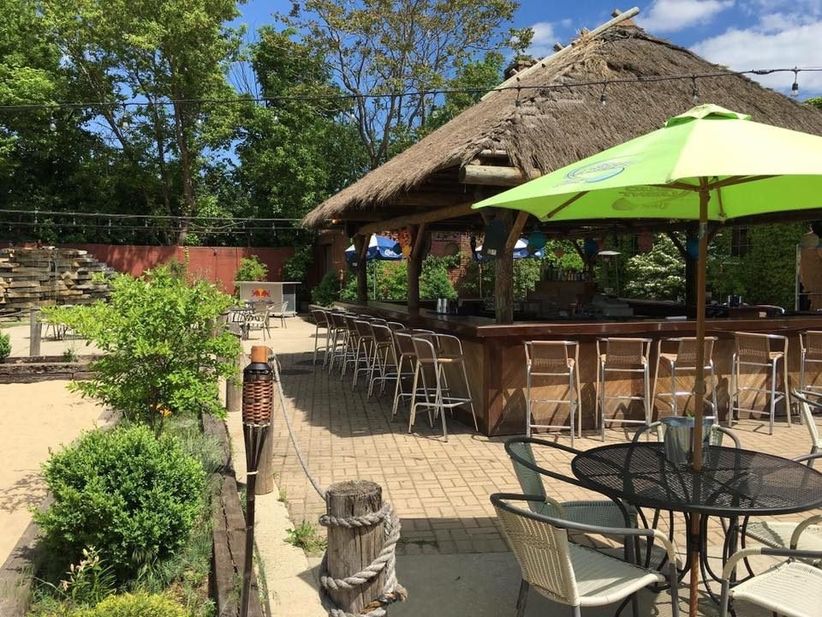 The Point
The Point is a contemporary wedding venue that is located in downtown Milwaukee. With an outdoor patio that consists of palm trees, a cabana bar and even a mini waterfall, this unique event space is a killer setting for
hip couples
. The outdoor event space can easily sit up to 200 guests, which makes it a great pick for both intimate and larger scale weddings. The Point even includes the use of the property's Sangria Bar—so if you and your partner are wine lovers you'll definitely fall in love with this Milwaukee venue.
Learn more about The Point here »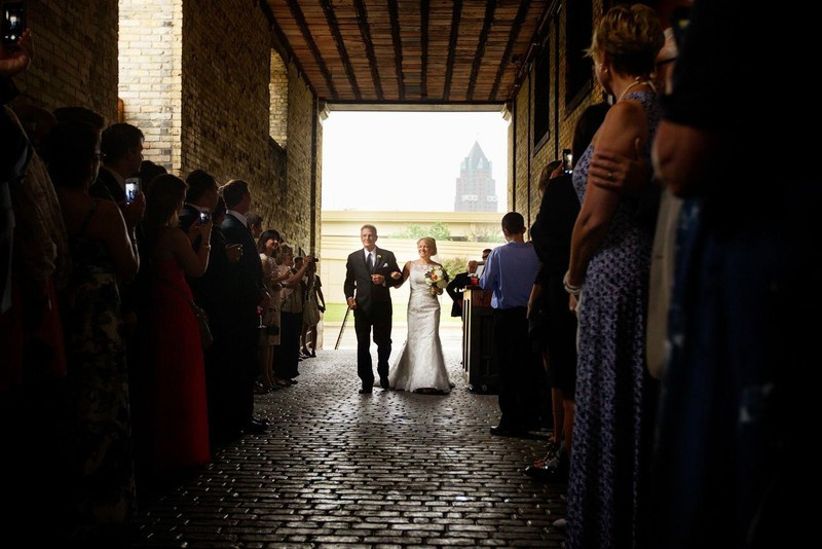 Photo: Pritzlaff Events
Pritzlaff Events
Industrial spaces
have been the hot spot for hosting weddings these days. Not only are they essentially a blank canvas for couples to decorate and dress up in whichever style they choose, but most of these warehouses provide an outdoor space, as well. Therefore, if you've been browsing outdoor wedding venues in Milwaukee and hope to find an event space that features with brick walls, exposed beams and high ceilings, we've found the perfect venue just for you. Pritzlaff Events is divided into four historical warehouse spaces and two of those events spaces include covered outdoor options. One outdoor location can host 50 to 300 guests where the other outdoor area can host a up to 180 guests. Events can range from formal to casual at whichever event space you choose and the property is conveniently located on North Plankinton Avenue in Milwaukee.
Learn more about Pritzlaff Events here »