7 Miami Black-Owned Wedding Businesses You Need to Know
Whether you're looking for an event designer, beauty pros, or a photographer, these talented Black-owned wedding businesses in the Miami area win rave reviews from couples.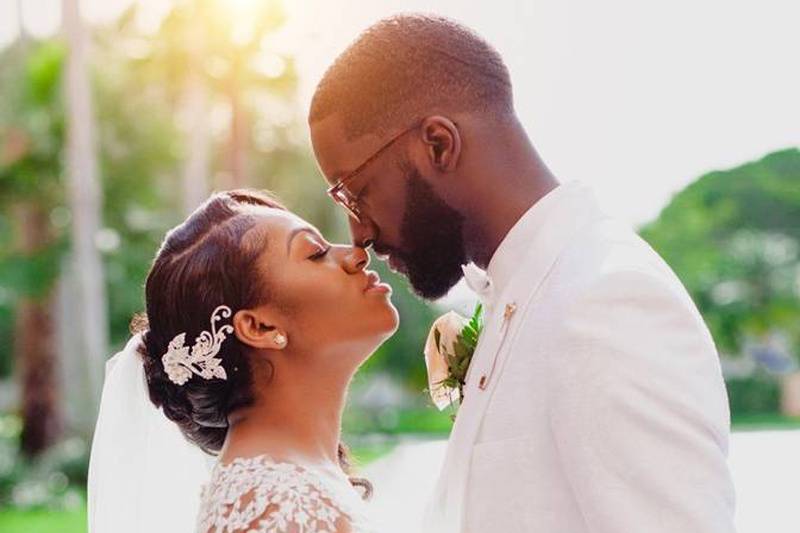 Now that you've decided to have your wedding in or around Miami, it's time to find the wonderful area vendors who will help make your special day unforgettable in every way. If it's important to you to hire a diverse group of vendors from various ethnic and racial backgrounds, you're in luck. There is no shortage of incredibly talented and immensely creative wedding vendors in all categories from all backgrounds. To help you on your hunt, we're highlighting and sharing some of the black-owned wedding businesses that are shaping Miami's wedding industry right now. This is of course just a small group of the many Black-owned wedding businesses in Miami—check out WeddingWire and utilize the new Diversity filter to find more Black-owned, Asian-owned, Hispanic or Latinx-owned, LGBTQ+-owned, Native American-owned, Veteran-owned and Woman-owned businesses near you.
View this post on Instagram
You might recognize event stylist and owner of Guerdy Design, Guerdy Abraira from HGTV's Holiday Crafters Gone Wild, or from her social media page, which boasts 35K followers. One thing's for sure about this talented black business-owner: she knows how to get the job done in a way you could only dream it could be done. She has connections with so many other talented wedding vendors in Miami and far beyond whom she partners with to ensure that her clients' big day is as exquisite and unforgettable as possible.
View this post on Instagram
This talented husband-and-wife team pool their creativity together to produce timeless cinematic films that capture the raw emotion felt on the day of someone's wedding. With more than 10 years in the business, Will and Sandra Bridges know how to tell stories in an unobtrusive and detail-oriented fashion. Although their company is based in South Florida, they are commissioned by brides and grooms from around the world.
View this post on Instagram
With over a decade of experience in the industry, this Fort Lauderdale-based florist offers customized floral decor experience for couples, offering everything from color scaling and design layout to complimentary floral mockups at their office or the venue. "Working with each couple at their level to produce something spectacular is truly a fine art," says president and creative director Marcia Villiers. "As we take inventory of factors that impact decor, such as types of chairs being used, linens, flatware, the space an event is being held in, style of dress being worn, and more, we are assessing to achieve cohesion."
View this post on Instagram
This highly acclaimed photography studio led by creative mastermind Stanley Babb goes above and beyond to produce photos that invite back the feelings you felt on your wedding day at a single glance. He has documented love stories against some of the most breathtaking backdrops from around the world, which can be seen on his Instagram page, which has a whopping 145K followers. "We are always trying to put ourselves in the right place at the right time, anticipating expressions of emotion and being ready to document events with an eye for storytelling," he shares. "I feel a wedding should be unique, emotional, elegant, beautiful, and insanely fun—a tale of families and friendships, a reminder of times passed, and a stepping stone for the future."
View this post on Instagram
It's clear to see how South Florida native and founder of Tica Rose Events, Erica Duroseau (who goes by Tica), has an intense passion for styling and design that's spanned decades. "When I was a little girl I would redesign my bedroom and progressively transform it into exquisite art," she shares. "In my hands, dinner parties transform from cliché to classy, weddings become an intimate night of dining, dancing and laughter for every couple invited and something as simple as a small birthday dinner blossoms into an unforgettable experience for the guest of honor," she says. When working with clients, she consults with them on theme and design, along with the nitty-gritty details that are necessary to hold an amazing event on a realistic budget.
View this post on Instagram
You get so much more than quality photography from your wedding day when you hire Kareem Virgo, founder and lead photographer of Reem Photography and his talented team. They bring your authentic love story to live through the lens of the camera. "Our works aren't just about the sound of the shutter or the poses of the brides, it is about capturing the genuine emotions of our couples on their special days, preserving their natural moments, and creating beautiful memories that will last a lifetime," he says. "Your love and joy are everything to us, and at every turn during your event, you will see me looking out for the little details, and capturing the heart and soul of your moments in the most beautiful ways."
View this post on Instagram
This destination makeup artist who specializes in bridal makeup and is based in Miami creates stunning masterpieces on her brides and grooms. She and her team pride themselves in creating memorable experiences for their brides, in addition to making sure they look and feel their best on their big day. "Our level of passion is illustrated in every brush stroke and our diverse portfolio demonstrates our experience and skill set," adds Codrington.