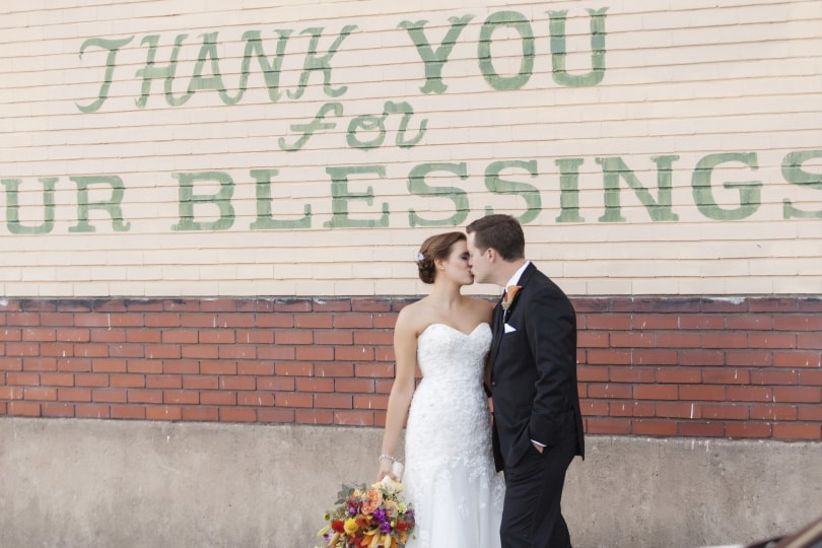 Wedding venues in Memphis, Tennessee give couples a variety of different options to host their big day. The birthplace of Rock 'n Roll is filled with indoor and outdoor locations, historic buildings, and other unique spaces that can easily evoke your desired look and feel. So, if you're getting married in the Mid South area and want to find a venue that best fits you and your future spouse's style, you're in the right place.
From couples with a classic wedding style to those who are a bit more modern, these wedding venues in Memphis, Tennessee are perfect for any type of celebration.

For the Downtown Couple: The Peabody Memphis
Built in 1869 and located only a few blocks from Beale Street, we can't think of a better Downtown Memphis location for hosting a killer bash. The Peabody is one of Memphis' most historic hotels and includes several wow-worthy event spaces, like the magnificent Continental Ballroom. Inside you'll be instantly greeted with elegant crystal chandeliers, marble floors and other luxe details and decorations — making it easy to throw a lavish ceremony and reception at this Downtown venue. With enough room to accommodate up to 1,000 guests, we definitely think you should add this legendary Memphis, Tennessee wedding venue to your must-see list.
Learn more about The Peabody Memphis here »

For the Budget-Conscious Couple: Memphis Botanic Garden
If you're on a budget and are browsing wedding venues in Memphis, Tennessee, then we think you'll love this affordable option! Memphis Botanic Garden includes 96 acres of garden space for couple to utilize and has a starting rental site fee for only $750. Along with its gorgeous outdoor areas, the affordable venue also has a few indoor locations for couples to use in case of inclement weather. With lush garden backdrops and a specialized event team to help with set up and break down, budget-conscious couples will be able to throw an spectacular wedding at this inexpensive Memphis wedding venue.
Learn more about Memphis Botanic Garden here »

For the Trendy Couple: 409 South Main
Dreaming of hosting an ultra trendy ceremony and reception? Raw, industrial event spaces are the hottest wedding venues right now, so we think you should definitely check out 409 South Main. This historic venue features exposed brick walls, wooden beams, and floor-to-ceiling window panels, which creates a chic warehouse-like setting for vows and celebrating. It also has an open concept so you can transform the venue into a totally unique (and on trend!) space. 409 South Main can host up to 330 guest and is conveniently located in Downtown Memphis.
Learn more about 409 South Main here »

For the Artsy Couple: Brooks Museum of Art
Couples who have a passion for the arts and want to get married surrounded by world-class exhibits should add Brooks Museum of Art to their vendor list. This wedding venue in Memphis, Tennessee has a beautiful park-like setting and is one of the oldest and largest art museums in the state. The museum has several art-filled locations that are perfect for ceremonies, receptions, rehearsal dinners and more. From the foliage sculptures in Holly court to the venue's outdoor terrace that overlooks Overton Park, Brooks Museum of Art is a wonderful space for celebrating the night away. Planning a larger wedding? The Brooks Museum of Art can accommodate groups from 50 to 1000 making it an excellent choice for couples with a bigger guest list.
Learn more about Brooks Museum of Art here »

For the Aquatic Couple: River Hall at the River Inn
River Hall at the River Inn is made for couples who want a waterfront backdrop for their ceremony or reception. This wedding venue in Memphis, Tennessee overlooks the Mississippi River and has several scenic indoor and outdoor spaces for couples to utilize. The Inn's private courtyard, which can seat up to 114 guests for ceremonies and 96 guests for seated dinner, provides couples with gorgeous riverfront views and is a popular choice for outdoor weddings. Along with its outdoor location, the venue also has a charming banquet hall, known as River Hall, that can be used for receptions and other events.
Learn more about River hall at the River Inn here »

For the Classic Couple: The Cadre Building
Couples hoping to stick to a traditional wedding venue in Memphis, Tennessee should visit The Cadre Building. Set just one block north of The Peabody, The Cadre Building is a historic landmark that's known for its elegant Grand Ballroom. The 13,000 square foot ballroom is filled with hand-painted gold-leaf molding, brillant chandelier lighting, champagne-hued drapery, which means couples will need few decorations to evoke a timeless and sophisticated wedding aesthetic. So, if you're planning a formal-sit down reception in the birthplace of Rock 'n Roll, this premier wedding venue in Memphis, Tennessee is a fabulous choice.
Learn more about The Cadre Building here »

For the Couple With a Smaller Guest List: No. 2 Vance
No. 2 Vance is an excellent pick for couples who've been browsing small wedding venues in Memphis, Tennessee. Located on Wagner Street in Downtown Memphis, No. 2 Vance has an indoor and outdoor location that creates an intimate vibe for wedding receptions. The event space can comfortably seat up to 75 guests or 100 for a cocktail-style reception and even provides views of the Mississippi River.
Learn more about No. 2 Vance here »

For the Elvis Presley-Loving Couple: Elvis Presley's Graceland
For couples who are big fans of the "The King of Rock and Roll" we think you should absolutely get married at Elvis Presley's Graceland. Presley's estate has a newly-built Chapel in the Woods that's a great place for private ceremonies and receptions. With enough space to seat up to 75 guests and an attached patio area to utilize for an intimate reception, this iconic Memphis wedding venue will definitely have your guests talking about your big day for years to come.
Learn more about Elvis Presley's Graceland here »

For the Rustic Couple: Heartwood Hall
Rustic couples hoping to plan a wedding that's filled with charming, country-chic details should get married at Heartwood Hall. Located on 25 sprawling acres and just outside of Memphis, this antebellum home creates a swoon-worthy countryside setting for weddings. There are several sites for couples to choose to host their big day, but our favorite is the venue's rustic, yet elegant barn. The barn includes a wooden interior — perfect for decorating with twinkling string lights — bright red doors, and is even surrounded by over 100 oak trees. If you're picturing walking down the aisle inside a dreamy and whimsical barn, then definitely check out this rustic Memphis wedding venue.
Learn more about Heartwood Hall here »