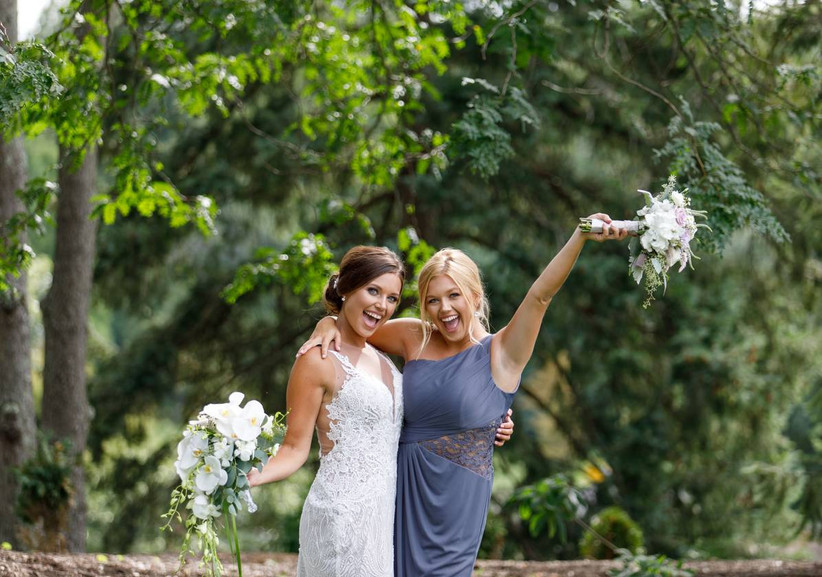 As your big day approaches, it's time to start thinking about a meaningful gift for your leading lady—that's right, your maid or matron of honor. Whether she's your bestie, your mom, your cousin or your sister, if she's already married, your number-one gal will be called your matron of honor instead of your maid of honor. A maid of honor is a best woman who isn't yet married.
When choosing the best matron of honor gifts, you can opt to honor her married status, but you don't have to. If you give her a gift that both she and her partner can use, great! But it's totally understandable to gift her something meaningful just for her, too. A personalized piece of jewelry is a great example.
No matter your preference, you're sure to find some great inspiration in our round-up of some of our favorite matron of honor gifts.
Are you looking for a special way to ask your married bestie to be your matron of honor? Do it with this stunning spa set from Etsy store Dear Ava Gifts. With an array of lavender-scented gifts, she'll be able to relax in style. After she says yes, of course.
Dear Ava Gifts spa set, $39, Etsy
One of the most popular matron of honor gifts? A robe! It's a great gift since your best gal can wear it on your wedding day and beyond, of course. This pretty floral knee-length robe makes a great choice, and it comes in blue, lavender or pink.
WeddingWire Shop floral silky kimono robe, $18, WeddingWire Shop
These popular skyline wine glasses make super popular matron of honor gifts. And we love the idea of gifting your leading lady a set of glasses that feature the skyline of the city where you'll be wed. Such a sweet way to remind her of your special day.
The Etched Collective wine glasses, $34, Etsy
Lollipops rock. Chocolate rocks. Put them together and you have one of the sweetest matron of honor gifts we've ever seen. She'll love this gift set of assorted lollipops from See's Candies, and if her honey is lucky, she may even share a few!
See's Candies assorted lollipops, $29, Amazon
Your matron of honor probably received lots of kitchen items for her wedding. But that doesn't mean you can't elevate her kitchen game with this state-of-the-art juicer by Aicock. Juicing is super healthy, and an easy way to ramp up that fruit and veggie intake. Here's to her health!
Aicock juicer, $41, Amazon
Who wouldn't love an all-purpose cozy sweater? We certainly do! That's why we've included this Phoebe wrap cardigan from Ugg on our list. It's made of a super-cozy polyester/nylon blend, and comes in four pretty neutrals to suit any personality.
Ugg Phoebe wrap cardigan, $118, Nordstrom
These bracelets make fabulous matron of honor gifts, and we particularly love how they can be personalized in two ways—with your MOH's birthstone and her name.
BaubleBar custom birthstone bracelet, $38, BaubleBar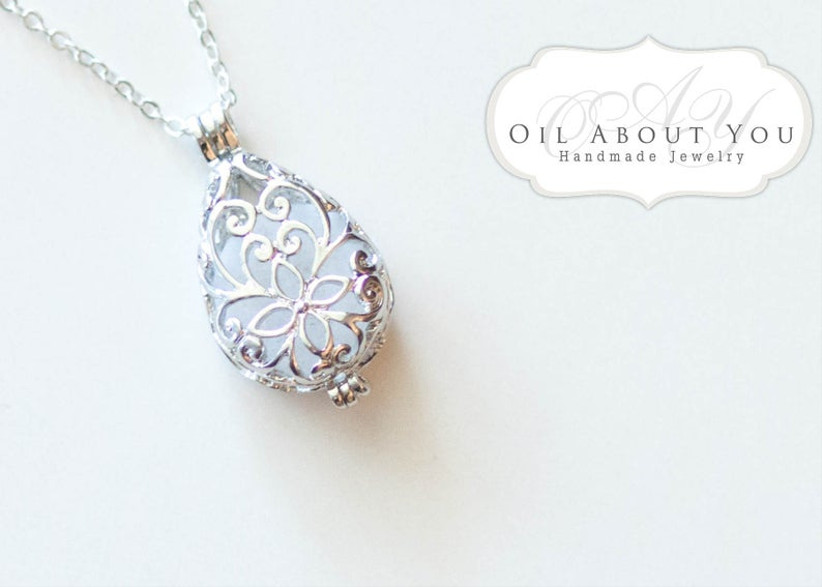 If your matron of honor is into essential oils, she'll fall in love with this cool aromatherapy pendant. It comes with discrete felt discs for long-lasting fragrance diffusion that'll last all day. This silver-plated rhodium necklace is available in several different chain lengths.
Oil About You essential oil diffuser necklace, $19, Etsy
Matron of honor gifts that help spruce up her home are always appreciated. Our favorite? This simple yet chic throw blanket from Nordstrom. We love the herringbone pattern, and the fact that this lightweight, fringed blanket comes in a host of different colors to match literally any décor.
SFERRA Celine throw, $89, Nordstrom
This delicate silver daisy ring sweetly proclaims, I Choose You as optional personalization on the inside. How adorable. This is one of our favorite matron of honor gifts since it's so versatile—she can wear it any day of the year and pair it with her other jewelry, including of course, her own bridal set. While this ring is only available in silver, it comes in a wide range of different sizes, and the I Choose You stamping is optional.
Radiant Jewel Studio I Pick You engraved silver daisy ring, $22, Etsy
The '90s are back and these personalized hair clips are totally on-trend. Choose the color and style that best suits your matron of honor—she'll love adorning her locks with this fun accessory.
BaubleBar wide custom hair clip, $28, BaubleBar
Are you searching for cheap matron of honor gifts that won't bust your wedding budget? This adorable mug is it! One side proclaims that you simply can't say your I Dos without her by your side. But the other side really takes the cake, displaying a pair that can be created to look just like you and your matron of honor—down to your favorite bevvies!
Let it Be Yours Co. mug, $15, Etsy
The best matron of honor gifts for the sentimental types are those that address her role directly, like this necklace. It displays two linked circles to represent the way the two of you are forever linked. Available in silver, gold or rose gold, this pretty necklace comes with a card inscribed with a sweet saying.
Bella and Blush Matron of Honor necklace, $33, Etsy
Your on-the-go matron of honor will love this chic shoulder bag with an attractive, modern geometric design in black and white. It's personalizable with up to three initials, and has ample space for everything she needs, whether she's hitting the gym after work or heading out of town for the weekend.
WeddingWire Shop geometric pattern canvas tote, $12, WeddingWire Shop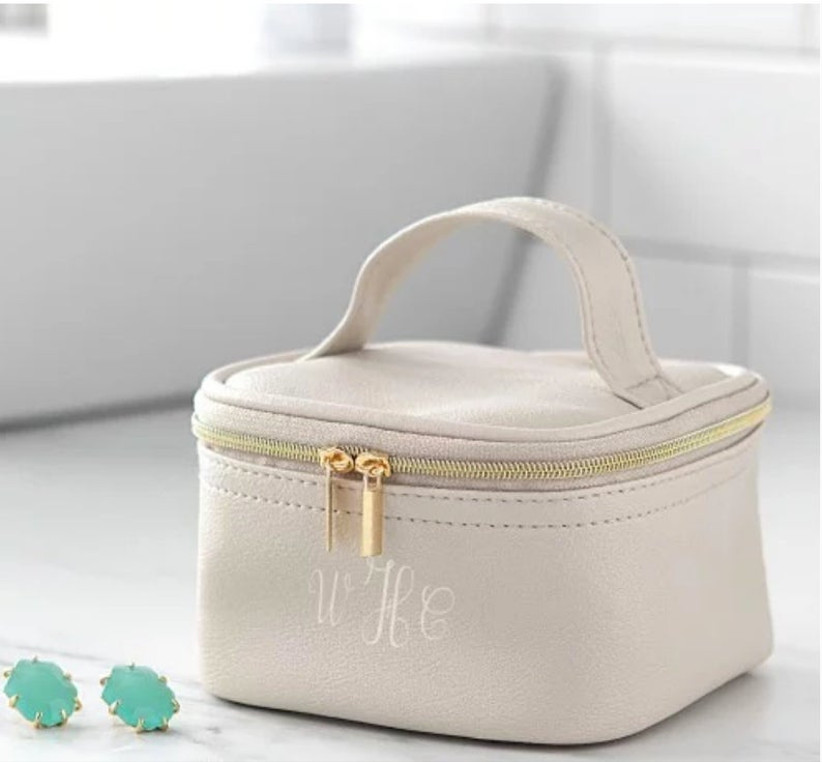 Every gal has jewelry, which makes this one of our favorite matron of honor gifts. It's made of a neutral, vegan leather that's monogrammable, with a flirty gold on white polka dot interior. Five zippered compartments ensure she'll have room for all her baubles.
Confetti Joy personalized jewelry travel case, $50, Etsy
Gift your matron of honor this exquisitely simple initial ring from Vrai. You can choose to use her first initial, or honor her own newly minted last name if she changed it when she got married. Either way, this dainty ring is sure to be a hit.
Vrai initial ring, $95, Vrai
If your matron of honor likes to switch up her look, gift her this huggie earring set from BaubleBar. She can mix and match the different charms on the gold or pave huggies to create a look that's all her own.
BaubleBar huggie charm gift set, $78, BaubleBar
Twelve thousand four- and five-star reviews don't lie: this curl brush from Revlon is ahhh-mazing. Give your matron of honor the gift of time back in her day when you opt for this curl brush, which will slash the amount of time she spends doing her hair every day.
Revlon one-step dryer brush, $60, Amazon
Every gal needs a ring dish, but your married best woman has a set of very special sparklers just begging for their own space when not on her hand. That's why this chic, modern ring dish is one of the most perfect matron of honor gifts.
Salt and Limestone custom ring dish, $16, Etsy
Disclosure: This post contains affiliate links, some of which may be sponsored by paying vendors.