Lesbian Wedding Attire Decoded: Fashion Ideas for Your Big Day
Two brides can mean just about any combination of lesbian wedding attire. Gowns? Dresses? Suits? Veils? See what these real two-bride couples wore on their wedding day.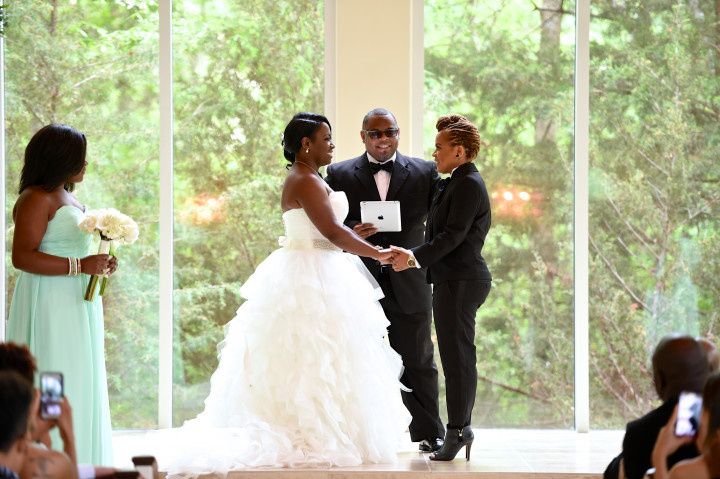 Weddings with two brides can run the gamut when it comes to lesbian wedding attire. Both brides can choose complementary white gowns; one bride can wear a suit and the other a gown; both brides can wear suits or tuxes. The possibilities are pretty endless. Scan this quick list of lesbian wedding attire ideas to help you and your fiancée decide on the perfect garments.
These lesbian wedding attire rules will get you ready to strut for your wedding day!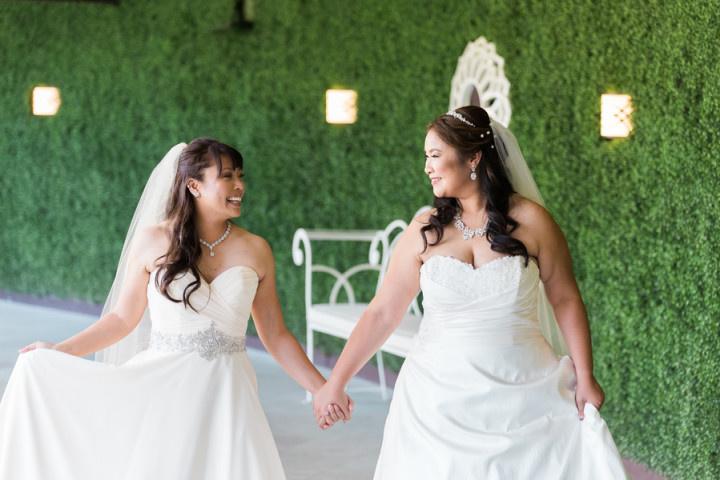 Deciding on a gown, a suit or something else
The first big decision for each bride will be what type of lesbian wedding attire you will choose. Even though you'll probably want to keep the total look hidden from each other before your wedding, talk about what clothing makes each of you feel comfortable, confident and good-looking. If you're the type of woman who hasn't worn a dress since you were able to dress yourself, don't feel pressure to wear a dress or gown for your wedding. (Although, if you just want to switch it up, go for it!) Tuxedos, suits, suit separates, pants and jumpsuits are just some of the options beyond traditional gowns that are available to brides. If you're looking for a more menswear-inspired wedding suit, be sure to leave plenty of time to find one that fits well and for alterations.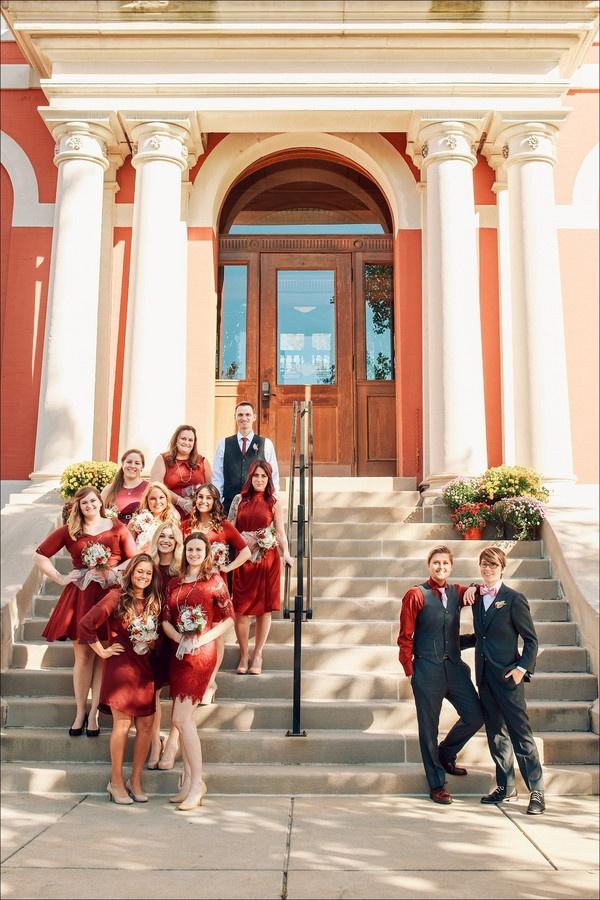 Making your attire match while keeping it secret from your fiancée
Now that you both know what type of lesbian wedding attire you'll don for the big day, you want to make sure it will match. How to find coordinating, but not matching, bridal wear for two brides is an age-old same-sex wedding question. If you're wearing different types of clothing (i.e. one gown and one suit), this isn't such a hard problem, but if you're both wearing gowns or both wearing suits, it can be. Luckily, you aren't the first couple will this problem, so here's a short list of remedies:
Shop for your wedding attire at the same bridal or suit shop, but on different days. Talk to the sales people before either of you visits to let them know about your wedding, what each of you is looking for and that you'd like to make sure the fabrics, colors and styles complement each other without spoiling the surprise.
Appoint a member of your wedding party to be the intermediary. This person will go attire shopping with both of you to make sure the styles, colors and fabrics aren't clashing.
Work together to decide a wedding color palette and determine which shades of white (if you're going for white) will best complement. Then, go to your respective shops with these shades in hand knowing they'll work well against your other colors.
Both of you can also get a swatch of your attire fabric before you buy and compare to be sure the hues complement.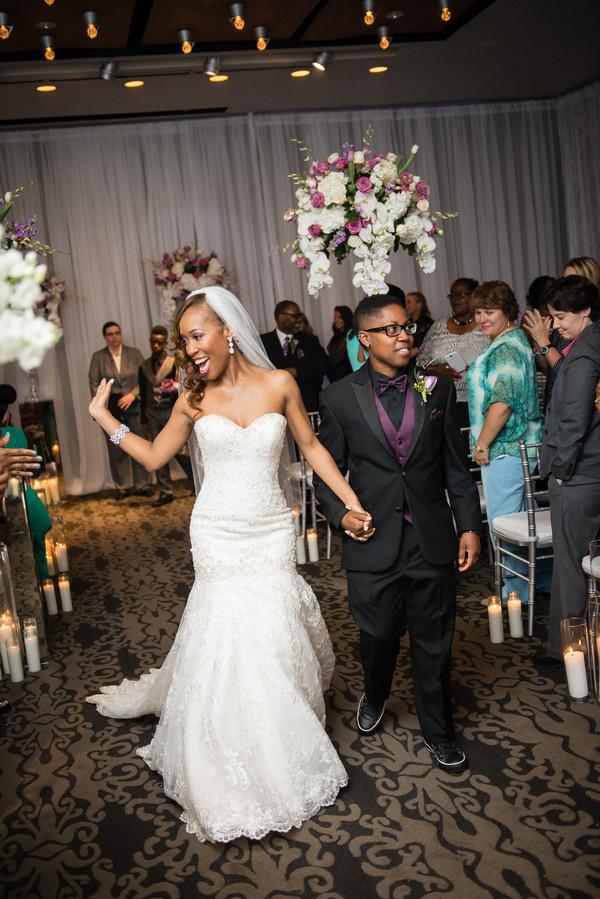 Coordinating different wedding accessories, like veils and neckwear
Once you've figured out what lesbian wedding attire you'll be wearing, there's also the question of how you'll accessorize.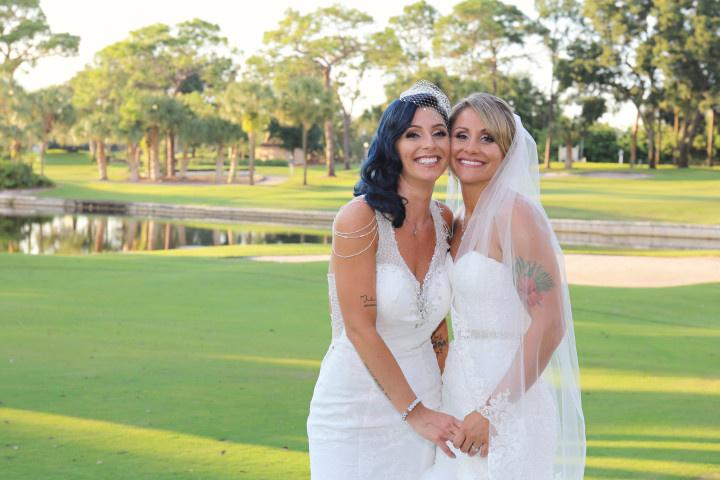 Veils: It's most important that each veil match the wearer's dress, so don't worry too much about veils that match each other. Conventional wedding veil wisdom is that a more simple veil will complement a more ornate dress, and a more elaborate veil will set off a more classic dress style. However, feel free to shake these up these conventions to suit your wedding style.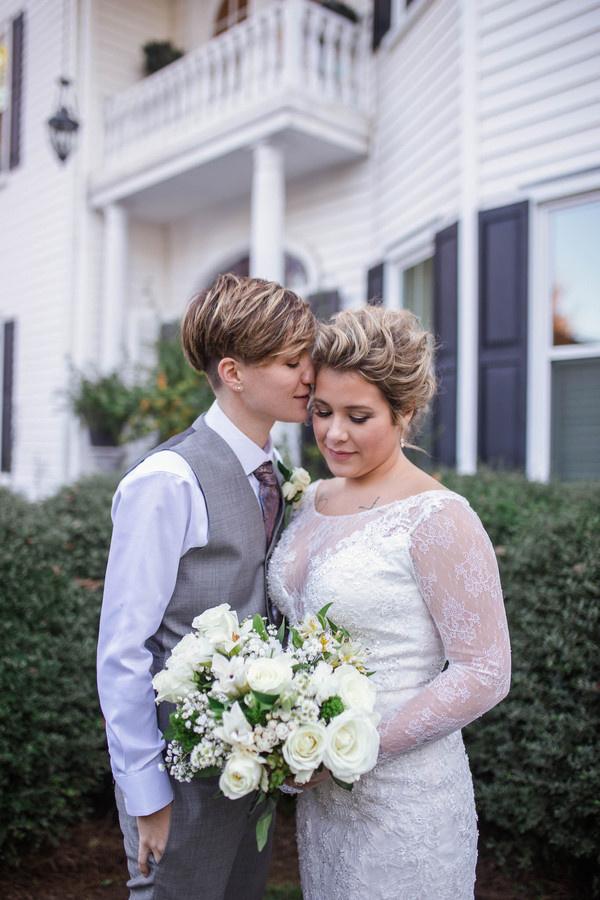 Suit accessories: If you're planning to add ties, bowties, vests or suspenders to your lesbian wedding attire, these are additional items that need to be coordinated in some way with your future wife's look. If you're both going to be wearing suits, you can add these accessories to the list of items you'll want to run by your suit shop or intermediary friend to make sure it doesn't clash. When one bride is in a suit and one is in a dress, the likelihood of clashing these types of accessories is low, especially when you've agreed on a unifying color palette.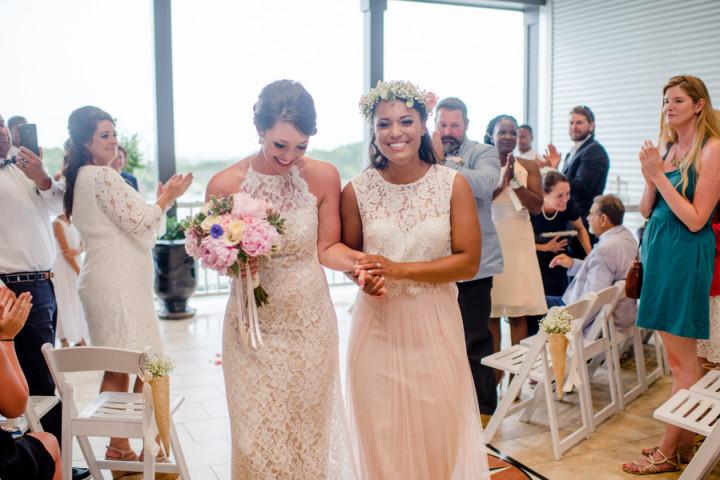 Flowers: You'll probably want some sort of floral addition to your lesbian wedding attire. Brides in dresses often carry a bouquet, but not always. Most brides who wear suits will opt for boutonniere, but some prefer a bouquet. Be sure your florist know what your needs will be either way. If you decide both brides will carry a bouquet, your florist will have lots of suggestions to make them unique and ensure they don't overwhelm each other.