If you're getting married in the Hawkeye State and starting your search for your dream location, you're in luck. There are so many amazing wedding venues in Iowa to choose from, no matter what your style or theme might be. Whether you're hoping for a classic, elegant space or a more relaxed, rustic venue, you're sure to find it in Iowa—and we're here to help you narrow down the list to find your dream venue for the best day of your life.
Ready to start venue shopping? We've picked nine wedding venues in Iowa for every style, from rustic to formal and more.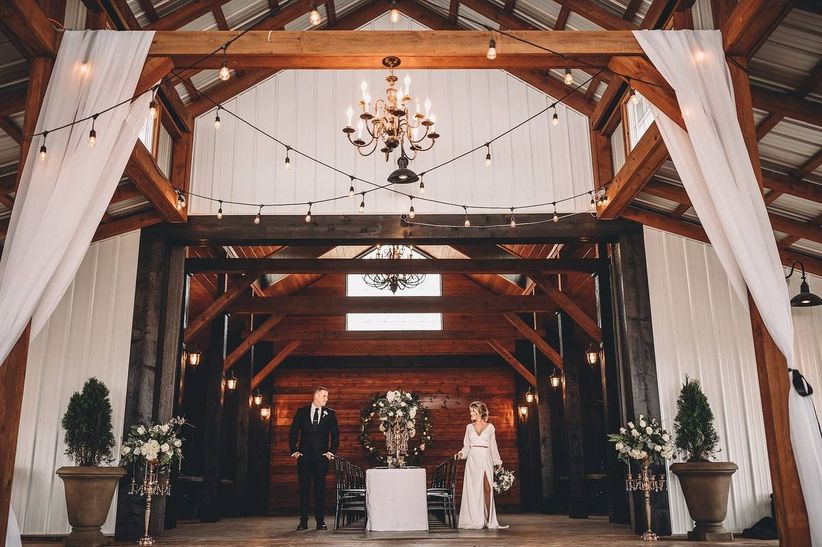 Rustic: Harpor's Vineyard
Couples going for a more casual, laid-back vibe for their big day should definitely check out this barn wedding venue in central Iowa. From the variety of gorgeous outdoor ceremony locations to the renovated barn and covered deck, this Couples' Choice Award winning venue effortlessly combines a romantic feel with rustic details. Weddings of up to 2,000 guests (seriously!) can be hosted here, and there are some seriously great amenities here, from a stocked bridal suite to a groom's grain bin for getting-ready fun, to luxe event rentals and much more.
Learn more about Harpor's Vineyard »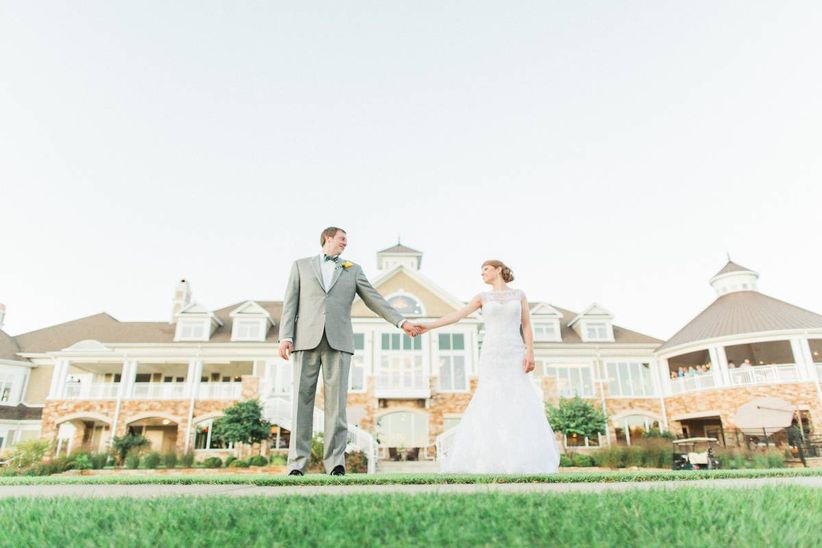 Classic: Glen Oaks Country Club
Country clubs are among the most classic of event spaces in Iowa, and this West Des Moines wedding venue makes it easy to see why. Host your ceremony on the gorgeous covered patio or on the impeccably-manicured grounds, followed by a reception in the more intimate Spencer Court with space for 90 guests, the larger Churchill Room, which can host weddings of up to 200 people, or a tent on the property. This is an all-inclusive event center with a variety of menu options to choose from, plus Glen Oaks can provide rentals, cake, and more. This is also a lovely venue for bridal showers and other events.
Learn more about Glen Oaks Country Club »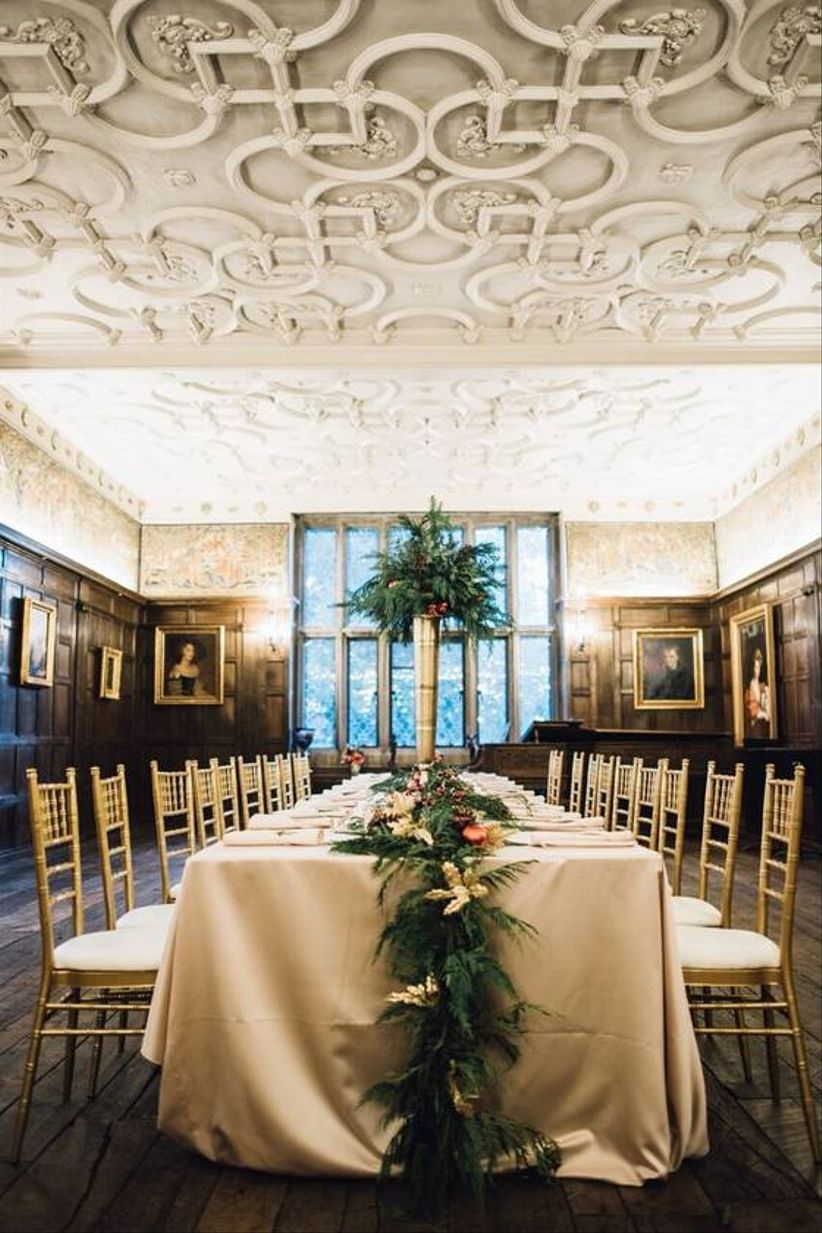 Vintage: Salisbury House and Gardens
The architecture at this event venue located in Des Moines is truly incredible, and ideal for a vintage-inspired celebration. From the Tudor stone work to the Gothic archways, the British-inspired house feels like something out of Downton Abbey—and is recognized by the National Register of Historic Places. Salisbury House and Gardens has seven indoor and outdoor event spaces for your ceremony and reception, and there's room for up to 300 guests here.
Learn more about Salisbury House and Gardens »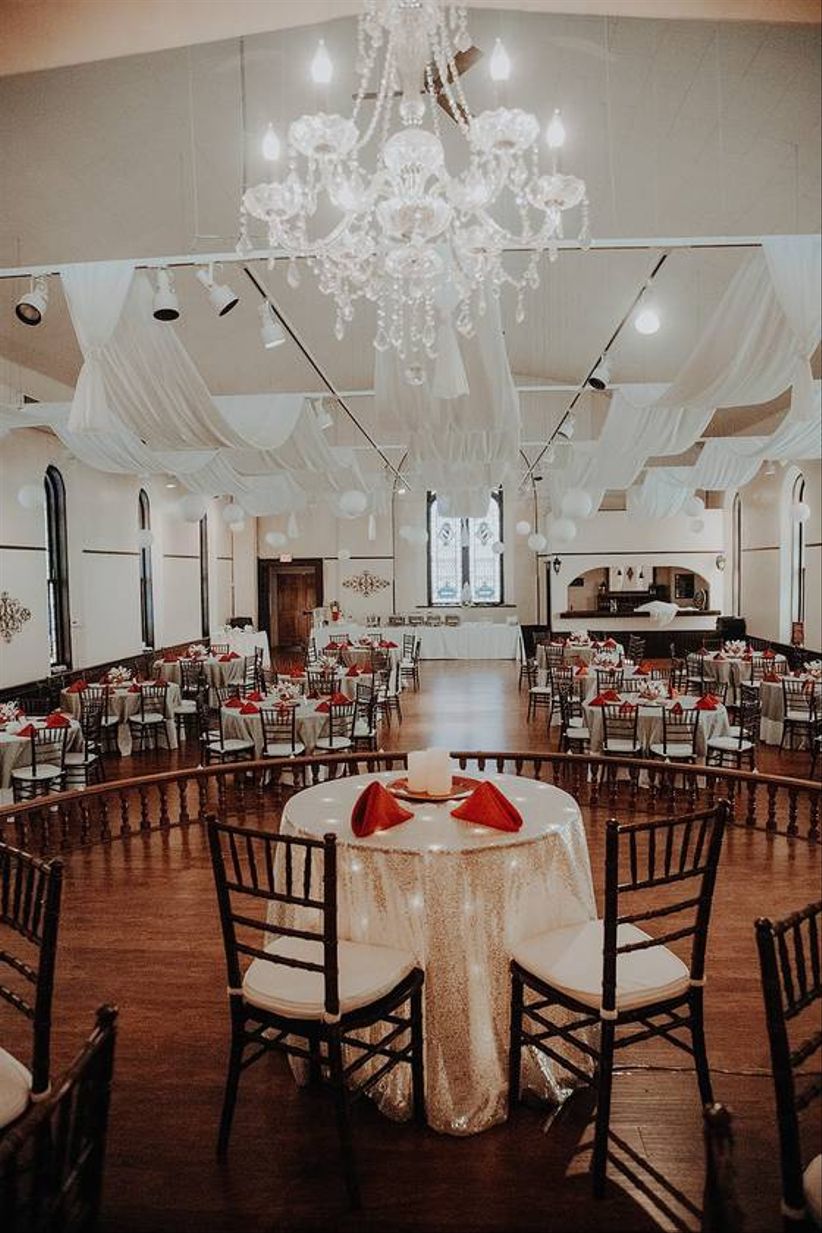 Intimate: Majestic Estate
It can be difficult to find a small wedding venue in Iowa, when many spaces seem better suited for larger events. However, this Burlington venue is practically perfect for events of up to 150 guests. You can exchange vows in the charming garden, followed by a reception inside the Old World ballroom, complete with stained glass windows. One of our favorite parts of this venue is the gorgeous outdoor space, full of lovely backdrops for wedding portraits. This is also an ideal space for rehearsal dinners and other pre-wedding events.
Learn more about Majestic Estate »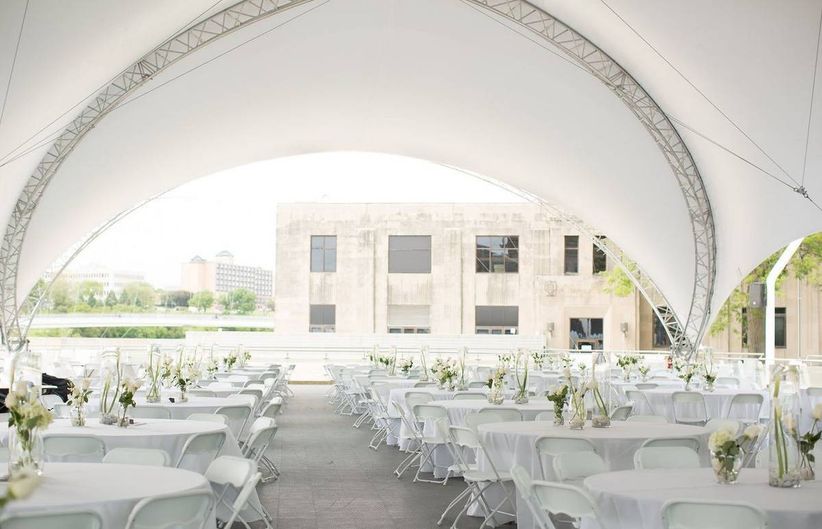 Unique: Brenton Skating Plaza
Did you know you can actually get married at Brenton Skating Plaza in the heart of downtown Des Moines? Talk about a unique wedding venue in Iowa! The open-air ice skating rink and event space features panoramic views of the city as well as a modern, industrial, "blank slate"-style feel to accommodate your choice of décor. Your guests will be totally wowed by the 160-foot-tall canopy that can host events of up to 430 seated guests. Available from May through October, Brenton Skating Plaza offers a truly unique venue in a convenient location—ideal if you're hosting a lot of out-of-town guests.
Learn more about Brenton Skating Plaza »
Industrial: Stardust Davenport
If you're looking for a wedding venue in Davenport, Iowa, this is one of our favorites—particularly if an on-trend industrial-style space works with your sense of style. At Stardust Davenport, you'll find exposed brick walls, open truss ceilings, and a 100-year-old mahogany bar. You can host up to 250 guests in the Stardust Room, and smaller events in the upstairs October Room. Stardust Davenport allows you to select your own vendors, so you can create an event that's uniquely your own.
Learn more about Stardust Davenport »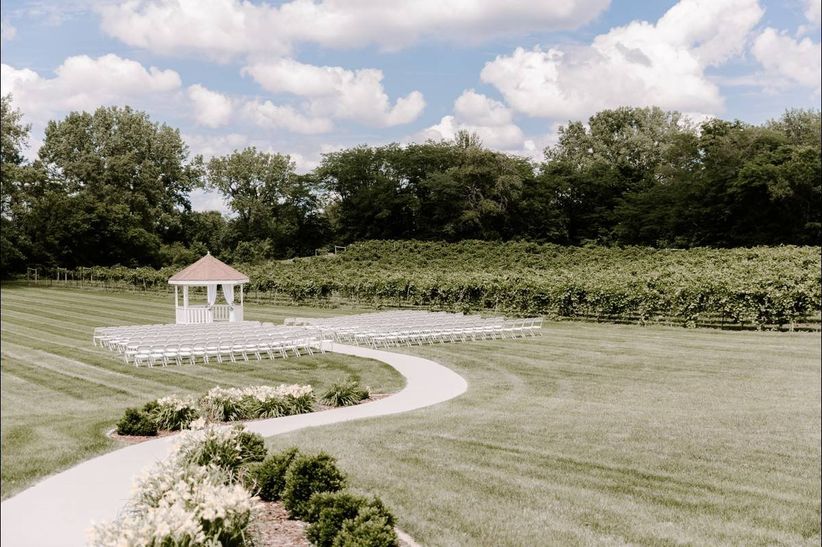 Romantic: The Chateau
This wedding venue in central Iowa effortlessly combines a romantic setting with modern-rustic details. Exchange vows in the lovely gazebo with vineyards as your backdrop and a paved aisle, followed by a reception inside the 6,700 square foot banquet hall with its vaulted ceilings, stone fireplace, hardwood floors, and ample natural light. There's room for up to 300 guests here, and in-house catering and rentals are available to make your planning process an absolute breeze.
Learn more about The Chateau »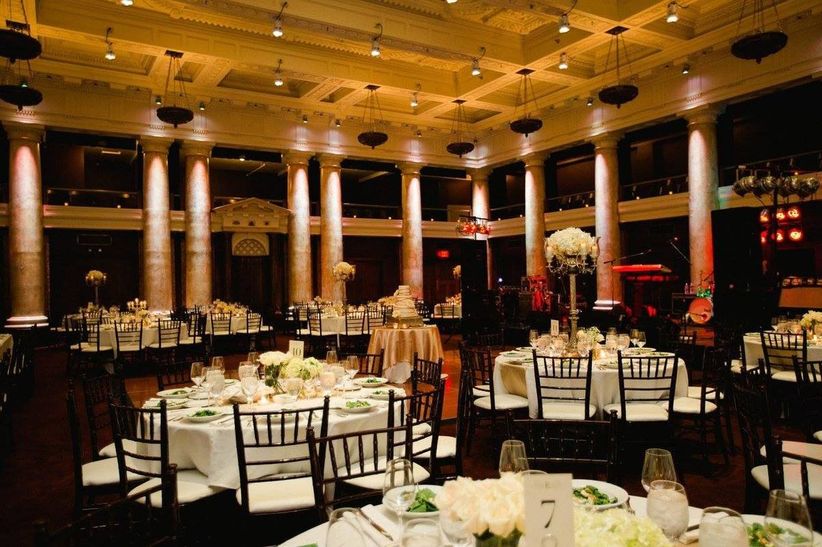 Formal: The Temple for Performing Arts
Perhaps your dream wedding is a more glamorous and luxurious affair. If so, this Des Moines venue may be just the place for your wedding day. This venue is on the National Register of Historic Places, and features some truly spectacular architecture. Host your ceremony in the recital hall, with its stained glass windows and hardwood floors. Then, enjoy dinner and hit the dance floor in the 4,000 square foot Grand Hall, which features stained glass skylights, two-story columns, and a unique sculpted ceiling. This is an ideal venue for events of up to 500 guests.
Learn more about The Temple for Performing Arts »
Historic: Memorial Union at Iowa State University
Whether or not you're an Iowa State alum, you'll appreciate the history of this majestic wedding venue in Ames, Iowa. The Gothic architecture is truly spectacular, and makes a lovely backdrop for your wedding portraits. There's ample outdoor space for ceremonies and room for up to 550 guests for a reception inside the Great Hall. This is an all-inclusive venue, and couples rave about the professional staff and amazing spaces.
Learn more about the Memorial Union at Iowa State University »