If you happen to be marrying in the capital city of Idaho, count yourself lucky because Boise wedding venues are some of the coolest spaces to tie the knot. Not only will you have the natural beauty of this mountainous region to play backdrop to your wedding, but you'll have venues that can easily suit any style - spanning from modern to classic, and anywhere in the middle.
Count your Boise wedding venue search officially done because we've scouted out the best of the best for every type of couple.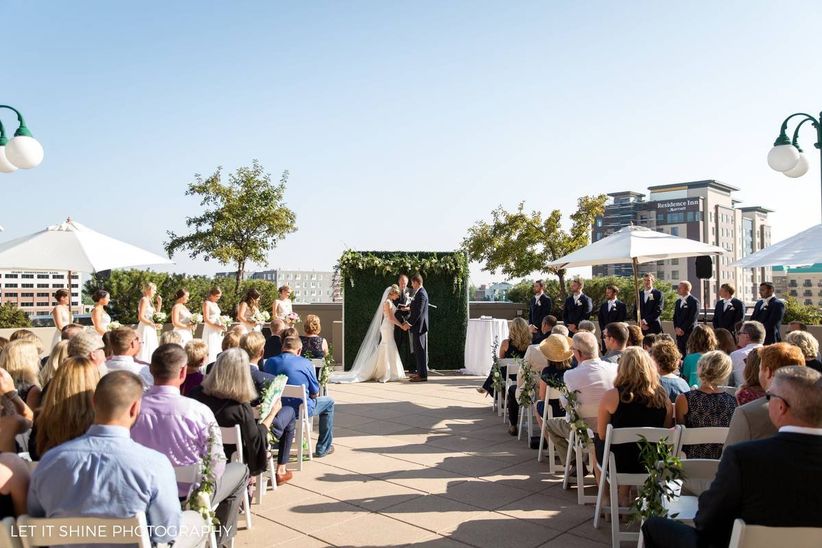 Modern: The Grove Hotel
Known for its sophisticated digs and top-notch service, this luxury hotel and Boise wedding venue practically begs to be the setting for a sleek and modern wedding. The Grove Hotel's Grand Ballroom can seat up to 350 guests and includes the use of their outdoor terrace with exceptional views of the Boise Mountains foothills. Along with a stunning event space, you'll have on-site accommodations for all your guests in the hotel's luxe rooms and suites.
Learn more about The Grove Hotel »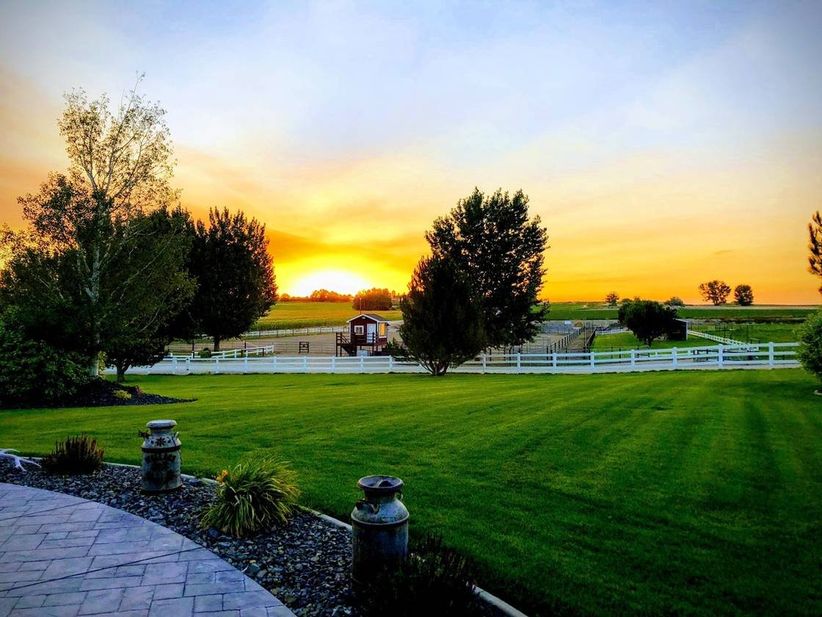 Rustic: Sand Hollow Weddings and Events
Calling all couples seeking the rustic charm of a country wedding! Made up of picturesque rolling hills and surrounded by the quiet the farmlands of Caldwell, Idaho, Sand Hollow is exactly what you've envisioned. Set less than 30 miles outside of Boise, this property offers a beautiful outdoor space for up to 300 guests and a dedicated events staff to make it all happen. Just imagine saying your vows under the wooden pergola, followed by a celebration set beneath the wide, open sky.
Learn more about Sand Hollow Weddings and Events »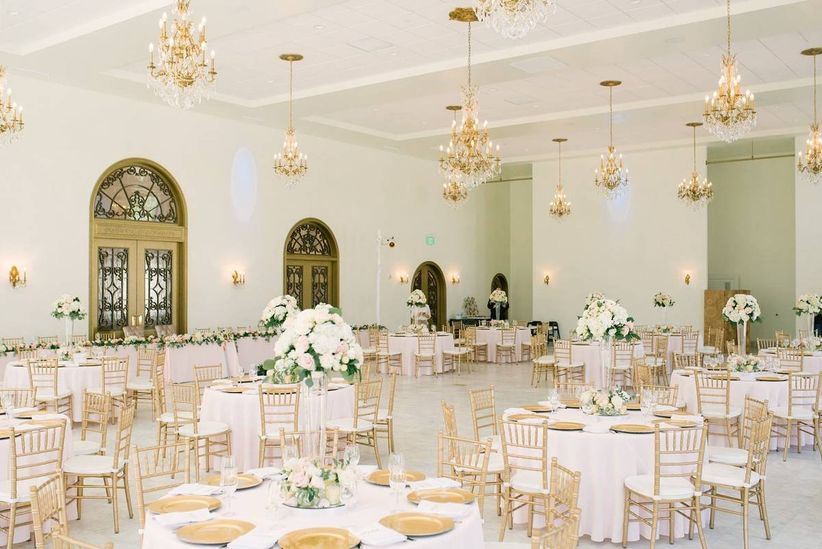 Classic: Chateau des Fleurs
You'll swear this elegant garden venue looks straight out of France, although it's actually only 25 minutes outside of Boise. Complete with two stunning ballrooms and acres of beautifully maintained gardens, the Chateau des Fleurs is the embodiment of any classic wedding lover's dream. The ballroom spaces allow you to celebrate with up to 500 guests, all of whom will love the European dining experience provided by the venue's on-site restaurant.
Learn more about Chateau des Fleurs »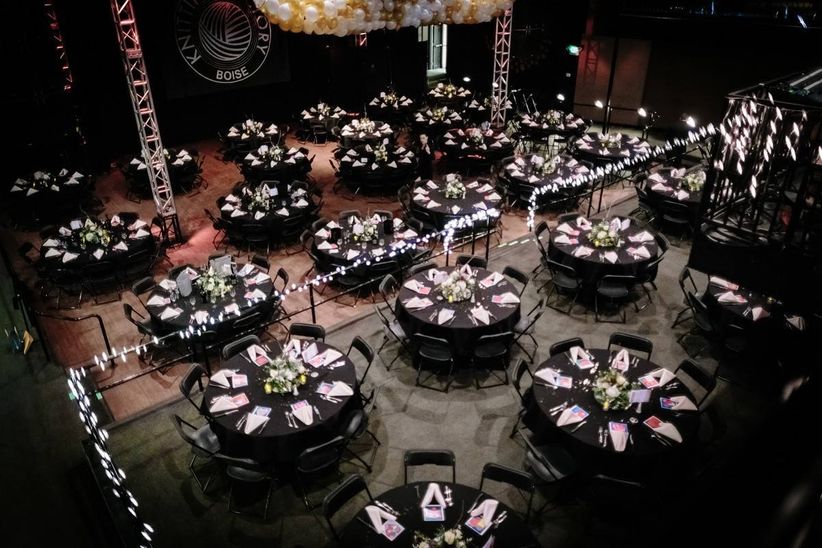 Unique: Knitting Factory Boise
Although this downtown Boise wedding venue serves as an entertainment hot spot, it also hosts private events of sizes big and small. You'll work with the venue's on-site event coordinator to create the day of your dreams, with catering, bar service, lighting, and production professional all at your fingertips.
Learn more about Knitting Factory Boise »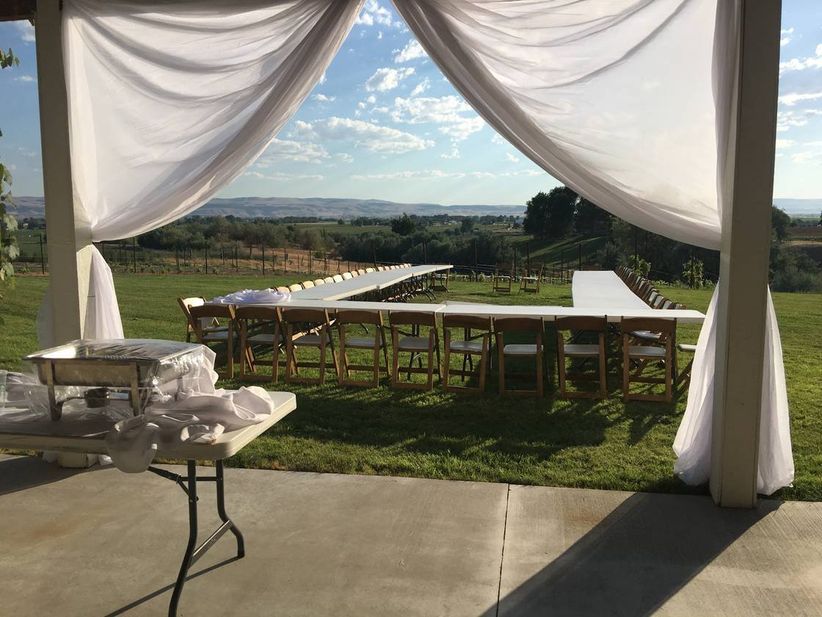 Romantic: Kindred Vineyards
Say "I do" to a venue set on Idaho's Sunnyslope Wine Trail with a romantic wedding day at Kindred Vineyards. This winery wedding venue will charm you right from the start, thanks to its natural landscape of rolling hills that instantly feels like a taste of Tuscany. The vineyards provide couples both covered and uncovered outdoor event space, plus plenty of delicious wine varieties for your post-ceremony celebrations.
Learn more about Kindred Vineyards »
Waterside: Alpine Ponds Event Center
One of the best things about the Alpine Ponds Event Center, besides its proximity to Boise, is the beautifully kept grounds ready to play backdrop to all your wedding portraits. Think two ponds, lighted fountains, miniature waterfalls, a charming wooden bridge and so much more. In addition to its rustic charm, this venue offers couples maximum flexibility with customizable event packages to suit their unique needs.
Learn more about Alpine Ponds Event Center »
Rooftop: The Penthouse at C.W. Moore Plaza
For a location that combines skyline views and stunning event space, this Boise wedding venue is just the ticket. Set nine stories above downtown Boise, the Penthouse is guaranteed to add a major wow-factor to your big day, plus provides a neutrally designed space to fit any wedding style. Whether you host your celebration on the outdoor terrace or inside the glass-enclosed event space, you'll be rewarded with incredible views all night long.
Learn more about The Penthouse at C.W. Moore Plaza »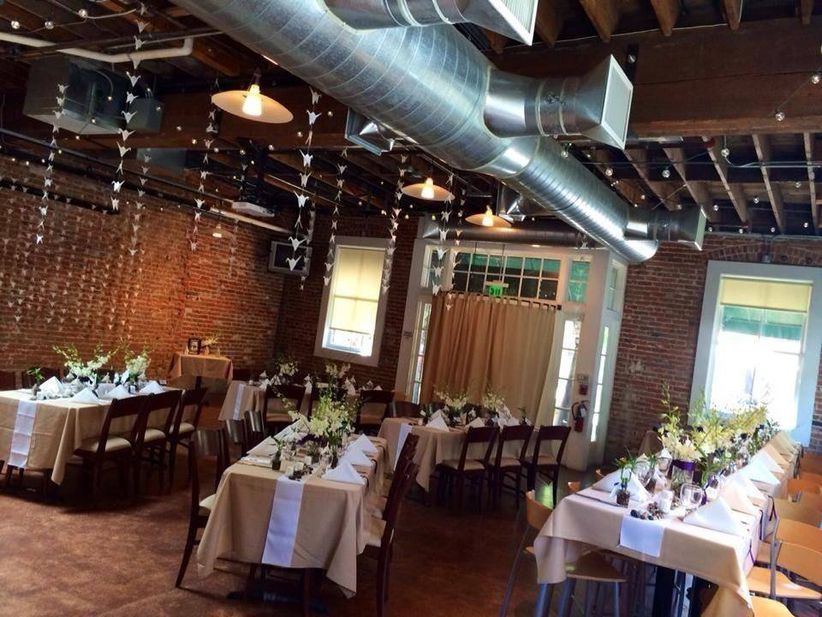 Industrial: Beside Bardenay
Set under the same roof as Bardenay Restaurant & Distillery, the Beside Bardenay event venue boasts an A+ location in downtown Boise. This hip Boise wedding venue features exposed brick walls and lots of industrial-style charm, and it's all located on the city's famous Basque Block. Not only will guests love the cool vibes of your venue, but they'll appreciate being within walking distance to nightlife and accommodations at the end of the evening.
Learn more about Beside Bardenay »