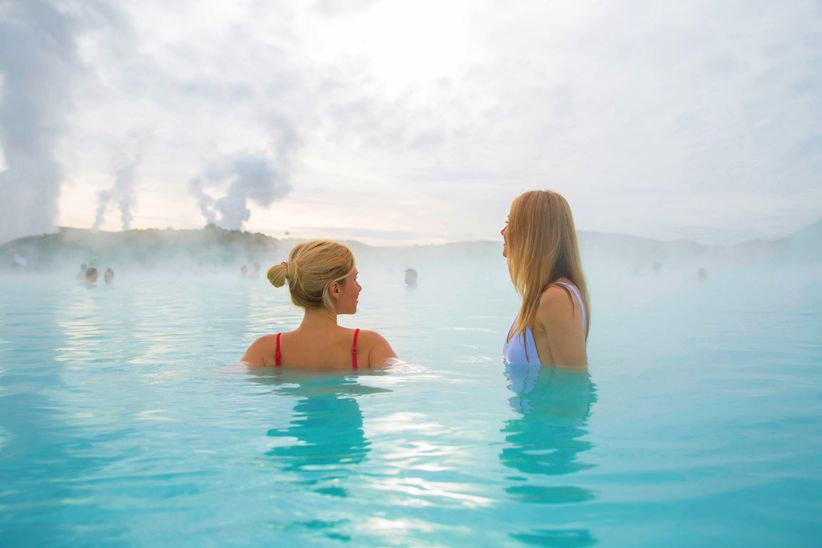 It's no secret that Iceland has quickly risen to the top of everyone's travel bucket list. And there's certainly a reason why! Combining a charming capital city with a robust nightlife with rustic outdoor adventures, an Iceland bachelorette party offers plenty to do for the wanderlusting bride.
If an Iceland bachelorette party sounds like an amazing adventure, start planning yours with the help of this guide.
What to Do
The first thing on anyone's mind when they travel for an Iceland bachelorette party is seeing all of the natural wonders of the country. And trust us, this place has plenty! Along the Golden Circle, you and your girls can cover the three top attractions in one day: Thingvellir National Park, where the Eurasian and North American tectonic plates meet; The Great Geyser and Stokkur Geyser, two actively sprouting hot springs; and the stunning Gullfoss Waterfall, with rushing water from the Langjökull Glacier, the largest icecap in Iceland (find the falls surrounded by green in summer and covered in ice come winter).
You'll also want to make sure you have time to head out to Vik, where an incredible volcanic black sand beach awaits (don't pack your bathing suit, this beach is cold). Along the way there, you'll see much of Iceland's stunning scenery that will make you feel like you're on another planet. And for more adventure, you can snowmobile glaciers, tour ice caves, and hike the cliffs of the country. Icelimo offers luxury private tours to many of these sites. Or go more rugged through Midgard Adventures' jeep tours.
Of course, no bachelorette is complete without some R&R, and Iceland offers one of the best: The Blue Lagoon Geothermal Spa. These mineral-rich milky blue waters are surrounded by volcanic rock and reach 102-degrees F. Book your visit in advance—the lagoon can get crowded and tickets are required.
Nightlife is abundant in Reykjavik, where 80 bars can be found in the short walk along the city's main street, Laugavegur. Oh, and the clubs stay open until 4:30 in the morning (in the summer there's almost 24-hours of sunlight, so remembering to go to sleep can be tough!). Check out Austur or b5 night clubs, or take a bar crawl and let a local be your guide, with the top three bars and cocktail lounges, as well as a seasonal local beer tasting and local delicacies and cocktails to try.
Where to Eat
As Iceland has become more popular, the restaurant scene has thrived. There's no way you'll hit all 300 restaurants in Reykjavik on your Iceland bachelorette party, but you should consider these top notch picks when booking reservations.
Start with a brunch at Flóran Garden Bistro, set inside the Reykjavik Botanical Gardens greenhouse. The menu options come straight from the garden, and include fresh fruits, open-faced sandwiches, and homemade cakes.
Kaffivagninn offers a more traditional European breakfast for your crew, with menu options that include tuna melts, smoked Icelandic salmon, or custom omelettes with toasted bread. You can also stop in here for a lunch of fish and chips, fish stew, or Arctic char.
For one of the best dinners in the city, head to Fish Market for the chef's special tasting menu. It's a pricey night out, but the food won't disappoint, with shared dishes like lobster soup, pan fried Atlantic catfish, and fresh sushi rolls as options.
For a more casual but equally delicious dinner, head to Forrétta Barinn Restaurant and Bar, which prides itself on its funky Icelandic style. Your meal choices include burgers with pulled pork, smoked duck breast with beet root, or lemon and coriander quesadillas.
Kol Kitchen and Bar offers a fine dining experience where you can choose to go a la carte or feast on one of three tasting menus. Fresh fish is of course on offer here, or you can go with truffle marinated beef with apple bacon lemonade, or lobster with spicy corn.
For a late night snack or midday treat, a visit to Baejarins Beztu Pylsur is a must. The hot dog stand, open since 1937, offers its famous Icelandic dogs, made of three types of meat and topped with ketchup, sweet mustard, fried onions, raw onion, and a mayo-based sauce with sweet relish.
Where to Stay
You have to stay in Reykjavik during your Iceland bachelorette party in order to be in the center of it all. Hotels are the easiest option, and you won't be lacking in options.
Center Hotel in Thingholt is a boutique option right near the main shopping street. Along with its cozy rooms, the hotel offers a spa, three dining establishments including Sky Restaurant and Bar, and easy walking distance to the city center
The Art Deco Hotel Borg is another great luxury option overlooking the beautiful Austurvöllur square. The elegant hotel is in walking distance to shops, art galleries, and restaurants, and offers its on spa and day tour packages.
For a midrange option, the Hilton Reykjavik Nordica is in walking distance to all of the dining and nightlife downtown, has its own spa and restaurant, and plush rooms and suites.