9 Ways to Involve Loved Ones in an Elopement
The decision to elope means you're okay not being surrounded by loved ones as you and your partner exchange vows. But you may still want to think of how to involve your family in your elopement even if they're not physically present.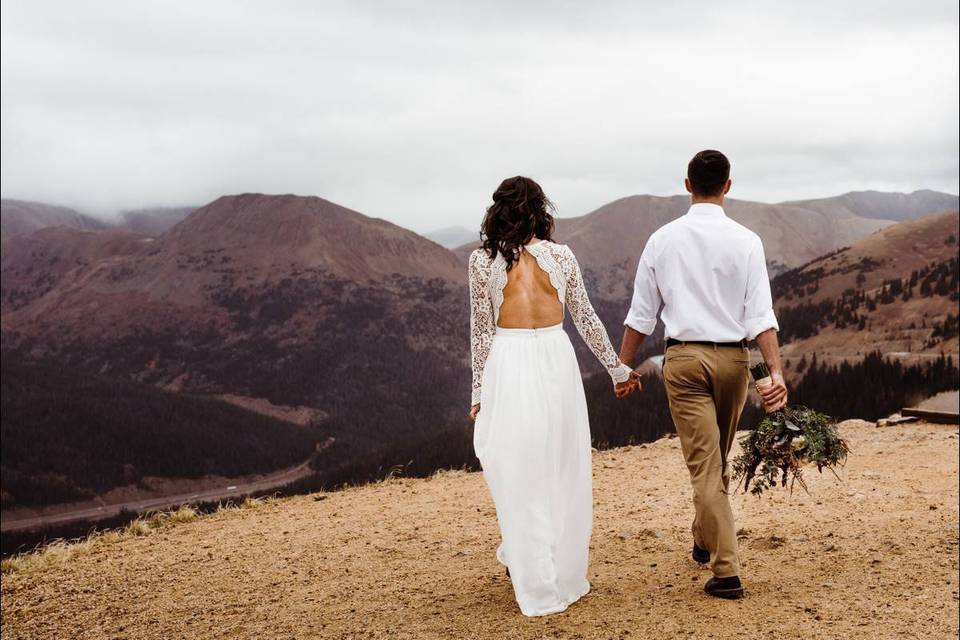 The decision to elope can help alleviate wedding planning stress in many ways, but it doesn't come without its own share of questions to consider. Mainly, how to involve family in an elopement, despite their absence on the big day.
Luckily, the involvement of your loved ones doesn't have to be all or nothing scenario. With some intentional decision making and a willingness to think outside the box, there are so many include your favorite throughout the process.
If you're struggling to navigate this often tricky territory, consider these nine tips your guide to how to involve family in an elopement.
Include a shower or engagement party.
While they may not be present on the wedding day, that doesn't mean they can't help celebrate with you along the way. Whether it's an engagement party, couples' shower, or bachelor/bachelorette festivities, these pre-wedding gatherings are a great way to feel the love and support of your loved ones during this exciting time.
Incorporate meaningful details.
As you plan the location, attire, and format of your elopement, think carefully about little yet impactful ways you can involve your family in your elopement. Details like wearing your mother's veil, toasting with heirloom champagne flutes, or donning your grandfather's cufflinks are all really special ways to feel their presence on the big day. You can also incorporate your family's cultural or religious traditions into your elopement ceremony as a way of honoring their role in your lives. No matter how you choose to include them in the details, you can consider these thoughtful touches "something borrowed" for the wedding day.
Go shopping together.
Shopping for your wedding attire is an exciting moment in the elopement planning process, so why not make it a family affair? If you feel so inclined, consider inviting your parents, siblings, or your closest friends along as you select your attire and accessories for an experience you'll always remember. To make the shopping trip even more fun, plan for some post-shopping dinner and drinks at your favorite restaurant to extend the outing.
Hire a photographer and videographer.
One of the easiest ways to help your loved ones feel a part of your elopement is by sharing your wedding photos and video with them upon your return. Whether you elope locally or aboard, be mindful to prioritize hiring reputable vendors who will ensure your elopement is beautifully documented for both you and your family to cherish.
Select an honorary wedding party.
Many couples worry about how to involve family in their elopement, but close friends can be just as important to consider. For couples looking to embrace tradition on their own terms, consider electing an honorary maid-of-honor, best man, or any honorary wedding party members you'd like. While they may not be standing next to you during the ceremony, your honorary wedding party members can still help plan events like your shower or bachelor/bachelorette parties, and provide general support during the planning process. This small gesture can be a really significant way to give them recognition as an important person in your life.
Collect personal messages.
One of the most impactful ways to involve your parents, grandparents, and dear loved ones in your elopement is by asking them to write a letter or record a video message. These letters and videos can include anything special they'd like to tell you on your wedding day—from serious to silly, or anywhere in between. Whether you choose to see your loved ones' messages before or after your ceremony, they'll likely become cherished keepsakes from your elopement experience.
Video chat on the big day.
Take advantage of modern technology by group video chatting with your loved ones on the special day! This can happen at any point during the day, but some ideas include organizing a virtual "first look" with a best friend in the morning or sharing in a champagne toast over Skype with your whole family after the ceremony. No matter which moment you choose to call them, they'll absolutely love seeing you on the day-of.
Throw a post-elopement party.
Many couples who elope also choose to host a low-key reception with close friends and family upon their return. While this kind of celebration certainly isn't required with an elopement, your loved ones will appreciate the chance to hear your stories, see your photos, and congratulate your new status as a married couple.
Gift a keepsake album.
Once your photographer delivers your elopement photos, consider gifting your parents, grandparents, or anyone special in your life an album along with a handwritten note. This gesture is a special way for your loved ones to receive a tangible keepsake from your wedding, and an opportunity for you to share one of the most significant moments in your life with those you love most.