How to Tell Your Parents You're Eloping
If you're planning to run away and get married, it's important to figure out how to tell your parents you're eloping to keep your family relationship strong.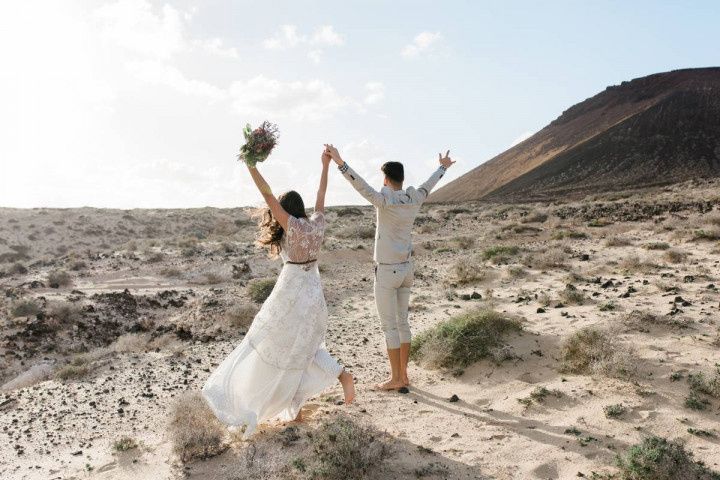 It's true that a big, festive wedding with hundreds of friends and family is not the dream for every couple who wants to get married. Many are opting to take a more low-key approach to their nuptials, even opting to elope just the two of them (and of course an officiant to seal the deal).
Leah Weinberg of Color Pop Events in Long Island City, New York, attributes the popularity of eloping to the changing mindset towards older traditions of marriage and relationships. "Fewer people are spending their whole life wishing and dreaming about their wedding day, so when it comes time to get married, they're less focused on a ceremony and reception, plated dinner and first dance," she says. "Also, many couples who have been together for a while and are already living together want to get married for health insurance or other benefits that come from that marriage certificate without going into debt."
The tough part about eloping is that it often stirs up hurt feelings from loved ones who would have hoped to be a part of the couple's special day—mainly the parents of the couple. Many parents have dreamed about the day their child will get married and never imagined that they would not play a role in the wedding. "Eloping can feel like you just said to them, 'No, I don't care about all that great bonding time, I just wanted to get married!'" Weinberg points out.
If you do want to go this route, you're going to have to tell your parents you're eloping—which can be difficult to say the very least. Here's how experts recommend approaching the topic—and getting your point across without hurting anyone's feelings.
Tell them ahead of time.
It's wise to tell your parents you're eloping as far in advance as possible of your plans, as waiting until the last minute can come as a surprise and be hurtful, warns Shelley Sommerfeldt, Psy.D., a clinical psychologist who specializes in relationships. "When you express early on what your desires are for your elopement, this allows family members time to process and get used to your decisions if they have difficulty with it," she says.
Lead with excitement.
"At the end of the day, parents want the best for their children, so when information is presented in a way that expresses your excitement and desires, most people will respond with happiness in return," says Sommerfeldt. "Even if there is disappointment from not being included or carrying out the wedding planning according to a family tradition, hearing excitement and joy about the ideas can make all the difference."
Speak from the heart.
As you would present any concept to your parents that you feel strongly about, consider listing the reasons why your decision to elope is important to you. "Understanding someone else's perspective can be important and allows for more empathy and acceptance from the other person," says Dr. Sommerfeldt. "Therefore, if you express genuinely and from your heart on why you have chosen this decision, your family is more likely to support your desires."
Take their feelings into consideration.
You can expect your parents to be a little (or a lot) hurt at the news of your elopement, especially if they'd always imagined being a part of your wedding day. Be sensitive to this and take their feelings into account. "Not being included can be one of the biggest challenges for families and friends," says Dr. Sommerfeldt. "Regardless of how you choose to plan your wedding, having everyone listen and take other people's perspective and feelings into consideration is important."
Plan something inclusive.
Tina B. Tessina, Ph.D., (aka "Dr. Romance") psychotherapist and author of Dr. Romance's Guide to Finding Love Today, suggests making plans to have a wedding announcement party or some other way to include at least the members of your immediate families in some kind of celebration. "Your parents have probably been waiting all your life to see you married, so they'll feel somewhat better about it if you create a celebration they can share, post-elopement," she says.