How to Choose a Wedding Cake Baker
Before you book your cake baker, take a peek at these guidelines to help you get started with your search.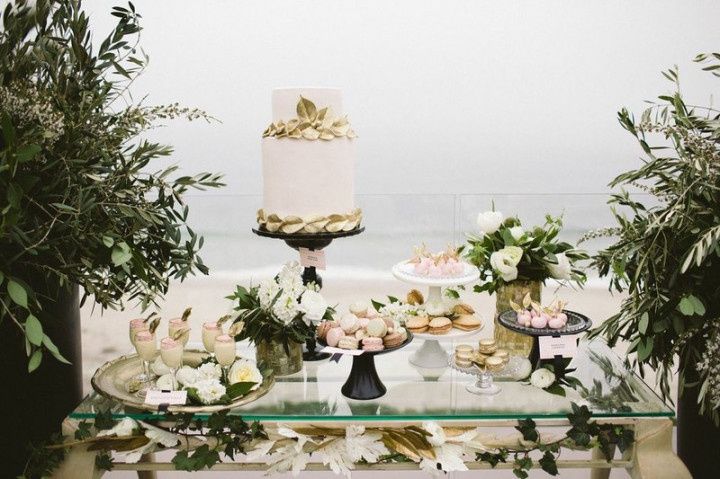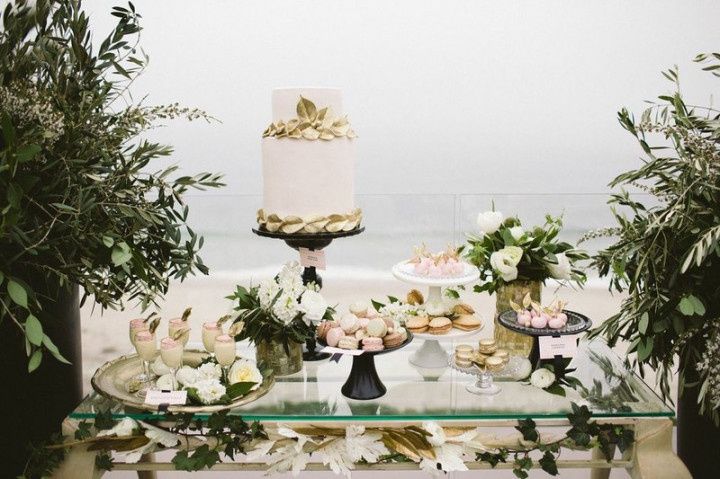 Finding the perfect cake baker isn't just about sampling fondant and sponge cake flavors. Before you book your cake baker, you'll want to do your research and make sure the bakery can deliver on your dream wedding cake. These guidelines will help you get started with your search for a wedding cake baker.
Make a list of potential cake bakers
Like most wedding vendors, the options for a cake baker can seem endless. You'll want to start by narrowing down your search with some online research. Start with by reading wedding cake vendor reviews to see which bakeries are getting the best buzz in your area. Ask your friends and recent brides for word of mouth recommendations. Check out the local bridal expos in your area. Stop in nearby bakeries that have wedding cakes on display. With your research in hand, select about three to five cake bakers that you want to contact. Remember, your caterer will also be a great resource for wedding cake bakers and may even offer this service in-house.
Get your questions answered
Get some initial questions answered by email or phone to determine if the bakery may be a match. These should include logistical and design questions, such as:
1) Do you have my wedding date available?
Remember that wedding bakeries book up fast, so you'll want to reserve your cake baker well in advance.
2) How do you price your wedding cakes?
By size, by slice, intricacy of decorations, etc.
3) Do you have a portfolio of past wedding cakes I can see?
Check out if the cakes are similar to the design you have in mind.
4) Do you have references?
You'll have already read some online reviews, but it's good to chat with some recent customers as well.
5) How do you deliver/store the cake?
This question ensures that the cake is delivered fresh and hasn't been frozen days in advance.
6) Are you licensed and insured—and do you have contingency plans if something goes wrong with the cake?
7) Can you custom design the wedding cake I have in mind?
You'll want to have some inspiration photos available. You may want a glam cake dipped in glitter, but the baker only specializes in fondant flowers.
Book a consultation
Once you've determined a cake baker is a potential match, you'll want to meet in person to discuss your vision for the cake. If you didn't have all the questions above answered during your initial conversation, make sure you get these answers at the consultation. A good cake baker will work with you to make your dream cake a reality. Bring inspiration photos from magazines and online sources. You'll also want to bring a photo of your dress, bridesmaids dresses and any other samples with your wedding's color palette (flowers, linens, etc.) if you have them. You should leave the consultation with a concrete understanding of what the cake baker can do and if you're comfortable the bakery would be a fit for your wedding. If you have time, schedule these consultations (and cake tastings!) with more than one bakery so you can compare and contrast your options.
Taste that cake!
Now for the fun part: the cake tasting. The cake tasting may or may not be a part of the original consultation. Most bakeries offer a cake tasting for wedding clients, because you don't just want a beautiful cake. You want it to be a delicious dessert, too! The cake tasting is an opportunity to sample different flavors and icings. Remember that yellow and chocolate cake aren't your only options. Cake bakers are getting creative with flavors and can usually offer more than one flavor if you have a tiered cake. Don't forget the groom's cake is another place to get creative with flavors if your baker is making that cake as well.
Be sure and confirm if the tasting is complimentary or if there is a fee (and how many people can participate) before you arrive. You'll also want to find out if the baker can make you a fresh top tier for your one-year anniversary or if you should plan to freeze the top tier from your wedding cake (if you and your spouse want to partake in this tradition).
Sign on the dotted line
Once you've met your cake baker match, make sure to put it in writing. A signed contract should include details of the agreed upon cake (size, flavors, any special instructions, etc.), pricing and delivery details. Most reputable cake bakers will also require a deposit to reserve your wedding date and cake.