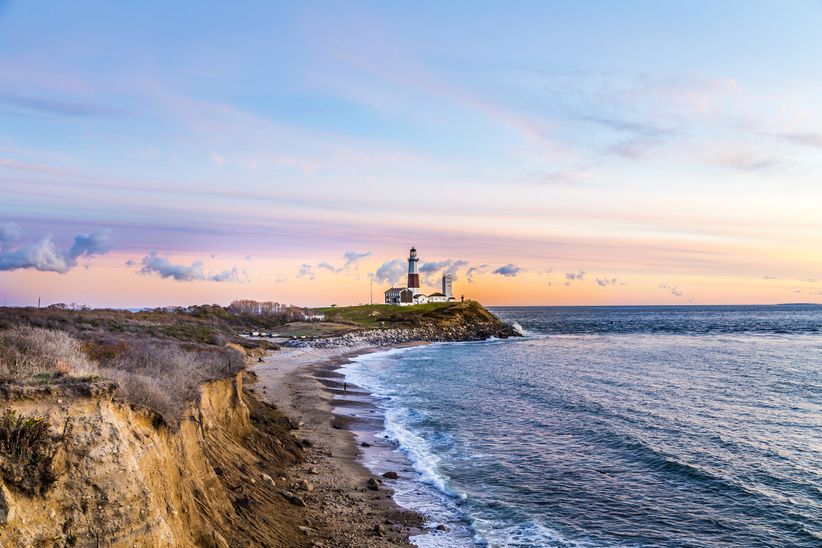 Just a quick trip from NYC lies the summer playground of the rich and famous known as the Hamptons. Set in southeastern Long Island, you'll find incredible shops, beaches, and nightlife for a Hamptons bachelorette party that takes your girls getaway to the next level, making it arguably one of the best bachelorette party destinations of all time.
Once you've arrived for your Hamptons bachelorette party, you'll find a string of beach towns, each with its own unique flavor. From hipster-cool Montauk to affluent East Hampton, you can expect to get happily lost on your Hamptons bachelorette party while exploring these seaside communities and all they have to offer.
Ready to discover exactly what makes this locale an East Coast favorite? Pack your beachwear and designer shades, because your Hamptons bachelorette party is officially calling.
What to Do
Come summertime, New Yorkers flee to the Hamptons for all sorts of reasons, but mainly? They come to enjoy the sun and the sand. With some of the top-rated beaches in the world, it's no wonder these spots are known as Long Island's best of the best.
Southampton Village Coopers Beach is arguably one of the Hamptons most impressive stretches, along with Sagg Main Beach and East Hampton Main Beach as additional great picks. While these public beaches are known to charge a hefty parking fees, they're well worth a visit for a memorable beach day on your Hamptons bachelorette party.
When you're not busy dipping toes in the ocean, the Hamptons have plenty of water sports to keep you busy. Kayaking and paddleboarding are popular options for group activities or opt to stay on land with bike rentals to stroll through town. As you're out exploring, don't forget to check out the Montauk Lighthouse to enjoy this stunning historic landmark.
When you're up for a change of scenery, make your way to Main Street in Sag Harbor. This old whaling town is practically oozing with charm and dotted with little antique shops to wander and quaint restaurants to try. Or, live like true a Hamptons socialite and hit up some high-end boutique shopping in East Hampton. Make sure to stop at Bloom—a tasteful homewares shop frequented by celebrities like Martha Stewart and Gwyneth Paltrow.
If you happen to have any wine enthusiasts in your Hamptons bachelorette party group, you'll be pleasantly surprised by some of the great vineyards you'll find in the area. Wölffer Estate Vineyard is known for its sweeping vineyards and elegant setting, while Channing Daughters is another excellent pick set in Bridgehampton.
Where to Eat
Hamptonites take their brunch scene seriously, and Pierre's in Bridgehampton is commonly cited as an all-time favorite. Of course, if you're in the mood for straight carbs and caffeine, Grindstone Coffee & Donuts in Sag Harbor won't disappoint.
Instagrammers love The Lobster Roll in Amagansett for it's no-nonsense approach to really good seafood, making it a perfect casual lunch spot. LT Burger also serves up delicious eats when nothing but a classic burger and fries will do the trick.
You'll find plenty of evening options for your Hamptons bachelorette party, with restaurants offering a little something for everyone. Nick & Toni's in East Hampton is known for their Italian eats, while Bay Kitchen Bar in East Hampton and Cowfish Restaurant in Hampton Bays specialize in sea-to-table cuisine. If you're looking for something a bit more low-key, you'll find reggae music, island vibes, and an incredible rum bar at Rumba in Hampton Bays.
For that post-dinner partying, head to The Surf Lodge in Montauk for a great nightlife scene, or stop by The Stephen Talkhouse in Amagansett for a live music club.
Where to Stay
No one ever said staying in the Hamptons was cheap, but if you're prepared with a realistic budget you'll find some great options in every corner of the island.
In Montauk, hipsters flock to the Ruschmeyers for cabin-style accommodations turned totally cool. Solé East Resort is another popular Montauk choice filled with bungalow-style rooms and garden cabana suites. Or, take advantage of the all the resort amenities at Montauk Yacht Club Resort & Marina with a distinctly nautical feel.
Over in East Hampton is The Maidstone Hotel—a boutique property that looks straight out of a magazine. Bonus—you'll be walking distance to both the main village and the beach. The award-winning Baron's Cove in Sag Harbor is another great option for a Hamptons bachelorette party with its waterfront setting and heated saltwater pool.