If you've chosen to have a groomsmaid in your wedding, you might find yourself wondering what sort of groomsmaid gift to give her when it comes time to show your appreciation for being part of your wedding party. Should you give her the same thing as the groomsmen? Or the bridesmaids? Or maybe neither of those options feels like the right one for you.
We think the best groomsmaid gifts are simply the ones that come from your heart, and those that speak to her unique personality, just like any gift. If you put some thought into the gift you give your groomsmaid, chances are she'll love it no matter what it is.
But if you want some suggestions of the best groomsmaid gifts you can buy, you've come to the right place. We've compiled a list of a few of our favorites for you to check out. So keep reading!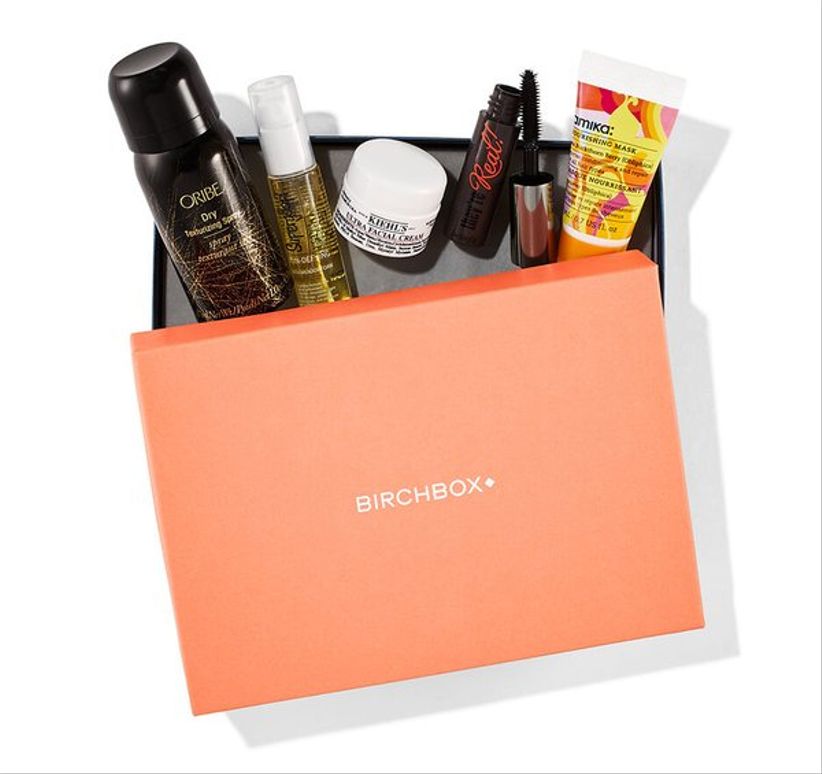 Subscription Box
There aren't too many gifts out there that allow you to give your groomsmaid the same gift as your groomsmen, but we've found one! It's a Birchbox subscription—the wildly popular subscription box that offers a curated collection of beauty or grooming products every month. Choose beauty products for her, and grooming products for the guys, and no one feels left out. Birchbox will allow your groomsmaid to sample tons of new beauty products, then order full-size versions of any she might like, at a discount off retail with free shipping. Our opinion? This subscription box is a total win for a groomsmaid gift!
Birchbox, from $10/month, birchbox.com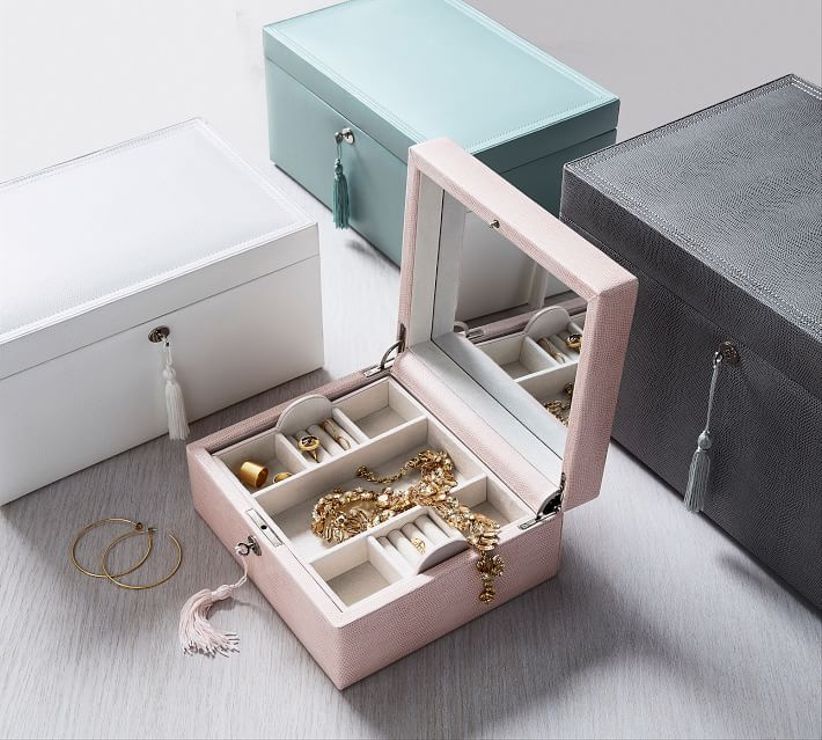 Jewelry Box
If your groomsmaid has lots of jewelry and accessories that she's accumulated over the years, help her keep it all organized with a sleek jewelry box that she'll love to display on her dresser. Look for one that allows you to monogram with either her initial(s), or your wedding date. That way, she'll always remember your wedding when she chooses her favorite jewelry du jour. We love this sturdy, bonded leather jewelry box from Pottery Barn. It's got a removable upper tray that gives her plenty of room for all of her belongings, large and small. A sizeable mirror with optional monogramming and a locking closure round out this wonderful groomsmaid gift.
McKenna Leather Medium Jewelry Box, $149, potterybarn.com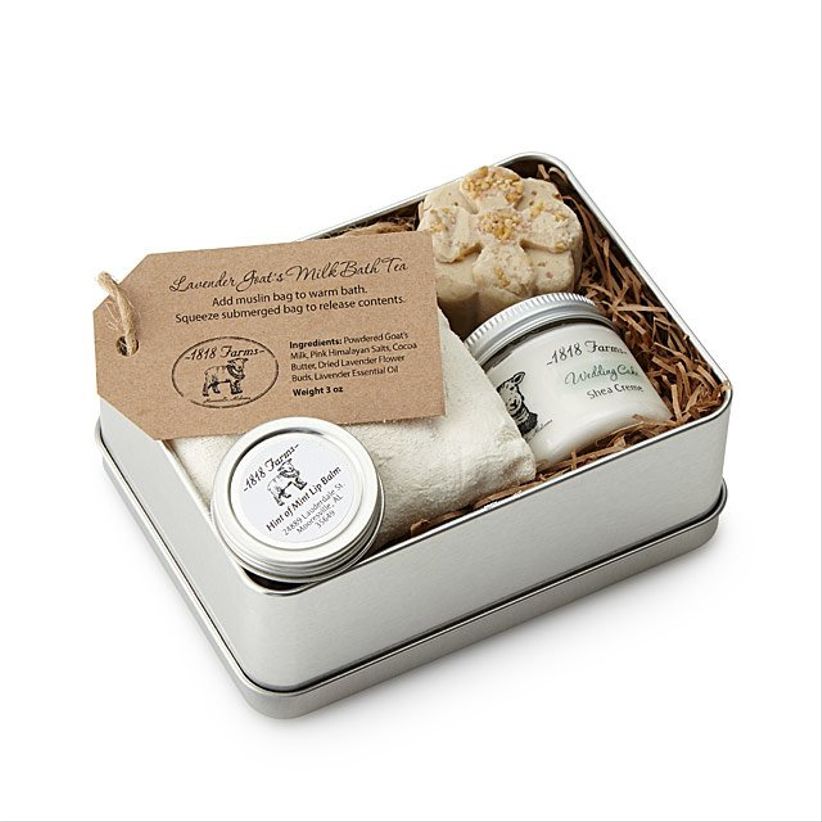 Spa Kit
One of the best groomsmaid gifts you can buy is a spa kit. Give her the gift of luxurious relaxation with a kit that provides everything she'll need to pamper herself in a warm bath and afterward. Our pick? This Farm Fresh spa kit from UncommonGoods. It's full of all natural products with a soft, gentle scent that'll make her feel her best. It comes with a goat's milk bath tea sachet that buyers have raved about, a bar of natural soap made with top-quality ingredients, a tin of luxurious shea butter skin cream and minty lip balm.
Farm Fresh Spa Experiene Set, $32, uncommongoods.com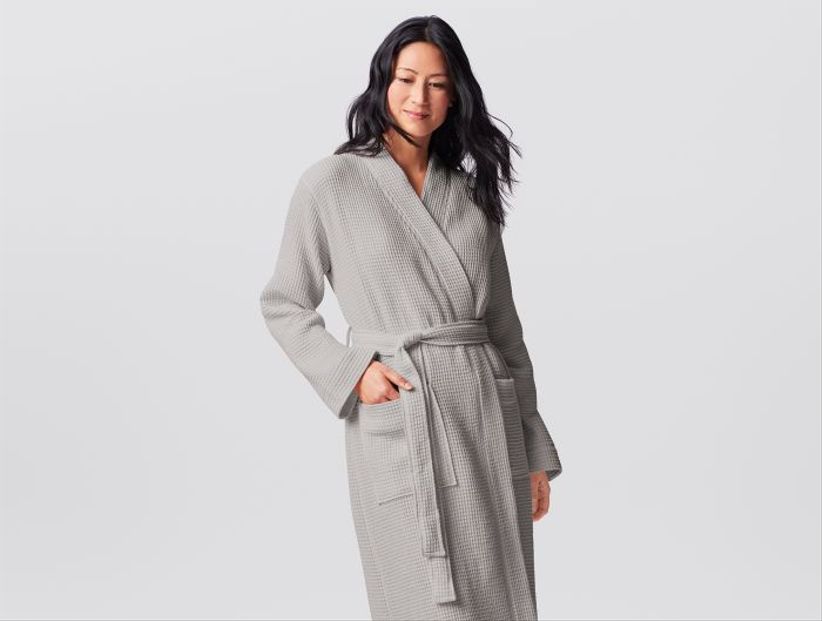 Robe
Looking for a great robe that you can give to both your groomsmen and your groomsmaid? Opt for a unisex robe so everyone can match while you're all getting ready before the wedding. Really, any neutral-colored robe can work, but we love this ultra-luxurious, 100% organic waffle robe by Coyuchi. This small, Northern California-based company is committed to using only top-quality, 100% organic materials, which is why their sheets and robes have become incredibly popular in recent years. The waffle weave on this robe is designed to be warm but not overwhelmingly so; and it's super-soft out of the box, but gets softer with each wash. Colors available are white, light grey and dark grey.
Unisex Organic Waffle Robe, $98, coyuchi.com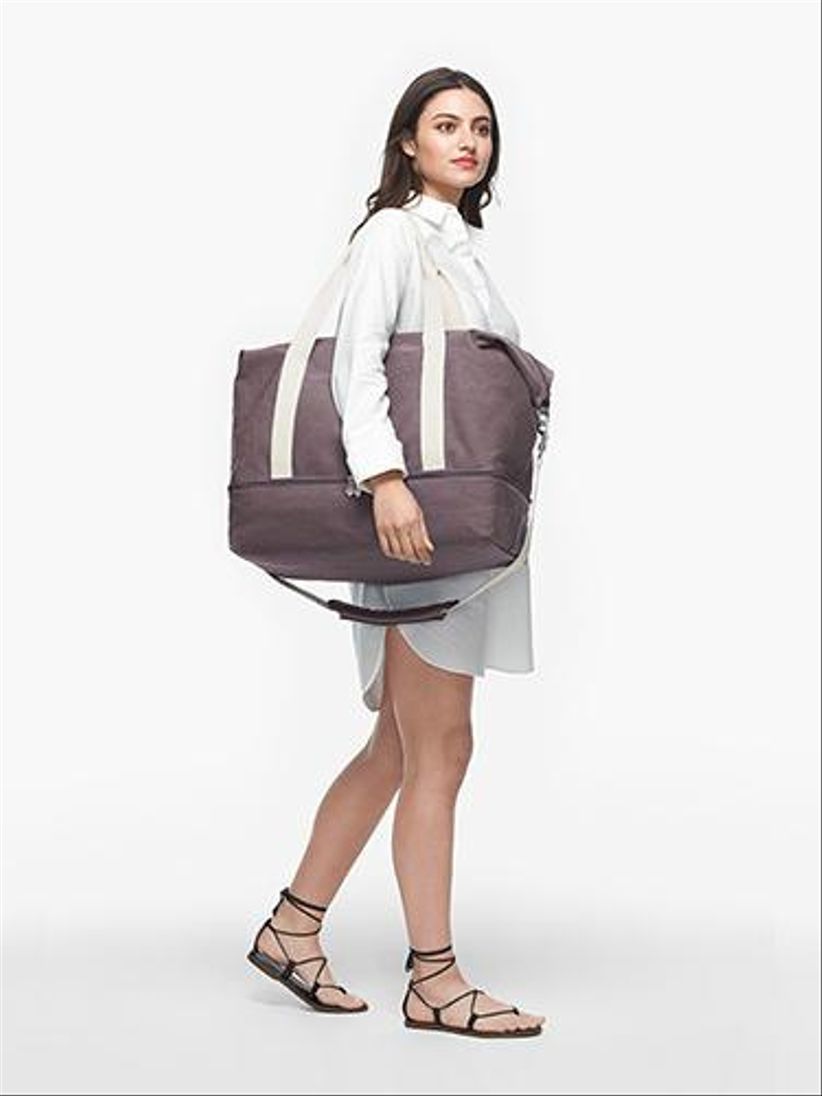 Weekend Bag
Everybody needs a great weekend bag that holds just about everything. That's why it makes for one of the best groomsmaid gifts you could choose. And the best part? You could opt to gift this to just your groomsmaid, or all of your attendants. Guys and gals alike are sure to get some serious use out of a really great weekend bag. And we think we've found the perfect one—it's the Canvas Weekender by LO & Sons. It's got ample room for all their belongings with a large interior that boasts a small zip-up compartment for important documents like passports. An exterior pocket is just the right place for a smartphone, and a separate bottom compartment is perfect for anything that should be kept away from clean clothing, like shoes or dirty laundry. Finally, a pass-thru sleeve allows them to secure this to their luggage handle if their travels will be more than just a few days. This canvas bag comes in six attractive colors to suit any taste and gender.
Catalina Deluxe Canvas Weekender Bag, $148, loandsons.com
Journal
Help your groomsmaid stay organized and meet her #lifegoals when you gift her a bullet journal. This new method of planning and organizing all.the.things has taken the nation by storm, and it's easy to see why! It's a simple yet super effective way for her to keep track of all her to dos, including all those wedding-related events! There are tons of bullet journals to choose from, so you could select something beautiful and feminine, or something basic, like this collector's set from the makers of the original bullet journal. It's a gift set that includes the bullet journal itself, and a book that'll teach her how the method works.
Bullet Journal Collector's Set, $45, bulletjournal.com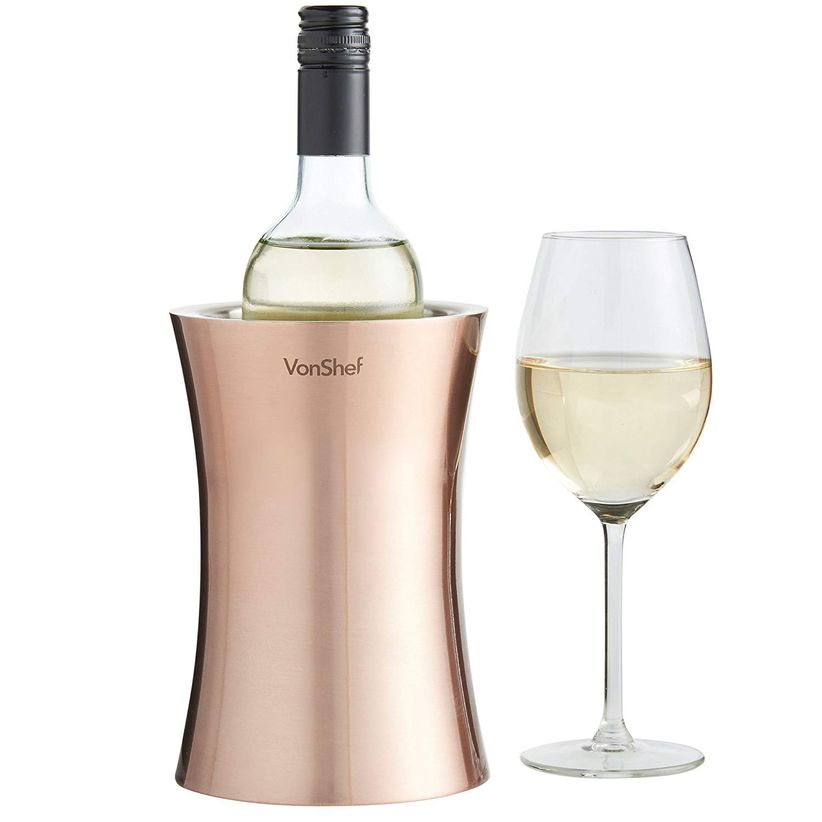 Wine Bottle Chiller
Your groomsmaid will always have a chilled bottle of her favorite Rosé at her disposal when you opt to give her a wine bottle chiller. Something modern and trendy but still feminine makes a great choice. You can opt for a nice marble one if that's her style, but we're in love with this beautiful copper chiller from VonShef. It's a classy—and trendy!—copper finish with double-walled insulation to keep bottles cooler, longer. This will be an especially valued gift if your groomsmaid has been curating her own collection of copper.
VonShef Copper Wine Bottle Chiller, $20.99, amazon.com
Macaron Gift Set
When it comes to the best groomsmaid gifts, we simply can't think of a better gift than a box of iconic French macarons from Ladureé. It's easily the most famous brand of delectable macarons in the world, and she'll instantly recognize the unmistakable mint green and pink packaging. Gift her a box of anywhere from 1 to 200 macarons in her favorite flavors. While this is a gift she won't be able to hang on to forever, we're sure she'll never forget it!
Laduree macarons, pricing varies, www.laduree.us