New Orleans is famous for its lively French Quarter, but just a few minutes away along the bank of the Mississippi River is a more relaxed—but equally trendy—neighborhood full of Victorian-era architecture, tree-lined streets, and quirky-yet-charming shops. For engaged couples, the Garden District is home to some of the most beautiful New Orleans wedding venues, from historic mansions and their accompanying backyards, to modern hotels and centuries-old churches. Bordered by the bustling Magazine Street and St. Charles Avenue (the main route for the annual Mardi Gras parade), the Garden District is the perfect place to get married in New Orleans if you're searching for a venue that embodies the city's energetic spirit and Old World vibe.
Keep reading to check out our favorite New Orleans wedding venues in the Garden District.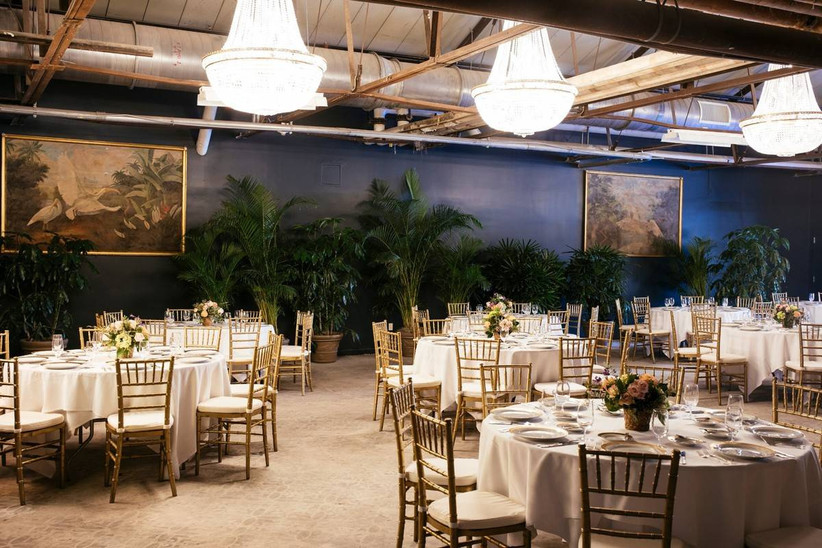 The Parlor at the Pontchartrain Hotel
Industrial edge meets Southern charm at this unique Garden District wedding venue. The space features exposed brick walls, concrete floors, toile wallpaper, and sparkling crystal chandeliers that make it versatile enough for a variety of wedding styles and themes. In-house catering and bartending is provided by nearby Jack Rose, and the venue also provides chairs, tables, linens, and parking.
Learn more about The Parlor at the Pontchartrain Hotel »
Hotel Indigo New Orleans Garden District
There are a lot of perks when it comes to getting married at a hotel, and this pet-friendly boutique hotel is one of the best options in the Garden District. Hotel Indigo makes the ideal backdrop if you're looking for a modern, chic setting, or if you're traveling from out of town for your wedding. The bar is a great location for a rehearsal dinner or casual wedding reception, and the venue also has two banquet rooms for a more traditional event space.
Learn more about Hotel Indigo New Orleans Garden District »
Sully Mansion Bed and Breakfast
The Sully Mansion is a truly romantic backdrop for your special day, thanks to its sprawling canopy of oak trees, spacious wraparound porch, and private paved courtyard. This cozy bed and breakfast is perfect for smaller weddings and elopements, since it has a maximum indoor capacity of 50 people (or 150 people for an outdoor wedding). Located at the corner of Prytania and Fourth streets, the Sully Mansion is tucked away from the hustle and bustle of the rest of the Garden District.
Learn more about Sully Mansion Bed & Breakfast »
Il Mercato
Located at the heart of Magazine Street, this New Orleans wedding venue is a converted food market with more than 8,000 square feet of interior and exterior space. Created in the Spanish colonial style in the 1930s, Il Mercato is now an upscale Garden District wedding venue that can handle up to 450 guests for cocktail-style events and 225 for seated dinners. Fruit trees, dark, leafy florals, and geometric light fixtures add color to the clean white walls and pale wood of the space while stylish archways and exposed beams elevate the building. Food is exclusively catered by New Orleans-based chef Joel Dandis' catering company and is alive with fresh twists on classics from both French and Southern cuisine. Treats from Il Mercato's menus include everything from an artichoke beignet—a savory twist on New Orleans' famous French doughnut—to Creole Spoonbread—a cornmeal dish.
Race & Religious
Race & Religious is one of the Garden District wedding venues that's really mastered the whole shabby chic thing. A collection of three painstakingly restored cottages on Race and Religious Streets, this riverfront wedding venue is New Orleans colonial charm meets modern American cool. Perfectly accented by green walls, flowering bushes, and faded brick walls, the exterior of Race & Religious tells as much of a story (and is as great for photo ops) as the interior. Not to mention the unique courtyards filled with trendy chairs and a reflecting pool. For the interior, expect a bit of the city's eccentricity to come through with shrines of candles, stacked antique books, and sparse chandeliers. Once home to the working class families that populated the lower Garden District, Race & Religious is one of those unique wedding venues in New Orleans that maintains an unfussy atmosphere. The venue is able to accommodate up to 300 wedding guests, so couples with guest lists of all sizes are welcomed.
Learn more about Race & Religious »
Felicity Church
Like most structures in the Garden District, Felicity Church is a New Orleans wedding venue that is new by this city's standards. Erected near the end of the 19th century, the Gothic Revival brick structure was badly damaged after Hurricane Katrina in 2005. In 2011, new owners lovingly repaired the historic church and maintained many of the original features, including the 100-year-old banisters and brick facade. Reopened in 2016, Felicity Church is now a popular wedding venue for traditional couples and their guests. Awash in natural light from floor-to-ceiling windows, decked in touches of stained glass, and flanked by exposed brick walls and beams, the sanctuary and altar are just as stunning and full of history as the outside. Located at the intersection of Felicity and Chestnut Streets, it's the perfect place for your wedding party to spill out of the church and into the streets for the traditional New Orleans Second Line.
Learn more about Felicity Church »
Terrell House Bed and Breakfast
Situated on Magazine Street under the cover of the Garden District's ubiquitous live oak trees is Terrell House, a light-filled bed and breakfast that doubles as a gorgeous event space. As perfect for smaller affairs as it is for bigger weddings and receptions (up to 120 guests can be hosted), the Italianite-style mansion offers up tons of New Orleans charm with wrought iron balconies and a lush garden.
Learn more about Terrell House Bed and Breakfast »
House of Broel
Anyone strolling down St. Charles Street, the patron saint of Garden District avenues, is sure to notice the House of Broel. Beyond the super-sized, striped awning that bears the wedding venue's name, the house itself is an outsized, two-story white mansion covered in glittering lights and surrounded by one of the grand trees that mark the neighborhood. House of Broel is one of the New Orleans wedding venues with lots of personality for couples who will revel in the history and liveliness of the 150-year old mansion. Inside, deep brown wood floors, ornate chandeliers, period furniture, and ceiling murals make sure the interior lives up to the exterior. Accommodating up to 350 guests, House of Broel can host wedding ceremonies and receptions of all sizes.
Learn more about House of Broel »
Elms Mansion
In a neighborhood full of stately and impressive mansions, Elms Mansion is a stunner among stunning Garden District wedding venues. For one, it's massive. A two-story Italianite-style home built to serve as the extravagant home of one New Yorker turned Confederate soldier just after the war, it's a sprawling tribute to the kind of opulence New Orleans enjoys. After changing owners a few times, the home is now filled with imported antiques that would fit right in on the set of Downton Abbey, from the spiraling, red-carpeted wooden staircase to the gold-lined drapes to the gold-plated mirrors. The gardens of Elms Mansion are equally impressive, boasting terra cotta fountains, a large white gazebo and modern, string lights. Weddings with up to 400 guests can be accommodated at this special New Orleans wedding venue.
Learn more about Elms Mansion »
Creole Gardens
This historic New Orleans wedding venue is full of Southern charm and has a totally unique and eclectic vibe. The colorful 2,200 square foot Roadhouse can accommodate up to 225 guests, and there's also a lovely outdoor Banana Courtyard, complete with fish pond, fountains, and more, where you can exchange vows. Outside catering is permitted at this venue, and there are also several guest rooms on site so you can stay the weekend with your nearest and dearest.
Learn more about Creole Gardens »
Magnolia Mansion
Add this Victorian style historic mansion to the lengthy list of New Orleans wedding venues that may be haunted. It doesn't hurt that the mansion sits on the same street as Interview with the Vampire author Anne Rice's former residence (and muse). Friendly ghosts aside, Magnolia Mansion is a painted-white wonder of a historical B&B with a few hundred years of history that feed into the décor and appeal of the mansion. While this New Orleans wedding venue can host a wedding with up to 400 guests, the ornately decorated interiors (think: ruby red walls and gold Greek goddess statues) are best reserved for smaller ceremonies of about 40 guests or less. For couples who want to come into a venue and provide little to no additional décor, Magnolia Mansion is decked out in period furniture and each suite is themed to fit an era of the city's history, like "Mardi Gras Getaway" or "Napoleon's Rendezvous." There's also a gorgeous courtyard with an antique statue and brick pavement.
Learn more about Magnolia Mansion »