8 French Quarter Wedding Venues NOLA Couples Need to See
Prepare to obsess over these quintessential French Quarter wedding venues, all located right in the heart of the iconic Louisiana city.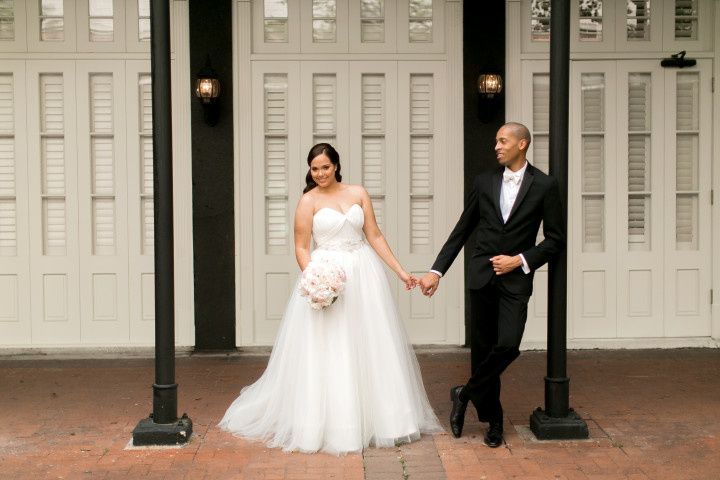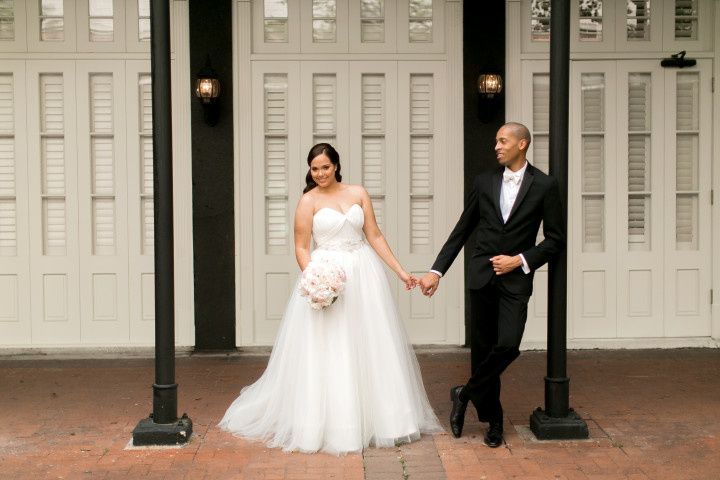 There are few places as romantic and perfect for a wedding as New Orleans' French Quarter. Though it's one of the oldest neighborhoods in America, these French Quarter wedding venues offer up a modern experience for those couples getting married in the South. Keeping with the city's famed penchant for glamour and revelry, these New Orleans wedding venues know how to throw great parties with decadent perks and stylish design features like Victorian balconies, exposed brick, or antique chandeliers. It doesn't hurt that spaces in the Quarter are some of the most unique wedding venues in New Orleans.
Both born-and-bred Southerners and Yankees will appreciate the inherent beauty, history, and style of these French Quarter wedding venues.
Bourbon Orleans Hotel
In a city and neighborhood full of Old World charm, Bourbon Orleans Hotel stands out as a quintessential French Quarter wedding venue. The full-service venue offers a variety of accommodations, a regional menu bursting with the best of the Gulf Coast, and must-have balconies overlooking iconic streets like Bourbon and Orleans. Couples searching for an indoor wedding reception venue will love hosting up to 300 guests in the Orleans Ballroom, while those looking for an outdoor reception can look forward to hosting up to 180 guests in the courtyard. The hotel's restaurant, Roux on Orleans, offers authentic Creole cuisine for rehearsal dinners. Bonus: Bourbon Orleans Hotel is located steps away from St. Louis Cathedral, for couples who plan to have their ceremony at the famed church.

Learn more about Bourbon Orleans Hotel >>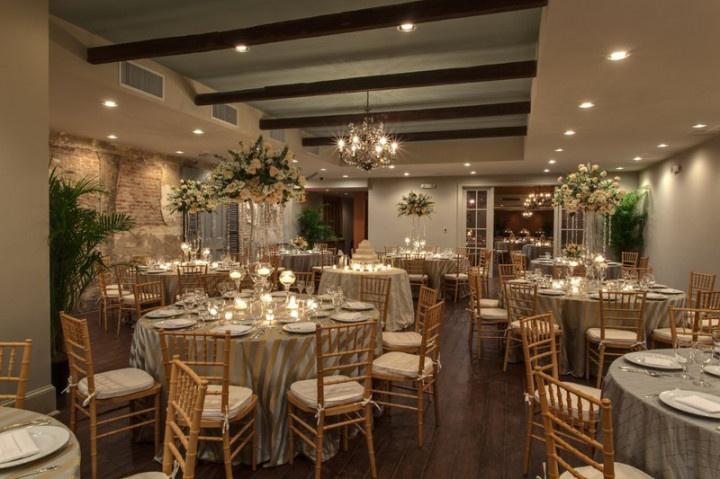 La Louisiane
Although it seats up to 132 guests, La Louisiane feels like an intimate French Quarter wedding venue with its European-style gas lanterns, exposed brick, and wood ceiling beams. Adjacent to Hotel Mazarin, just off Canal Street, the venue touts a rich history that dates back to the mid-19th century. Combined with the connected hotel, La Louisiane addresses most needs engaged couples have during the wedding weekend, including accommodations for guests, a full catering menu that features authentic Creole food from a French-trained chef, and wedding cakes provided by local bakeries.

Learn more about La Louisiane >>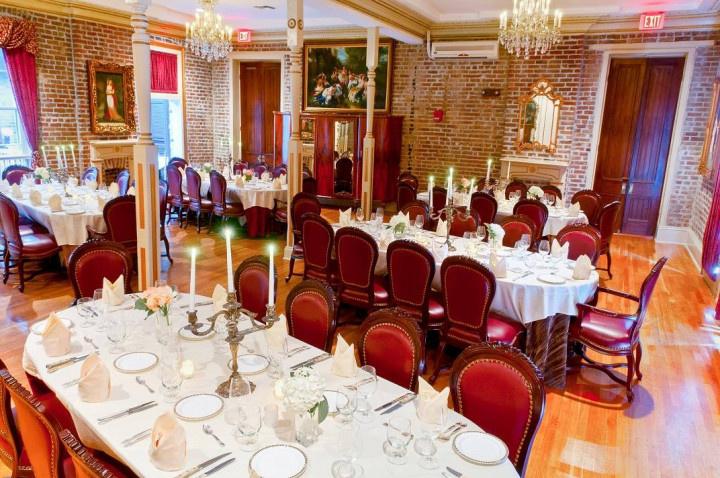 Muriel's Jackson Square
Transport your wedding guests to colonial Nouvelle France with the beautifully preserved French Quarter wedding venues of Muriel's Jackson Square. The restaurant's famous history is inextricably entangled with the history of the Quarter itself—buoyed by a few friendly ghost tales—and the wedding venue leans into it with upholstered leather chairs, wood floors, and antique chandeliers adorning the space. The many rooms of Muriel's can accommodate up to 800 guests, and allow for couples to indulge some of the season's most popular wedding venue trends. With a robust menu, Muriel's Jackson Square's food options offer a bit of classic Creole taste with more traditional American fare.

Learn more about Muriel's Jackson Square >>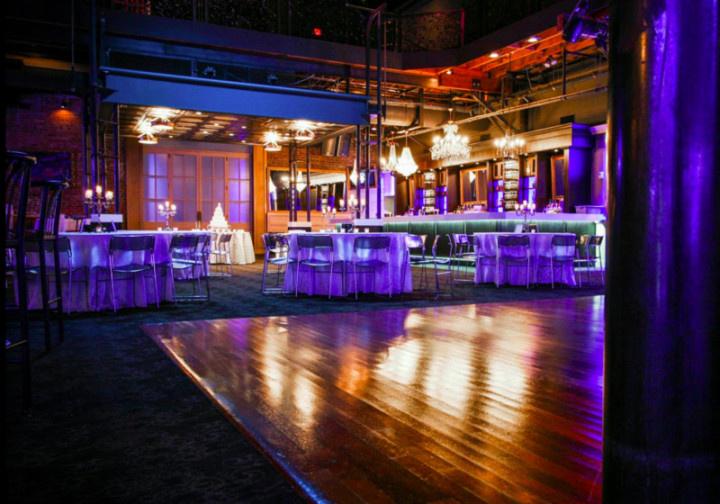 Generations Hall
The rousing spirits the French Quarter is known for take center stage at Generations Hall, a French Quarter wedding venue with a full, wood-paneled bar dripping with Prohibition-style elegance. Midcentury-inspired tufted white furniture, crystal chandeliers, and festive string lights complete the décor of this unique venue, which is comprised of three event rooms which can be rented separately or as a unit, depending on your wedding size. Located on the quieter end of downtown New Orleans, Generations Hall is connected to two hotel partners—Jelly Roll Executive Suites and Hilton Garden Inn.

Learn more about Generations Hall >>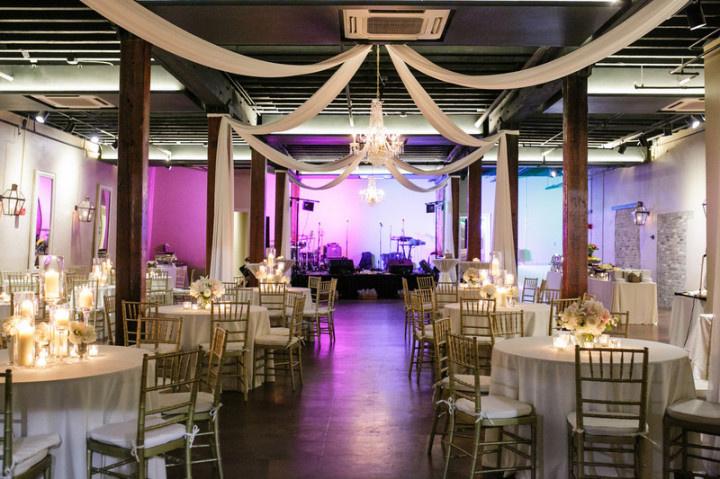 The Chicory
With its humble beginnings as a 19th century coffee warehouse (hence the name), The Chicory retains an industrial yet elevated feel with its exposed, wood beams and brick. Between the French Quarter wedding venue's five rooms (which collectively accommodate up to 1200 people), there's a good chance nearly every couple will find design elements that make their wedding vision come to life. Located blocks from the Mississippi River, but just south of the bustle of the interior quarter, The Chicory is the ideal wedding venue for couples seeking an authentic colonial New Orleans feel.

Learn more about The Chicory >>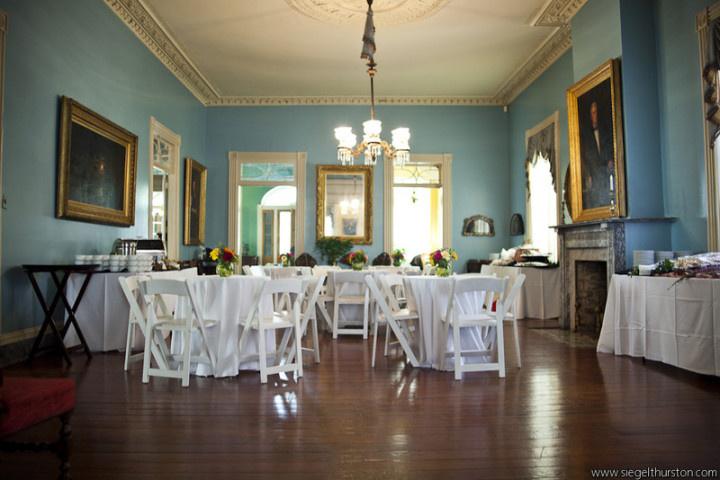 Beauregard Keyes House
This French Quarter wedding venue, affectionately known as BK House, touts the best of both of New Orleans unique cultures—French and American. A collection of Federal-style buildings named for its famous residents (a Confederate general and author, respectively), Beauregard Keyes House's cottages and gardens offer couples plenty of options in selecting spaces for ceremonies and receptions.

Learn more about Beauregard Keyes House >>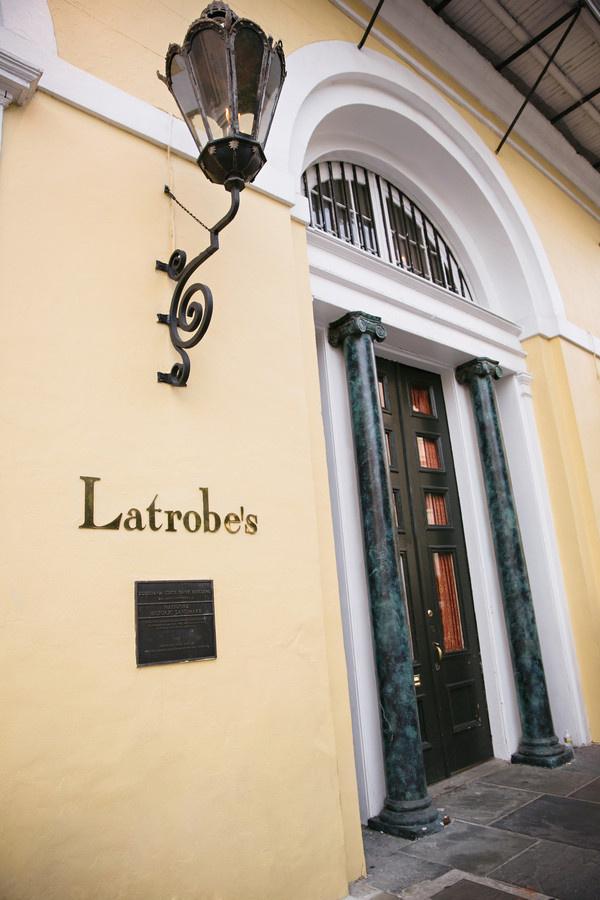 Latrobe's on Royal
Stone walls, gas lanterns, and decadent chandeliers are the design features that make this wedding venue feel more like a society ballroom of a bygone era. French windows, high arches, and jazzy floors that beg for the start of a Second Line complete the design that makes Latrobe's on Royal one of the most popular French Quarter wedding venues. A fusion menu from Latrobe's executive chef brings the flavors of the Gulf Coast to familiar foods like salmon, crab cakes, and beef tenderloin.

Learn more about Latrobe's on Royal >>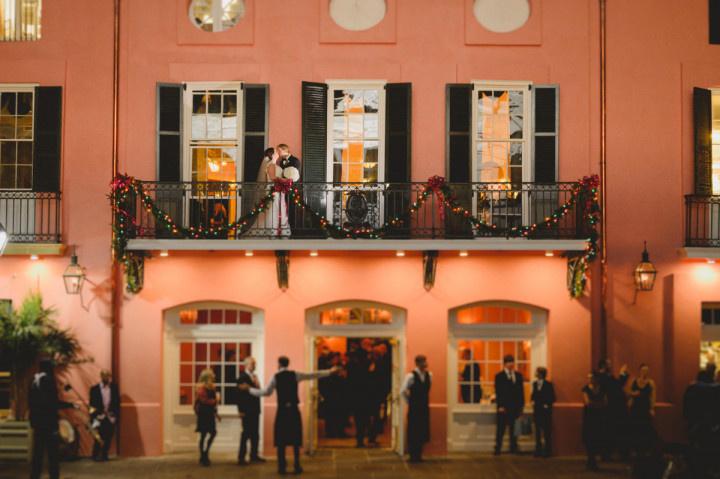 Brennan's Restaurant
In the heart of the French Quarter, Brennan's Restaurant's bright pink façade, frosty-colored walls, and Palm Tree-flanked courtyard harken more to New Orleans' Caribbean influences than its European ones. Couples love the choice of the iconic balconies, overlooking Royal Street, for the must-have French Quarter wedding reception and the beautifully manicured courtyard for an outdoor ceremony. A variety of rooms accommodate receptions of all sizes with 160 being the maximum. French, Spanish and American influences are weaved together to create a cultural gumbo menu complete with a bounty of local seafood.

Learn more about Brennan's Restaurant >>