6 Creative and Unique First Date Ideas, Beyond the Drink
First dates are notoriously awkward, but a creative activity can make the experience much more fun. Here are some unique first date ideas that will ensure a good time!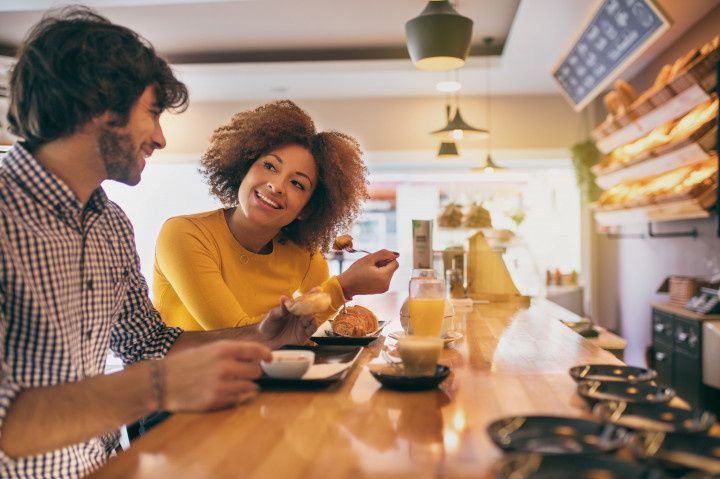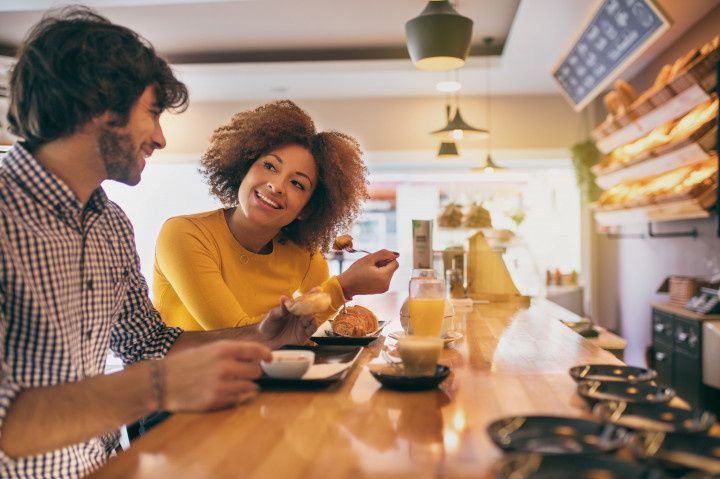 Going out for drinks is a great first date idea if you want to allay your nerves, but for most of us, it can also be anything from a crutch to a distraction to downright boring if you've got enough of 'em under your belt. After all, how well can you really get to know someone when both your and their personalities are ever-so-slightly evolving with every sip?
To get excited about dating all over again, think outside the bar with these creative and unique first date ideas beyond the drink:
Take a walk.
Especially if you live in a city or have a downtown area nearby, simply meeting up for a stroll is a great first date idea while ensuring you have plenty to talk about! From people watching, to ducking in and out of shops, to stopping for a snack (or, if you feel like it, a drink!), your walk can become whatever you and your date want it to be. There can be a destination (like, walking the main street of your town to get to a great bakery) or none at all (like, doing a loop of the local downtown). It's a great option for people who feel nervous about being "trapped" at a table during dinner dates—being outside and surrounded by other people and activities going on can really ease the pressure and help conversation flow more naturally. Finally, walks are great preludes to dinner—if the walk goes well, you can suggest dinner to take it to the next level, or you can jump ship before committing to a table if you don't feel the connection.
Work it out.
Getting your heart rate up on your first date is a great way to see if your date is someone who can, well, get your heart rate up. First of all, if fitness is important to you, you're probably interested in dating someone for whom it's also important, so inviting them to get sweaty with you (in a PG way) is one way to see if that passion is shared. And, no, you don't have to go hard on an advanced HIIT class that almost kills you both. Something simple like a light jog, a climbing class, a hike, outdoors yoga, or even a game of basketball or, screw it, mini golf!, can help you learn a lot about your date in a small amount of time. Like, how competitive are they? How brave are they? How collaborative are they? These are all really important things to know about someone before embarking on a relationship with someone, and you certainly won't glean insights on them in a bar. Bonus: Being breathless on your date leaves little room for awkward silences. Nice.
Learn together.
No matter where you live, there's a good chance that there's a local library, college, community center, restaurant or club hosting some kind of talk, seminar, reading, class or public event that you and your date can check out together as a unique first date idea. It's local stuff you might overlook all the time, but that can make for an amazing date if you actually open your mind enough to check out. First of all, attending an event together takes the pressure off of having to have lots to talk about with a complete stranger right away, since you'll be able to sit and listen and learn at the event first. Then, if you decide to hang out after, you'll have tons to discuss together, which can give you a ton of perspective on your date and how they think. I mean, if you're both interested in the topic of the event enough to go together, that says a lot about how compatible you are! It's also generally just refreshing to get out into your community with someone new and see a side of it you're not used to seeing—at worst, the event could be a bust (awkward reading from the town librarian, anyone?) and you guys can make it your first inside joke together. Cute!
Grab breakfast.
Why is it we always end our days on first dates instead of beginning them? First of all, night dates mean you risk spending all day compounding your nervousness, while adding on the stressors of whatever happened during your day, plus the extra awkwardness of what happens when the evening ends and it's time to go home. Morning dates can be refreshing and fun, with a lot less pressure, especially since a lot of us tend to look and feel our best and most energized in the morning. Be different and ask your date to meet you at a diner or brunch spot—you can talk about how you plan to spend your days, trade work advice, whatever, in a much calmer, more upbeat environment. And if you don't feel that spark, breakfast can be clipped to a really short date, giving you an easy out if you need it—alternatively, if things go great, you can keep hanging out later on into the day (unless, of course, it's a workday!).
Go deep.
If you dare, take your first date a little deeper than your average drink by getting your tarot read together, visiting a psychic, or experiencing something similarly mystic. Is it for everyone? No. But will it be super-fun and definitely give you tons to talk about? Absolutely. This first date idea will also show you that your date is up for anything, open with their feelings, and interested in learning more about you, too. And with a psychic or tarot reader asking all the tough questions, it lets you off the hook a little, easing up those first-date anxieties a little bit so you can sit back, relax and have fun while still learning a lot about your date. Even if you and/or your date are skeptical, you can still have a blast experiencing something like this together. And, who knows, maybe you'll learn that the fates have had you paired together all along!
Do something seasonal.
Whether it's winter, spring, summer or fall, you can probably find a festive way to celebrate the season on your first date that will bring an exciting energy to your experience. From ice skating and checking out holiday pop-up shops, to carving pumpkins and sipping cider, to strolling the beach and grabbing ice cream, to hitting up the local botanical gardens for the season's first bloom, you can share your mutual excitement for the season's upcoming events and holidays with your first date idea and get out into your community, too. Upcoming holidays and seasons offer a ton of date inspo, all you have to do is get creative and start searching. And if your date isn't into a super-cute themed hangout over just another drink at a bar, is he or she really someone you want to date? Probably not!