There are so many fabulous Charleston hotel wedding venues to choose from, it's honestly hard to pick a favorite. This Southern city is already known for being a wedding hotspot, and with dozens of downtown Charleston wedding venues and unique hotels to host your big day, it offers something for everyone. We're sharing 10 of our favorite Charleston hotels where you can also get married, whether it's in the courtyard at Planters Inn, on the croquet lawn at Wild Dunes Resort, or on the rooftop at Hotel Bennett—just to name a few. Getting married at a hotel has plenty of perks, from all-inclusive wedding packages to onsite guest rooms. These event spaces exude the romance and elegance that Charleston is famous for, guaranteeing that your wedding day will be raved about for years to come.
Give your guests the ultimate experience by hosting your big day in one of these Charleston hotel wedding venues.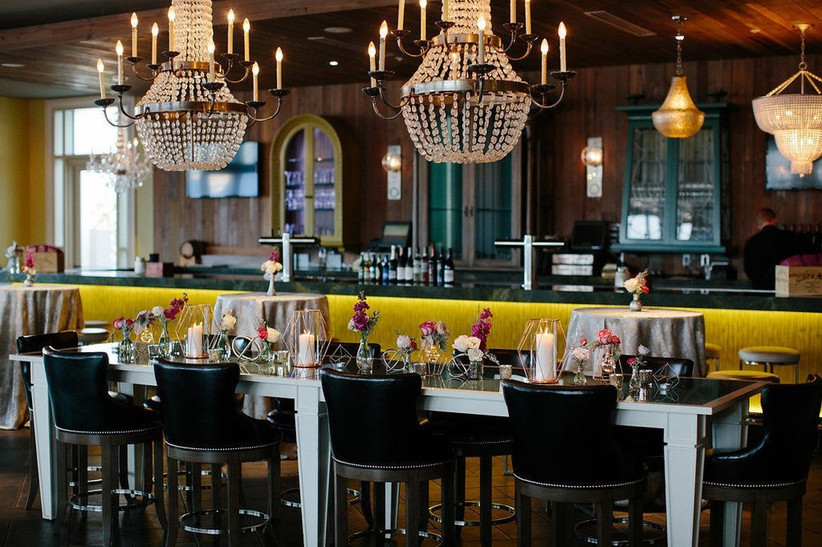 Grand Bohemian Hotel Charleston
Like its name implies, this hotel has a playful, eclectic, vibe that stands out among more traditional Charleston hotel wedding venues. Part of the Marriott Autograph Collection, the Grand Bohemian Hotel Charleston is a boutique hotel filled with colorful decor, original artworks (there's even an art atrium), and unique furnishings that make it feel like a one-of-a-kind space. Get married on the venue's rooftop terrace for unbeatable views of downtown Charleston, or choose the from a ballroom, wine room, or hotel restaurant if you prefer an indoor event space. The all-inclusive venue provides wedding coordination, catering, chairs and tables, linens, place settings, cake cutting service, and discounted room block rates. You'll also receive a complimentary one-night stay at the hotel.
Learn more about Grand Bohemian Hotel Charleston »
Charleston Harbor Resort & Marina
Located directly across the harbor from downtown Charleston, this resort in Mount Pleasant is one of the best wedding venues in town if you're looking for a waterfront setting. Host your wedding on the pier or the lawn for panoramic views of downtown, or head inside to check out the resort's yacht club, open-air bar, or elegant dining room overlooking the marina. The resort has two hotels: guest rooms at The Beach Club are decorated with an airy, coastal-inspired theme, while nearby Harborside embraces a traditional Southern aesthetic. The resort has a long list of amenities on-site, including a full-service spa, movie theater, swimming pool, private beach, and several restaurants.
Learn more about Charleston Harbor Resort & Marina »
Wild Dunes Resort
Looking for a hotel venue that provides swoon-worthy oceanfront backdrops, palmetto-lined croquet lawns and is still in the Charleston area? The Wild Dunes Resort is the perfect Charleston hotel wedding venue that can transform your special day into a beach paradise. The resort has plenty of locations, (both indoor and outdoor!) that provide couples with a formal and chic wedding aesthetic. One of the most popular event space is the The Sweetgrass Pavilion. It is located across from The Village at Wild Dunes and is a great event space for couples wanting a seated reception, but also an area for dancing. Sweetgrass can host up to 300 hundred guests, which works best for a larger guest count. The Grand Pavilion is another location at the Wild Dunes that is a bit smaller than the Sweetgrass Pavilion, but still popular. It features a covered gazebo which also includes an open poolside and overlooks the ocean, which creates some . If you prefer to celebrate indoors the Wild Dunes also has the elegant Palmetto Hall and the two-story Citadel Beach Club beach house to use, as well.
Learn more about Wild Dunes Resort »
The Mills House Wyndham Grand Hotel
The Mills House Wyndham Grand Hotel is an elegant venue that is over 150 years old. It provides couples with more than 10,000 square feet of indoor and outdoor spaces, such as The Singer's Ballroom, The Planters Suite, The Barbadoes Room and Courtyard and even a historic ballroom that is adjacent to the hotel. Couples looking for an elegant setting will especially love the adjacent ballroom known as the Hibernian Hall. This event venue is located right in the historic district, and has housed weddings since the 1840s. The ballroom's rotunda is a perfect place to exchange vows especially with its hand-carved Irish Harp above the door. If you prefer a quieter space to celebrate, the Barbadoes Room and Courtyard offers an outdoor setting with scenic views of the city. Wherever you choose to wed, The Mills House provides a variety of rooms filled with Southern flair and are perfect for your ceremony and reception. Just check out this classic Charleston real wedding where the couple held their reception inside the spacious hotel.
Learn more about The Mills House Wyndham Grand Hotel »
The Francis Marion
The Francis Marion is a magnificent Charleston hotel wedding venue that creates a dreamy and romantic setting for your big day. If you love all things glam and envision exchanging vows in a venue filled with antique chandeliers, high ceilings and marble fireplaces, The Francis Marion doesn't disappoint. Along with its stunning ballrooms, the hotel also has smaller private dining rooms that are perfect for hosting your rehearsal dinner or bridal luncheon. It even offers customizable wedding packages, which include honeymoon suites and discounted hotel blocks that your out-of-town guests will love. If you and your S.O. want a venue that provides in-house catering, The Francis Marion also provides its couples with menus and options to customize their food selections, too. This century-old hotel is an ideal location for anyone looking for a wedding venue that caters to their needs and also provides a stunning setting.
Learn more about The Francis Marion »
Planters Inn
Planters Inn is another Charleston hotel that doubles as a sought-after wedding venue. For couples planning a small, intimate wedding, Planters Inn offers a romantic venue to celebrate the special day. Whether you choose to host your ceremony out on the grand piazza overlooking the courtyard or you'd prefer a formal celebration at the Garden Ballroom, this hotel is the perfect combo of sophistication and class. The sunny courtyard can easily accommodate up to 125 guests and is a charming setting for your ceremony, dinner, or dancing. Rental packages at Planters Inn include five-star custom catering that you can use for a sit-down dinner (and wedding cake!).
Learn more about Planters Inn »
Belmond Charleston Place
Belmond Charleston Place is nestled in the heart of downtown Charleston and has a variety of gorgeous event spaces to choose from. With a stunning Georgian staircase, crystal chandeliers and even a rooftop pool, you can spend your wedding day surrounded by elegant details and picture-perfect backdrops. The hotel can easily accommodate a larger wedding with the help of its spacious Grand Ballroom and manicured gardens. The Belmond Charleston Place also provides couples with a staff dedicated to making sure every wedding is one-of-a-kind by helping with floral designs or assisting with your table seating, The Belmond will cater to your every need.
Learn more about Belmond Charleston Place »
Hotel Bennett
Modern couples dreaming of a wedding venue with sweeping views of the city and also a grand ballroom to celebrate in should definitely look into the lavish Hotel Bennett . This luxury hotel located right on King Street creates a chic setting mixed with bit of old Southern flair to your big day. The hotel features a terraced two-tiered restaurant that can comfortably be used for a formal sit down affair. The Bennett also has a ballroom, known as the Jewel Box, that couples can host both their ceremony and reception. The best part? This stylish hotel is also brand new! Opening in the fall of 2017, couples looking to wed in late of next year or 2018 should add this hotel to their venue list.
Learn more about Hotel Bennett »
Charleston Marriott
Couples who want a classic setting to spend celebrating their big day should look into the Charleston Marriott. This Marriott offers 20,000 square feet of reception space for an indoor wedding, as well as an outdoor courtyard for a smaller scale wedding. Out-of-town Guests will also appreciate how easily the hotel can accommodate them by providing up to 340 rooms and 7 suites filled with modern decor.
Learn more about Charleston Marriott »
The Vendue Hotel
If you and your S.O. know you want an intimate venue where you can easily mix and mingle with your guests and take in special night, then The Vendue should definitely be added to your venue list. Not only has this Charleston hotel wedding venue been voted "Best Small City Hotel" by Travel & Leisure, The Vendue is also a hot spot for weddings. Located in the French Quarter of Charleston, this hotel is a combination of two art-inspired boutique hotels, providing a venue with over 300 pieces of art throughout the hotel. The Vendue also has several on-site restaurants to spend the special day, such as the arch-filled Drawing Room and al fresco Rooftop Bar. You can easily opt to host your cocktail hour out on the rooftop and then spend the evening celebrating inside the elegant drawing room. If you're looking for a more modern setting, The Vendue's in-house art gallery is also available to rent and provides couples with an event space filled with local artwork, exposed brick, and hardwood floors.
Learn more about The Vendue Hotel »