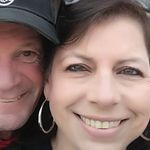 Cristy
I am 52 years old, and a mother and grandmother. My daughter is 29, and she has a 3-year old daughter whom I love more than life itself. So, 3 years ago I... View More
I am 52 years old, and a mother and grandmother. My daughter is 29, and she has a 3-year old daughter whom I love more than life itself. So, 3 years ago I became a grandma, and despite my worries about being old, it's the greatest thing to ever happen to me. Now, I am with the love of my life and about to get married for the first time!! I am from the SF Bay Area (all my life) and work as a legal secretary for the past 30+ years.
Happily married 🎉
May 29, 2021
Shuttle Timing vs Hotel Checkin vs Start Time
Katelyn
, on June 17, 2021 at 3:47 PM
Hi There - I've just run into the biggest hurdle I've experienced so far in planning. Our wedding is about 2 hours away from where most of our guests live, so 90% of them will be staying at a hotel....