55 Reviews
Recommended by 85% of couples
Quality of service

4.3 out of 5 rating

Average response time

4 out of 5 rating

Professionalism

4 out of 5 rating

Value

4.6 out of 5 rating

Flexibility

4.3 out of 5 rating
Awards
57 User photos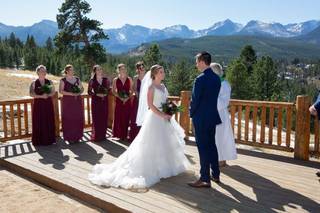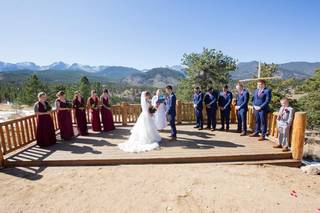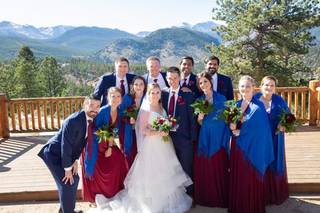 + 53

photos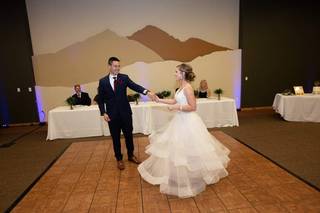 Angela S.

Married on 06/13/2022

Excellent service

The Mountain Side Lodge is the best Venue for a wedding destination. We stayed for 4 days and the chapel and outside Pavilion was very spacious. The YMCA at Estes, is a spectacular place to visit or stay and the employees are beyond accommodating. TY

Mary K.

Married on 09/12/2021

Beautiful, affordable venue for a mountain wedding

We wanted a full wedding weekend in the mountains with our friends and family, and the YMCA of the Rockies was the perfect location! Mountain weddings in Colorado have become ridiculously expensive, but the YMCA is still incredibly affordable -- without sacrificing very much. The wedding coordinator, Holly, was friendly, helpful, and responsive throughout the entire process, and it was no trouble at all to postpone our wedding due to COVID. The Sarah Smith Chapel and Upper Cookout Pavilion were perfect for the more low-key vibe we were going for and required very minimal decoration -- just a few flowers and some string lights. We also requested a room for our welcome dinner the night before the wedding, and while I was expecting and would've been fine with a boring conference room, it was actually a beautiful room with wood paneling and doors that opened onto a large outdoor patio. Even though the YMCA does not focus exclusively on weddings, we were able to get all the support we needed throughout the planning rocess. Holly helped arrange to keep extra bathrooms open and even gave me tips on where to copy some of the photos I saw tagged on Instagram. We also used the YMCA for catering, and they helped us create a custom Thai food menu that was still very reasonably priced, and the guests thought it was delicious. Almost all of our guests stayed on the YMCA property for the entire weekend, and everyone talked about what a special and fun experience it was. We did not hire a wedding planner or day-of coordinator, but our wedding weekend was still incredibly low stress and full of joy because the YMCA made everything so simple. I feel incredibly grateful to have had the opportunity to get married there, and the weekend truly was everything we had hoped for.

Libby H.

Married on 09/14/2019

You have to get married at the Mountainside Lodge

Multiple people told us this was the best wedding they have ever attended. I can't recommend the *Mountainside Lodge* at the YMCA enough. This is the property at the very top of the hill with a huge lodge (sleeps ~35) and includes your outdoor ceremony and reception space all in one location. Lodging for our entire wedding party, ceremony space, and reception space for 4 days (Thurs afternoon to Sunday morning) cost $9,000. That is just THE ROOM in other venues in Estes Park on a Saturday. We all had so much fun hanging out at the Lodge together and really getting to spend time together. NO travel made the wedding day so much easier than having to load up cars or rent additional transportation. I walked right outside my dressing area and down to the aisle! A lot of folks are hung up on the only beer and wine deal. Your guests will not care and can enjoy anything else they'd like in their cabins. Do it. It is worth it. We also had a kickball game and ate in the dining hall the day before our wedding. I loved my time at the YMCA!

+ 13

photos

Are you interested?

Send a message

Jasmine

Married on 09/21/2018

My husband and I got married at the Sarah Smith Chapel. It was such an incredible and unique venue to have our ceremony at, it was so secluded with breathtaking scenery as the backdrop of our wedding. It was honestly everything I could have wanted and more. There is a parking lot right across from the chapel, so your guests can drive to the ceremony. The only issue we had is that it is a bit troublesome to get to if you don't know how to get to the chapel. There aren't any signs and the map is a bit confusing. We put up balloons the day of the wedding, and that helped some folks find the chapel, so I would recommend putting up signs and balloons directing your guests if they aren't familiar. Thank you for making my wedding dreams come true!! Our entire family wants to come back and stay at the park!

YMCA of the Rockies Estes Park Center's reply:

Thank you for your kind review Jasmine! We hope to see you and your family again soon! -Ashley

Faith

Married on 05/25/2018

We loved our wedding at the YMCA! We got SO many compliments from guests about the beauty of the ceremony at the Overlook Chapel, and everyone loved the reception and catering as well. The YMCA was responsive and easy to work with and made wedding planning a breeze! The food was delicious and there were plenty of options for dairy free and gluten free dietary restrictions. The staff was helpful and made sure the night went smoothly, and we even loved their officiant, Greg Bunton, who made our ceremony interesting, fun and beautiful. So many people stayed overnight in cabins or rooms and also utilized the other acirivites the YMCA had to offer. The YMCA was also so decently priced, for such a beautiful space, catering, officiant, rehearsal space, and cabins. It was perfect for our wedding and we couldn't be happier!

Elizabeth

Married on 10/06/2016

Greg officiated our wedding and he was an absolute pleasure to work with! He was warm, professional, and personable. We wanted our service to be based in the Christian faith however, we come from different denominations and wanted our wedding to truly feel as if two families were growing in unity and not being separated for our differences. Greg was very accommodating and provided a beautiful service. We were appreciate he took considerations like time and personal details into account when planning our ceremony. He was also very responsive to my emails and calls, not to mention understanding that we were unable to meet only a couple months prior to the wedding as my husband was deployed for the majority of our engagement! Greg was truly a blessing to us and we were lucky to have found him!

Terry

Married on 08/13/2016

We had our daughter's wedding reception in the Walnut Room, after a wedding ceremony in Rocky Mountain National Park, where we used Estes Park Shuttle service to transport our guests to and from the YMCA. We planned the reception from Wisconsin, and Emily was so helpful and professional. The tasting we attended in the spring was amazing and really helped in the planning. It was a beautiful reception, and the YMCA was so accommodating for us and all of our guest in cabins and lodge rooms. We rented a large vacation home and everyone gathered there for nightly parties and breakfast!

Kayla

Married on 09/20/2015

We had our wedding at the YMCA of the Rockies this September and we couldn't have been happier with our decision. We planned our wedding from our home in California so we relied heavily on email and phone. Emily was very responsive and helpful throughout the entire 9 months we spent planning. We were married at the Overlook Chapel, which has the most breathtaking views. We were worried about parking for guests, but we asked people to carpool and it wasn't an issue. We used the Walnut Room for our reception, it is pretty much a blank slate and with simple decorations it looked beautiful. The food was delicious, we got multiple comments from guests about how good they thought it was, especially the mashed potatoes and prime rib. The staff was friendly and helpful. All of our guests stayed at the venue, either in cabins or in the Aspen Lodge. Everyone was happy with their accommodations and loved staying there. If you want to get married in Estes Park, the YMCA is a great option and a great value, you won't be disappointed.

Tiffany

Married on 06/14/2015

Emily was great and responded quickly to every request Loved our time there and it was simply beautiful! Great rates and super friendly staff... If you are looking for a getaway kind of wedding this is the place!

Niki

Married on 08/30/2014

We had our ceremony at The Overlook at YMCA of the Rockies. The views are so breathtaking and the price was a steal. All of our guests were in awe of how beautiful it was. The weather did not cooperate for our wedding day, which was a bit of a bummer since it is an uncovered, outdoor venue, but we muscled through wind, rain, and even some hail because it was worth it for us to have those beautiful panoramic views as the backdrop for our photos on our wedding day.

Emily is the events coordinator at YMCA of the Rockies. She was very responsive and a pleasure to work with. She is very accommodating and helpful in getting you what you want for your wedding day. There are several different scenic overlooks and chapels to choose from on site, which is great because you have different options to get exactly what you want from their property as a ceremony/reception venue. The Overlook did not have any electricity available, so if that is important to you, it is something you should definitely consider. We bought a small/portable, wireless, battery operated sound system for about $150.00 to use up there and it worked wonderfully for us. We just couldn't pass up on the opportunity to have the amazing scenery The Overlook provides for our special day.

These guys were BY FAR the cheapest venue we could find in the front range of Colorado. They have a ton of options for venue settings (we went with the outdoor amphitheater) to fit your "number needs" and inside-outside preferences, and Emily (the event coordinator) was extremely responsive to emails and phone calls. Everything I asked of her, she did with ease. We had a beautiful outdoor wedding and outdoor reception, and the staff was very flexible. They also had easy, on-sight lodging for our out-of-state guests, and we had a very fun weekend.

Rachael

Married on 07/26/2014

Emily and Joe did a wonderful job in helping us have an awesome wedding. I contacted both of them non-stop with question after question. They never made me feel uncomfortable about it and always got back to me in a timely manner. We got married at the Mountainside Lodge, and it was a perfectly beautiful location. We did a family reunion style wedding, so if you're looking to do something similar, this is the perfect spot. I was expecting the food to be mediocre, but it was delicious! I will admit that if you are looking for a really fancy wedding, then this might not be the place for you. Wedding planning is not there only job....and they are a family camp spot first and foremost.

Alex

Married on 02/08/2014

YMCA of the Rockies was the perfect setting for our winter wonderland wedding. Emily and Sarah were great to work with and made everything perfect. My husband and I were married in the outdoor chapel in February. Yes, we had an outdoor wedding in the mountains in winter and it was perfect. Emily made sure the site was cleared of snow to the best of her ability since it snowed all day. Sarah made sure there was hot cocoa for our guests.

The reception was amazing! Sarah and her staff did a beautiful job setting the tables with our center pieces and wedding favors. The whole day felt like a dream. The YMCA of the Rockies is the perfect mountain wedding venue no matter what time of year you plan to tie the knot.
-Alex Zyla

The Y was perfect for our wedding. No wedding is low stress but the whole feel of this place is so calming plus it's very affordable. The setting is rustic and majestic and we loved that everyone could stay in the super cute cabins and lodges so no one had to drink and drive. Plus it ended up being a nice weekend long celebration and all of the kids had a blast. There's so much to do.

Catering: Awesome. What a great value. 20.95 a plate for an outstanding dinner. We had guests tell us that it was some of the best food they have ever had at a wedding. Can you believe how affordable that is? So impressed. We did add an appetizer which was also VERY good. The staff was efficient, hard working, and so friendly. TIP: Trust the catering manager on the menu selection. Let them tell you what's best.

Staff: Total pros and very friendly. Amber in catering was nothing but amazing even though do hundreds of events and seem to keep very busy. They get busy in the Summer so just be patient, they will make it happen for you. Emily is my kind of no nonsense get things done kind of gal and between the two of them they made planning the event very easy.

We had a very elegant yet laid back wedding and we did for a very reasonable price here. We had a blast! It's no New York ballroom but it is a very special and unforgettable place if you're into mountain weddings.

It was so great, we're going to come back on our Anniversary!

Thanks YMCA!



Ambrosia

Married on 08/14/2011

I highly recommend Snow Mountain Ranch for your wedding location! It is in the Rocky Mountains, and the views are stunning. There are several ceremony and reception locations to chose from. Danielle was very helpful throughout the entire planning process. She assisted us during our rehearsal and during the actual ceremony - she made sure everybody started walking when they needed to. We had a bit of a rain delay and remained calm and professional, and found a covered space for our guests to wait the rain out.
SMR allows you to bring your own caterer and alcohol, which saved us a ton of money!
If you are looking for an amazing, gorgeous place to tie the knot look no further!

Tara

Married on 08/13/2011

This site was the absolute best choice we could have made. The wedding was amazing. We wanted to make it a destination-type wedding where guests would come up for the weekend and get to know each other and this site made it perfect for that. We had guests canoeing, playing volleyball, had a 30 person kickball game and people on their own went hiking, running, and horseback riding. This way the weekend was about the wedding, but also about the experience of being in Colorado and having a vacation.

Other great things:
The area is so beautiful and it provided the best backdrop I could have hoped for, we even did not reserve a separate ceremony site and just did it behind the tent. The area worked great, it saved money and the staff was fully supportive it this.

The price was almost half of any other one we looked at and then they even gave a 50% off discount when we had our guests make lodging reservations.

The tent was super easy to set up, and the staff delivered what we needed to make the set up easier. We thought we would not like the turf floor, but didn't even notice.

The customer service was awesome ans super responsive.

I FULLY RECOMMEND THIS SITE!!!

Jacki

Married on 11/28/2009

Stacy was AWESOME in helping us with everything that we needed to pull off a unique wedding

Rochelle

Married on 10/17/2009

I got married at SMR in October 2009. I can't say enough about the location, the facilities, or the staff. Everything was fantastic. All of my guests commented on how nice everyone was up there, and they were nothing but helpful to my husband and I as we planned from a distance. I would give them 100 stars if I could.

We had our reception in Legett Building, and it was a perfect site for our group of about 140 people. I thought there would be more guests or I would have picked a smaller place. But Legett is billed as accomodating up to 250 and I think there was definitely enough open space there to hold that many. The ceremony was at Columbine Point, which was amazing. It is beautiful and very spacious.

My husband and I, along with some of the wedding party and our families, stayed in two seven bedroom cabins, which were clean and comfortable. My only complaint about them was the shower heads - weak water pressure and they kind of sprayed all over. But that could change anytime, as I mentioned it when I checked out, and I would definitely go back again without a second thought to the shower heads. Most of our guests and the rest of the wedding party stayed at either one of the lodges or one of the smaller cabins, and I heard nothing but compliments from all of them.

The only other thing to be aware of is that most of the smaller cabins and the rooms don't have TVs. We had a small TV in the large cabin. If you are a techie family you may want to think about that - but you don't go up to the mountains to enjoy the TVs, I guess.

The location was perfect. It is slightly further than Winter Park from Denver. Easily accessible from Denver and DIA. You are definitely "away from it all" but still close enough to drive to Fraser or Granby for supplies or a bite to eat. However, SMR offers just about everything you need. There is at least one restaurant/cafe, and a convenience store, at the main lodge. And some of the rooms include meals, I think. (not sure about all that as we brought our own food to the cabins.)

Overall, I can't say enough good things about Snow Mountain Ranch and will definitely be back for family vacations. Highly recommended!



Talya

Married on 05/31/2009

This Venue was the most beautiful place I have ever been and I had my dream wedding at the Sarah Smith Outdoor Chapel. Just a small group but it was amazing!

Katherine C.

Married on 07/12/2019

Dream come true!

This review is so long overdue! My husband and I were married here July of last year and the YMCA of the rockies made this the best day of my life! We had a spectacular experience here. The wedding coordinators made planning so easy, and affordable. When we initially found this gem we thought it was too good to be true, and that we must have read their prices incorrectly. We even said "there must be a catch" but there wasn't. If you love the idea of summer camp for adults or families look no further! We were married at "Overlook Chapel" which is no joke on the side of the mountain with the most breathtaking views of the rockies you can imagine! We used the YMCA's very own chaplains Greg Bunton who was downright exceptional. We had our reception in the pine room with our own DIY rustic decorations. The menu was simple and delicious. We were actually pleasantly surprised by how delicious the food was, the chefs here are impressive! We brought out own wine and beer for the open bar, and had a friend act as bartender for the evening. The staff at the YMCA went above and beyond that day to make sure things went off without issue! We did a room block for our guests at one of the lodges and everyone loved the rustic vibe. We splurged on a summit cabin and actually hosted our own rehearsal dinner right there at our cabin. We did a simple cookout and then moseyed over to friendship fire ring after for a campfire and s'mores! The day after our wedding we reserved a private archery lesson for the guests who were interested. With the YMCA of the rockies you really can have it all!!!! It's not too good to be true, it really is a rustic paradise for you and the family!

+ 9

photos

Chelsea H.

Married on 06/29/2019

Great spot for a wedding

We got married on June 29th and had the ceremony at the Overlook Chapel and the reception at the Assembly Hall. You can't beat the value for the views of the ceremony and the pricing for the reception hall was a steal also! The location was great, not too far away for guests to travel, but the rooms were way overpriced and have no air conditioning. We didn't stay the night because of the pricing, but about half our guests stayed.

Larissa

Married on 06/03/2018

YMCA of the Rockies kept everything extremely simple for our wedding, which was exactly what we were looking for. They were the only venue we contacted that wasn't pushy and tried to force us into doing anything we didn't want to. The venue was beautiful and we received so many compliments on the ceremony site and Pine room. It was definitely worth every penny and more since my husband and I paid for our own wedding and have $0 debt after all was said and done. Everyone we worked with were so easy going and the day of staff were so nice! It was a great day thanks to them!

YMCA of the Rockies Estes Park Center's reply:

Thank you Larissa! We work hard to make each bride's day the best it can be. Come again soon!

Gina

Married on 10/11/2014

The YMCA of the Rockies is probably the best kept Estes Park wedding venue! They did a fantastic job with my wedding coordination and the day of went absolutely smoothly thanks to them! Mid planning our wedding, the catering coordinator was changed (due to someone switching positions), so there was a period of time where they were not as responsive as I would have liked. There was however, always someone who could answer my question if my contact wasn't available. The scenery is absolutely the most perfect setting for a wedding and having a group cabin to gather before and after the big moments was great, and something I really appreciated! We loved having a home away from home to call our own. We had a destination wedding without having to pay exorbitant airline fares! I absolutely recommend the YMCA of the Rockies Estes Park Center-great location, excellent service, and fantastic prices!!

Susan

Married on 08/31/2014

The Estes Park is a great choice! It was perfect for all my out of town guest to have a place to stay near by. It is simply beautiful for a wedding. The value is unbeatable for the area. It was perfect for us!

Heather

Married on 05/29/2011

I am really glad we decided on this venue. The main things we wanted were: a place that didn't have a lot of restrictions on the vendors we used and a place with lodging for all our out of state guests. This was just the place. They were really flexible with us. We originally planned to have the wedding at Columbine Point and the reception in the tent. Well, Spring in the mountains is a little unpredictable and the weather in the two weeks before hand was bad so the road to the Point was bad and the tent couldn't go up because the ground was frozen! The wedding coordinators were right on the ball though and made suggestions for where we could have our wedding. We chose the Wildflower Chapel for the ceremony and a Reunion Cabin for the reception. We couldn't have been happier, it worked out wonderfully.

The wedding coordinators, Danielle, was wonderful. I asked a million questions and she always got back to me pretty quickly. She wasn't in the office everyday, but her voicemail always said when to expect her back and I usually got a call that day or the day after. They just hired another coordinator, Ashley, so this will probably speed things up. I only met her on the few days before my wedding but she was great too. Danielle even took pictures of the plates and cups provided in the reunion cabin for me so I could go out and buy a couple more of them to match (they provided 45 of each and I was expecting about 55 guests) and measured all the tables for me. And they coordinated the rehearsal and the ceremony for me! We didn't really know what to do but she was just - "It normally goes like this but you are welcome to change it any way you want". And the ceremony turned out great.

The lodging was excellent. We stayed in Indian Peaks Lodge (the recently remodeled one). We didn't expect much from a room from a camp, but it was actually nicer than some of the Best Western's I have stayed at.

And the prices were great compared to what's in the area.

All in all, I would whole-heartedly recommend the YMCA!
Are you interested?
Send a message