11 Reviews
Recommended by 98% of couples
Quality of service

4.8 out of 5 rating

Average response time

5 out of 5 rating

Professionalism

4.9 out of 5 rating

Value

4.8 out of 5 rating

Flexibility

5 out of 5 rating
2 User photos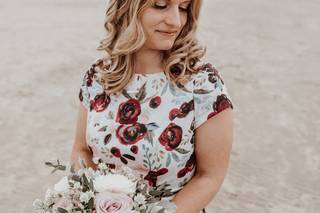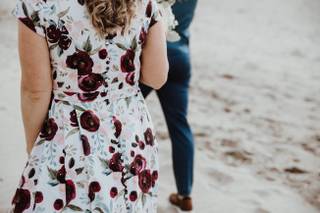 Jesse

Married on 07/09/2019

Non-traditional wedding gown. Stunning!

I knew from the beginning that I wasn't going to like a traditional wedding dress. I wasn't planning to have a traditional wedding. I went to two dress appointments at boutiques in Seattle and I was very disappointed in the lack of "unique" gowns – something with color or pattern, with cap sleeves, ankle or tea-length, or a high neck. I was not interested in an ivory or white gown. I'm a pale person and getting married on the Oregon Coast I was concerned I would blend in with the background.

Enter Kiko. I found Kiko House of Couture through an article on Brides.com for the best Seattle bridal salons. A custom dress sounded like the perfect solution, but I was hesitant about the cost. I sent an inquiry to Kiko and he assured me we could work within my budget. I showed up with a handful of inspiration photos, a general idea of a shape, and desire for a floral pattern. Kiko made my vision come to life on the piece of paper in front of me.

After a series of fittings, I ended up with the most beautiful dress I've ever worn. Stunning in its simplicity and design. It fit me perfectly. It was no easy task. I wanted an A-line frame, tea-length gown, with a boat neck, cap sleeve (that would still allow me to dance!), covered buttons all the way down the back, pockets, all in a cotton floral fabric I discovered on Etsy.

Most importantly, throughout the process, I didn't worry about the dress – whether I'd like it, whether it'd fit. Kiko demonstrated such skill, precision, and confidence in his art that it eliminated my anxiety. Such a relief as a bride. The process was all about accommodating my desires for the dress. That said, Kiko provided expert advice on what would best accent my shape and enhance the style of the dress – even as far as consulting on accessories and the groom's suit. It was important to me that the dress still look like a wedding dress despite being non-traditional in almost every sense.

Along the way, we even managed to convince my mom to have Kiko design a mother-of-the-bride dress. This may have been an even bigger feat than my wedding dress! My mom is a petite 5ft with narrow shoulders and struggles to find dresses off the rack. She wanted something simple and flattering. My mom had even less inspiration/vision to provide Kiko, but he still managed to create a dress that fit her perfectly, with a lightweight jacket and ultra-classy bow. She was beaming and so happy with the result.

I deeply appreciate everything Kiko did for my mom and I and for being a part of my bridal experience. I will never forget his kindness, professionalism, fashion expertise, and genuine desire to make his clients happy. He's an absolute master at his craft. I would happily refer any of my friends and family to Kiko for a custom look.

Patty H.

Married on 06/22/2019

Mother of the Bride and Mother of the Groom

Kiko's designs, craftsmanship, quality are the best! I was so happy with my dress for our daughter's wedding last year, I had Kiko make another for our son's wedding this month. He is very reasonable for couture. If you need a Mother of the Bride dress, Mother of the Groom dress or just a party dress go to Kiko!

Gabriella

Married on 03/19/2017

Kiko is a true artist. After searching relentlessly for a wedding dress that didn't exist, I decided to have a dress custom made. It turns out that there are very few designers who create courture bridal gowns in PNW, and I ended up finding Kiko via his amazing Google reviews. The only problem is that I live in Portland, and he's in Seattle. However, after a few phone calls and email exchanges, I went to meet him at his in home studio. I am an extremely picky customer, but Kiko assuaged all of my fears and listened carefully to my feedback. I had a tall order and a complicated design idea. I admit that I was nervous, when looking back I had no reason to be - my gown turned out better than I could have ever hoped for. It was worth every drive to Seattle, every fitting, every ounce of (unsubstantiated) worry. The material and craftsmanship are gorgeous and immaculate, and the finishing is stunning. My wedding dress is a real keepsake that I hope my daughter might want to wear someday. SO! If you have the trust, you should definitely let Kiko bring your vision to life. You won't regret it - he's a genius. Thank you Kiko!!!

Are you interested?

Send a message

Samantha

Married on 06/04/2016

Kiko made my wedding dress dreams come true!! I too, looked at Yelp when I began my search for the best wedding designer and/or boutique in the Seattle area. I checked out several of the boutiques but all the dresses seemed so "bridal" - typical and nothing special. Based on Kiko's perfect reviews, I had a meeting with him. I described my vision and he instantly brought it to life in a stunning sketch. At that point, my fiancé and I had a good feeling about moving forward with Kiko and the process began. I was not an easy customer - meticulous and perfectionistic to say the least. Kiko was fantastic - always attentive and receptive to my feedback, working tirelessly to create my dream dress. Over a period of several months, he brought the dress to life in the most spectacular way and much better than I ever could have imagined. On my wedding day, I felt confident and beautiful in the dress - just as you should as a bride!! I live in Pullman (about 5 hours from Seattle) and Kiko was always super accommodating with scheduling fittings. I could only come to town on the weekends and he always made himself available. Due to my work schedule, I often had to request that fitting days or times be changed and he was accommodating always without any complaint. I would recommend anyone to seek Kiko for their dress making. If I was going through this process again, I would go right back to Kiko without a doubt!! He was professional, masterful in his art, and a pleasure to work with. Thank you, Kiko!!

Richelle

Married on 09/01/2013

Working with Kiko on my wedding gown was wonderful!

I was searching constantly and having no luck finding a dress that I both liked and could afford. When I tried things on, even if I liked the style, I was often unimpressed with the quality of the fabric and stitching. Then there was trying to imagine what it would really look like after being altered, and I was just never sure I was going to love the finished product.

As soon as I started working with Kiko, the stress of the dress hunt was gone! I wanted a dress that was both elegant and simple, and one I would be comfortable moving around in. Kiko made me a custom dress that fit me perfectly--size, shape, personality, and budget.

Kiko is a master of both design and craftsmanship. I sent him some photos of dresses I liked, along with a description of how I imagined combining elements I'd seen to create the perfect dress for me. At our first meeting, applying his artistry and expertise to my vision, he drew a sketch and brought my idea to life right before my eyes! We then met regularly as he started creating the dress from the inside out, making sure that every piece fit perfectly. Kiko is extremely organized and the dress was ready in plenty of time before the wedding. The quality is superb.

I didn't spend half my wedding budget on my dress, but I did feel like a million bucks. My dress was so comfortable, I danced all night long! But if you want a super complicated design, he can do that too. If having a dress made for you has ever crossed your mind, you will not regret meeting with Kiko for a consultation. I just assumed that I would not be able to afford couture; but Kiko's prices are very competitive. And you get exactly what you want! Priceless!

Being able to wear my very own unique, high-quality dress on my wedding day was priceless and made me feel like a queen. I cannot recommend Kiko highly enough!

Estela

Married on 07/13/2013

Another wedding, another AMAZING mother of the bride dress!

Kiko made me a stunning mother of the bride dress last year for the wedding of one of my twin daughters. My second daughter got married this year resulting in a second beautiful creation by Kiko.
It is always a true pleasure to work with Kiko. He is a very talented "couturier," he knows what he is doing, listens to you and comes up with ideas that result in a very unique and gorgeous creation. As he did last year, Kiko gave me advice on make-up, jewelry and even shoes! He is also very flexible for appointments and scheduling, not to mention that he always delivers on time!

We went through the same process we did last year: I came up with ideas and Kiko sketched my dress. This time I was looking for a dress in a light weight and delicate fabric that would allow me to move and dance comfortably. We picked a beautiful, printed silk chiffon in a very light and soft blue and green color. He made a multi-layer asymmetrical bias cut skirt that he layered over a short silk charmeuse skirt. The layers had a French hem finishing and as I walked or danced the skirt floated softly in the air creating a very graceful movement, exactly what I had envisioned. Only Kiko could come up with such a gorgeous creation!
I highly recommend Kiko for fine, unique and beautiful formal wear in Seattle.

Thanks again Kiko for making another stunning mother of the bride dress!


I loooooved working with Kiko! My dress came out beautiful, fit me perfectly, and is one of a kind. I had all sorts of crazy requests and ideas and Kiko patiently worked with me. Amazing. And it really isn't as expensive as you may think, so reasonable. I would love to have Kiko make me another dress for another special occasion.

Erica

Married on 09/22/2012

As I started out looking for my wedding dress, I couldn't stand how every dress in every bridal shop looked exactly the same. I didn't want to be spending thousands of dollars on something that was just OK and would be at the next wedding I went to. So I was online and saw the great reviews for Kiko and said, yes, this is perfect! Of all the things I decided on for my wedding, the one choice that was hands down the best was getting my dress made by him. It was absolutely stunning, so unique, and I got comments from literally everyone.

Kiko took my ideas from magazines and my likes/dislikes and sketched something which took my vision and made it more than I could have imagined. He pushed me to use a beaded lace which I was hesitant on and that part of the dress pulled everything together (not to mention added a great wow factor). He is able to make any dress in any budget and at a quality of dressmaking that is top notch.

He was flexible with my schedule for appointments and was available by email/phone/in person when needed. When I asked last minute to do a bussel on my a-symmetrical train, he added it without any issue, even though it was a last minute request. He helped with earring ideas, hair/makeup etc so my look could really come together.

Overall, I would encourage anyone who wants an absolutely beautiful and unique dress in the same budget you were thinking of for a bridal store gown to go to Kiko and get something miles above your expectations. Don't be hesitant to go talk to him, you will be glad you did! You will shine on your day and you will get something so special for you to remember forever.

Kiko as a person and designer is just seamless. So professional and kept the process stress free, fun, and even with a busy schedule he made me feel very special. He did a really good job of honoring my style and adding his very experienced and tasteful recommendations.
I came to him after exhausting myself in dressing rooms every weekend. I knew EXACTLY what I wanted but was completely defeated by the ginormous price tags. I showed him a picture of an Inbal Dror dress – a GORGEOUS intricate dress made out of delicate lace … and of course cost more than a house. He looked at what I thought would be an impossible task with my budget and he didn't even flinch. He was completely confident that it was do-able. He educated me through the whole process making sure I approved of every price tag and stitch he made. He had a ton of shortcuts to keep costs down without compensating the quality. He was very thorough and consulted me on details I would never think of, from heel height to earring length, and even how to travel with the dress. I could tell he's done this for a long time and knows exactly what he's doing. In the end I ended up with a dress that was affordable and better than the original!! It's the most beautiful dress I've ever seen – much less wear!
I absolutely recommend Kiko to any bride looking for the best from the best without having to sacrifice your budget.

http://darkroux.com/race-and-religious-wedding-celeste-michal/

Kelly

Married on 10/13/2016

Kiko admittedly had a tough job with me. I knew I wanted a peach-ish dress, and couldn't find anything remotely like the idea in my head, which is why I sought him out in the first place. Yelp to the rescue! So glad I found him!
At my consultation, Kiko discussed several styles with me, and what fabrics would work with each. When I found a peachy raw silk fabric sample, I knew I had to go with that. His design was gorgeous; fitted bodice and ballgown length.
It took MANY fittings to get it right. I kept going back until he was happy with the end result. I was, as well!
About halfway through the dress creation, my mom sent me her wedding gown. I had no use for the fabric, but the lace was gorgeous, and I really wanted to include it on my dress. He suggested a few tweaks, and the end result was perfect.
Kiko was always friendly, always professional, and always accommodating of my schedule (brides work, too...)
Our wedding was very low-key, but I knew the dress I had in mind didn't exist in real life, and if you're going to have a dress custom-made, what better opportunity than on your wedding day? SO PLEASED with the end result!

Eileen

Married on 09/06/2008

I've gotten so many compliments on my dress: mermaid style, v-neck, ivory Peau de Soie fabric. Usually, Kiko designs the dress to your ideas and liking, sketching it out for you on the spot. His drawings are beautiful. However, I already had my dress in mind, and drawn out for him. He looked at my drawing, made some suggestions in order to ensure that the dress would compliment my body, and stay up. He then took some measurements and gave me an estimate, which he stuck to, and gave me however much time I needed to think about signing a contract with him.

The price of the dress was much less than the $4,000 Alvina Valenta dress that I initially wanted. The style was similar, but with some personal touches, and it was made to fit. It gave me curves, which I never thought was possible.

Bottom Line: Kiko was very helpful, professional, and fashion forward. He listens to what you want.