25 Reviews
Recommended by 100% of couples
Quality of service

5 out of 5 rating

Average response time

5 out of 5 rating

Professionalism

5 out of 5 rating

Value

5 out of 5 rating

Flexibility

5 out of 5 rating
8 User photos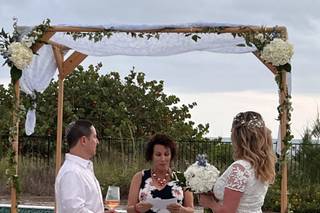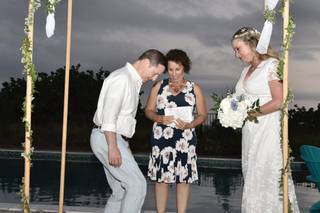 + 4

photos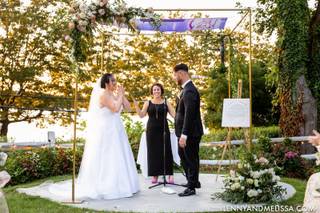 Sarah R.

Married on 08/06/2022

An unforgettable ceremony

Marci truly made our day unforgettable. Our ceremony was perfectly tailored to us and we got so many compliments afterward. She did an amazing job speaking and explaining every part of our ceremony to our guests. I would recommend her to anyone!

Harmonious Weddings - Marci Vitkus's reply:

Thanks for your kind words. I am delighted you loved the ceremony. Look forward to seeing you on your next trip to Tampa.

Christina P.

Married on 05/07/2022

The most WONDERFUL Cantor! You want to read this ;-D

Cantor Marci is just the BEST all around. As others have said, it's like she's known us our whole lives, yet weve only been in touch for a few months. We live in Washington, D.C. and planned to go to our favorite place in Florida (Anna Maria Island) for our interfaith wedding (I converted right before and we surprised the groom during the ceremony.) Marci gave us options, so we'd know where to start, she planned phone calls and zoom calls based on our schedule, and we met in person beforehand since we came into town a few days early. Her rates should be higher. Seriously. So much planning and effort on her part, plus she lent us this beautiful Chuppah, so we didn't have to rent one. Her singing voice is AMAZING, she makes you feel so comfortable, the ceremony is catered to you. I cannot say enough.

Harmonious Weddings - Marci Vitkus's reply:

Thank you thank you for the kind words. I'm doubling my rate now. Just kidding! I loved meeting you both and wish you lived closer.
L'hitraot..until we meet again! 🥰

Scott K.

Married on 03/12/2022

Absolutely the best!

Marci ran the most beautiful ceremony. She spent time with us a few months in advance and really got to know us. The ceremony was very customized and told our story perfectly. We were told by literally every guest it was the best ceremony they had ever been to. We feel very blessed to have had Marci!

Harmonious Weddings - Marci Vitkus's reply:

I loved getting to know you both and hope to see you around town! Thanks so much for the kind words and I'm giddy knowing people gave you such great feedback.

Are you interested?

Send a message

Evan S.

Married on 12/04/2021

As if she knew us for our whole lives

Marci wrote very beautiful, accurate, and meaningful words for our wedding. She spent a lot of timing getting to know what we like/dislike and to know us on a very personal level. We felt this contributed greatly to her ability to speak as if she has known us our whole lives. We would not have changed anything about the ceremony and Marci made us feel confident from the first meeting that it would go exactly how we wanted.

As an interfaith couple, we wanted a ceremony that was Jew-"ish" so that everybody in the audience understood and enjoyed it. Marci created a perfect mix of traditional and modern in her service, which felt sincere and true to who we are.

Thank you Marci for everything. We would highly recommend Marci to anyone looking for a meaningful wedding service.

Harmonious Weddings - Marci Vitkus's reply:

This review means so much as it reflects exactly what I aim to do for each couple. Thank you for taking the time to write it. I loved getting to know you both and hope to hear about all the babies in the future.

Ryan H.

Married on 09/04/2021

Best Officiant Ever

Cantor Marci was our first, and easiest, decision when it came to wedding vendors. We knew she would work with us to craft a ceremony unique to us as a couple and that balanced our religious preferences (Bride is Jewish and Groom is half Jewish). She made our ceremony very special and did an incredible job of allowing couples to implement their own character into the traditional Jewish ceremony. We loved that she spent the time to get to know as a couple and scheduled separate calls to get to know us as individuals. We also really appreciated how she explained the different Jewish traditions and gave us a menu of options so we could figure out what worked for us. She also helped us with reviewing our program as we wanted to include some explanations of the Jewish ceremony for our guests who were unfamiliar.
Cantor Marci conducts a ceremony with a meaningful tone and is able to balance the seriousness and importance of the proceeding with moments of comedy and levity.
We are incredibly grateful to her!

Harmonious Weddings - Marci Vitkus's reply:

Thanks so much. I appreciate the details you added so future couples will understand what I bring to the table. Love you guys and wish you so much happiness!

Kerri

Married on 06/05/2021

Meaningful and personalized ceremony

Marci devoted time to getting to know us and what we wanted out of our wedding ceremony. She is very down-to-earth, open minded, and creative. We equally enjoyed getting to know her and collaborating with her on the wedding ceremony. The wedding ceremony was even better than we envisioned. We strongly recommend Marci as an officiant.

Harmonious Weddings - Marci Vitkus's reply:

Thanks, Kerri. I appreciate the kind words and enjoyed the experience very much. Thank you again for the gift of the chuppah!

Jessica B.

Married on 03/23/2020

Interfaith Ceremony - Perfect in Every Way

My husband and I had a destination wedding in St. Pete Beach, FL and we wanted to have an interfaith ceremony with Jewish elements that felt inclusive of our very diverse guests. Cantor Marci officiated a beautiful ceremony and sang many of the blessings. We are still getting so many compliments! We contacted her only about 6 weeks before our wedding and she felt like the perfect fit right from the start. We spoke with Cantor Marci multiple times leading up to the wedding which allowed her to understand what was important to us, and what elements to weave into our ceremony.

Harmonious Weddings - Marci Vitkus's reply:

6 weeks? It felt like longer. I wish happiness and success to you and James! Thanks for the kind words. It was my pleasure.

Lauren

Married on 01/19/2020

More than just an officiant!

I found Marci by doing a simple search of my area and her bio on her website immediately drew me in. She asked us all the right questions and spoke about us as if she had known us for many years. She perfectly catered the ceremony to our liking. She made everything flow so well and helped ease our nerves!

Harmonious Weddings - Marci Vitkus's reply:

I am thrilled you were so happy with the ceremony and our meetings. I enjoyed meeting you and especially Serena. She is an amazing kid. If i can help in the future in any way let me know.

Megan S.

Married on 11/09/2019

Exceeded our expectations!

I cannot say enough about Marci and how incredible she made our ceremony! I am Christian and my husband is Jewish so finding an interfaith officiant was a challenge during our wedding planning process. When we found Marci, we knew that we had found the perfect person to officiate our wedding. She made us feel completely comfortable from the first meeting and put us at ease throughout the entire process. Marci was always so friendly and patient all while dealing with my constant emails/texts, OCD tendencies, and neurotic worrying about making our ceremony what we wanted while respecting both of our families' wishes. She did an amazing job of listening closely to what we wanted and made our ceremony a perfect representation of us and our love for one another. I cannot recommend Marci enough to make the ceremony of your dreams come to life!

Elina O.

Married on 05/11/2019

Perfect Ceremony

My husband is Catholic and I'm Jewish so not only were we in search of an interfaith officiant but someone who could guide us through the process. I felt comfortable with Marci from our first conversation and knew she would be a perfect fit for our wedding. She worked with us to create a personalized ceremony and was always available to talk or meet.

Harmonious Weddings - Marci Vitkus's reply:

Elina & Vidas, It was such a special event to be part of. Your family and friends were so welcoming. I hope you live happily ever after!

Tamaryn

Married on 12/09/2018

Simply incredible

Marci is simply incredible, from the beginning (our rehearsal) to the end she was a joy to work with. She really felt like family!

Harmonious Weddings - Marci Vitkus's reply:

Thank you, Tammy! Big hugs to you and Martin. It was a wonderful experience for me as well. I loved our coffee conferences and meeting your sweet pup, as well as your friends and family.

Martin

Married on 12/09/2018

truly amazing

Marci is simply amazing.
She made every step of the way so enjoyable!!
highly recommend her!!

Harmonious Weddings - Marci Vitkus's reply:

Thanks, Martin. Loved getting to know you. Wishing you and Tammy loads of happiness. Hope to see you soon.

Amy A.

Married on 10/11/2018

Personalized to Perfection!

Marci was wonderful! She understood what we wanted and made it happen seamlessly. She had creative ideas that made our ceremony even more personal than we imagined! I would highly recommend her!!!

Ben

Married on 07/15/2017

Marci was great! Customized our service and a beautiful singing voice.

Kristen

Married on 05/16/2015

Marci's attention to detail and thoughtful insight made our ceremony a highlight of our wedding. Not only did she encapsulate our personalties and honor our shared spiritual views, her heartfelt sentiments transcended the institution of marriage, touching everyone who bore witness to our solemn vows.

As we look back over our lifetime, I am certain this memory will be paramount to the moments we've shared together.

Rachel

Married on 06/29/2014

Beautiful service!!!!!! Highly recommend her!!


Marci gave my husband and me a wonderful wedding ceremony, one that made us and everyone in our multicultural, bilingual Jewish/Catholic/Protestant families feel the joy of the occasion. We had so many compliments about how beautiful and heartfelt the ceremony was. Marci spent a lot of time speaking to my husband and me (together and separately) to find out exactly what we wanted in our ceremony and to get to know us so that her remarks would reflect our personalities and relationship. We couldn't have asked for a more lovely ceremony. Marci is also a kind and thoughtful person, and was very reassuring every step of the way. Hope to keep in touch with her for years to come.

Harmonious Weddings - Marci Vitkus's reply:

Thanks so much, R & F! I loved all our planning meetings and especially my visit to NY! We will most definitely stay in touch!

Barbara

Married on 10/12/2013

Marci officiated at our wedding this weekend and I can honestly say it was the most beautiful ceremony I have ever been to. And many of our guests commented the same! Marci will tailor the ceremony to your wishes, she has a beautiful voice and is as nice as she can be as well.

Carlyn

Married on 03/02/2013

Marci was recommended to me through one of my vendors. Not only did she perform the BEST wedding ceremony in the history of wedding ceremonies for us, she is now our lifelong friend. We couldn't have asked for anyone more caring, funny, enthusiastic and sincere to perform our wedding. We were an interfaith marriage (Jewish & Catholic) and she was able to tailor a ceremony that respected and represented both of our religions while making it incredibly personal and fun to listen to for all of our guests! LOVE HER.

Heather

Married on 03/03/2012

Lovely woman, fun to have a part of the wedding. Made us feel very comfortable

Heather

Married on 03/03/2012

Marcy is a wonderful woman, she really cares about you as an individual as well as a couple. It felt like we had known each other for a very long time.

Angela

Married on 06/19/2010

Marci Vitkus officiated our wedding 8 years ago. My husband and I were blending our families in many ways. Marci is so sincere and inclusive. Our ceremony was personalized for our situation, children and heritage. She even sang a song special for our love. She has a really lovely voice. Thank you so much for making our day extra special.

Phil

Married on 05/08/2010

We can't say enough about Marci....we love her....we really do. From our first meeting with Marci we were both so comfortable with our choice of an officiant. Marci took the time to get to know us and our service was beautiful and very personal. Marci sang beatifully during our service and was amazing to work with. Marci was more than an officiant for us, she has become our friend and we can't thank her enough for making our day so special. Thank you so much!!!

Rhondi and Phil Ouellette

Rachel

Married on 02/20/2010

My husband (fiance at the time) and I met Marci Vitkus at a friend's wedding after she performed a beautiful ceremony. When we got engaged, we did not look any further. We met with Marci before the wedding and she asked the perfect questions. On the day of the wedding, Marci was fantastic. She was engaging, personable and humorous. I recommend Marci for anyone who wants a romantic, fun-loving ceremony. We can't thank Marci enough for our wonderful ceremony.

Ellie

Married on 04/11/2009

Marci could not have been a better match for us as our wedding officiant. We wanted someone who would combine our Jewish and Catholic backgrounds in a seamless, welcoming ceremony that celebrated us and made all of our family and friends feel comfortable - Marci did just that. She also got to know us in the year leading up to our wedding so that when the day came, she could speak to us as friends and speak about us knowingly. She brought us both to tears with her sweet words about what we had privately told her about each other - and she is still part of our lives today (and hopefully will be for a long, long time!). We could not recommend her more highly!
Are you interested?
Send a message