A Ceremony to Live in Your Heart.... Reviews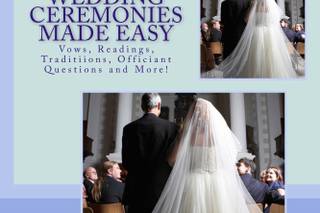 A Ceremony to Live in Your Heart....
Fort Lauderdale, FL
View more information
16 Reviews
Recommended by 100% of couples
Quality of service

Rating 5 out of 5

Average response time

Rating 5 out of 5

Professionalism

Rating 5 out of 5

Value

Rating 5 out of 5

Flexibility

Rating 5 out of 5
Awards

Simply stated, Cheryl is the best. After reading reviews on a couple different officiants and contacting each of them, Cheryl stood out as the clear winner for our big day. Not only did she promptly return my call but she immediately made me feel at ease and I knew that one more wedding decision had been made. Cheryl has a warm, kind-hearted personality and genuinely loves what she does. She is not only punctual but always very early. Cheryl went so far above our expectations (and her duties) and is so easy to work with I promise using her services is one of the best decisions you will make.

Nicole A.

Married on 11/24/2012

Cheryl was fantastic! We felt like we had known her forever and she made us feel so taken care of and comfortable for our big day. We had written our own ceremony, filled with quirky poems and children's stories and Cheryl spoke our words EXACTLY as we imagined them, with lots of personality, love and enthusiasm. We received many compliments on her readings and people assumed she was a friend of ours. I should also mention, that she had been up all night the night before with a family emergency and still was on time, professional, caring and cheerful. We literally could not have asked for a better experience. Thank you Cheryl, you were a huge part of the best day in our lives and we will never forget you!!

Amber

Married on 10/13/2012

My husband and I were always so pleased with Cheryl and how organized she was. She was always helpful, courteous and professional. I would highly recommend her to anyone looking for an affordable DJ that will help get everyone involved at your wedding or event.

Clay

Married on 08/11/2012

I may not be the bride but rather a groom/wedding planner. When choosing a DJ we talked and emailed several candidates. From the very first encounter with Cheryl it was much more than hiring a DJ. It was as if we were asking a friend to provide DJ services. She was very helpful from the beginning offering advice and suggestions. She remained in touch through the several month anticipatory wait and you just knew that of all the things that can go wrong when planning a destination wedding, as we did, one of them would not be the DJ services. Prior to the date she took an extraordinary interest in our bridal party and ceremony plans and incorporated them into her own program. It was quite evident as the reception took place that this personal interest allowed her to interact with our guests on a personal level that I ever never experienced at any other wedding. I was asked how did she know that? I ahd mentioned earlier that it was like having a friend provide Dj services but that is wrong. It was like having one of the family acting as the DJ. She played the songs we wanted and provided an entertaining mix of "shake your booty" music. She even had my sister, who is a minister, up doing the chicken dance. I have never seen her dance in my life. If you want someone who puts forth extra time, care and concern about your blessed event please strongly consider Cheryl.

Elizabeth

Married on 06/01/2012

Our wedding reception was an absolute blast because of Cheryl Q. She had lots of great suggestions for fun (and somewhat embarrassing) games that involved our guests in our celebrations. They all absolutely loved them.
I was worried that my guests would not get up and dance but they all did and had a wonderful time. Cheryl brought a lot of ideas and personality to our wedding but alway made sure that everything was exactly what we wanted. She also did a few extra little things for us that we were definitely not expecting.
The whole service was amazing; the music, the lights, the master of ceremony service and all the little extras.
Our reception would not have been half as fun without her!


Vanessa

Married on 10/22/2011

Cheryl went above and beyond our expectations. We are so glad she was a part of our wedding. Her attention to detail and all the extra she does made our wedding beautiful. The guest do not stop talking and asking me where I found Cheryl. Thank you again Cheryl for everything!!! Trust me she is the one you want for you wedding!!

Ruth

Married on 05/17/2011

Our wedding in May was a 'destination' wedding and Cheryl was WONDERFUL! She was always responsive, made great recommendations and ensured our ceremony was exactly the way we wanted it to be. Our wedding on the beach with Cheryl officiating FAR EXCEEDED our expectations. It was personal, heart touching and romantic... thank you for making our day so perfect!
Warmest,
John and Ruth O'Brien (NJ)

Mary

Married on 04/30/2011

Cheryl Q did a wonderful job and made sure everyone had a great time. She kept in touch with us constantly and was very professional. She went over and above our expectations and all our guests were quite amazed also! We definately recommed her and know you will have a wedding to remember if she's your DJ!

Janice

Married on 10/02/2010

We hired Cheryl and she was a pleasure to have on our special day. From the first conversation, Cheryl was very excited for us, had a genuine love for wedding ceremonies and an active joy for life. She was positive, up beat and very responsive to our needs. She was always there when I had a change or a different idea. On the wedding day, she arrived early and spoke with me and my husband. I immediately felt comfortable with her and found out that she, herself, has been married for 30 yrs. What better of a person to perform the ceremony that someone who truly knows the meaning of marriage and commitment and has followed thru on her own vows! We would highly recommend her for her services. Her ceremony was personalized and light hearted as requested. She was fabulous!

Lisa

Married on 01/01/2010

Cheryl performed our wedding on New Year's Day and unliked other vendors we checked, she wasn't looking to charge a big premium for doing the ceremony on a holiday. We met with her a couple of months in advance and were instantly put at ease with her friendly, outgoing manner. She had good suggestions for what to include in the ceremony but was happy to let us include whatever we liked. She had great communication along the way as she sent us reminders to get our marriage license and kept in touch as to the status of us writing our own vows.

The day of the ceremony she arrived early and completely prepared. The ceremony she created for us was absolutely beautiful. And afterwards she even helped with a few ideas for some posed photos with our photographer.

Cheryl exceeded our expectations and even followed up by sending us a personalized congratulatory card with photos from our event.

I absolutely recommend Cheryl!

Shoura

Married on 12/26/2009

Cheryl Q was absolutly wonderful. I have no complaints and have had many compliments on the job that she did for my wedding. I refer her to anyone who is looking for a DJ

Cindy

Married on 12/05/2009

To say Cheryl Q was fantastic is putting it mildly. She actually met with us and helped us plan our reception. She offered a lot of suggestions to make our wedding different that we could choose from. Any changes we wanted right up to our reception were made without any problems AND she did what WE wanted. She was dependable, readily available, cheerful and comforting. Cheryl really cared about us and about giving us the most perfect day. She kept in touch with us right from the time we booked her. She's a terrific talented entertainer, a versatile DJ, and very professional master of ceremonies. Our guests had a blast and we had a day we'll never forget. Cheryl made it easy and fun. (And she is worth much more than she charges...)

Yasmeen

Married on 07/18/2009

Cheryl did an outstanding job! She made our ceremony special and unique. She always called to check up on everything prior to the wedding. She was definitely the only vendor we didn't have to worry about!

Tiffany

Married on 04/05/2009

cheryl was my officiant at my wedding it was diifcult because my husband and I really did not have a church home so we did not feel comfortable with just joining a church just to be married. I called cheryl cheryl and she was wonderful. she actually gave me some good ideas when it came to dealing with the service and the beautifum words she choose. every one was asking who performed the services where did you find her? I actually had called a pastor and
I did not recieve the great response that I did from mrs.Quinlan.

Katrina

Married on 02/11/2009

Great DJ!!! I have never seen people get up so fast to dance. He really kept everything going and everyone on the dance floor. Would recommend him to anyone!

Patrick

Married on 12/06/2008

If you can afford it - get a wedding planner!