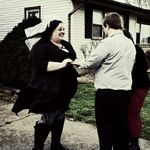 Mandi
March 28, 2020 ---> October 31, 2020 #CoronaCouple Our early spring wedding got #CoronaCancelled, so Halloween wedding it is. We're legally married!
Happily married 🎉
October 31, 2020

Bam! 10.31.2020 Photos
It didn't go as planned... but it went pretty smoothly as replanned for the 900th time. Things I don't regret: I didn't let my bridesmaids pick their dresses. I set a very low budget for the dress....



14