The Complete History of Wedding Dresses, Suits & Other Fashion
Wedding dress and fashion history has sure changed a lot over the years, from corsets to beaded lace, and everything in between.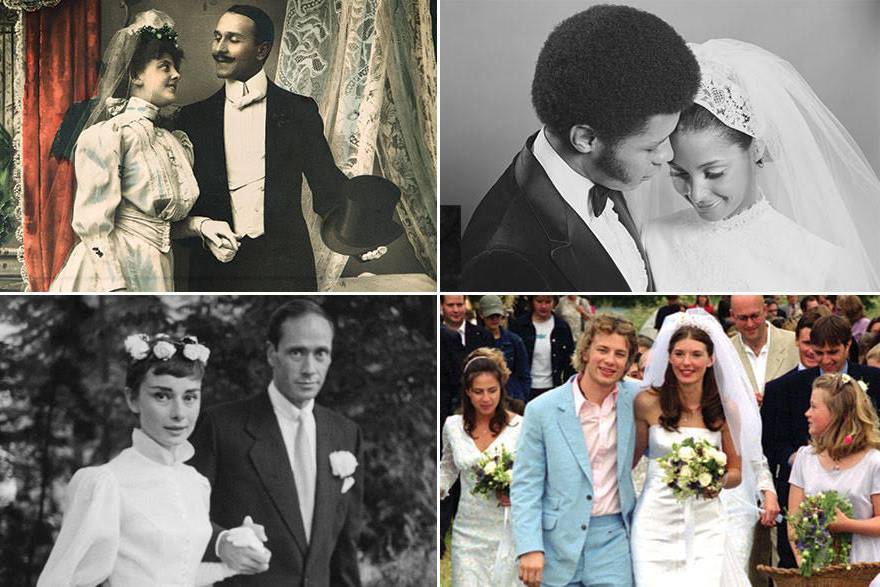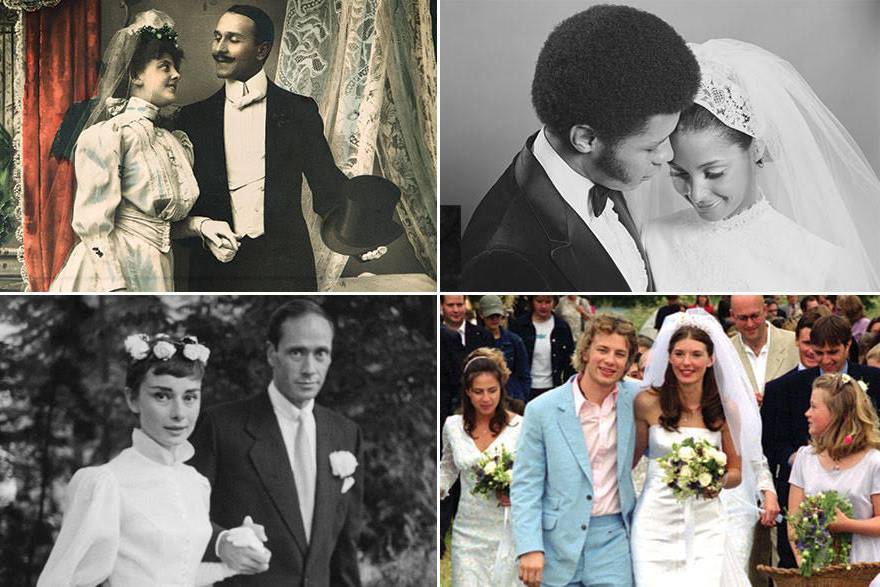 Wedding fashion trends seem to change at the speed of light. I got married in 2016 and now, only four years later, I already feel that some of my style choices (while beautiful!) are outdated, and that I'd probably choose things very differently now. If that much can change for wedding dress history in four years, what on earth could nuptials have looked like decades ago? Or a century ago? Turns out—a lot was the same, even though a lot was different!
Flip through these scenes from weddings through the ages and enjoy this wedding dress (and suit!) history walk down memory lane.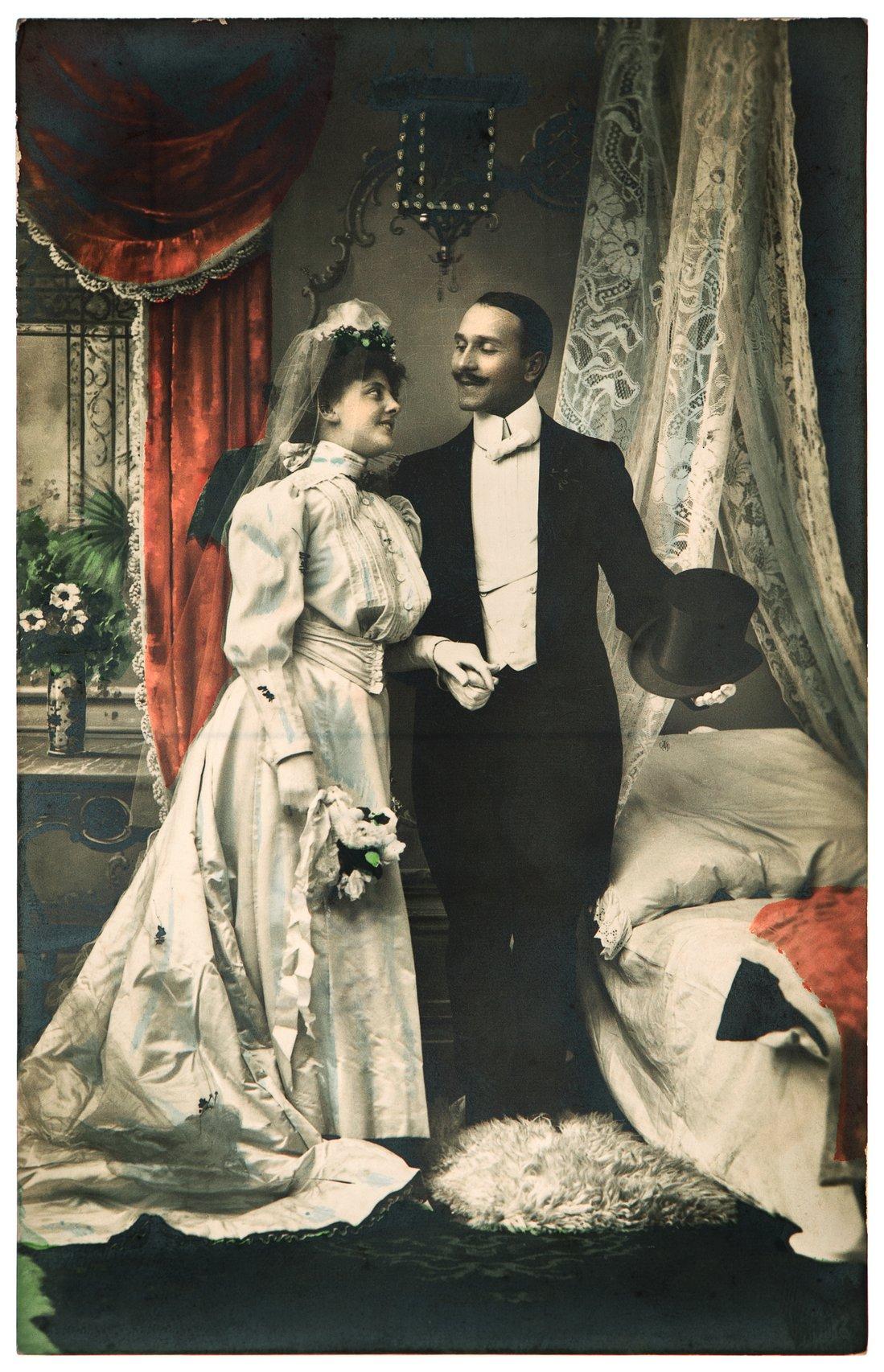 1900s
Taking a page from Kim K's book of style secrets, brides in the first decade of the 1900s sported s-shaped corsets that whittled the waist and enhanced an hourglass shape while still remaining covered up. Long sleeves, high necks and gloves added formality and modesty. Oh, and, the colors in this pic look painterly for a reason—color film didn't exist yet, but colorizing black-and-white photography was all the rage in this era.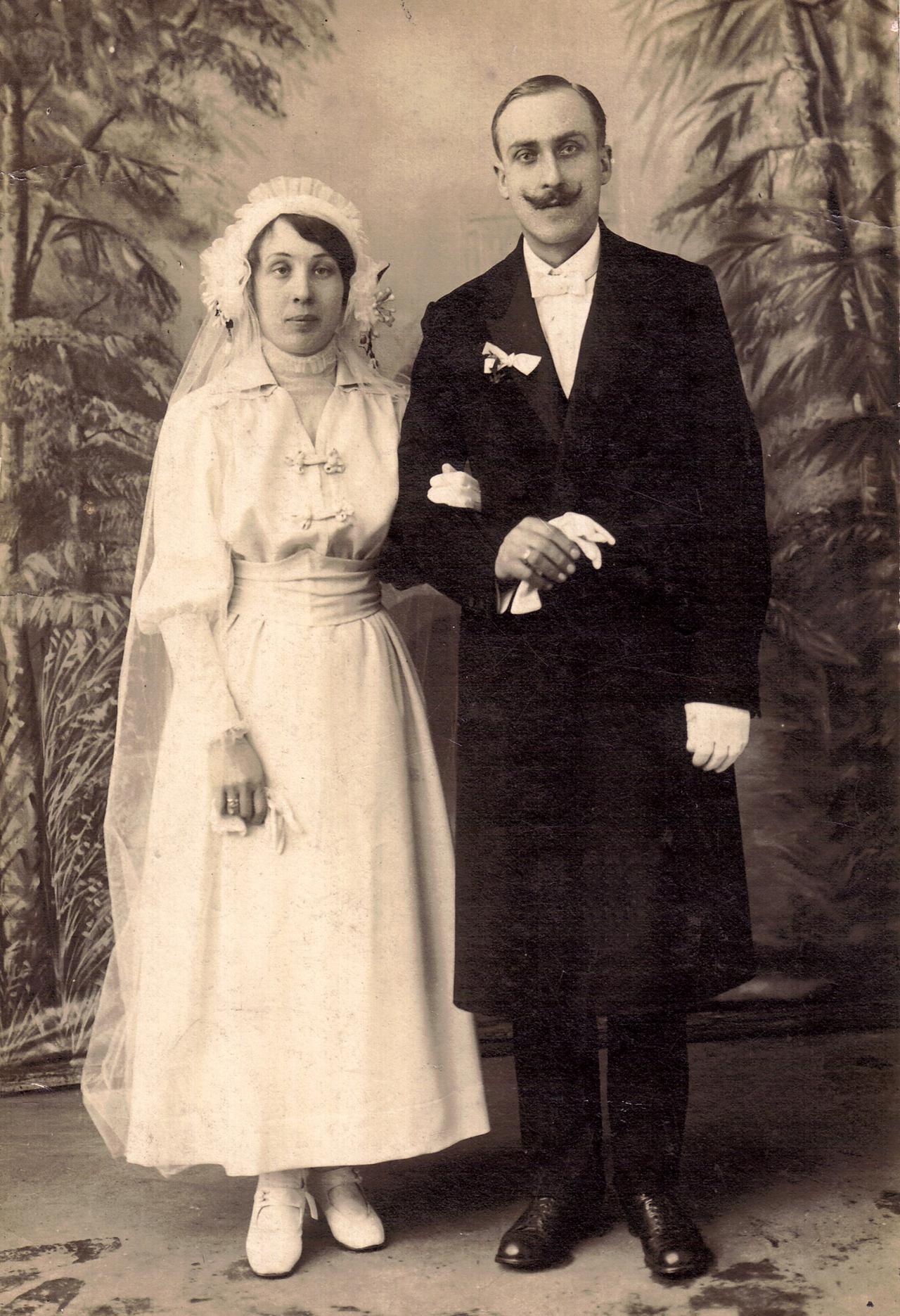 1910s
By the 1910s, one wedding activity we know and love today was just emerging in popularity: dancing! Higher hemlines on the bride's and guests' gowns made getting their groove on easier. Another non-negotiable today that was just gaining steam for brides in the '10s? Makeup! (I know, can you imagine a wedding without makeup?)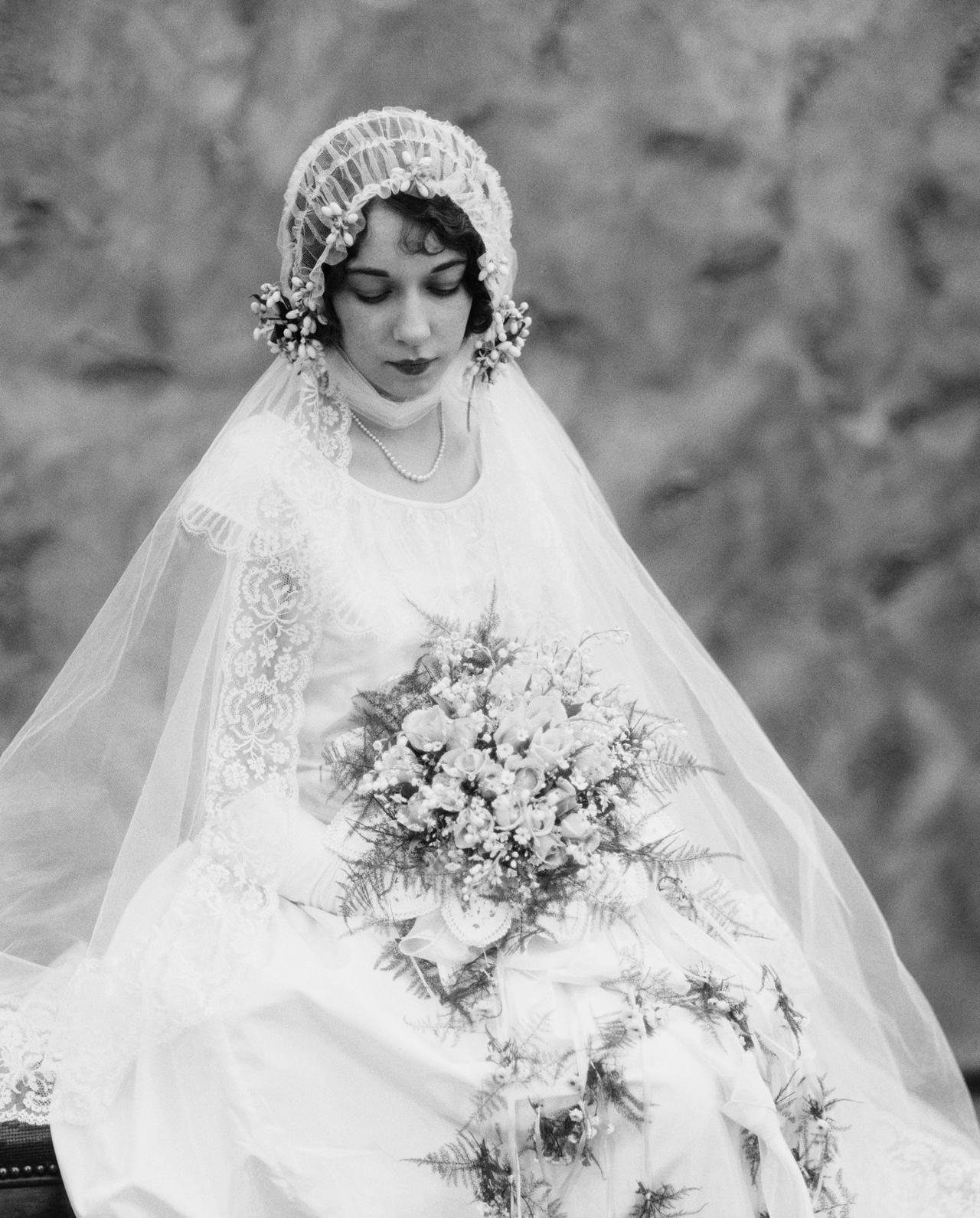 1920s
Flapper style took center stage in '20s wedding fashion, featuring ornate accessories and over-the-top (pun intended) Juliet veils with elaborate headpieces that spoke to the extravagance of the era. Pearls, beading and lace accompanied pin curls and voluptuous bouquets, all atop simpler, more streamlined gowns with modern draping.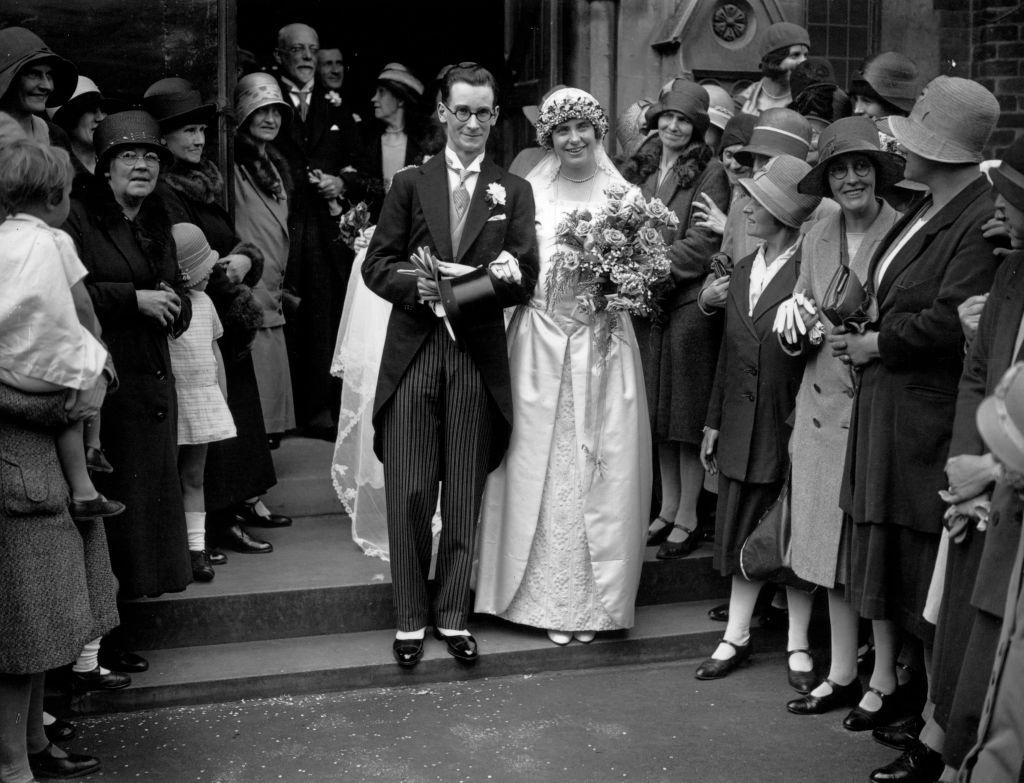 1930s
During the '30s, the Great Depression ravaged the globe and wedding rates dropped significantly. For those who did get married, it was usually a humble affair featuring repurposed gowns and minimal decor. The couple featured in this photo likely came from money, but as you can see from their guests clothes and even the bride's and groom's no-frills looks, glam wasn't exactly the name of the game.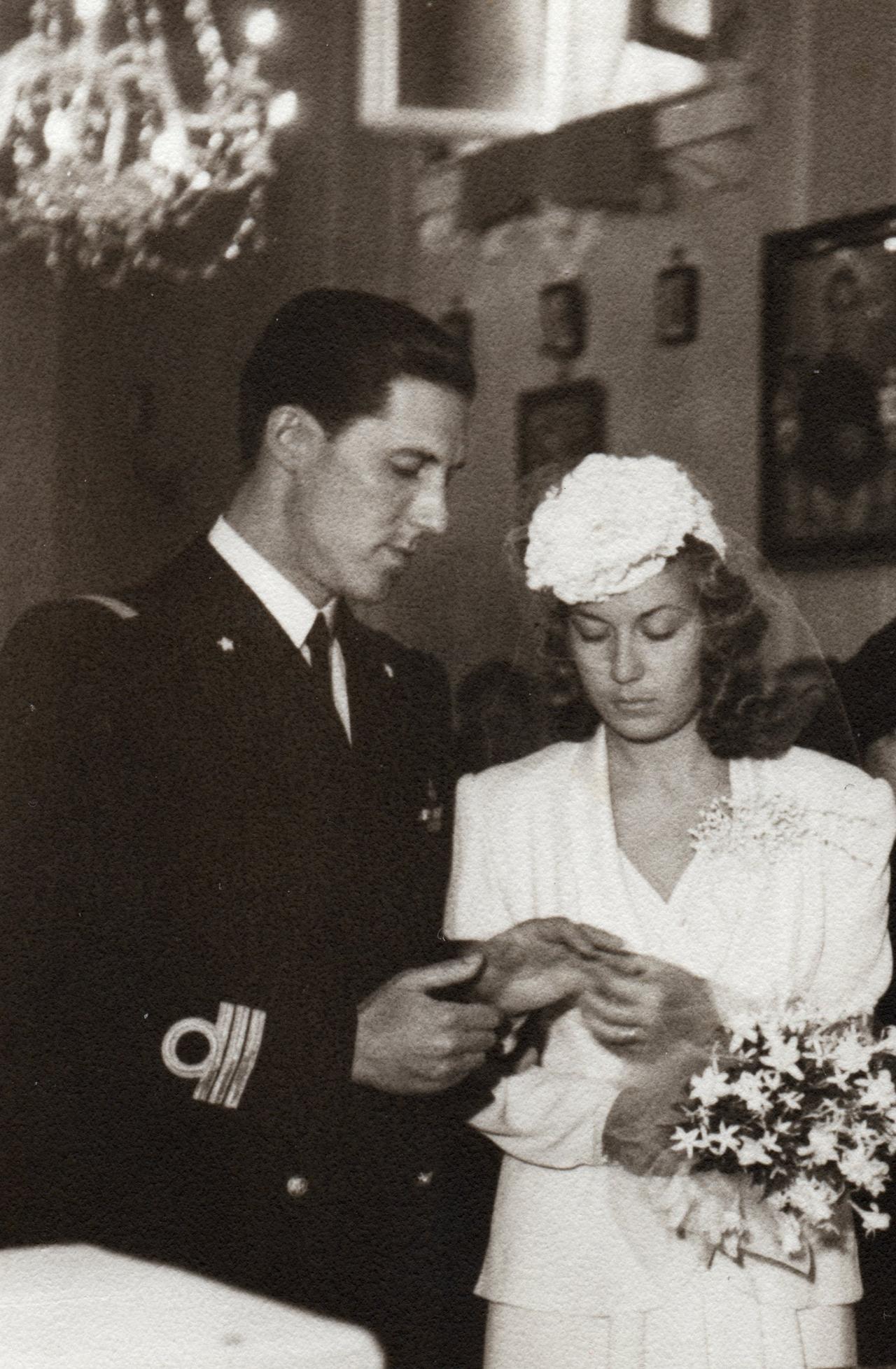 1940s
The '40s brought wartime living to America, along with increased austerity. Many weddings were quick, elopement-style affairs, and, to fit the vibe, brides wore white suiting. Nearly two-thirds of the grooms of this era were enlisted in the military, so most of them got married in their military formals, like this handsome fella. As you can see in this snap, the bride is slipping a ring on her new husband's finger—wedding bands for men were new to this era, serving as a symbol of commitment while soldiers were overseas.
1950s
Weddings returned to bastions of formality and glamour (finally!) in the '50s, as America emerged from WWII and celebrity obsession offered an exciting new pastime. Tiaras, ball gowns, fabulous getaway cars and professional portraiture became a trendy part of wedding dress history once regular Americans got inside looks at celebrity weddings, like Audrey Hepburn's to Mel Ferrer in 1954, pictured here. Exquisite.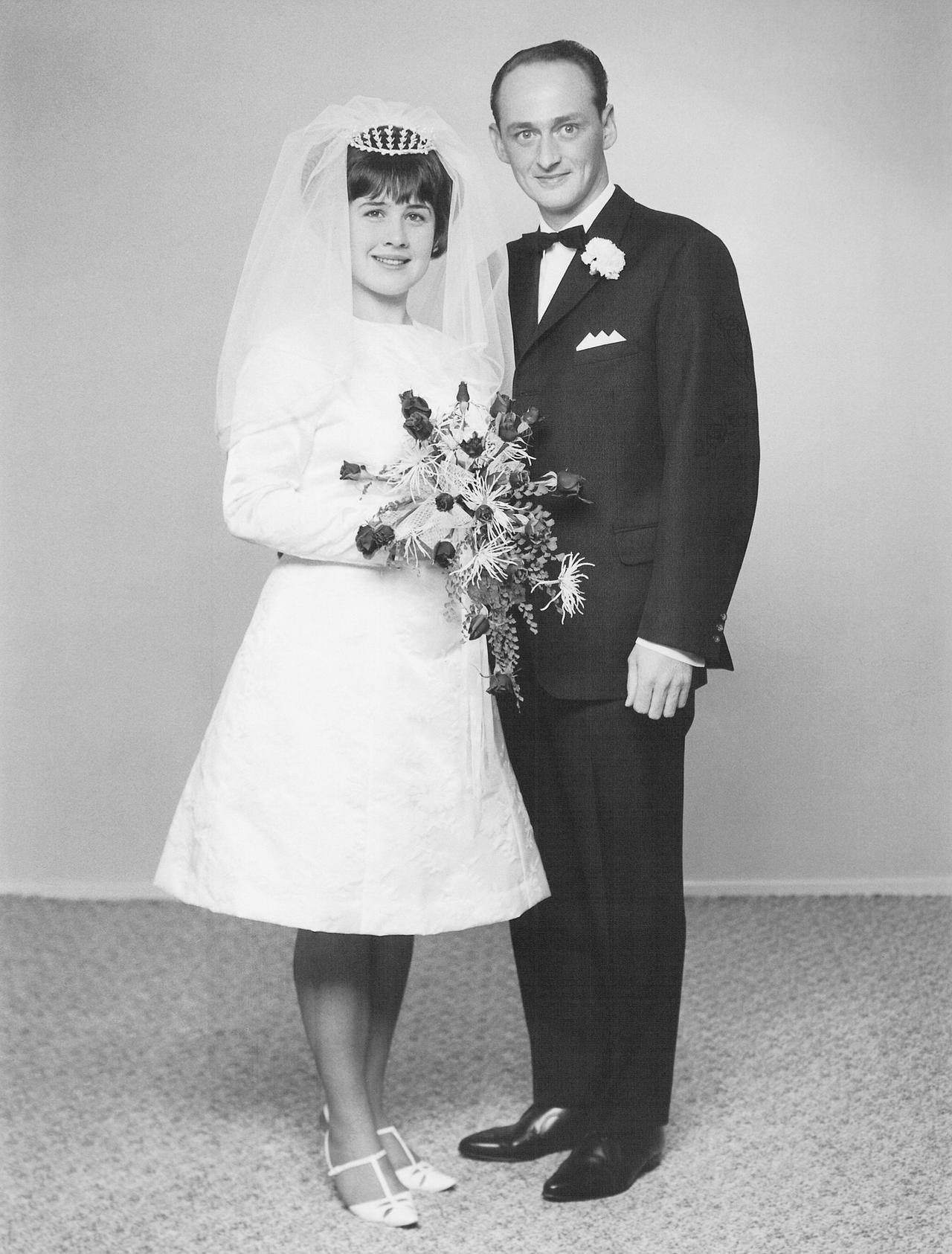 1960s
London-inspired Mod style swept the states in the sixties, shortening hemlines and making swingy A-line skirts the look of the moment. Pair it with some Mary Janes, big hair and a bubble veil and you've nailed the '60s bridal look, just like this adorable bride did. Not pictured but also hot in this decade? Long sideburns on grooms (yikes).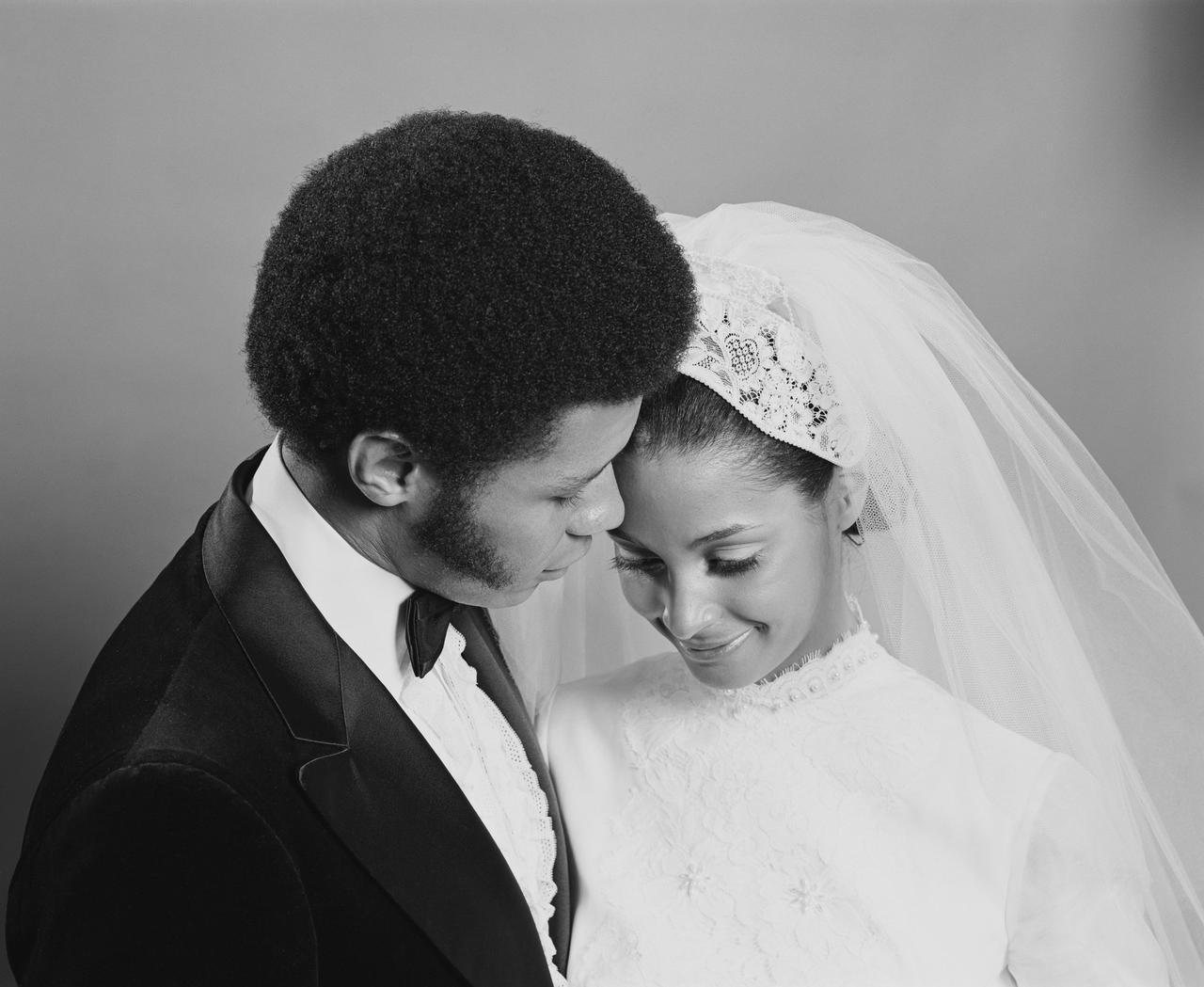 1970s
Everything old is new again, case in point, this 1970s wedding photo, that happens to look like it was ripped from a 2020s Pinboard, thanks to the bride's ultra-cool headpiece and high-neck dress. Guys got into the style game too—check out the groom's velvet tuxedo and ruffled shirt.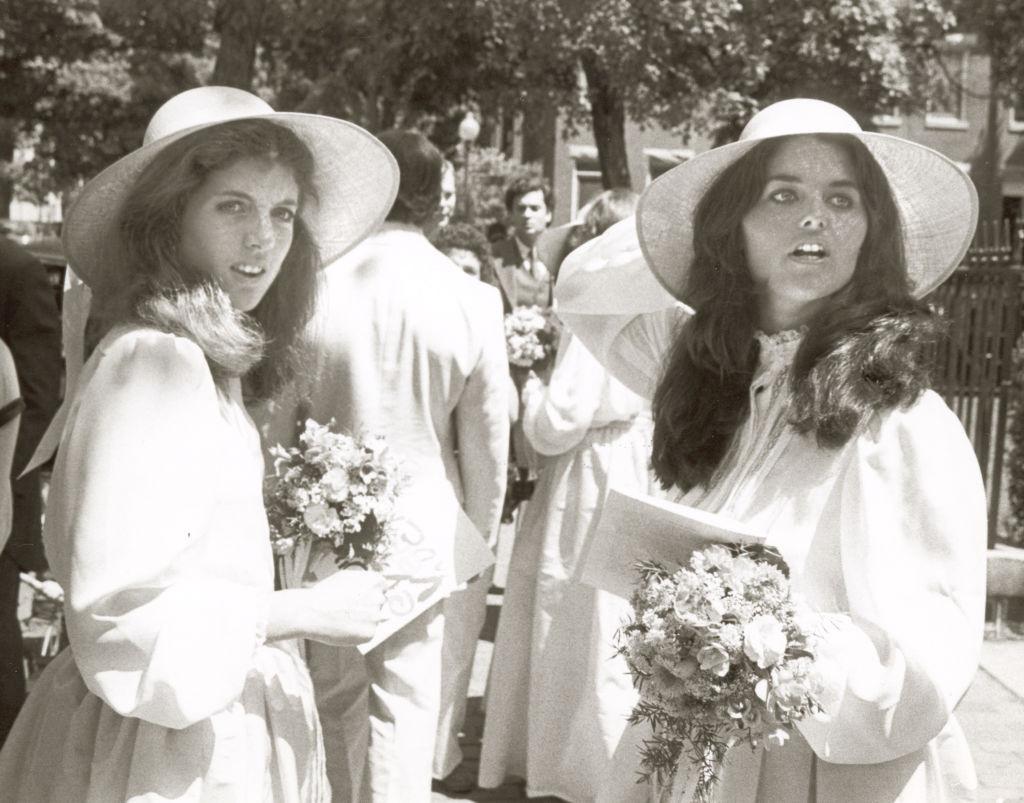 1980s
No one—not even the Kennedys!—escaped the trends of 80s wedding dress history. These celeb bridesmaids (Caroline Kennedy and Maria Shriver!) somehow still look chic wearing looks typical of 'maids in this era at the 1981 wedding of Courtney Kennedy and Jeff Ruhe. Prairie-inspired silhouettes and ladylike (albeit finicky) hats were ultra-popular (my mom's 1982 wedding album can confirm).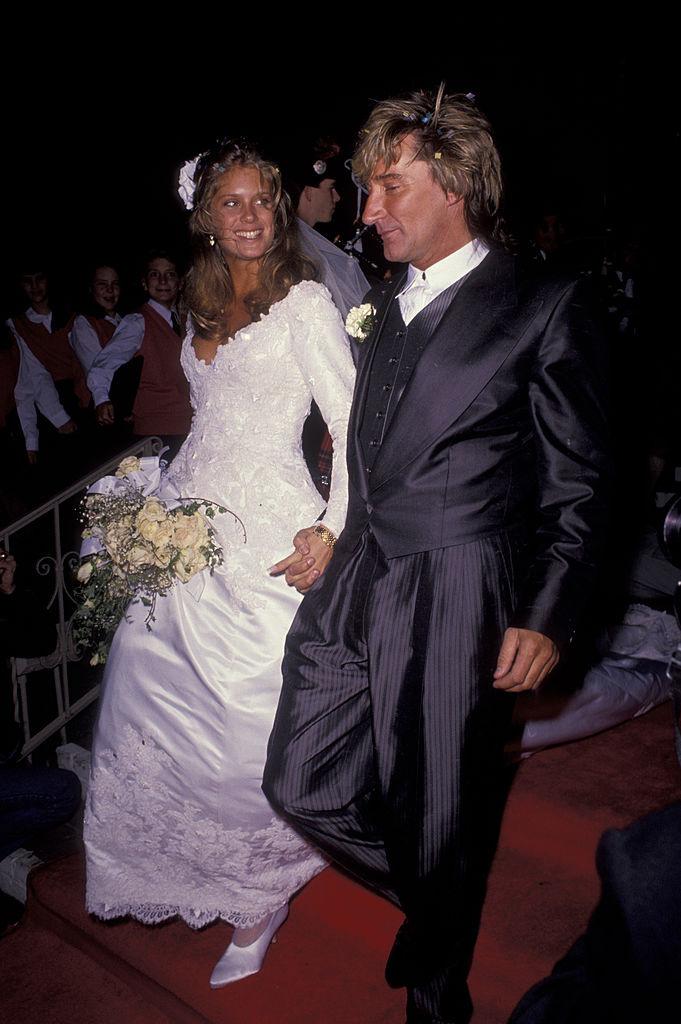 1990s
For a 90s bride, the mantra was: Appliqués all day! Case in point, Rachel Hunter, who married rock and roll icon Rod Stewart in 1990. She looks absolutely of the decade in her shiny, long-sleeved ball gown encrusted in sparkling, beaded lace. Oh 90s, never change.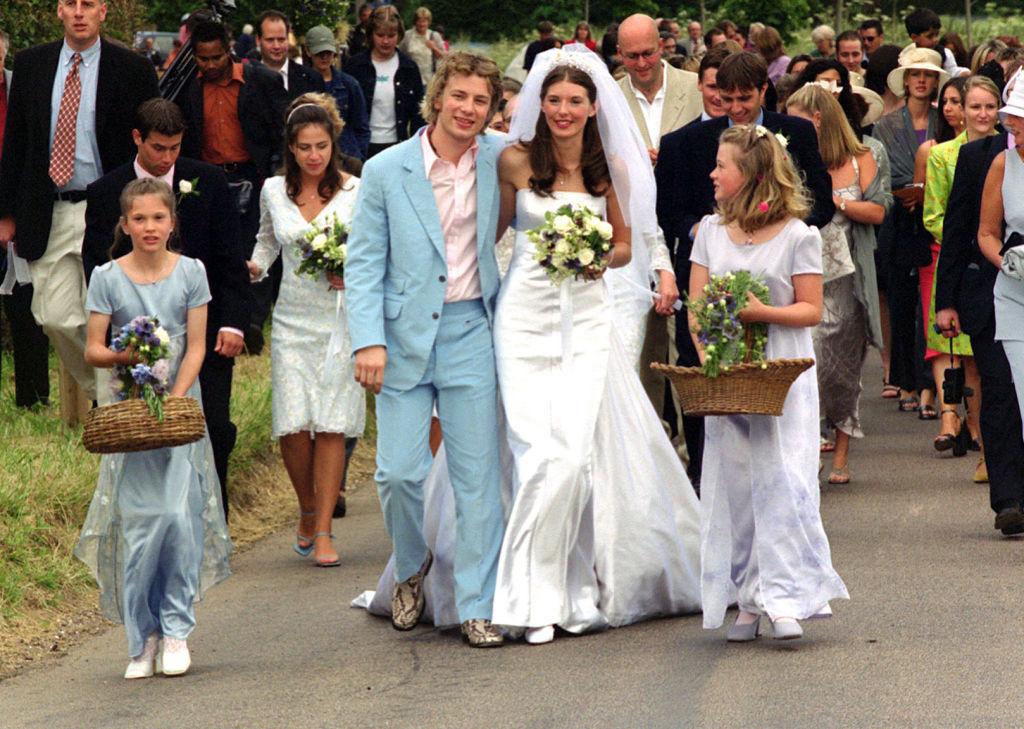 2000s
This snap from celeb chef Jamie Oliver's wedding to his wife Jools in 2000 is all the early-aughts trends in one frame. Sleek, clingy satins, check! Cap sleeves and straight-across strapless necklines, check! Icy color palette, check! (But those snakeskin boots on Jamie… very 2020.) And to prove that good style endures, this couple is set to renew their vows this summer after 20 years of marriage. Aw!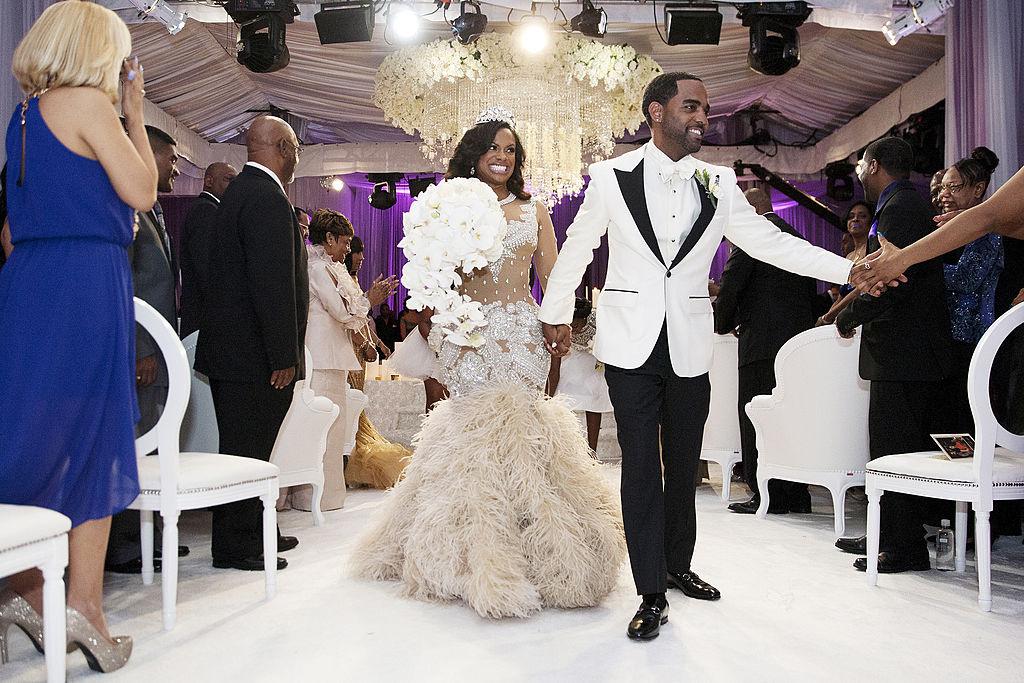 2010s
Hello 2010s! In the past decade, weddings—and wedding fashion—embraced themes like never before. Rustic barn, boho, garden, Italian villa and high-fashion, diamond-encrusted affairs like reality star Kandi Burruss's, pictured here, are just a few examples of how modern couples are making their mark on wedding history. It's no coincidence that wedding style took to new heights during the first decade with social media, when weddings are being photographed (or in Kandi's case, televised and then meme-ified!) more than they ever have.