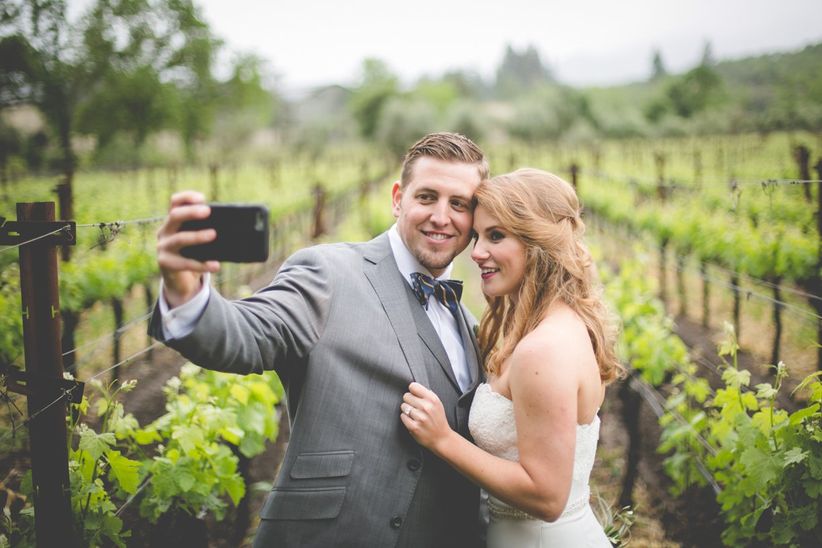 Photo: Hazy Lane Studios
Snapchat has become wildly popular in the last year and it's a great way to capture and share wedding memories as they happen. That being said, there are a few etiquette rules you should probably keep in mind if you plan on using Snapchat to share photos at the next wedding you attend. Happy Snapping!
Do get a custom filter
It's now possible to get wedding-appropriate filters for special occasions! For a small fee you can add a custom filter over any Snap for the duration of the wedding. All you have to do is upload a pre-designed filter. Not a graphic designer? Not a problem.
WeddingWire has launched its own Snapchat filter designs
you can personalize, upload and use for the big day so you don't have to stress!
Do capture all the big moments
Make sure you Snapchat the big parts of the day! From the first dance to the cake cutting, those are definitely memories the couple will be happy you put on your Snap Story. Check with the couple if it's okay to Snap parts of the wedding ceremony. If you get the go-ahead, you should definitely post that to your Snap Story as well.
Do Snapchat guest moments
While the couple should definitely be the stars of your Snap Story, including guests is just as important! The newlyweds will be making the rounds to say hello to all their guests and they might miss a funny dance floor moment. By Snapchatting you can fill them in on what they didn't see throughout the night.
Do use the new Memories feature
Snapchat's newest feature allows you to save your Snaps and re-post them to your story again later. You can share memories of the couple throughout the day (kind of like a tech-savvy scrapbook of sorts). Having memories of the couple interwoven with a live feed of their special day is a great way to show off who the couple is on your Story.
Do save your story to your phone
Snap Stories are only live for 24 hours before disappearing, so once your Story is complete, download it to your phone. You can send it to the couple and other guests via email or text the next day so everyone can re-live the magic anytime they want to. It's like you made your own wedding day video!
There are also a few things you probably
shouldn't
do if you plan to Snap a wedding. You'll thank us later, trust us.
Don't Snapchat the bride or groom before they see each other
You don't want one of them to accidentally view your Snap Story beforehand and have the surprise of the first look ruined! It's better to be safe than sorry in this case and avoid posting any snaps of the couple before they see each other.
Don't send your Snaps directly to people who were not invited to the wedding
The couple may have had to make some tough decisions when it came to the guest list and you don't want to make things worse by directly sending them snaps of all the fun you're having. Enjoy the day and post to your Snap Story, there's no need to stir up drama on the wedding day.
Don't ruin a special moment with an inappropriate filter
We promise that the bride will not appreciate you putting a dog filter over her during the processional, no matter how great her sense of humor is. Use Snapchat for capturing memories as they happen, instead of turning an intimate moment into a laughable one.
Don't interrupt an intimate moment to get a Snapchat
Asking the MOH to start her speech over because your Snapchat wasn't recording is a definite no-no when it comes to Snapchat etiquette. Try your best to snap things as they happen but remember, this isn't a movie you're directing, so if you miss something don't make a big deal about it. Besides, it's likely the photographer or videographer got the moment on camera.
Don't Snapchat the wedding without the couple's permission
Before you start Snapping away check with the couple and make sure they're OK with it. They may want to keep their ceremony unplugged or they might not want phones getting in photos. Chances are they'll probably be fine with it and appreciate that you had the courtesy to ask. Once they give you the thumb's up, feel free to start Snapchatting!