7 Time-Saving Wedding Planning Tips for the Busiest Couples
If your schedule is totally crazy, check out these time-saving wedding tips to make your planning process completely doable.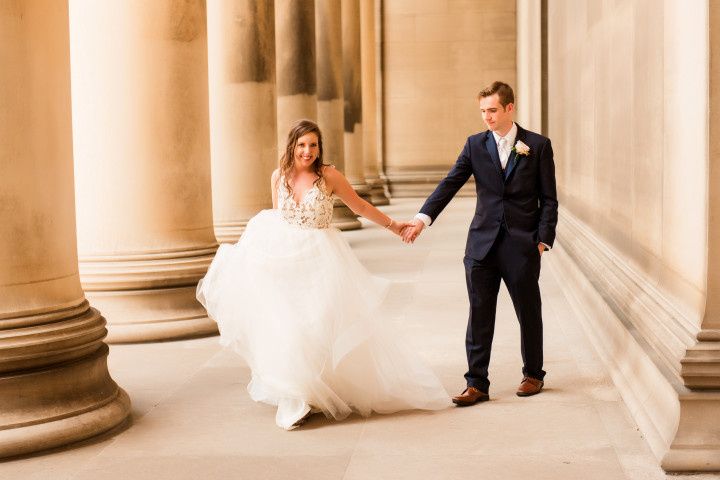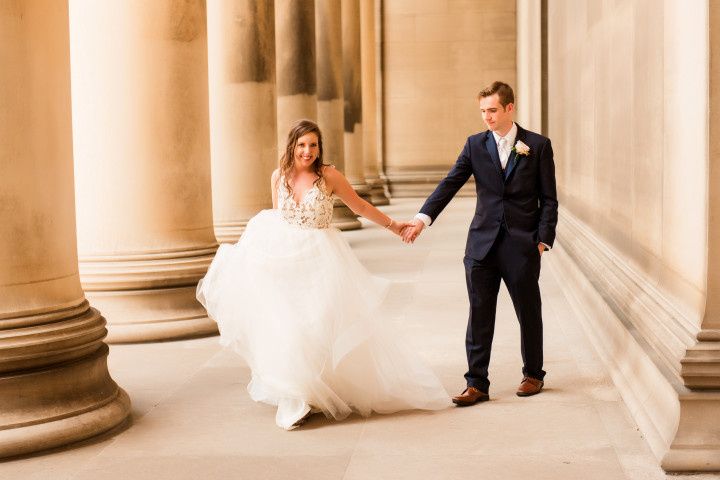 We all know that planning a wedding is a time-consuming process. But for many couples with crazy-busy schedules (lots of travel, long work hours, school, medical residency, etc.), it's simply impossible to find the time to put together this big event. Fortunately, there are certain time-saving wedding tips that will help you and your partner balance wedding planning and, well, life. These include being careful about the vendors you hire, using online tools, and much more.
Check out some of our favorite time-saving wedding tips to help you plan your big day as quickly and efficiently as possible.
Hire a planner
If you and your partner lead extremely busy lives, you'll want to have a right-hand man or woman to basically take the reins when it comes to planning your wedding. Yes, hiring a wedding planning is an extra expense, but it will actually save you lots of time and money in the long run. For the busiest of couples, we recommend hiring a full-service wedding planner who can basically run the show for you—narrowing down vendor options, communicating with your vendor team, and making sure all of the boxes get checked so you can focus on your non-wedding-related life.
Choose an all-inclusive venue
A major time-saving wedding tip comes into play early in the planning process. If you've just started looking for venues and know that you won't have a lot of time to plan your wedding in the coming months, we recommend looking for an all-inclusive wedding venue that offers other services on top of the space. This usually means catering and rentals, but certain venues include other services as well.
Select recommended vendors
One of our favorite wedding tips for busy couples is to hire a team of vendors who have worked together in the past. A good way to do this is to ask your venue for a list of vendors they recommend (some venues actually require that you use their recommended vendors). Another way is to check out a particular vendor's endorsements from other vendors on their WeddingWire Storefront. You can read which vendors have worked together and choose your team accordingly. The better the rapport a vendor team has, the more smoothly your wedding planning process will go.
Check availability online
A major wedding planning time suck, particularly if you're running with a shorter planning timeline, is reaching out to a ton of potential vendors just to ask if they're available on your big day. Fortunately, WeddingWire allows you to search for certain types of vendors by your wedding date so you can easily see who's available and skip that kind of annoying step.
Delegate the big stuff
A wedding tip you've probably heard before is to delegate responsibilities to wedding party members and loved ones. However, many couples choose to delegate small tasks (folding ceremony programs, making welcome bags, etc.) instead of bigger ones. If your family members and friends have volunteered to help you plan your wedding, don't be afraid to ask them to handle bigger tasks for you­—particularly if it's common knowledge that your schedule is absolutely nuts. For example, if you totally trust your mom and you cake isn't your highest priority, you can put her in charge of booking your cake baker. Or maybe your maid of honor or best man can figure out the logistics for the transportation company.
Don't be a Pinterest hound
Couples with super-busy schedules don't have time to waste. So one of our biggest wedding tips is to avoid inspiration overload. This can make decision-making even harder when you need to be able to make choices quickly. So while it's totally okay to check out wedding inspo from time to time, don't go overboard.
Cut out the DIY
If you're on a tight budget you might think that taking on a DIY project or two will save you money. But, particularly if your free time is limited, trying to create wedding elements yourself can end up being more trouble than it's worth. Sure, you could try to create your own centerpieces, but a. Do you really have time for that? And b. what happens if you hate the end result? Our wedding tip? Leave these to-dos to the professionals. Yes, you may pay a bit more, but it's money well spent.