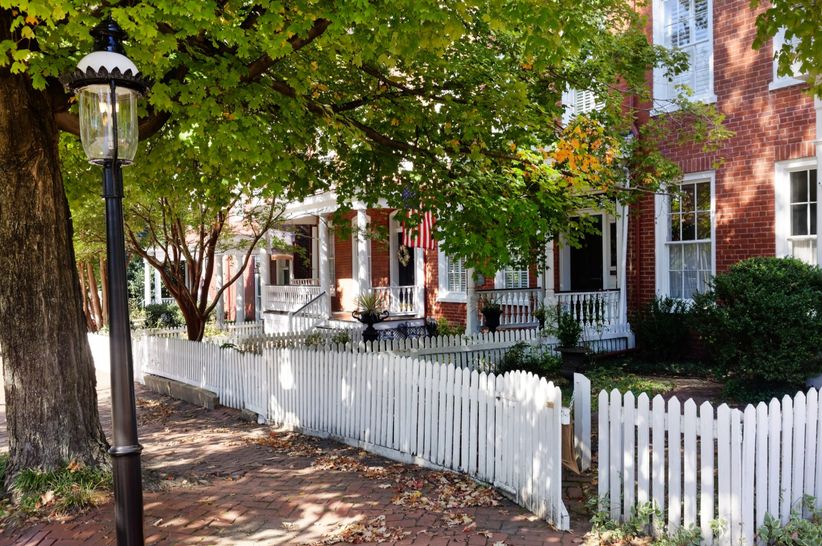 Small wedding venues in Richmond, Virginia add an intimate and elegant feel to any couple's big day. The RVA is already known for being a tourist hotspot—with its trending restaurants, rich Virginian history and local art scene—making it a great city for hosting a wedding. So, if you're on the hunt for an intimate wedding venue in the RVA, we've done the hard part for you! Just check out our favorite small wedding venues in Richmond, Virginia that are totally fitting for a smaller guest size.


These small wedding venues in Richmond, Virginia are oh-so intimate.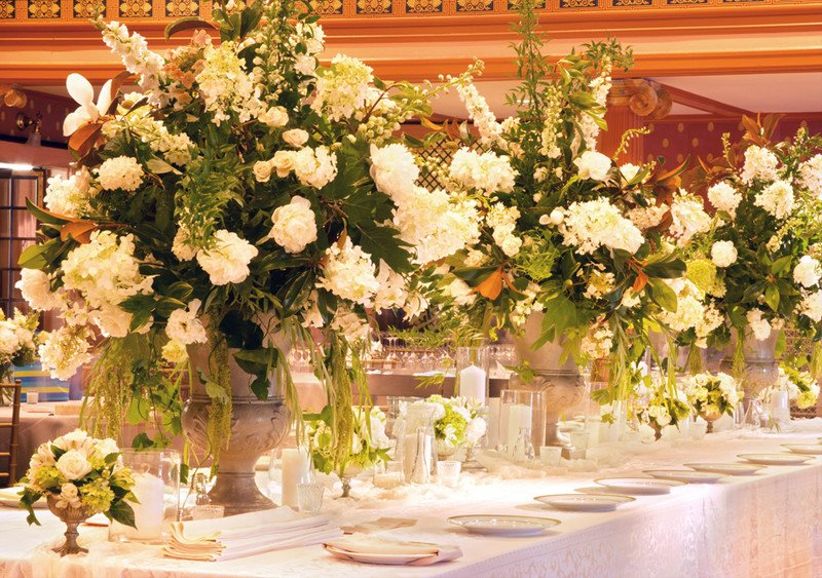 Photo: Bolling Haxall House
Bolling Haxall House
This 1858 Italian-Inspired villa is a fab choice for
vintage-loving brides and grooms
. The oriental rugs, mahogany floors and other Old World decor give off a totally lavish feel to the space. Upon entering the mansion (which is, fun fact the permanent home of the Richmond Woman's Club), you're greeted by a stunning circular staircase (known for being a swoon-worthy spot for bridal and couple portraits). Couples will fall in love with Bolling Haxall House's striking decor—antique upholstered furniture that's almost too beautiful to sit on, stunning antique paintings, plus majestic candelabras and chandelier lighting (hello mood lighting!). If you're looking for a wedding venue that evokes a rich, sophisticated aesthetic, you definitely need to take a peek at this breathtaking home.
Learn more about Bolling Haxall House here»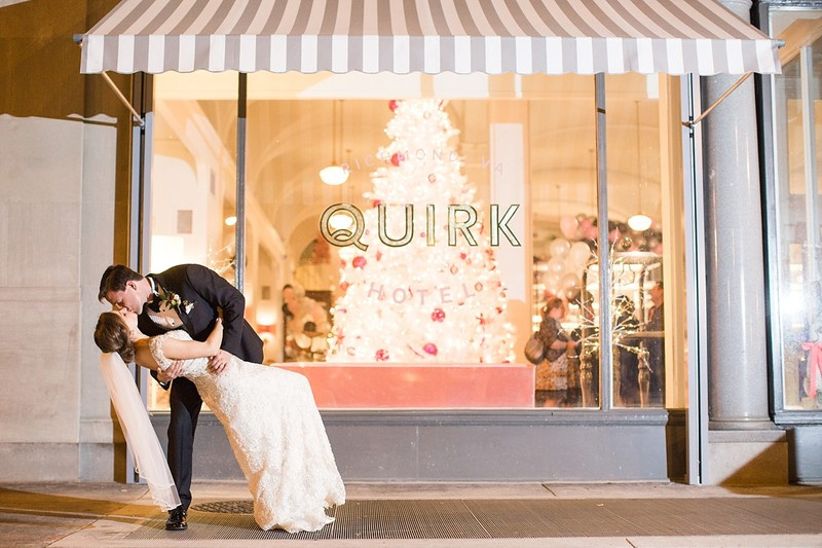 Photo: Quirk Hotel
Quirk Hotel
A trendy Richmond hotspot that also makes our list of the top small wedding venues in Richmond, Virginia, is the Quirk Hotel. Named for being one of the Top 60 Best New Hotels back in 2016 by
Condé Nast Traveler
, Quirk has forever changed the game of rooftop spaces in Richmond. The hotel's rooftop, which offers up a sick view of downtown Richmond, can easily seat up to 60 wedding guests, or it can hold up to 120 for a cocktail-style reception. It's also a perfect venue for
couples seeking an outdoor setting in RVA for their wedding day
.
Learn more about Quirk Hotel here»
Photo: The Berkeley Hotel
The Berkeley Hotel
Located right on East Cary Street in the heart of historic Shockoe Slip, this boutique hotel surrounded by cobblestone streets provides couples with an idyllic Southern setting for saying "I do." Couples getting married at this charming venue have two wedding locales to choose from, the Newport Ballroom and the Jamestown Room (the smaller of the two spaces). Another perk of this classic Richmond venue is the in-house catering. The hotel offers customized event menus, giving couples a variety of meal selections to serve for their weddings.
Learn more about The Berkeley Hotel here»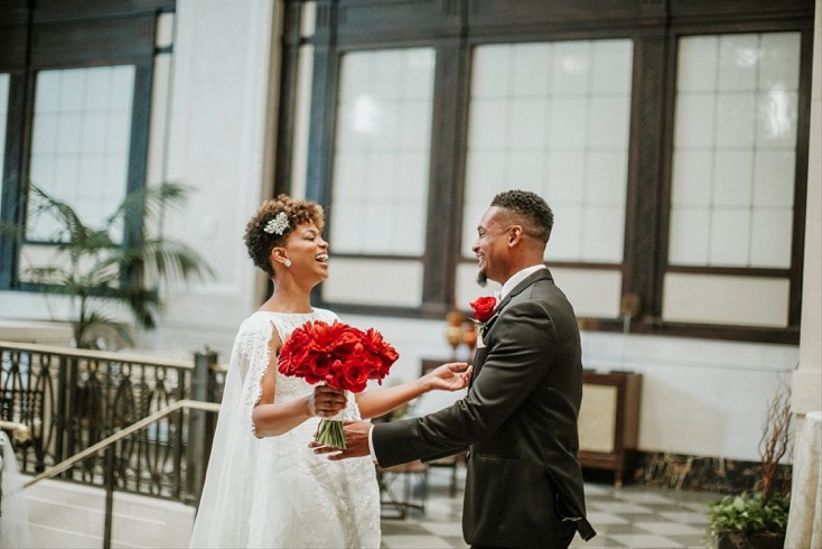 Photo: John Marshall Ballrooms
John Marshall Ballrooms
The historic John Marshall Ballrooms are a great pick for hosting both your ceremony and reception. Couples have the option to pick from two beautiful ballrooms that include a bridal suite, lounge area and other wedding-day amenities. The timeless Marshall Ballroom is the more private of the venues, and is filled with crystal chandeliers, grand windows and a regal carpet. The ballrooms are both located in the Hotel John Marshall, which has welcomed a variety of celebs, such as Elizabeth Taylor and Elvis Presley. So, if you're looking for a venue with a classic Richmond vibe, this ballroom is a stellar choice.
Learn more about John Marshall Ballrooms»
Photo: Hippodrome Venues
Hippodrome Venues
Richmond wedding venues are known for their elegant ballrooms and remarkable hotels, but this event space creates a different vibe—think:
The Great Gatsby
. The Hippodrome Richmond has several locations for couples to use for their big day, but our absolute favorite for a smaller-scale guest size would be the Speakeasy Grill. This swanky 20th century home, complete with white brick walls and even a wrought-iron gate, makes a perfect formal backdrop for celebrating. The Speakeasy Grill was built back in 1895 and can hold up to 50 guests for an ultra private party.
Learn more about Hippodrome Richmond»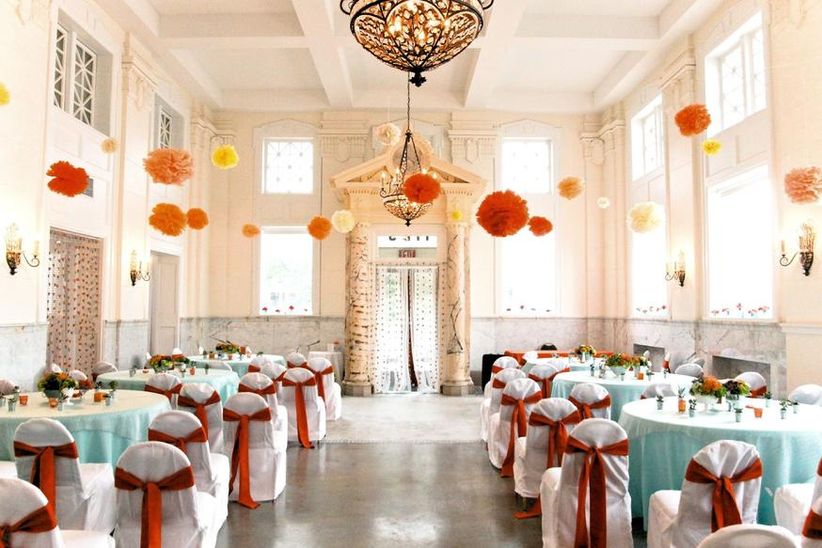 Photo: The Bankuet Place
The Bankuet Place
Another chic event space great for hosting smaller weddings is the Bankuet Place. Recently renovated, the 1913 bank now serves as an epic wedding ceremony and reception space because of its major historic charm. The tall coffered ceilings, marble columns and plaster frieze details all make gorgeous built-in wedding decor, a great selling point for couples looking for an elegant (and effortless) venue. Located in Richmond's historic Manchester District, the Bankuet Place offers a special, unique place to hold your intimate Richmond wedding.
Learn more about The Bankuet Place»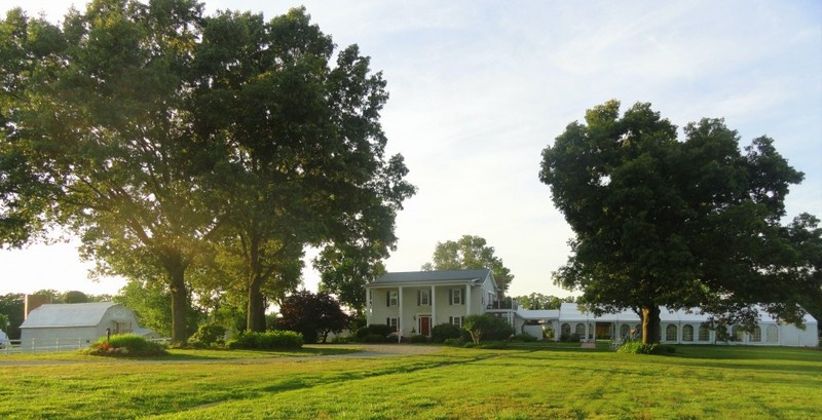 Photo: Amber Grove
Amber Grove
If you're browsing barn wedding venues in Richmond, Virginia and are having a hard time finding a space that feels personal and private, then we've found the perfect venue for you. Amber Grove is the ideal barn venue for couples hosting a smaller scale wedding. Located just 20 miles outside of Richmond in Moseley, Virginia, Amber Grove is comprised of a white, columned manor house and a charming, rustic barn ready to be transformed for any wedding style.
Learn more about Amber Grove here»