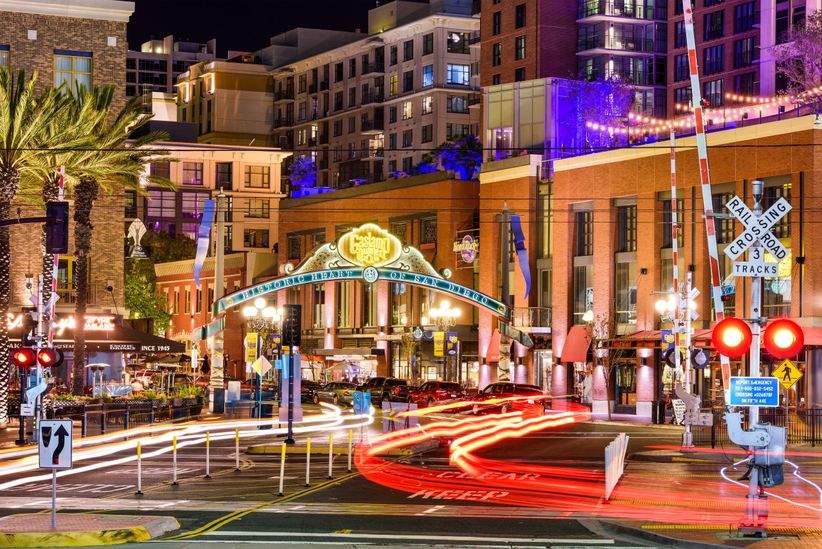 If you're looking for good weather, lots of adventures, good eating, and a rowdy nightlife, you really can't beat a San Diego bachelor party. This prime West Coast spot has something for everyone, be it ocean-lovers, animal-lovers, or beer-lovers.
Before you jump into planning, consider turning to technology for help. BACH is a genius app that lets you organize and share all your event's details, and it has offers just for San Diego partiers. Use it to put together the ultimate itinerary based on our travel guide below.
With so many activities, planning a San Diego bachelor party can feel a bit overwhelming—but we're here to narrow down the options for you.
What to Do
For ocean lovers, a San Diego bachelor party offers loads of options on the Pacific. To start, there's always fishing. Charter a boat from H&M Landing, which offers sport fishing for large catches like yellowtail, blue fin tuna, and even a barracuda from time to time.
If fishing isn't your thing, you can rent a boat of another color—a boozy yacht party aboard one of the Mai Tai Charters. Your private boat party may even include some whale and dolphin spotting if you're lucky. If you're feeling more adventurous, consider giving surfing a try with the San Diego Surfing School, a 90-minute class that will have you riding waves like a pro in no time.
On land, there are plenty more adventures to be had, especially at the San Diego Zoo, probably the city's most popular attraction and for good reason. Not only do this world-class zoo offer some fun animal spotting, but you can also experience a few heart-racing animal encounters. On the Crazy About Cats excursion you'll get up close and personal with some of the zoo's coolest felines. Meanwhile, on the Jungle Ropes Safari, you'll take on a 90-minute rope course through the zoos safari terrain.
Want something a little speedier? Head to K1 Speed, an indoor go-kart course in the heart of downtown where you can put each other to the test at 45-miles per hour. For a different kind of competition, check out the Padres schedule to see if there's a game while you're in town. Petco Park is in walking distance from the Gaslamp district, so getting to the game, then out for a drink, is a breeze.
After all the fun, you're probably ready for a good drink. There are plenty of options in this city, with more than 120 breweries to choose from. Some go-to favorites include Stone Brewery, Ballast Point, Karl Strauss, Green Flash, and San Diego Brewing Company.
As far as night life in San Diego goes, you and your bachelor party will want to be in the Gaslamp quarter. This 16-block downtown district has loads of restaurants, bars, and nightclubs to choose from. If you're feeling overwhelmed by options, consider the brothels, bites, and booze tour offered by So Diego Tours where you'll hit up the red light district, four popular restaurants, and sample cocktails and brews.
Where to Eat
Like many West Coast spots, a San Diego bachelor party should include restaurant options with eats that match the spectacular views. Start your day at Breakfast Republic, where menu items include a chicken-mango sausage scramble, Jurassic pork Benedicts, chilaquiles, and churro pancakes.
For a casual bite, head to one of the three Hodad's locations (ocean beach, downtown, or Petco) for colossal burgers. We're talking stacked, like the Guido burger, a patty topped with pastrami, pickles, and Swiss cheese.
If that's not enough to produce meat sweats, head to The Cowboy Star for a steak dinner. With more than 10 cuts on the menu, plus shared plates like Waygu ravioli and steamed mussels, we promise you won't leave hungry.
The Double Standard Kitchenetta offers Italian inspired flavors on a menu that changes weekly based on seasonal and available ingredients. Options often include veal meatballs, handmade pastas, jidori chicken, and fresh pizzas. You can also do the chef's five-course tasting menu for $80.
For a spirits-inspired dinner, consider barleymash, with its beer and bourbon inspired menu. You'll find everything from the black and blue burger to the ultimate buffalo flatbread, or the braised pork shoulder mac and bacon and short rib fries—all to pair with a cocktail or beer of your choice. For a different kind of spirits-infused dinner, head to The Cork & Craft, home to a restaurant, as well as the Abnormal Wine Company and Abnormal Beer Company. Your drink pairings will include food options like a grilled duroc pork chop with polent cake, 16-oz Angus ribeye, or braised short rib over risotto.
For dinner with a view head to the Altitude Sky Lounge (a great spot for drinks, too, if you're not hungry). Sitting on top the Marriot hotel in the Gaslamp district, your views of Coronado Island, Petco Park, and Point Loma will go just fine flatbreads, appetizers, and sandwiches.
Where to Stay
If you're looking to stay close to the action during your San Diego bachelor party, consider the Omni San Diego for your Cali bachelor party. Located right in the Gaslamp district, this hotel is just a 15-minute walk from anywhere you'd like to be—including the ocean front.
Just outside the downtown San Diego area, you can find the largest casino in California, and a great place to stay, at Pechanga Resort and Casino in Temcula. Close to the wineries of the area, this spot has plenty to offer, including the game tables for gambling, and is just a short distance to downtown.
Closer to downtown, the Blue Sea Beach Hotel offers sandy shores and waterfront views right on the beach, plus a heated ocean view pool and spa.
Disclosure: This post contains affiliate links, some of which may be sponsored by paying vendors.