If you're looking to combine elegance and a sense of history into your wedding day, estate and mansion Nashville wedding venues are an ideal choice. Whether you're hoping for a formal, vintage-inspired, rustic, or classic wedding, estates, mansions, and historic homes can work for a variety of styles. There are many Nashville mansions for weddings, each with its own unique architecture, features, and amenities—including Riverwood Mansion, East Ivy Mansion, Cedarwood, and many others.
Check out a list of 10 of our favorite estate and mansion Nashville wedding venues to start searching for the wedding location of your dreams!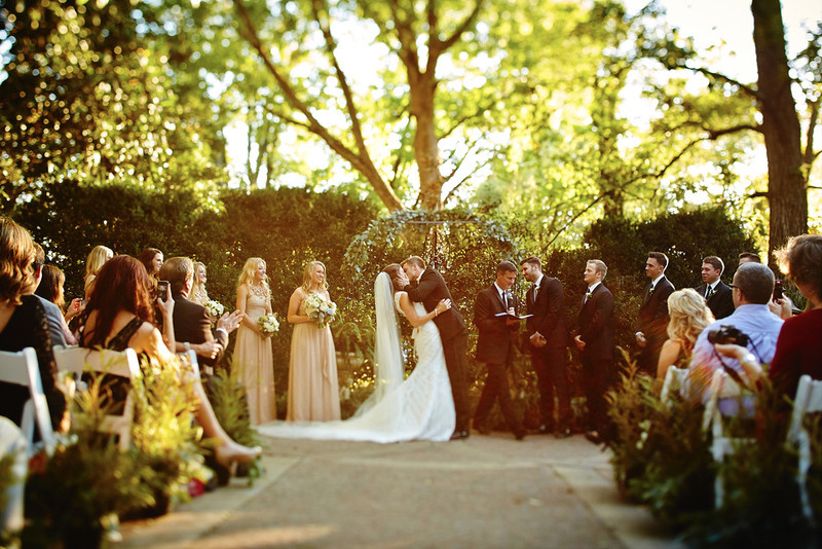 Riverwood Mansion
This late 18th-century Greek revival mansion wedding venue in Nashville offers a large heated pavilion and beautifully manicured gardens in a park-like setting. The all-inclusive venue can host weddings of up to 300 guests, and accommodate equally stunning outdoor or indoor ceremonies and receptions. History buffs will be delighted to know that the space has hosted seven U.S. presidents!

Learn more about Riverwood Mansion »
East Ivy Mansion
East Ivy Mansion was selected as one of WeddingWire Editors' 20 favorite historic home wedding venues in the country—and for good reason! The 19th century Italian Renaissance-style mansion with its marble details, stunning chandeliers, and spiral staircase, also features a pool and cabana area, courtyards, and lush gardens. This Nashville wedding venue offers 44,000 square feet of event space and has a capacity of 250 guests.

Learn more about East Ivy Mansion »
Cedarwood
This Nashville mansion venue just screams romance (in fact, WeddingWire chose it as one of our 20 most romantic wedding venues), taking couples back to olden times but with all the modern conveniences. The 50-acre historic estate is located on a pastoral setting near Mooncake Lake—but is only eight miles from downtown Nashville. But not only is this venue absolutely gorgeous, it also offers a variety of wedding services, from event design to invitations, florals, cake, music, and more. Your photographer will also be thrilled, as there are many amazing photo backdrops to choose from for your wedding portraits.

Learn more about Cedarwood »
Cheekwood Botanical Garden & Museum of Art
Cheekwood isn't your traditional Nashville wedding venue. It combines a garden, museum, and a historic mansion wedding venue all in one. The historic Cheek estate has seven different (all incredibly scenic!) garden ceremony locations and four different indoor and outdoor reception sites so your wedding will be completely unique. Massey Hall, the largest reception site, features adjoining terraces and the ability to view the museum's changing art exhibits.

Learn more about Cheekwood Botanical Garden & Museum of Art »
Belle Meade Plantation
Looking for an oasis right in the heart of Nashville? Belle Meade Plantation is a historic horse farm, which features gorgeous gardens, a 19th century carriage house, and a grand mansion. For those who want a rustic wedding, the Carriage House space (complete with stables!) is open year-round and has indoor and outdoor space for receptions. The mansion itself also makes a beautiful backdrop for portraits.

Learn more about Belle Meade Plantation »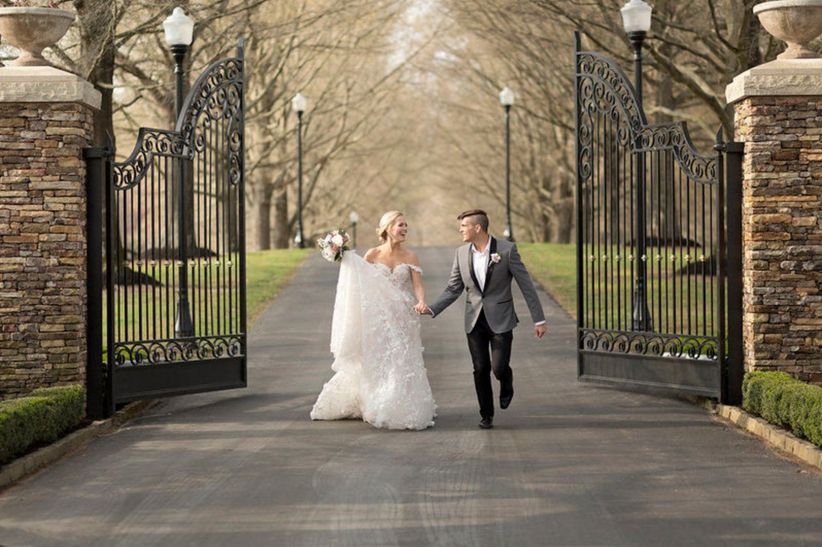 The Estate at Cherokee Dock
Located in nearby Lebanon, this luxurious lakefront estate has a place in country music history—it's the former home of Reba McEntire! Nowadays, it's one of the premier Nashville-area wedding venues, with a variety of indoor and outdoor spaces for weddings of up to 500 guests. There are also several guest rooms on-site so that you and your nearest and dearest can stay on premises for a true wedding weekend.
Learn more about The Estate at Cherokee Dock »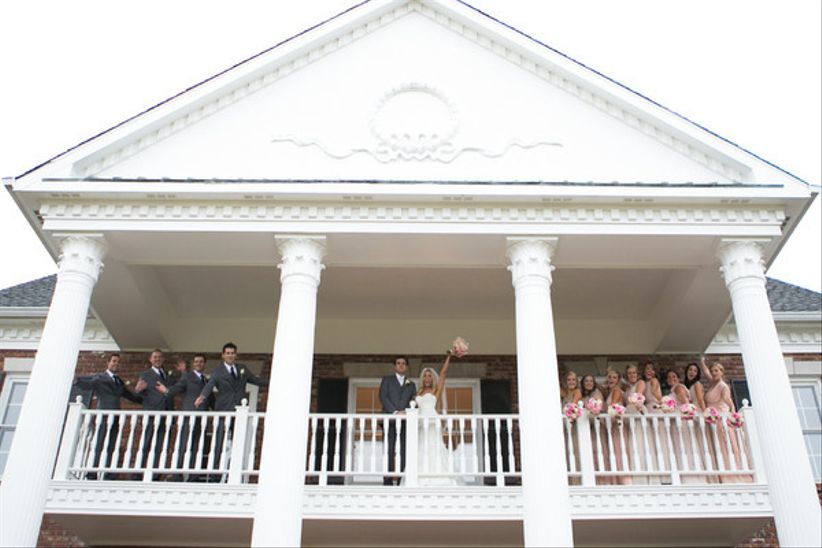 Covey Rise
There are so many Nashville wedding venues to choose from, and this one has a special classic-meets-contemporary charm all its own. The colonial-style three-story mansion is set on 116 acres and can hold 350 guests. You'll find several indoor and outdoor event spaces, including a 400-square foot gazebo and grounds for tented receptions. There's also a fully-appointed bridal suite (complete with claw foot porcelain tub!) and a groom's room.

Learn more about Covey Rise »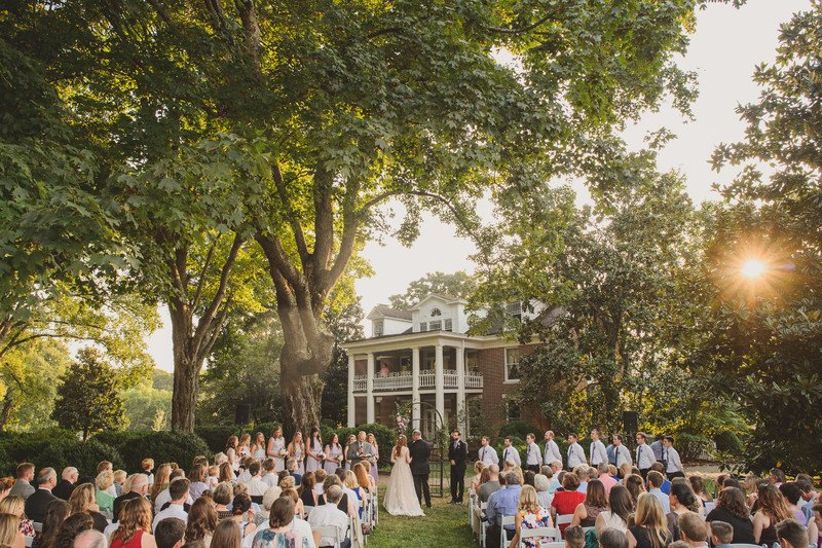 Homestead Manor
Couples who want to combine rustic charm and Southern elegance should definitely consider Homestead Manor. Ceremonies take place on the lawn in front of the antebellum Homestead Manor, and receptions are held in The Barn at Homestead, with its stone fireplace and wrought-iron chandeliers. There are also gardens and other unique backdrops for wedding portraits at this Nashville wedding venue.

Learn more about Homestead Manor »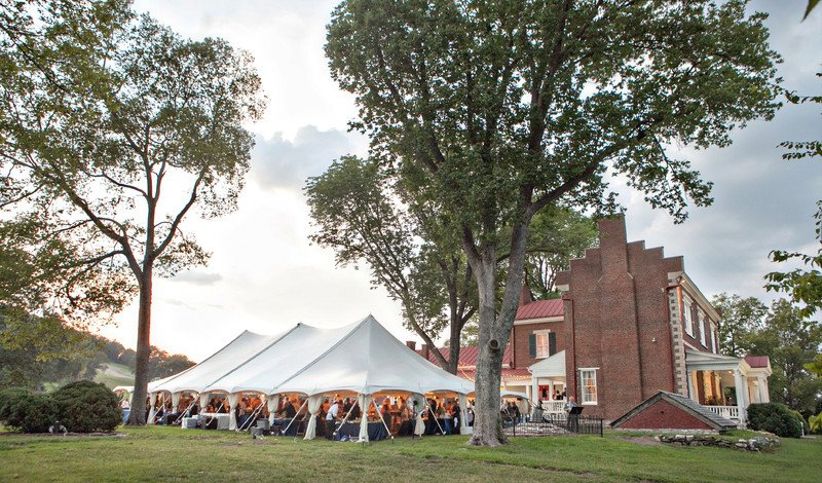 Ravenswood Mansion
We love the vintage-style charm of this mansion wedding venue, located in Marcella Vivrette Smith Park, in Brentwood. It can easily accommodate weddings of all styles, from casual to formal with its space that easily flows from indoors out—and the opportunity to hold a tented reception on the property. The mansion is full of historic details, and is surrounded by 400 acres of rolling hillside.

Learn more about Ravenswood Mansion »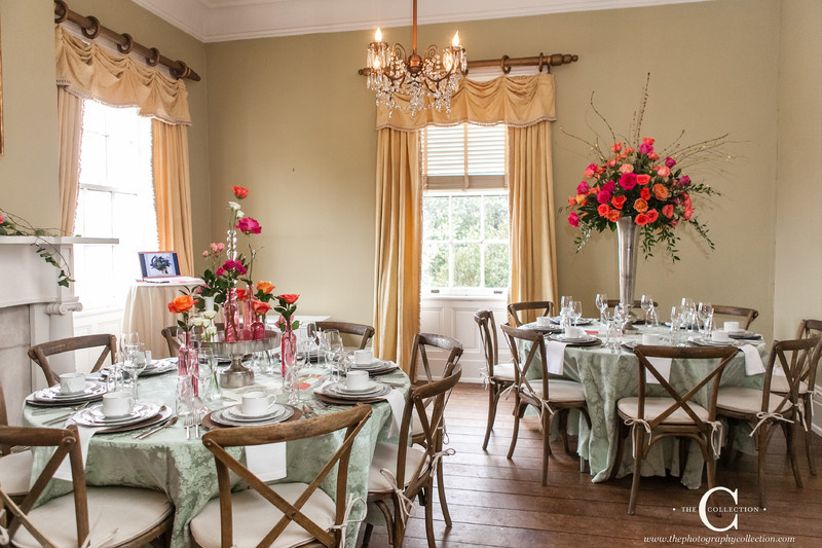 Andrew Jackson's Hermitage, Home of the People's President
Of the many mansions in Nashville, TN mentioned here, this is the only one that was once owned by an American president—and it's quite an impressive venue at that! There are several spaces to choose from, including the rustic Cabin by the Spring, a barn-like venue with lots of rustic charm, and the grounds of the Tulip Grove Mansion, ideal for outdoor events. The venue also has its own chapel for those seeking a more traditional indoor ceremony space.

Learn more about Andrew Jackson's Hermitage »