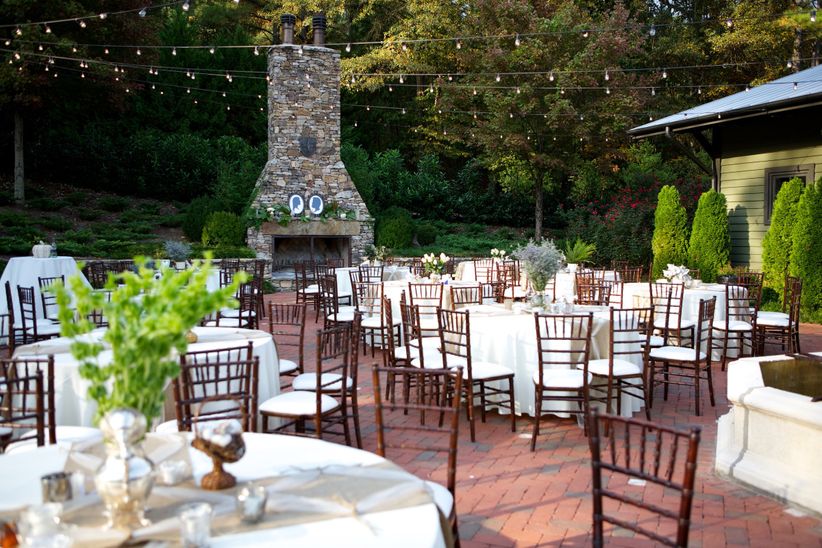 Photo: Arden Photography
From dramatic lighting to inventive backdrops, choosing your decor is an important aspect of wedding planning. However, we all know that all of these little decor details can add up when it comes to your budget. Here are some ideas to help you cut costs.
Create ambiance with lighting
You can easily create a romantic aesthetic to your wedding day with the help of lighting. However, this doesn't mean using expensive bulbs or LED lighting. Instead, opt for twinkle lights or even bistro lights to amp up your reception. These string lights can be displayed across your reception and even your ceremony to create an intimate and elegant ambiance. They are extremely budget friendly and also are great for outdoor receptions too (since they can be hung from tents or even tree branches). Wherever you or your lighting designer decide to place these lights, you and your guests will be wowed by their romantic glow.
Shop locally
Purchasing tablescape items from a store that is nearby will help you save on shipping and delivery costs. Also, you can incorporate a bit of your hometown into your wedding day, too! Perusing your local antique shops or other home stores is a fun way to find unique decor items that won't be overpriced. You'll then be able to work with your florist and other vendors about which pieces you really love. Your vendors then can use their expertise to find similar decor accoutrements to be used throughout your reception. From picking out throw pillows for your lounge to a vintage suitcase for guests to put cards in, we suggest checking out your local stores before browsing online.
Photo: Illuminated Moments
Accessorize with linens
Linens are an inexpensive way to transform your wedding venue because you can rent them. Many rental companies can provide a variety of different linen styles for your reception. Dress up your venue by draping the fabric from your ceiling or using linens to cover your tables or create table runners. Just be mindful of the fabric you choose, since some fabrics are pricier than others, such as silk and certain sequins. However, if you really want to use a certain fabric but know it'll be too expensive to cover every reception table, opt for table runners instead! Table runners call for less fabric, therefore it'll be a cheaper option than covering your entire tabletops. Your tablescape can still be transformed into a gorgeous dining area, but without the price of having an entire linen on each table.


Reuse florals
Floral centerpieces can be expensive, so you may opt to reuse your ceremony flowers at your reception to help bring down costs. Ceremony flowers such as bridesmaid bouquets and altar arrangements can also be used throughout your reception. Bouquets can be placed at each table inside vases and will look equally as stunning as centerpieces. As for aisle markers and altar arrangements, place them in the entryway of your reception, or use them to decorate your welcome table! Reusing florals is a smart way to save money on your reception decor because you won't have to purchase double the amount of florals. Just make sure you keep the flowers in water, so they won't start to wilt before your guests have the chance to see them!
Photo: Watson Studios
Display family photos
Family photos are a great way to decorate your wedding venue with the help of cutesy candids and instagram-worthy throwbacks. Not only do they add a vintage touch to your wedding day, they also are affordable! Just place the photos in picture frames that match your color scheme and display them throughout your ceremony and reception. You'll be surprised how a few photos can help personalize your wedding decor, too. One of our favorite ways that family photos can personalize your wedding decor in an inexpensive way is by using them as table numbers. In lieu of the traditional table number, opt for photos of you and your S.O. from different ages and have them serve as your table numbers. Guests will love the charming feel of your tablescape and the photos will create quite the buzz at each table. Family photos are a great way to incorporate a bit of yourself into your wedding day and also help save on pricey tabletop decor.

Get creative with your food displays
If you are opting for a dessert buffet or having other food stations at your wedding, then we suggest arranging the displays in a fun and creative way! From placing your sweet treats in a three-tiered cake tower, to having chalkboard signs label each dish, you can easily decorate your reception with out-of-the-box food displays! You'll definitely be surprised by how your food displays can transform your reception with little costs. Cheese platters and other appetizers can be placed in a certain way to create a fun pattern, or cupcake confections can be placed together to form a heart-shaped design. The possibilities are endless!