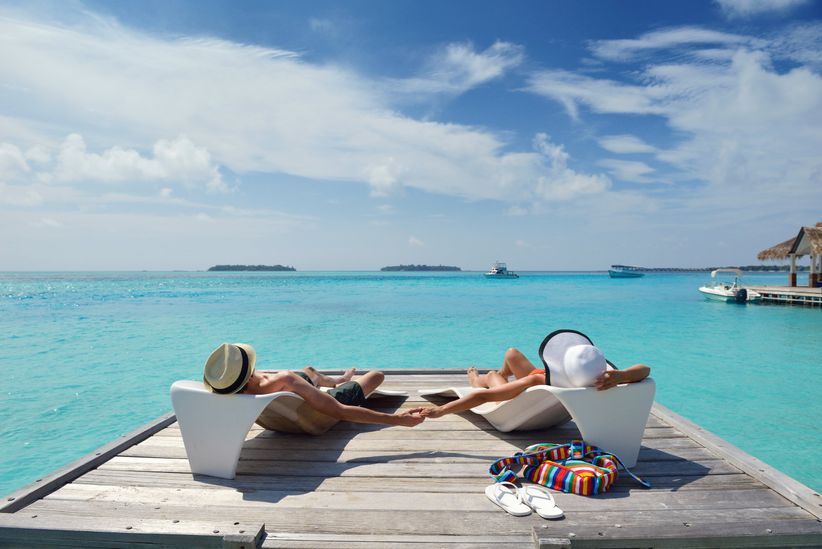 It's not often in life that you get to do something that you know you'll never repeat. Graduating high school, getting married, seeing the birth of your first child: these are (usually) one-time only events. Also on that list is your honeymoon. Since it's such a unique experience, it doesn't make sense to cut any corners financially on your honeymoon costs. I firmly believe you should splurge as much as possible during your honeymoon. That doesn't mean you should throw money around just because it's your honeymoon. It just means that there are certain honeymoon costs that are worth the extra expense.
Here are five honeymoon costs you can totally get away with splurging on during your trip of a lifetime.
First Class Airfare
First class airfare is expensive, like "how do they get away with charging so much???" expensive. As a result, most of us regular folks won't get the opportunity to fly first class. For your honeymoon, though, do it. The best advice is to skip cash and try to use your saved miles and points to afford the fare. I used ten years' worth of miles for my wife and I to fly roundtrip to Japan and I've never been happier. The only caveat is that some domestic flights aren't worth the expense. Stick to international and cross-country flights and you'll see how good the 1% lives. As an added bonus, first class flights allow you access to first class lounges and that's the best way to start and end any honeymoon.
A Luxury Hotel Suite
Since you only honeymoon once, why subject yourself to a normal room? Splurge on the suite as one of your honeymoon costs and never look back. You'll love the extra space for the, um, honeymoon activities and high-end suites come with luxury amenities you never knew you had access to. Massive bathtubs, extravagant balconies, and better service are just a few of the perks of a suite. If you want to gamble a bit, you can always book a regular room and try to use your honeymooner status to score a free upgrade.
One Truly Magnificent Meal
Honeymoons are all about making memories and celebrating your new marriage. What better way to do that than with the best meal of your life? This isn't to say that every meal has to be a bank-breaker, but find one incredible restaurant and savor every minute of it—it's a honeymoon cost that's totally worth it. Years from now, you'll still be talking about the amazing duck you had.
An Experience You'll Never Forget
This one is a little more nebulous, but you want to have something that instantly burns a memory into your brain. If you're going somewhere tropical, try an expensive activity like para-sailing or SCUBA diving. If you're in a city, find a unique experience like a cooking class or a private tour. Do something you'd never normally do in the course of your regular life. It's all about transforming your honeymoon from special to unforgettable.
A Priceless Souvenir
You will always remember your honeymoon. That doesn't mean you'll always think of it, though. That's why it's nice to get something tangible that will stay in your home forever. It could be anything: a work of art, a special souvenir from that unforgettable experience, a bowl from the random shop you stumbled upon when you were stuck in the rainstorm. The point is to have something special that reminds you of your incredible honeymoon every time you look at it.
Ultimately, your budget is your business. That said, there's no better time to open your wallet than when you're on a trip to celebrate the most important decision of your life. It's okay to splurge in the name of love. Don't be stingy on your own honeymoon – you only get one chance to get it right.