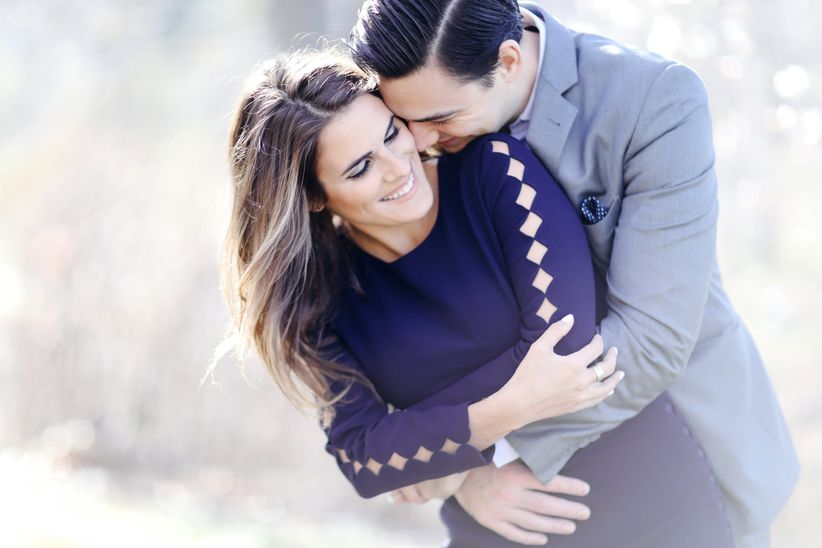 Photo: Olga Thomas Photography
Elena Michelle, a Wisconsin native living in NYC and creator of A New York Love Affair blog, loves to discover new restaurants, shop, and cozy up at home with a good book and a glass of pinot noir. She believes you should try a new restaurant every time you go out, that girls can never own too many shoes, and that you should never stop looking up at the Manhattan skyline! Read on to learn more about Elena's wedding planning journey!

Name: Elena Michelle
Blog: A New York Love Affair
Location: New York City
Wedding Date: September 2, 2017

WW: Welcome, Elena! We are so excited to have you in our Engagement Edit series. To kick it off, could you tell us a bit about your ultimate NYC #justsaidyes moment to your fiance, Peter?

EM: Thank you for having me! Such a fun question to kick things off, because I think our #justsaidyes story is a pretty good one. After almost six years of dating, my fiance, Peter, knew he had to be sneaky with his proposal (I think I had been analyzing his every move for a few months). Long story short, he had my coworker back out of a reservation at L'Artusi (our favorite restaurant in New York), offering it to Peter and me instead. As our cab pulled up to the restaurant, Alexandra Dieck (fellow blogger and friend) was in the middle of the street shooting a street-style look with two photographers. Distracted, I went to say hi while Peter collected his thoughts. Then, he grabbed me by the arm on the street outside the restaurant, kissed my hand, and got down on one knee. I was COMPLETELY surprised! The photographers were a decoy, really there capture the entire proposal. After many tears and laughs (and a yes!), we went inside for the reservation. Little did I know, there was one more surprise in store. Both families had traveled into town, and were waiting to celebrate with us! For the full proposal story and pictures, you can visit my blog. I included the unabridged version with lots of pictures!

WW: Swoon Since you're getting married in your hometown of Milwaukee and you live in NYC, how has it been to plan your wedding from afar? Have any WeddingWire tools been especially helpful to you?

EM: With technology these days, it is certainly not as hard as I thought it would be. That said, I have racked up quite a few frequent flyer miles traveling back and forth! I immediately enlisted the help of The Bride Consultant, our amazing wedding coordinator, and turned to WeddingWire as my planning guide. I have relied heavily on your wedding checklist and budget tools, to help meet deadlines and stay on track with planning. The vendor lists and reviews were also extraordinarily helpful in the vetting process. We actually found our photographer (Olga Thomas Photography) and florist (Impressions by Esther Fleming) on your site!

WW: Could you provide any tips for other couples who are planning their wedding out-of-state?

EM: It is important to be organized. We tried to schedule our vendor visits around pre-planned trips home (Thanksgiving, Christmas, etc.), tackling as much as we could in a short timeframe. As a result, we had things like four cake tastings in one morning, but it helped us be efficient. I would add that it is also crucial to rescind some control (coming from a self-proclaimed control freak!). Bring in a wedding coordinator or enlist the help of your mom or a bridesmaid - someone with an opinion you trust. They can always Skype you into the meetings, and there will be less pressure on you to travel for every decision.
WW: What was the hardest wedding planning decision you've made thus far? What was the easiest? The hardest?

EM: The guest list. Almost immediately you have to get a rough headcount before you can determine your budget and what venues to pursue. And of course, everyone has an opinion on who is important. Try and understand where your parents and in-laws are coming from, but don't be afraid to speak up. Headcount is ultimately your biggest expense of the wedding. Easiest decision? Saying yes to Peter! Okay, that was cheesy. I'd say picking a photographer was the next easiest decision. As a blogger, I had a very specific aesthetic in mind for my wedding photos. After doing a lot of research, we chose five photographers to "interview", and the connection with Olga Thomas was instant. It's not just about how beautiful their portfolios are, you should think about the chemistry you have with the photographer, because when you have a good rapport the photos will come out more naturally.

WW: Let's talk about your big day! Can you share any details about your wedding?

EM: Okay okay, twist my arm! I come from a big fat Greek family, so our ceremony will be at Sts. Constantine and Helen Greek Orthodox Church in Milwaukee. For the reception, we wanted a very bright and airy venue with indoor and outdoor elements. We chose the Lakeview Tent at Discovery World, right on Lake Michigan. In keeping with the bright and airy theme, we have a soft and romantic color scheme, layering in white linens, gold accents, and a palette of dusty rose, dusty blue and grey.

WW: Will there be any nods to NYC at your wedding?

EM: Of course! Manhattan is so much of our DNA as a couple. Keep an eye out for hints of NYC in the welcome bags, along with a guest book with pictures from our NYC engagement shoot.

WW: We loved hosting you in NYC at our Honeymoon Event with Away luggage and especially loved your blog post on honeymoon travel! What is the biggest tip you could give for couples planning their honeymoon?

EM: Do your research, but then enlist the help of professionals (sensing a theme with my advice?). We worked with a service called Zicasso, making the planning process much simpler. They share your proposed plans with boutique travel specialists who customize a trip just for you. It costs nothing, and even saved us money!

WW: Finally, what are you most looking forward to on your big day?

EM: We are just overwhelmed with the outpouring of love from our friends and family. So far there are not too many RSVP 'no's', so I can't wait to dance and celebrate with everyone. It's going to be one heck of a party!