Reviews
4.4 out of 5 rating
Quality of service

4.9 out of 5 rating

Average response time

3.1 out of 5 rating

Professionalism

4.7 out of 5 rating

Value

4.8 out of 5 rating

Flexibility

4.7 out of 5 rating
88%
Recommended by couples
10 User photos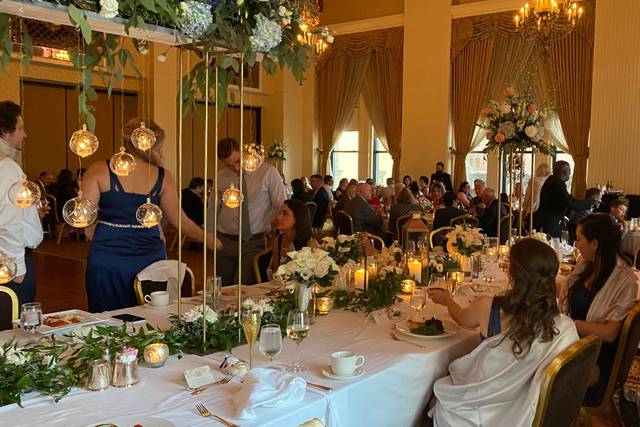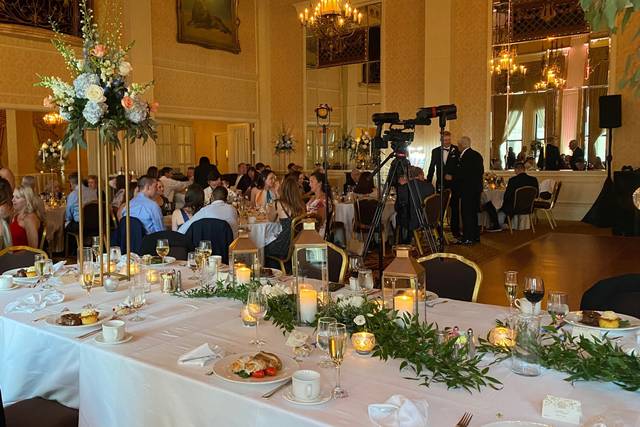 + 6

photos
Allie K.

Married on 12/31/2018

Easy to work with, beautiful results!

TRUST ESTHER'S PROCESS. I didn't know anything about flowers (and I still don't), so I was more than happy to share the intended "feeling" for our wedding day, colors, and numbers and let her handle the details. We loved that we were able to use her vases, backdrop, lights, and other bling, rather than buying it ourselves or working with a separate vendor.

We were blown away by how beautiful our flowers (and other decorations!) were when we walked into our wedding ceremony. Esther's team also quickly redecorated and helped turn over the same room where we held our reception! They brought everything together with a cohesive, beautiful vision that she was somehow able to pull out of my description as, "elegant, but also warm, and oh yeah, on New Year's Eve." We also appreciated that they were able to print our placecards and take that seemingly-small-but-incredibly-tedious task off our hands. Thank you so much for helping us have the most beautiful day!

Ashley

Married on 09/10/2016

Esther did the flowers for my sister's wedding as well as 3 other friends' weddings and I was BLOWN AWAY every time. When it came time for my own wedding, it was a no-brainer who I wanted to do our flowers. Her work is so incredibly beautiful you can't believe it. Our wedding took place an hour north of Milwaukee at a venue not typically used for weddings therefore Esther had not been before. She made the drive months ahead of the wedding to scope out the venue and while there made suggestions in other areas of our wedding planning that were spot on and very valuable. She truly is an artist and she knows her craft very well. I am thrilled with our wedding flowers and if I could do it again would hire her again in a heartbeat.

Her work is amazing!! Best price and just great!!

Are you interested?

Send a message

Esther's flowers absolutely made our wedding day! She was an absolute joy to work with and one vendor that we did not have to worry about once. She is incredibly creative and able to understand client's styles and ideas. She transformed the house and event space into something truly special - elegant, creative, whimsical and original. I was able to give her very vague direction and had complete faith that she would deliver - and she did! While some say that she is difficult to get in touch with, we had no problem with that. Even if you do have trouble, I would have complete trust that you are going to get beautiful results. I would never consider using another vendor, EVER! Can't stress enough how great she is and how well her flowers can transform and event!

Jennifer G.

Married on 07/16/2022

Absolutely magical and perfect floral arrangements!

Esther and her team are absolute artists when it comes to all things wedding flowers! She listened to exactly what I wanted and what I didn't want for my wedding flowers. I was able to make known keywords such as "romantic", "fairytale", and "traditional" along with our color scheme and a couple favorite flower varities. She incoporated all of this while also adding her own vision and design. Communication can be next to impossible with her, but she was always very kind, flexible, and patient whenever we did talk. Take a leap of faith & you won't be disappointed!

Rebecca

Married on 07/02/2021

Beautiful Summer Florals

Esther is truly an artist. She is very creative and makes elegant arrangements. You have to trust her creative designs and you will not be disappointed. She has so many options in terms of vases, lanterns, and candles. You have to contact her by phone and sometimes her mailbox is full but if you are persistent she will make it worth your while. Not only does she have a wide variety of floral accessories but she has a whole inventory of other wedding equipment you may need. She has ring bearer pillows, unity candles and card boxes that she will let you use for the big day as part of her service. Another great part of her service is that she makes mock bouquets out of fake flowers that she will model for your bridal bouquet and the bridesmaids' bouquet. I came to her originally having a December wedding and with COVID we had to push back our wedding to July after we had picked out all of our dresses and Esther reassured me that the flowers would transform the day into a beautiful summer wedding. She created amazing bouquets, boutonnières, a mix of high and low centerpieces, a beautiful garland for across the head table and she surprised me with a floral arch around my husband and I at the head table. Not to mention her prices cannot be beat. She did all of that for a price that was a little more than half that I was quoted at other florists for just bouquets, boutonnières and centerpieces. She is a definite must have as a vendor.

Emily

Married on 08/25/2018

Hidden gem of a florist and decorator!

Esther was recommended to us by multiple individuals and I am SO GLAD we worked with her for our Hindu and Christian wedding. She did our flowers, decor for Hindu ceremony and lunch (including mandap), and decor for Christian ceremony and reception. Please read this whole review because I have a lot of great things to tell you about her! I will be honest - she is "old school" (and will identify herself as such) in that she really only communicates by phone or in-person meetings. She is not someone you can text or email quick updates to, nor does she have a polished web presence. That said, she has been in the wedding decorating business for more than 30 years and it is obvious that she is a master at her craft. She was able to take my description of how I wanted our wedding to look and feel, incorporated some photo inspiration (that I printed off for her!), and ran with it. We had three in-person meetings over the course of the four months prior to the wedding to finalize flower and decorations. She creates silk bouquets to be able to show you exactly what your finished bridal and bridesmaid bouquets will look like, which I really appreciated. I was able to say "yes I like this color" or "no I don't like this flower" and she added and removed silk flowers from the bouquet right in that meeting until we had it perfect. She also is super knowledgeable and realistic and was able to make several suggestions based on my vision to better bring my decor to life. She charges one flat fee for decor and flowers that we negotiated in our first meeting and that was INCREDIBLY reasonable and by far the best price I found anywhere. You don't get upcharged throughout the process as you figure out your decor needs. And she has a massive warehouse with every vase, table number, accent piece, etc, you could EVER need. I went in with the mindset that I am NOT an artist or decorator and I wanted an expert to develop our wedding look for me so that I didn't have to stress about details I'm not familiar with. If you have a similar mindset, I promise you won't regret working with Esther!

+ 5

photos

Ester made my dream wedding into a reality. When I sat down with her I could tell right away that I was working with a true artist. She can be difficult to get ahold of, but know and trust that you are going to get BEAUTIFUL results. I provided her with pictures of what I was looking for and wow did she deliver. She has the most beautiful flower arrangements and she does an amazing job decorating the venue with such an original and unique touch. She is worth every penny and goes above and beyond to give you a truly beautiful wedding!

Sarah

Married on 07/02/2011

My sister used Esther's flowers for her wedding, and I knew I had to have her for mine! The bouquets are big and beautiful! She is so open to your ideas and suggestions, but I think the more you let her choose, the happier you will be with the results! She is a brilliant artist! I let her take the reins for my wedding, and we ended up with about 5-6 different centerpieces at my reception! (I knew we were going to have multiple. She would have done the same one on every table if I asked.) She gets really excited about color and wild, fun flowers! She is difficult to get a hold of, but once you are on her schedule, you are set! Just make sure you set up the second meeting with her while you at at the first! Would love to work with her again! Her work blew me away.

Megan

Married on 08/10/2019

Gorgeous and a steal!

Everything was unspeakably gorgeous. Esther's years of experience means she knew exactly how to accent the big lovely ballrooms of the Marcus PAC. From the church, to the table decorations, to my bouquet which was so full of gorgeous flowers that I got an arm workout holding it, it was beyond anything I could have imagined for the flower budget we had. I am so grateful for all her work.

Caitlin

Married on 05/14/2016

Esther's final product was above and beyond what I ever expected. She had done the flowers for a friend's wedding a year before mine and I knew I wanted to work with her. She was very hard to get a hold of... and I almost gave up - but I am so glad that I didn't because she was worth the wait and every penny spent. She met with me and my wedding coordinator and without showing her any pictures - just by describing the feelings I wanted in the space that day, she began creating the design. By my second meeting, she had the bridesmaids bouquets (in silk flowers) for me to look at and make changes to - they were beautiful, and they weren't even real yet! The next meeting I saw my bouquet and parts of centerpieces. Esther didn't miss a beat and at every meeting she updated her notes with things I had made progress with. She set up the flowers at the church - the flowers for my bridesmaids and myself and all of the guys were waiting at the church in water, looking beautiful. Then while we were getting married - she was at the Milwaukee Art Museum creating our space. The Art Museum is a blank canvas, and can be a little overwhelming to style. I knew what I wanted and felt that Esther understood too. When my husband and I walked into the Art Museum for our cocktail hour (before any guests were there) - we stood with our jaws on the floor..... it was better than we could have imagined. I am still getting compliments on how beautiful it was. Esther is worth the work of getting in touch with her -you won't regret it!!

Julie

Married on 04/30/2016

Esther did a beautiful job at our wedding! I am a low maintenance easy going bride and loved that I was able to show Esther a handful of pictures of things I liked and she was able to create something so perfect! In addition to providing us with beautiful flowers she also did our place cards, arranged our cupcakes on her stands, and uses all of her own cases and other decorations for no additional cost. Esther gave me the beautiful room I wanted for my wedding!

Susan

Married on 09/09/2012

Esther's work is gorgeous! She is truly an artist. She worked with my daughter-in-law's vision of what she wanted and it exceeded our expectations.
Esther will be the first one to admit that she is difficult to get a hold of - but she comes through! The wedding was at the Pilot House and Esther draped the support poles with gorgeous fabric, she made a Chuppah (wedding canopy) that was stunning and then used the Chuppah flowers on the head table. Our bride requested a sparkly curtain behind the band and that was perfect. She had several types of floral centerpieces for the tables and they were all gorgeous - she used the brides favorite gerbera daisies and full, abundant carnations and baby roses and other flowers that coordinated to perfection.
Esther even had decor on the bars (lanterns with black shades and rhinestones - elegant but not over the top.) All this, and we did not break the bank! I highly recommend Esther - she is so creative, and sincerely wants to make your event your vision of perfection!

Keegan

Married on 10/03/2015

Esther's work is unparalleled. Not only does she provide gorgeous florals, but it almost felt like she was a coordinator too. We had more meetings with Esther than I ever would have imagined we would have with our florist (four in total!) and she helped us achieve our overall vision for decor and flowers.

In addition to providing flowers, Esther set up our ceremony and reception spaces, which included arranging: escort cards, cupcakes, framed vintage parent photos, framed signage, and our own personal antiques plus the rentals she provided, which included vintage suitcases for cards/gifts and all of the cupcake stands.

In all honesty, if you are a Type A person such as myself, it can at times be challenging to work with Esther. She is a free spirit and she "goes with the flow" but she is an artist. Make sure you clearly articulate your desires and the things that are most important to you, and she will help your vision come to life in a way that is more beautiful than you could have hoped. Our guests were all amazed with our flowers and decor, and no one ever would have guessed that we'd been working on a fairly tight floral budget.

If we had to do it all over, we would hands down choose Esther as our florist again. She's the best.

Samantha K.

Married on 07/20/2019

Creative and Beautiful Florals

Esther is incredibly creative and a visionary. Everything she does is gorgeous and magical. The centerpieces, bouquets, boutonnieres, flower crowns, and candles were so perfect and exactly what we had envisioned. I want to emphasize trusting Esther's process. She creates concepts from feels, words, and themes and develops her concept from there. We requested specific flowers and we received them with Esther's creative touch, which made everything more beautiful. Impressions also provides a variety of vases, candles and holders, trinkets, decorations, and other pieces that make your wedding so special. We had a unique idea for presenting our guest cards. We wanted our guest cards hung from a faux boxwood wall which would double as a backdrop for our photography booth. Of course, she had one! If you can dream of it, Esther and her team can make it happen! Be sure to be patient with her responsiveness and communication. Esther can be very hard to get a hold of. I was very glad we had a wedding planner to take care of the communication and schedule meetings.

Emily

Married on 10/08/2016

Esther is the definition of an artist! There is a reason she is the best in Milwaukee. I had an idea and a vision but wasn't sure how to execute it. Esther went above and beyond and created a true work of art and came up with ideas I never would have thought of. She also had EVERYTHING from flowers to rentals to placecards. Anything you could think of, she had. People to this day are still talking about the floral arrangements at the wedding an how everyone was different and more magnificent than the rest! Her work made the wedding the gothic, Tim Burton dream I've always wanted!

Crystal

Married on 05/07/2016

She is an artist. I gave very little directions and was stunned by the spectacular centerpieces and flowers. She is hard to reach. Never leave her home without your next appointment.

Linsey

Married on 05/10/2014

Esther is a brilliant genius florist. Her work is impeccable and beautiful. Most of the compliments we received at our wedding were on our flowers. She is impossible to get a hold of, which can be very frustrating, but don't give up it is well worth it. I would recommend her 100 times over and over again to anyone who wants to have unique and beautiful flowers at their wedding. I told her I wanted the room to feel romantic, classic, and elegant and she delivered. She also had many creative ideas that made our wedding unique and special. I cannot think her enough for totally transforming our room into exactly what we wanted. Do not give up, even when her answering machine is full, keep calling!

Whitney

Married on 10/26/2013

Overall Esther did an AMAZING job!! We met Esther at the Grain Exchange open house and set up an appointment, which was a good thing because I'm not sure how we would have gotten in contact with her otherwise. At our first appointment, we discussed what we sort of visioned and gave her a few photos. She then created a silk arrangement of the bridesmaid bouquet and one of mine! It was so neat that we were able to see it before our big day with real flowers! They looked amazing! However, our appointments were very early in the wedding planning processes and as we got closer to the date, I needed to get a hold of her. I tried for MONTHS to contact her. I even wrote her a letter. I did not hear from her until 2 days before my wedding, when she asked us to drop off a check! Although this was extremely frustrating, she and others did warn us she would be difficult to get a hold of. Like everyone else said, she really did follow through and did a better job than I could have even imagined. Esther is sooooo talented and her prices are great. She just needs someone to handle the business end! My recommendation....be sure to schedule an appointment with her right before the wedding so you know for sure you will be able to talk to her!

Mary B.

Married on 07/13/2013

Hard to get a hold of, but delivers top notch, very impressed able to discern brides wants

Alexandra

Married on 08/24/2019

Just trust Esther!

Esther may not be the most communicative florist but she really pulls through and was an incredible florist for my August wedding. She's amazing at what she does and the value could not be beat. I received so many compliments on the flowers and design elements!

Samantha

Married on 10/15/2010

Don't get me wrong, I would have given Esther a 5 out of 5, but she is incredibly hard to get ahold of. She will be the first to admit that. BUT if you do get ahold of her, keep her! She listened to what we wanted and worked with our budget! Everything turned out great.

Esther is an artist. When she speaks about her designs she gets lost in imagery (in a good way). I had to give her a low rating for responsiveness and professionalism just based on the fact that she doesn't communicate in a traditional way. I don't believe she has an email and she rarely answers the phone. Her voicemail is typically full also. When I need to send her inspiration I need to print off pictures and put them in her door. last negative thing I say before I begin to rave is that her shop (her house) is very cluttered, dusty and just FILLED with flowers and vases and such. Now for the raving part. Although I haven't celebrated my wedding yet, I have seen her mock up of what my bouquets will look like and they are exactly what I envisioned. Very beautiful work overall!


Vicki K.

Married on 07/11/2020

Overall-Disappointed

Esther just did my wedding on Oct. 2nd, 2020 and she made many promises that were not fulfilled. I was told a week and half before my wedding what the final price was. When I went to drop off her check, she told me it was $400 more than she previously stated. I had to negotiate and take away important elements that I wanted on my wedding day in order to stay on track with my budget. She also forgot a corsage for my mother in law and had to quickly make one 10 minutes before my ceremony began. The worst part of all, was I was told I had to pay extra BECAUSE I wanted flowers on my cake and when I showed up to the reception after my grand entrance, I looked at a cake with zero flowers on it. My baker did a fantastic job, but the cake looked awful with no flowers on it at all. The bouquets and reception centerpieces were beautiful, but I was quite disappointed with these mistakes.
Are you interested?
Send a message