These Are the 9 COVID Safety Guidelines Your Wedding Guests Want You to Implement
We talked to wedding guests about the protocols that will help them feel safe at your wedding. From mask wearing to social distancing, this is a good starting point for your safety plan.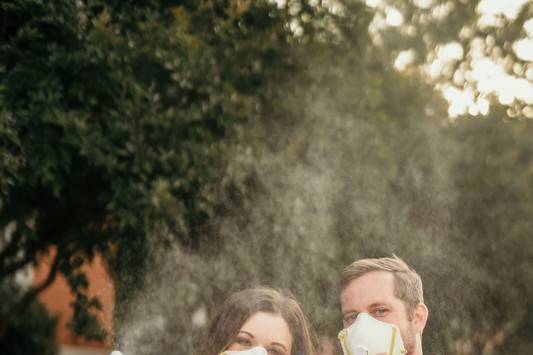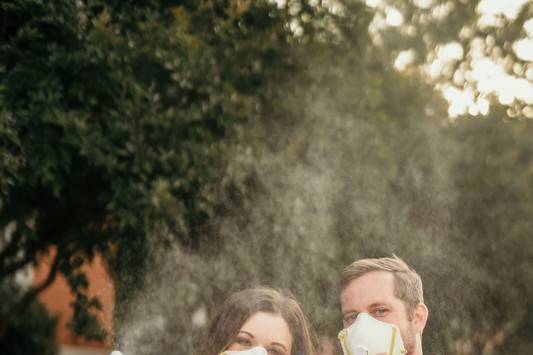 Aside from the usual stressors like sticking to your budget and dealing with family drama, planning a wedding during COVID comes with a whole new list of concerns—namely, protecting the safety of your loved ones and vendors. According to a new WeddingWire study, guests expect couples to enact health and safety precautions—and they may not attend your wedding if certain protocols are not in place. To create a safety plan for your wedding, work with your venue coordinator and/or planner to research the most up-to-date national, state, and local gathering restrictions. Then, talk to your pros about how you'll incorporate these guidelines into your event. Below, we've listed the COVID safety protocols your guests will expect—and ones that may not be essential, but worth looking into.
Essential COVID Safety Protocols
Wedding guests and staff wear masks.
By now, we all know the importance of wearing a mask when around others—and of course extends to weddings and events. According to the WeddingWire study, most guests expect that they'll be required to wear a mask at all times during a wedding, except when eating. Wedding vendors working on-site, such as wait staff and bartenders, must wear masks, as well.
Masks are provided by the couple.
While guests should be encouraged to bring their own masks, the couple should have extras on hand just in case. These can be simple disposable masks or more elaborate personalized masks made especially for the event, but what's most important is that every guest has access to a mask.
Hand sanitizer is readily available.
Good hand hygiene should be encouraged throughout your event. Set up hand sanitizer stations at various points throughout the venue (entries and exits, in particular) and signage stressing the importance of cleaning hands should be posted, as well. While giving each guest hand sanitizer as a favor is certainly a nice idea, it isn't a must, so long as sanitizer is readily available.
Seating is properly distanced.
Guests who do not live in the same household should be seated at least six feet apart, both during the ceremony and the reception. We've seen many creative ways to set this up, from placing large teddy bears to fill empty seats to seating families on their own sofas instead of chairs at the ceremony. While your guests will likely be seated for a good portion of your event, social distancing should be encouraged at other points as well. Signage and floor markers can help remind guests to stay six feet apart whenever possible.
Dance floor capacity is limited—or restricted.
It's particularly difficult to social distance on a dance floor—so many couples are doing away with this wedding tradition for the time being. The safest option is for the couple to simply perform their first dance, and perhaps dances with close family members, without opening the dance floor to other guests. Another option is to invite each table (composed of members of the same household or quarantine pod) to the dance floor, one at a time. You can also be creative and include unique non-dancing entertainment ideas during your reception.
Close greetings between guests discouraged.
While your guests will surely be happy to see each other, receiving lines, kisses, hugs, and even handshakes are unfortunately no-gos right now. Air hugs, elbow bumps, and foot shakes are among creative alternative greeting options you can employ.
Additional COVID Safety Protocols
Temperature checks at venue entrance.
Taking guests' temperatures as they enter the venue is not a failsafe safety measure—some people with COVID won't display a fever. If it helps with peace of mind, by all means go for it, but it should not replace the safety protocols listed above, like mask-wearing, social distancing, and hand hygiene.
COVID tests with confirmed negative results are required before the event.
A COVID test represents a single moment in time—a person may test negative only to start displaying symptoms and test positive a few days later. Again, requiring all guests get tested a few days before the event can provide peace of mind, but mask-wearing and distances should still be required. Some states are requiring all guests to provide a negative COVID test before attending a wedding, so be sure you're aware of your state's regulations as you approach your big day.
Vaccination information is requested or required.
Now that the COVID vaccine is readily available throughout the country, many couples are considering whether or not to require guests to provide proof of vaccination to attend their wedding. Here's the thing—you make the rules, but it's important to share them with your guests (and be okay with the fact that some people may not wish to attend). Put a notice on your wedding website letting guests know if you're requiring a vaccine, and send an email in the weeks leading up to your wedding day to make sure everyone is aware. And you can find out whether or not your guests have been vaccinated by including a health and safety insert as part of your wedding invitation suite, asking guests to let you know if they've been vaccinated or will be at the time of your event.