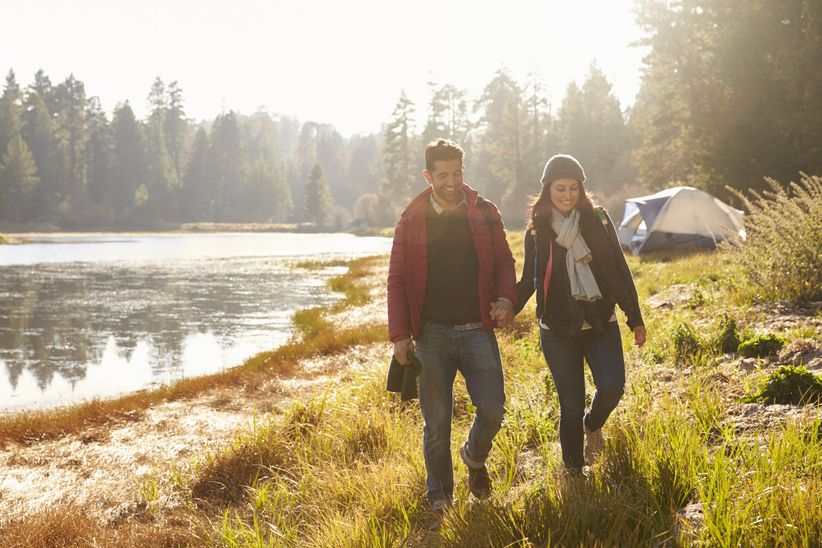 While many couples want to spend their first days as newlyweds sipping cocktails on the beach, you and your spouse-to-be have other plans: You want to start your next adventure — marriage! — with a honeymoon that best matches your interests. Since you've always been more inclined to spend your Saturdays scaling mountains rather than relaxing at the spa, it only makes sense that you'd plan a camping honeymoon, where you'll hike during the day and sleep under the stars. And really, there's no greater bonding activity than making a trek to the bathroom — an outhouse, no less — in the middle of the night.
For a trip that you'll never forget, look no further than these top camping honeymoon destinations.
Ithaca, New York
While the Big Apple might have the glitz and glamour, New York's Finger Lakes region boasts an array of outdoor activities — hiking, bike trails, kayaking, and more — along with some of the best wineries, craft cideries, and craft breweries in New England. Set on Cayuga Lake, the small city of Ithaca has more than 50 waterfalls within a 10-mile radius of downtown, which FYI, has more restaurants per capita than New York City. A stay in one of the furnished safari tents at Firelight Camps gives you the ability to spend your camping honeymoon in the great outdoors while still having all the comforts you know and love (flushing toilets, battery-powered lanterns, and phone charging stations, to name a few). And if you're the adventuring types, then you can walk to the start of the Upper Buttermilk Falls hiking trails straight from your tent.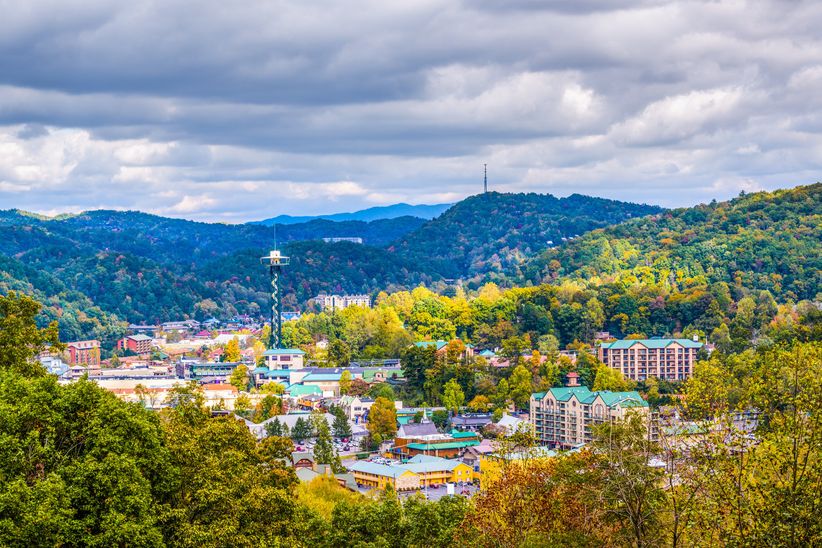 Gatlinburg, Tennessee
Tennessee may have never crossed your mind as a honeymoon location — but that's simply because you never saw the beauty of the Great Smoky Mountains with your own eyes. The quaint city has built its reputation over the years due to its beautiful East Tennessee scenery, seasonal climate, and bustling downtown area. While you could spend your honeymoon sampling moonshine at Ole Smoky Tennessee Moonshine or wandering through the assortment of stores at The Village Shops, the 500,000 acres of waterfalls, hiking trails, and incredible views along the Great Smoky Mountains is the must-see attraction. If you're ambitious enough (possibly after a few days of R&R), hike to the top of Mt. LeConte at 6,600 feet and enjoy lunch at LeConte Lodge before descending. Then unwind in one of the luxury tents — The Stargazer is the most romantic for obvious reasons — at Under Canvas.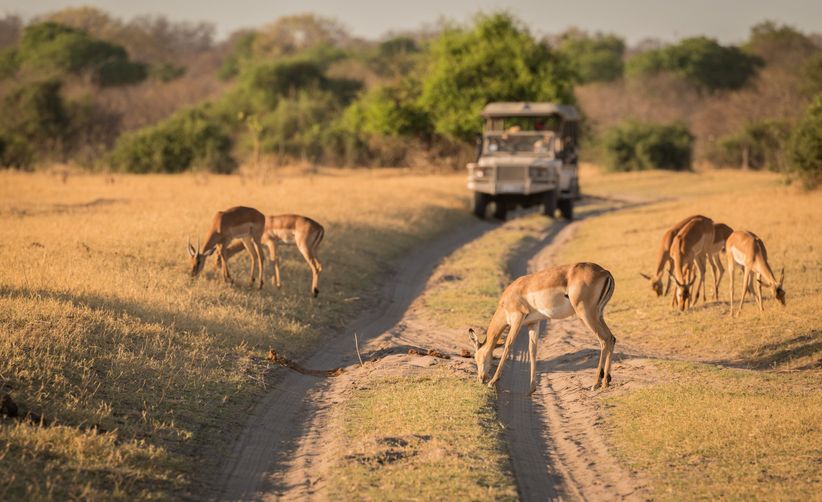 Botswana
If you both have a safari on your bucket list, your honeymoon's a good a time as any. Botswana is known to provide one of the best safari adventures, while also being one of the safest for international travelers. Here, you'll get up close and personal (not too close, don't worry!) to the Big Five Game: lion, leopard, rhinoceros, elephant, and Cape buffalo. To better understand the land that surrounds these beautiful animals, there are several services like And Beyond that let you set up in camp in secluded tents during a six to eight-day safari. Since you're in a remote area, there is limited access to electronics (Although the safari vehicles have chargers for all your devices!), which means you and your spouse will have even more uninterrupted time to enjoy each other's company.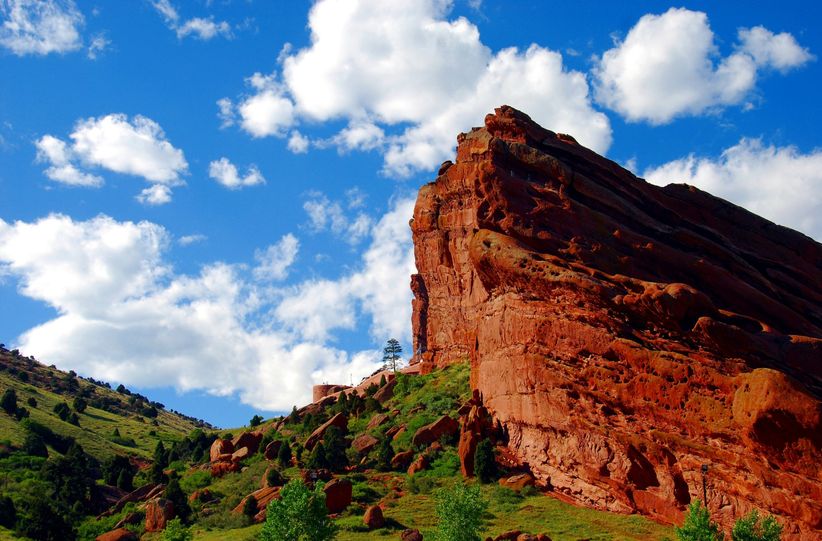 Morrison, Colorado
Music buffs, good news: You can spend your camping honeymoon rocking out your favorite bands. All year long, you'll find top artists like OneRepublic, Brantley Gilbert, and The Avett Brothers playing shows at Red Rock Amphitheater, an open-air venue smack dab in the middle of Colorado's gorgeous scenery. Even when there aren't any shows on the books, you can still take a self-guided tour to learn about the amphitheater's history and impact on music as a whole. When it's time for some peace and quiet, take a short drive to the campsite at Red Rocks Glamping. You'll still have a stunning view of the amphitheater (especially once the lights turn on), but all the comforts that come in one of their luxury glamping tents including air-conditioned bathrooms, cozy bedding, and battery-operated lighting. And if you'd rather rough it in a regular tent, you can do that too.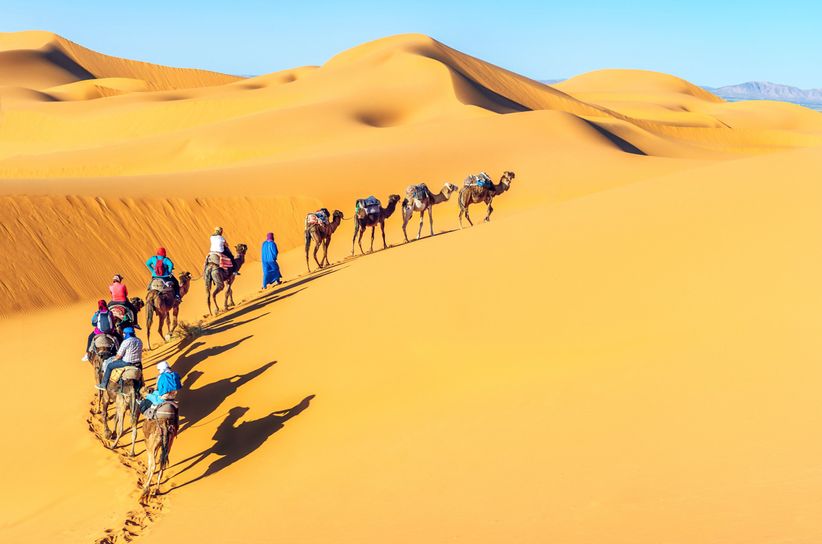 Morocco
One way to test the strength of your marriage? See if you can make it to the Moroccon desert on good terms. While the journey to the campsites in Morocco may test you, it'll offer some of the most breathtaking views of the sprawling Moroccan desert. Start in Marrakesh, Fet, or Ouarzazate before venturing into one of the Merzouga Luxury Desert Camps in the red dunes, Middle Atlas, or Moroccan desert. The burnt-orange sand will offer a stunning backdrop for your brand-new couple photos, but the stargazing at night from the comfort of your five-star tent will really steal the show.