Known as the Red City, Marrakesh is the fourth largest city in Morocco and is a major economic center. It is home to the largest traditional market in Morocco, known as souks. The souks house vendors selling a variety of products ranging from traditional Berber carpets to modern electronics. Products that are especially popular are traditional textiles, pottery and beautiful jewelry. Morocco in general and especially Marrakesh is a major tourist destination. Tourists flock to the densely packed medieval city for its markets, mosques, palaces and gardens.
If you dream of spending your honeymoon exploring the corridors of Moroccan markets, or sipping mint tea and taking in the hustle and bustle, then Marrakesh is the perfect place for you.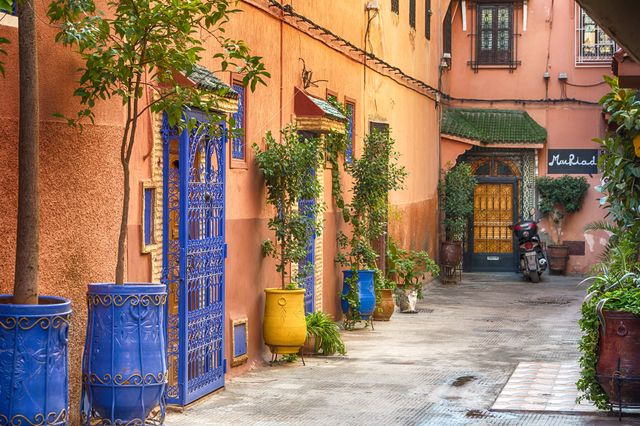 When to Go
The best times of year to visit are March to May and October to November. Visitors will find the best weather in the spring and fall and will find the city less crowded. However, summer is the most popular, albeit hottest time of year for visitors.
Top Sights and Activities
Jemaa el-Fnaa: The main square of Marrakesh, located in the Medina quarter. Popular among locals and tourists alike.
Majorelle Garden: Twelve acres of botanical gardens designed by French artist Jacques Majorelle.
Ben Youssef Madrasa: A former Islamic college now reopened as a historical site. Largest madrasa in Morocco.
Koutoubia Mosque: The largest mosque in Morocco.
The Bahia Palace: A palace and several gardens built in the late 19th century.
Shopping at Souks: Spend an afternoon exploring a maze of shops selling a variety of hand crafted products and souvenirs.
City Walls and Gates: Marrakesh is surrounded by impressive 6 meter high walls which have some 19 gates and 200 towers.
Menara Gardens: Botanical gardens in the west of Marrakesh which have the Atlas Mountains as a backdrop.
Marrakesh Museum: Located in the Dar Menebhi Palace. Houses modern and traditional art from Morocco and cultural artifacts.
Badi Palace and Royal Palace: Two palaces located on the Eastern side of the Kabash. Interesting architecture.
Saadian Tombs: Sixteenth-century mausoleum for Saadian rulers. Interesting example of Islamic architecture.
Mount Toubkal: Perfect day trip from Marrakech. Tallest peak in North Africa.