The 33 Best Bridal Robes for People Who Appreciate Style and Comfort
Bridal robes are a fun way to make getting ready on your wedding day feel even more special. We've rounded up our favorite picks you can shop online.
We have included third party products to help you navigate and enjoy life's biggest moments. Purchases made through links on this page may earn us a commission.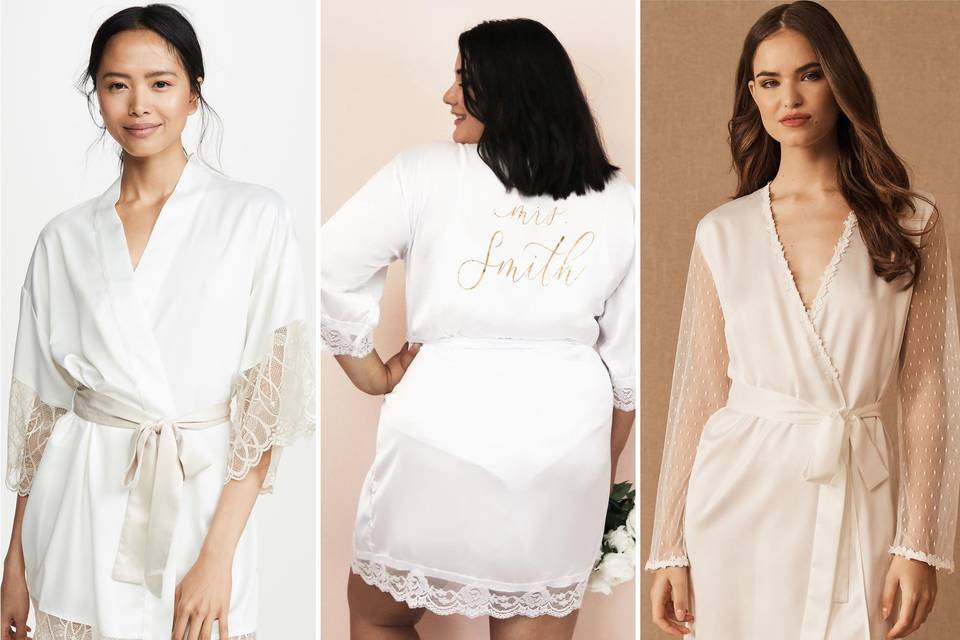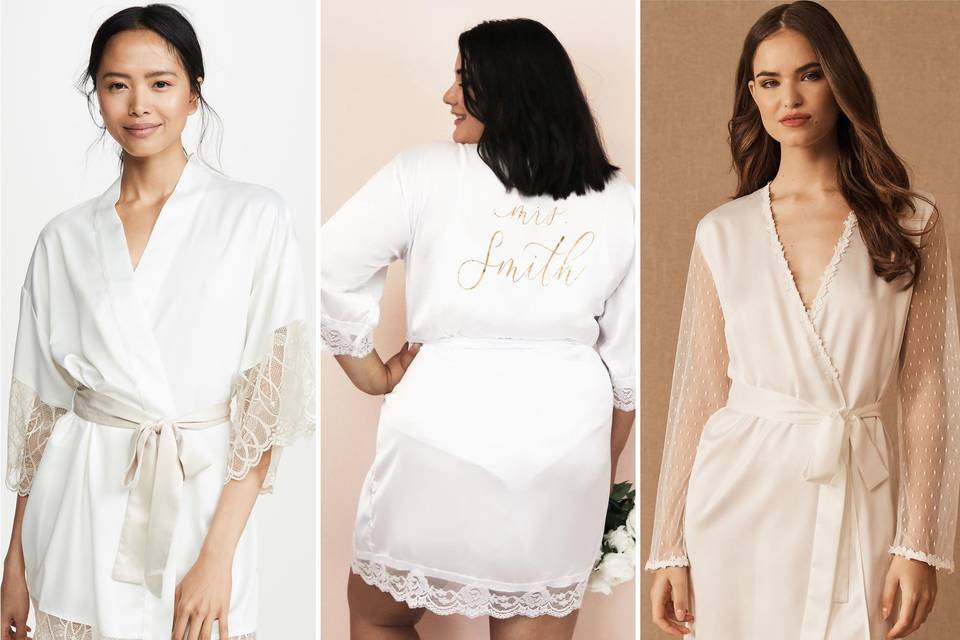 Getting ready to marry the love of your life is an incredible experience, and bridal robes are an awesome way to help make the moment feel extra special. Let's face it, the morning of your wedding is going to be busy. That's all the more reason to pick out a stylish getting-ready robe that feels comfortable enough for sitting through hair and makeup, and looks the part too. To make things easier, we've gathered all the best bridal robes right here that are just a click away from your wardrobe. Once you've decided on your own getting-ready attire, consider gifting your wedding party some cute bridesmaid robes to match. They'll make excellent bridal party gifts for everyone in your crew.
Lace Bridal Robes
Deciding what to wear while getting ready for your wedding can be tricky. You want something that looks beautifully bride-worthy in your wedding photos, but that's comfy enough to wear while your hair and makeup team work their magic. Lace bridal robes are a light and airy option that'll help you keep cool and look classy.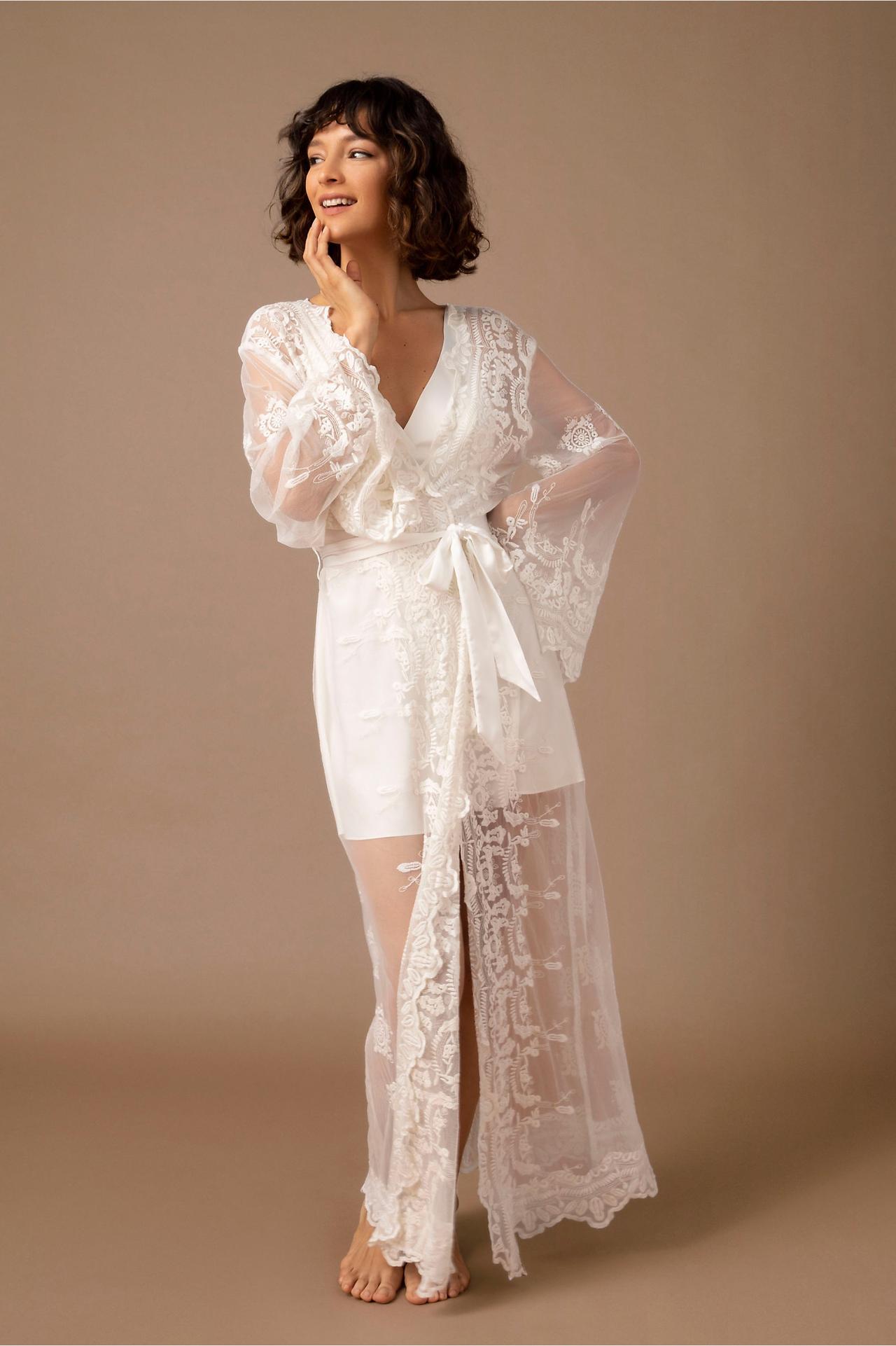 Sheer Romance
This ankle-length ensemble is covered in delicate lacy details that'll look oh-so stunning over a set of cute white pjs or other bridal loungewear. Plus, you can totally rewear it with your wedding night lingerie.
Homebodii Madona lace robe, $150, Anthropologie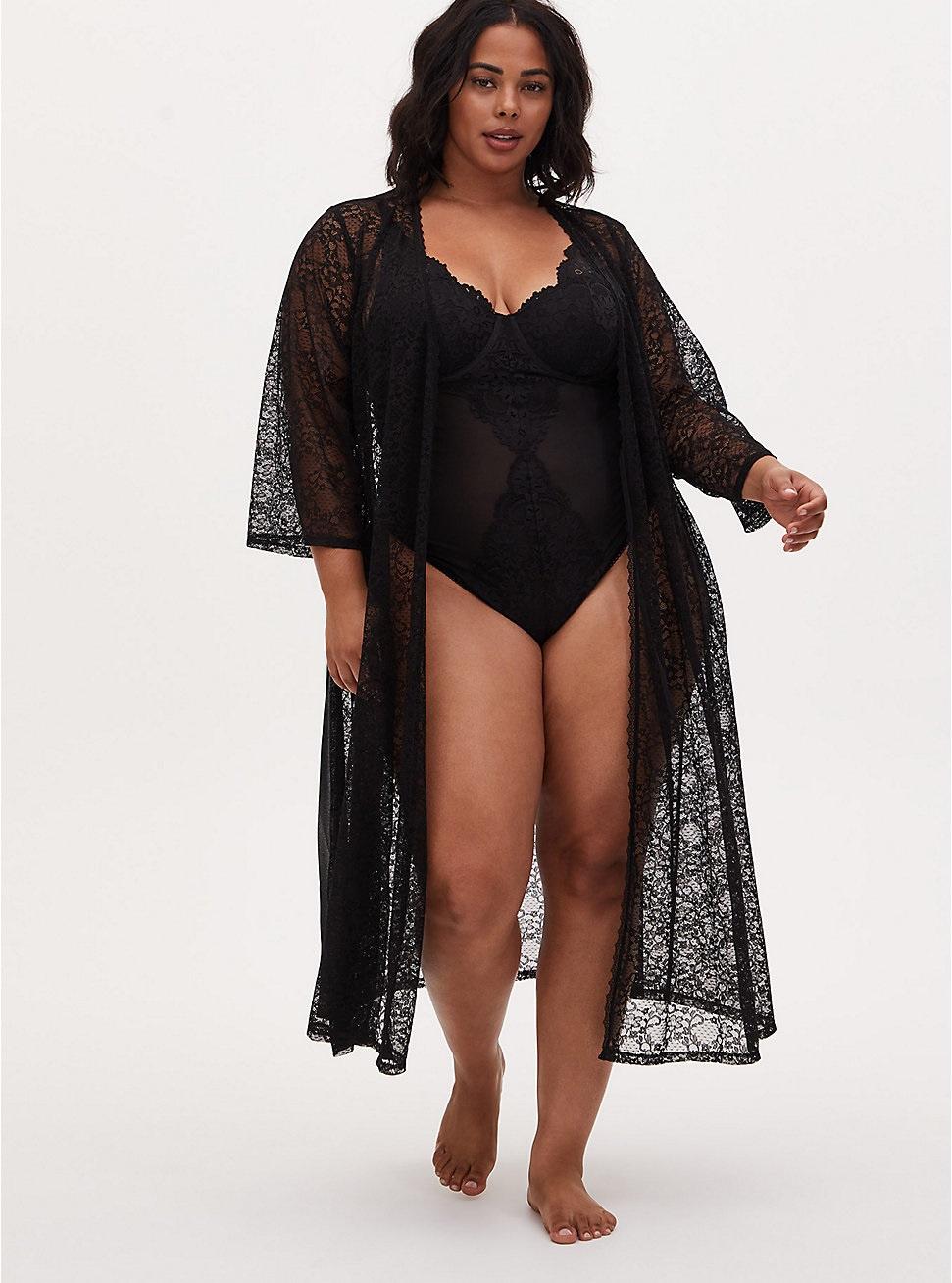 Back to Black
Just because you're the bride doesn't mean you have to wear white. If darker colors are more your style, this black lace bridal robe is for you. There's also a sleek satin bow around the waist to keep it secure.
Torrid black lace self tie long robe, $70, Torrid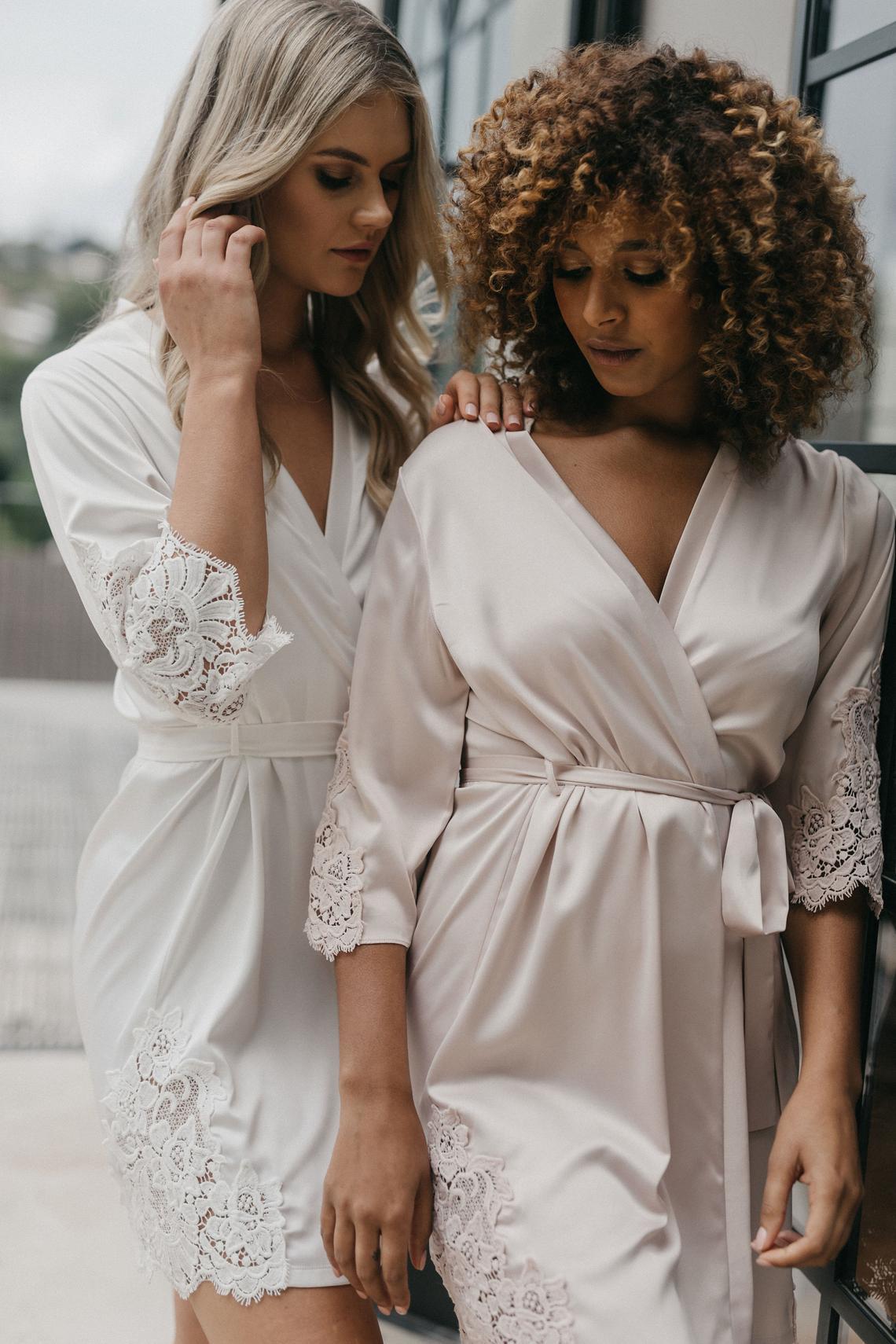 Tasteful Trimming
Lace trimming gives these chic wedding robes an elegant touch. Pick white or champagne for you, and black or mauve for your bridesmaids.
Le Rose Gifts lace bridal robe, from $44, Etsy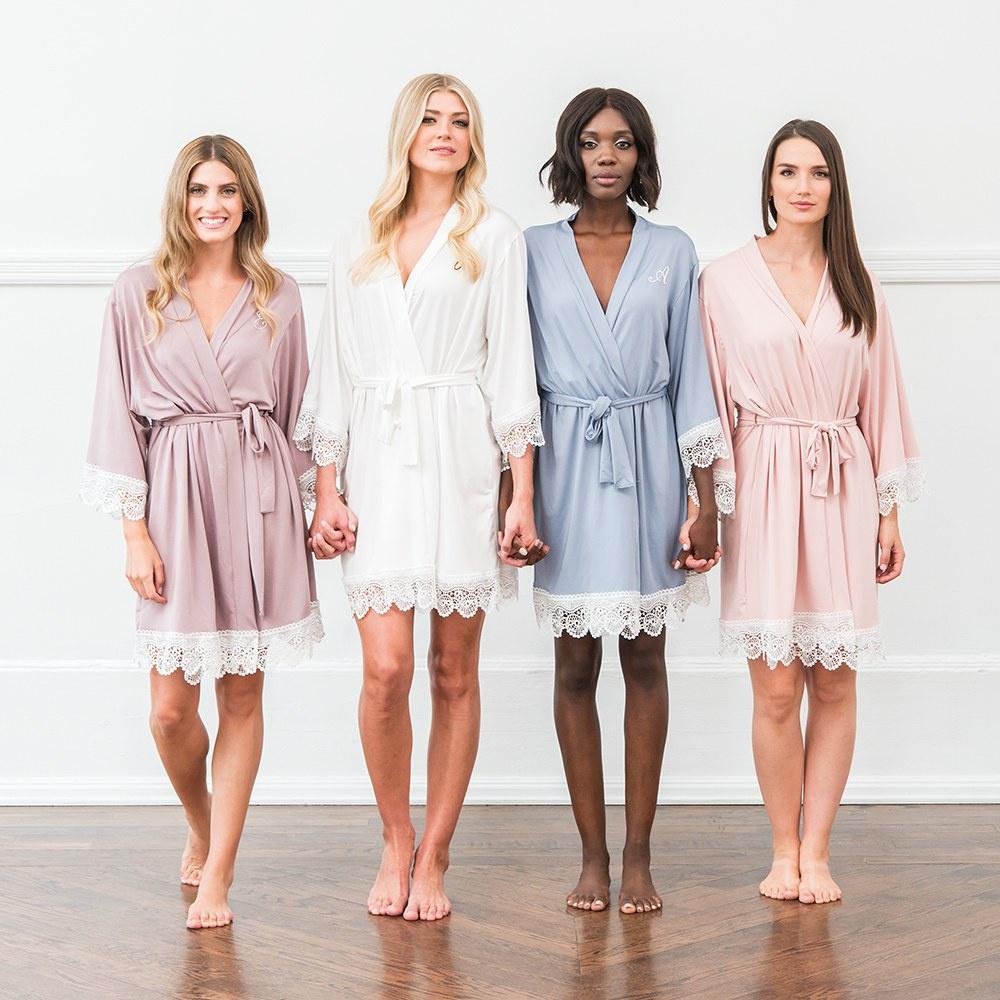 Subtle Details
Even if you go for the blue, mauve, or blush versions of this affordable robe, the white lace trim makes each option feel beautifully bridal.
WeddingWire Shop women's personalized jersey knit robe with lace trim, $22, WeddingWire Shop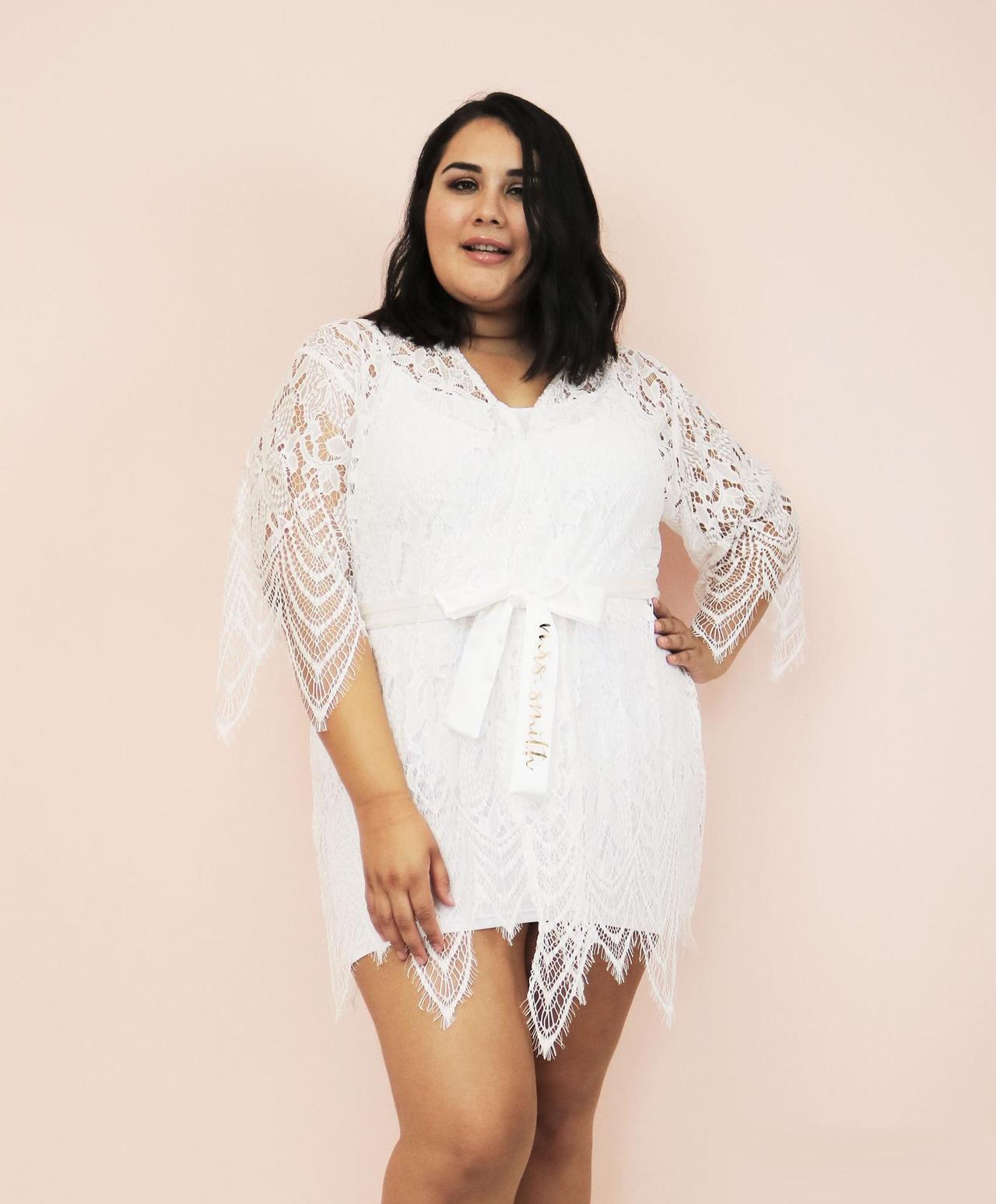 Vintage Fashion
This white lace robe comes with a cute slip, and the sash can be personalized with your future surname (if you've decided to change your last name, that is).
Mod Party lace bridal robe, from $34, Etsy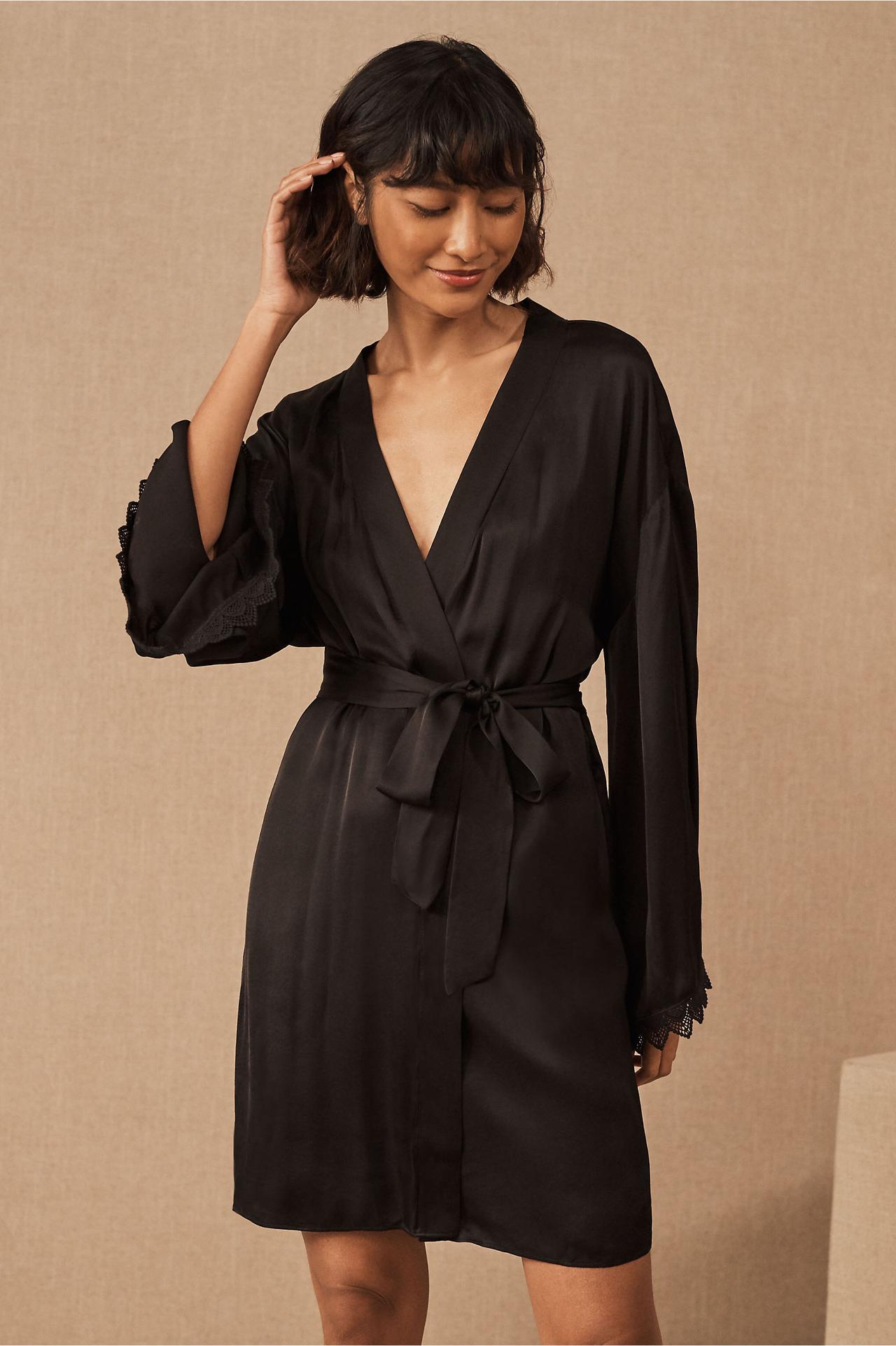 Modern and Minimalist
Here's another option for soonlyweds who aren't set on wearing white for every wedding-related event. Minimalist lace trimming on the sleeves adds just the right amount of romantic charm to this silky bridal robe.
BHLDN Matine robe, $68, Anthropologie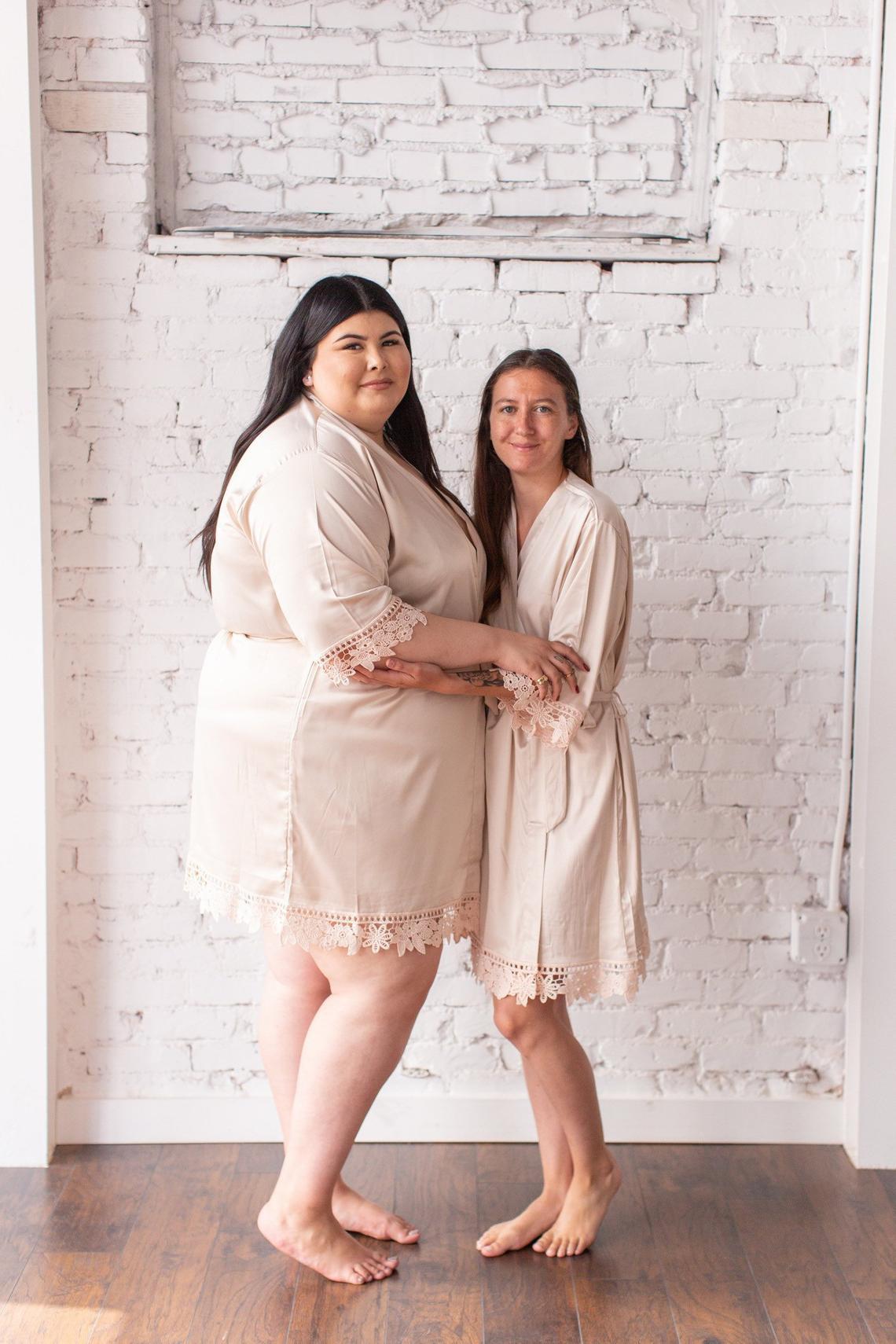 Soft and Silky
These lace bridal robes certainly don't look cheap, but they're completely budget friendly. They come in a whole range of colors and sizes so you can dress up your whole bridal party.
Champagne Bubbles silky lace robe, from $16, Etsy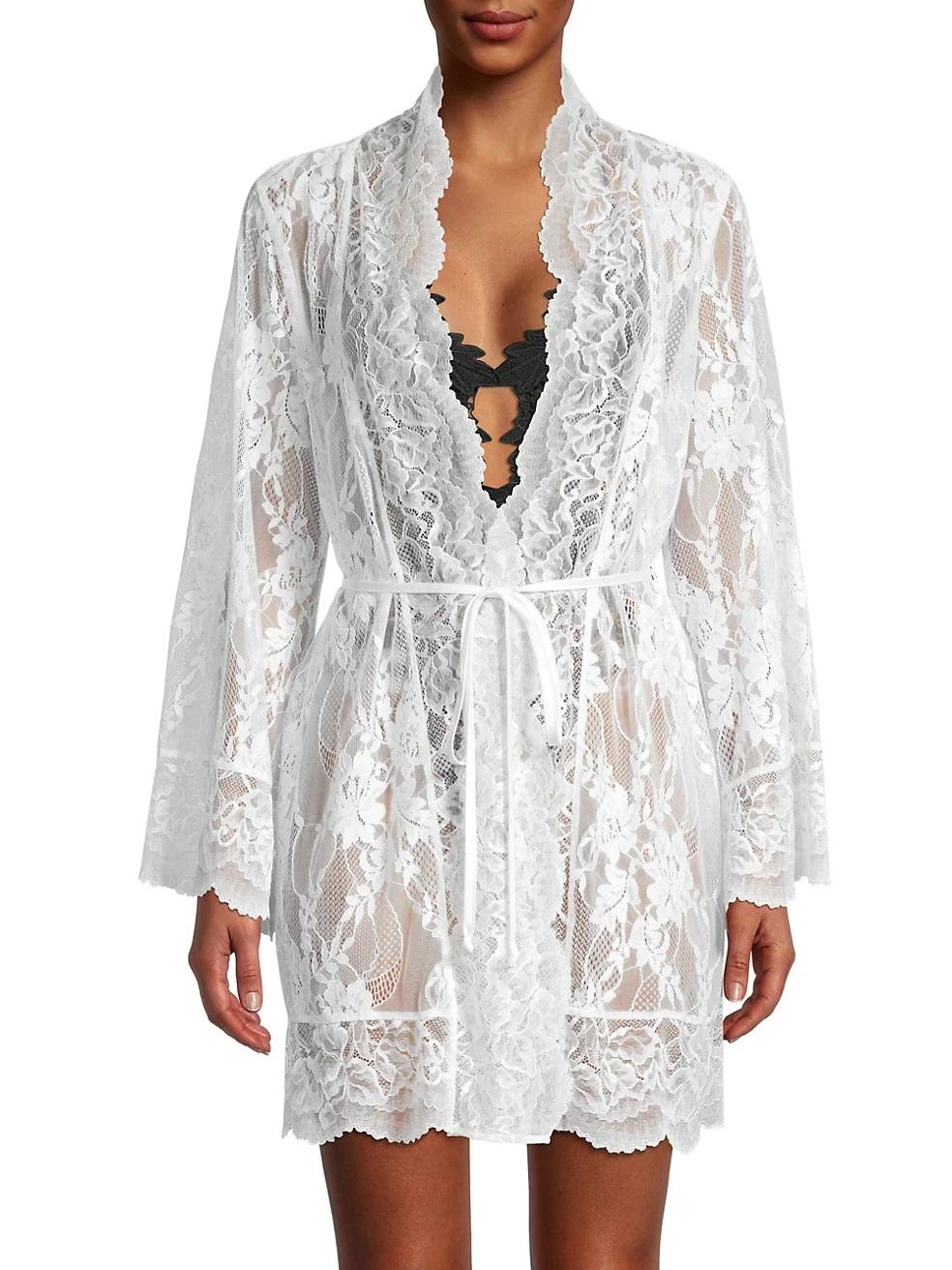 Lady in Lace
If you're willing to splash out on something a little more expensive, we love this (machine-washable!) allover lace wrap. It's a little on the sultry side, so you can easily wear it again later on with some sexy bridal lingerie.
Jonquil Collette lace wrap robe, $110, Saks Fifth Avenue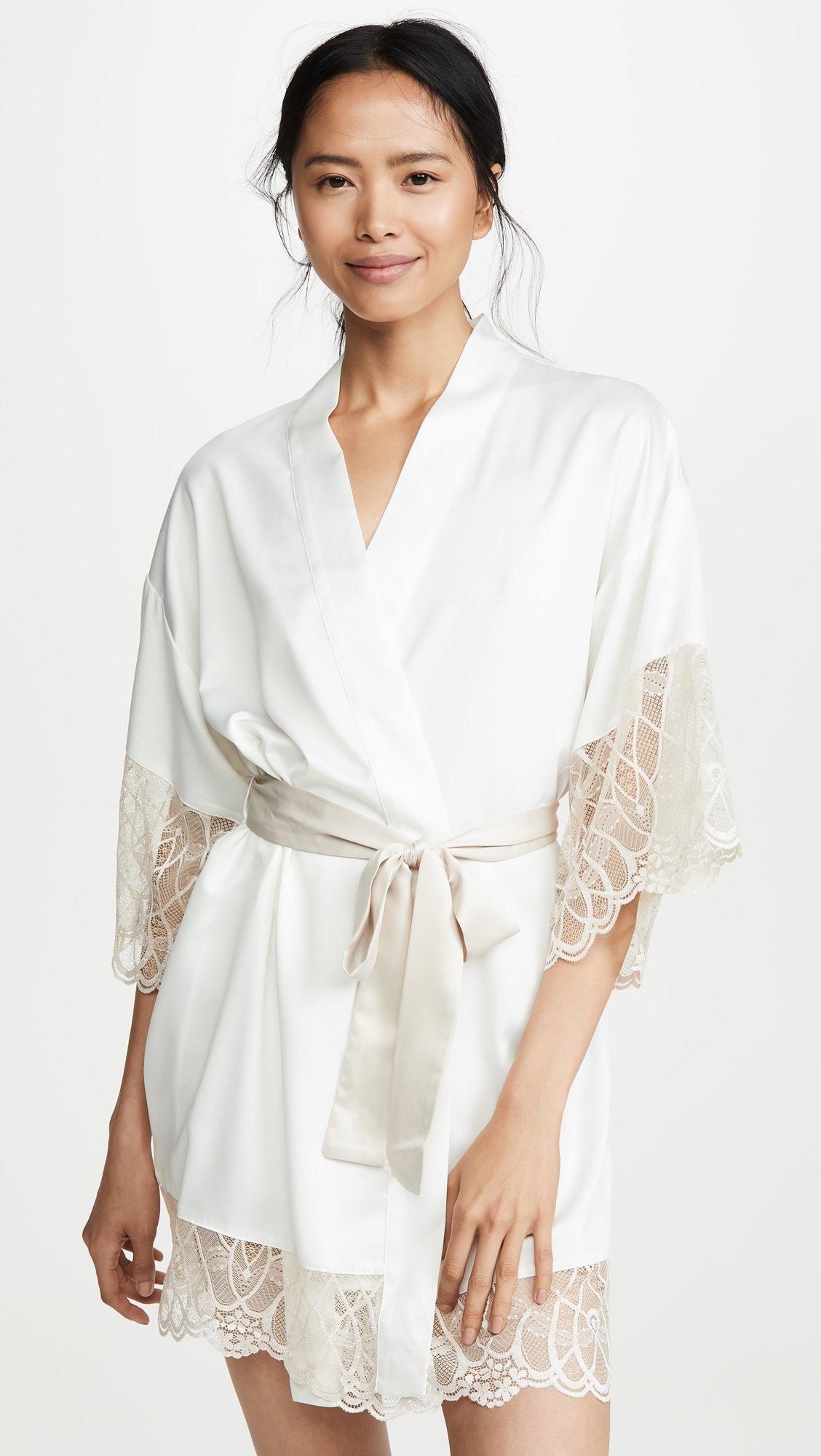 Champagne Chic
Or, keep it toned down with a classic ivory wrap adorned with sheer lace in an elegant shade of champagne.
Flora Nikrooz Gabby charmeuse robe, $88, Shopbop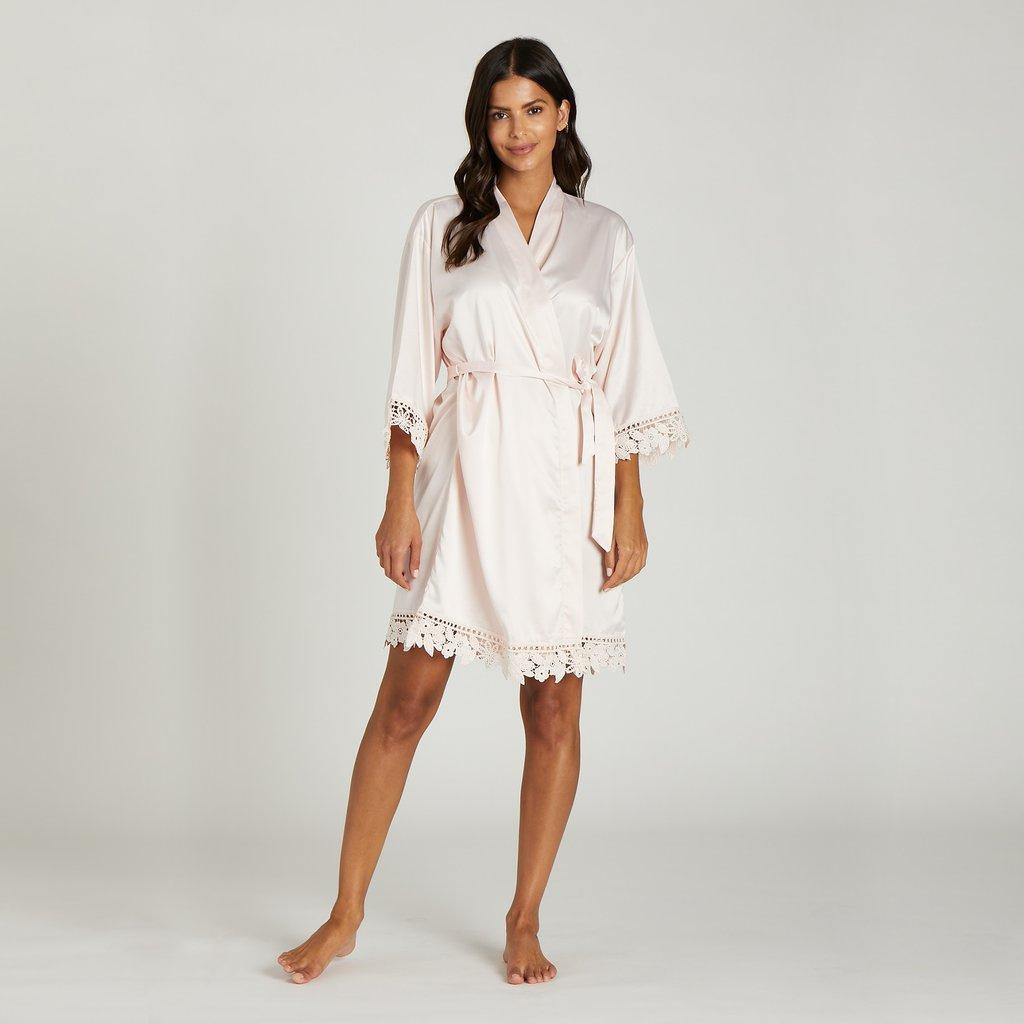 Bridal Blush
If inexpensive bridal robes are what you're looking for, your search stops here! Gorgeous lace lines the hem and sleeves of this chic satin wrap in a pretty shade of pink.
Birdy Grey satin lace robe in Blush, $29, Birdy Grey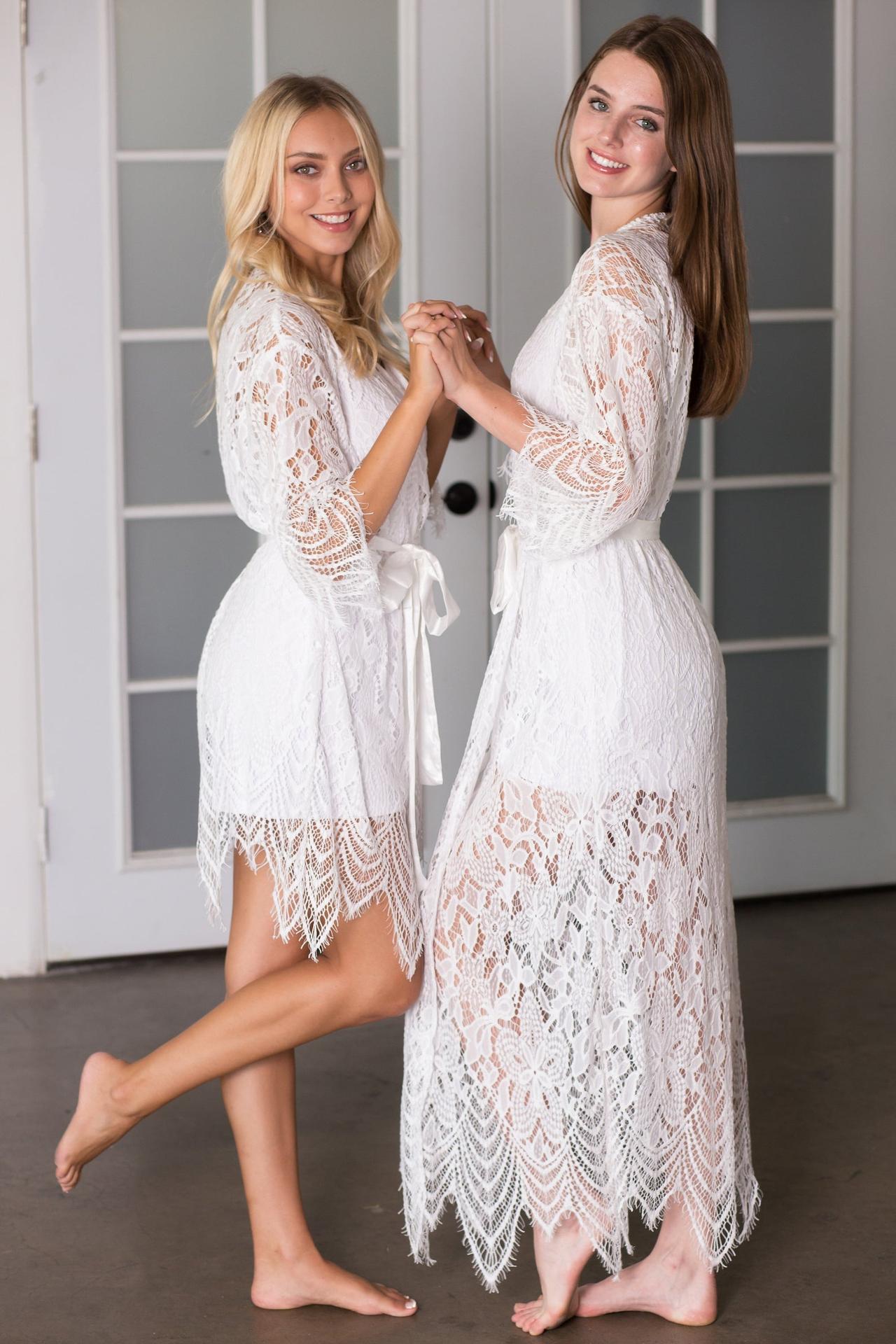 Delicately Detailed
These stunning robes each come with a personalized belt tie and a slip for coverage. Go all out with head-to-toe lace, or keep it short and sweet with a knee-length option.
Blush Blossom Sugar white lace bridal robe, from $34, Etsy
White Bridal Robes
If you want to make the most of your bridal status, there are plenty of wedding robes that come in a timeless shade of white. We've rounded up our favorites, from the plush and personalized to the soft and silky.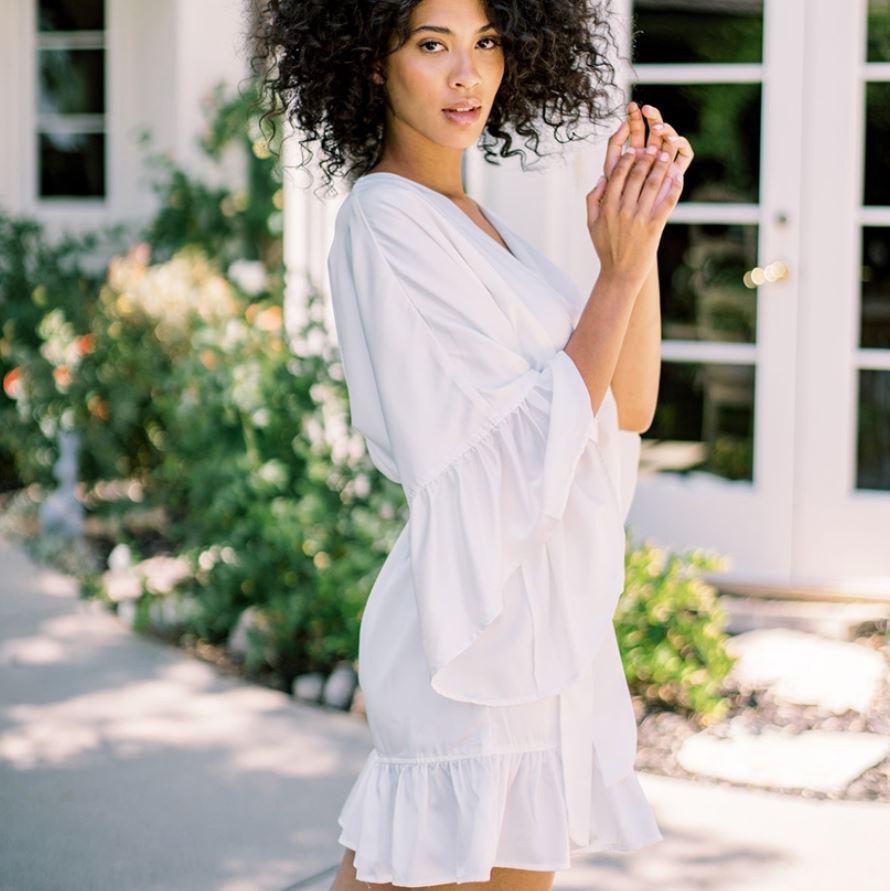 Boho Beauty
Light and flowy, this bride-worthy robe is perfect for getting ready in. Plus, the ruffle accents are so on trend right now.
Plum Pretty Sugar Ventana Fortunate robe, $74, Plum Pretty Sugar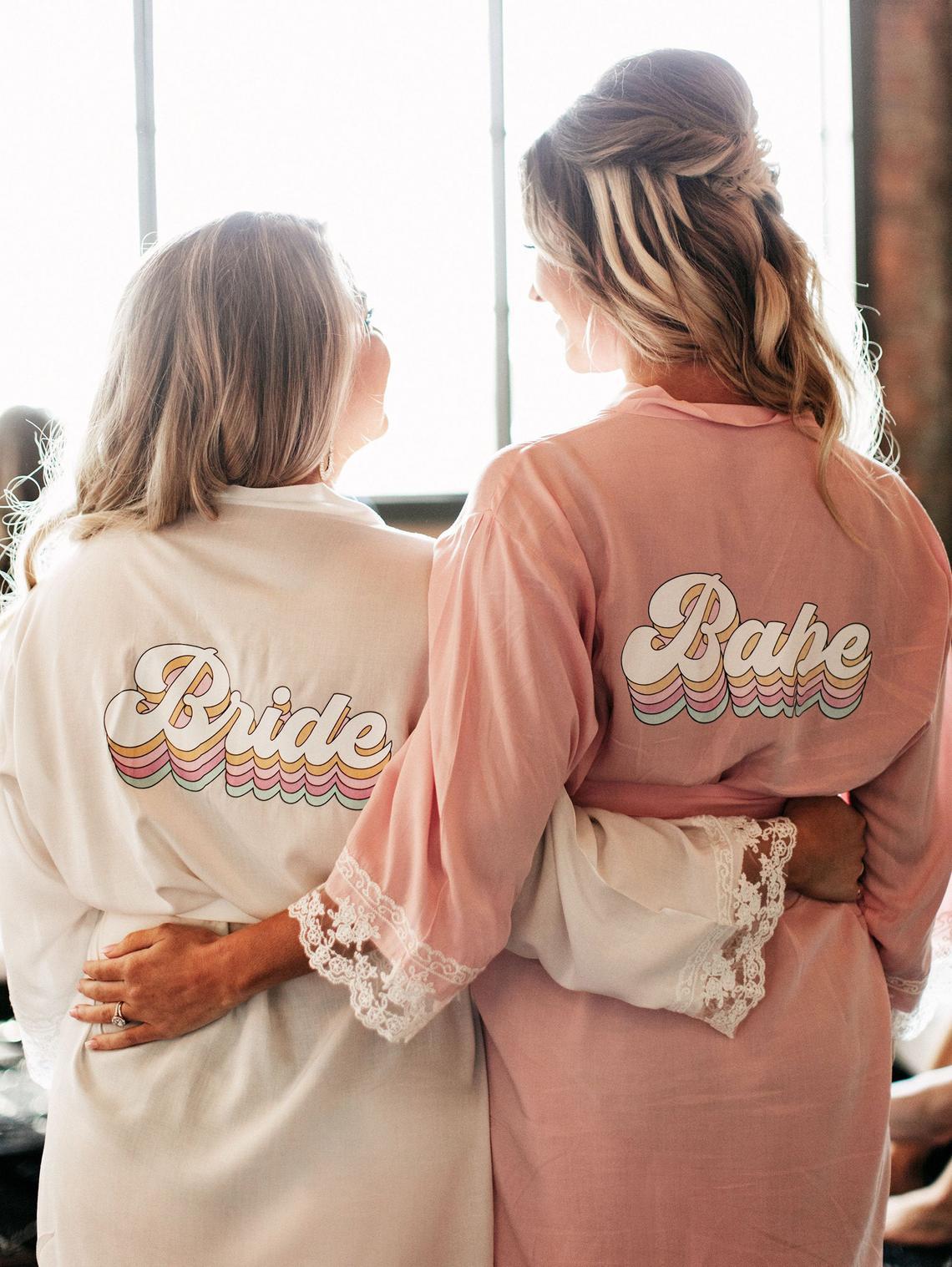 Cute and Colorful
Make sure everyone knows whose day it is with this fun white robe that has "bride" printed on the back in retro lettering. (Psst, don't forget the coordinating "babe" robes for your bridesmaids!)
Mod Party lace Bride robe in White, from $18, Etsy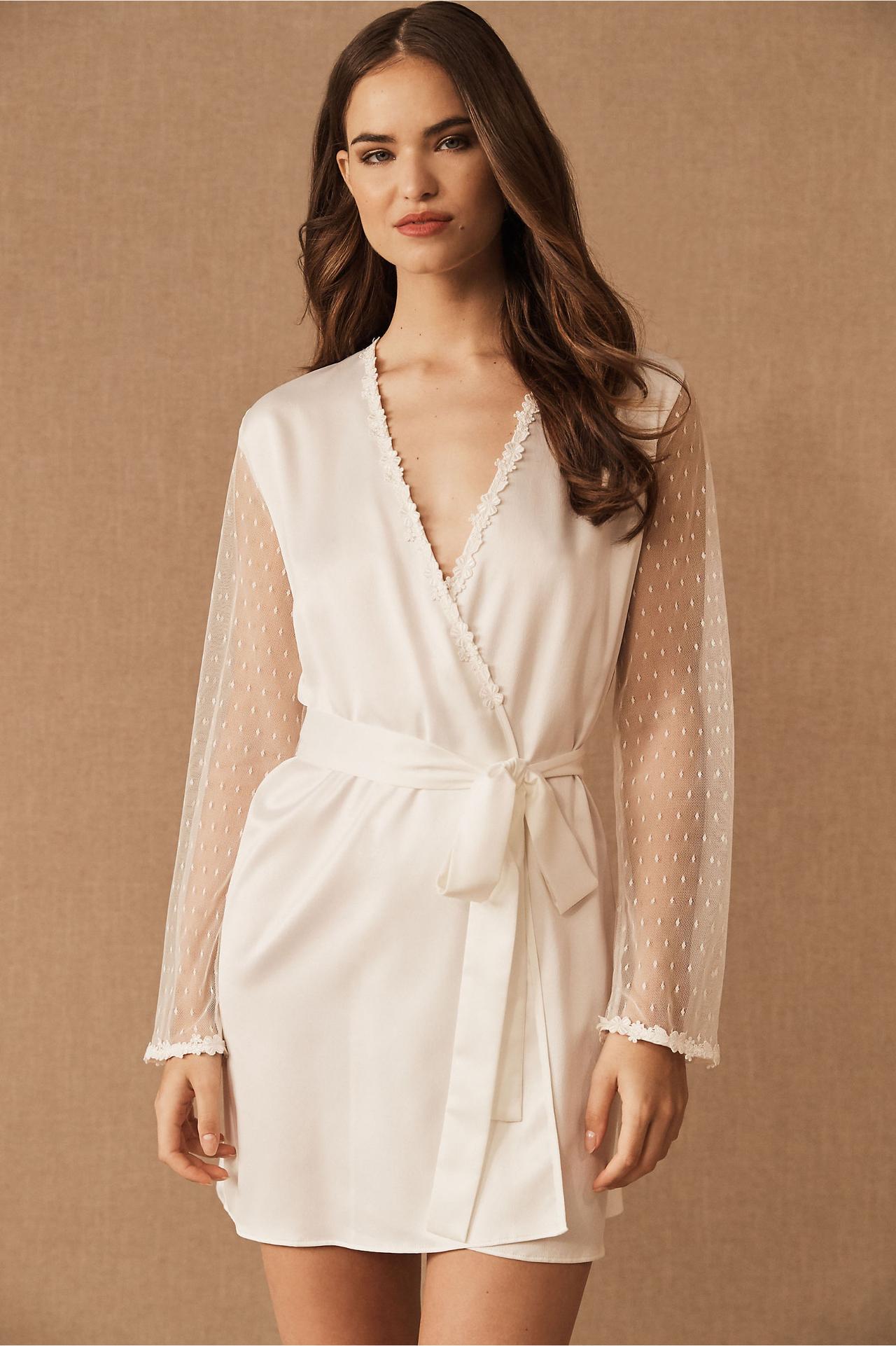 Playful Polka Dots
This stunning cover-up has sheer, patterned sleeves and delicate detailing along the neckline. What's not to love?
Flora Nikrooz Showstopper cover up, $88, Anthropologie
Elegant Lettering
Personalization? Check. Lace details? Check. This plus-size robe is definitely fit for a bride.
Mod Party plus size bride robe in White, $28, Etsy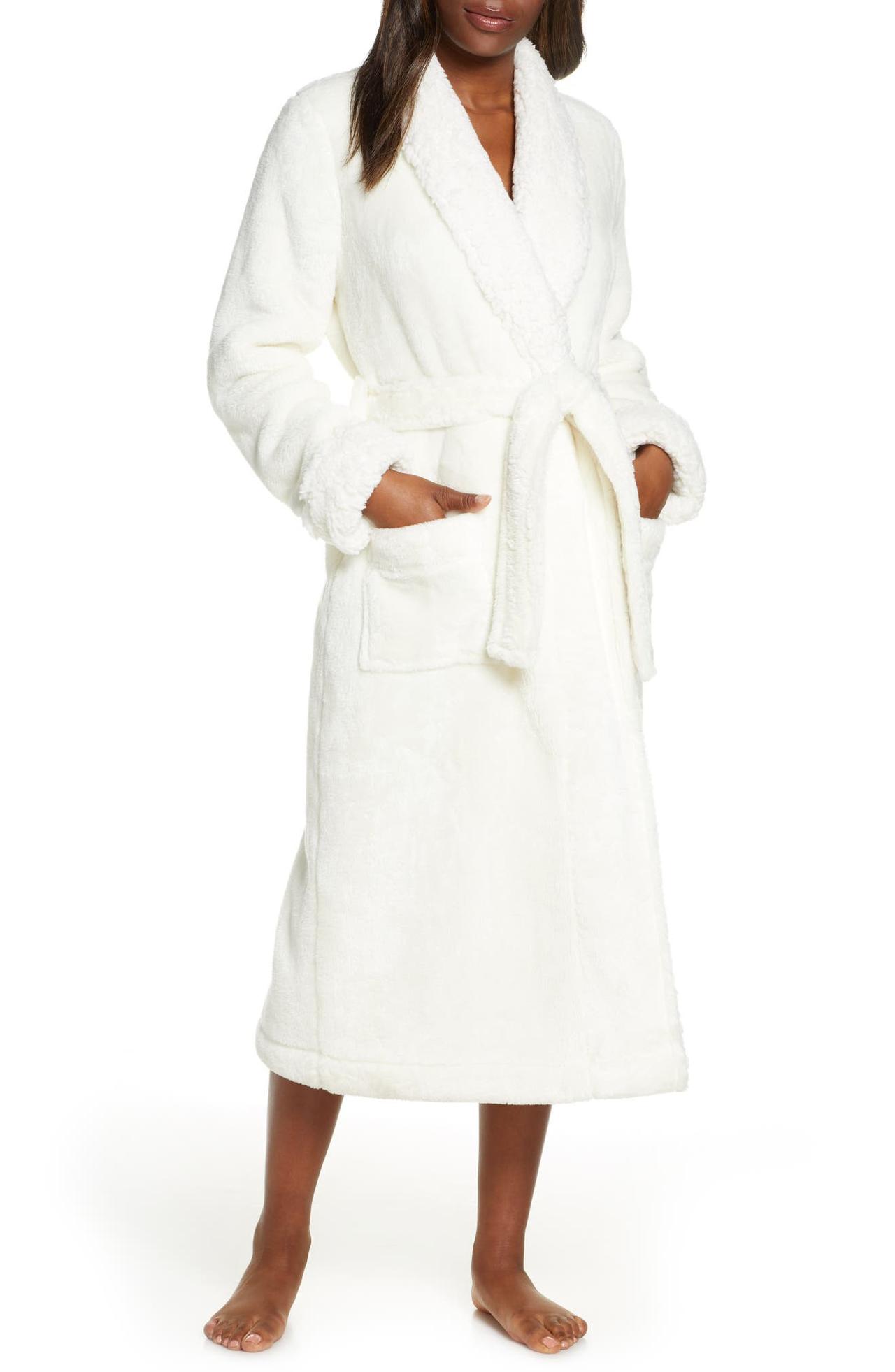 Perfectly Plush
Who said a bridal robe has to be silky? This plush ivory alternative will make getting ready feel like a spa experience.
Nordstrom frosted plush robe in Ivory Egret, $79, Nordstrom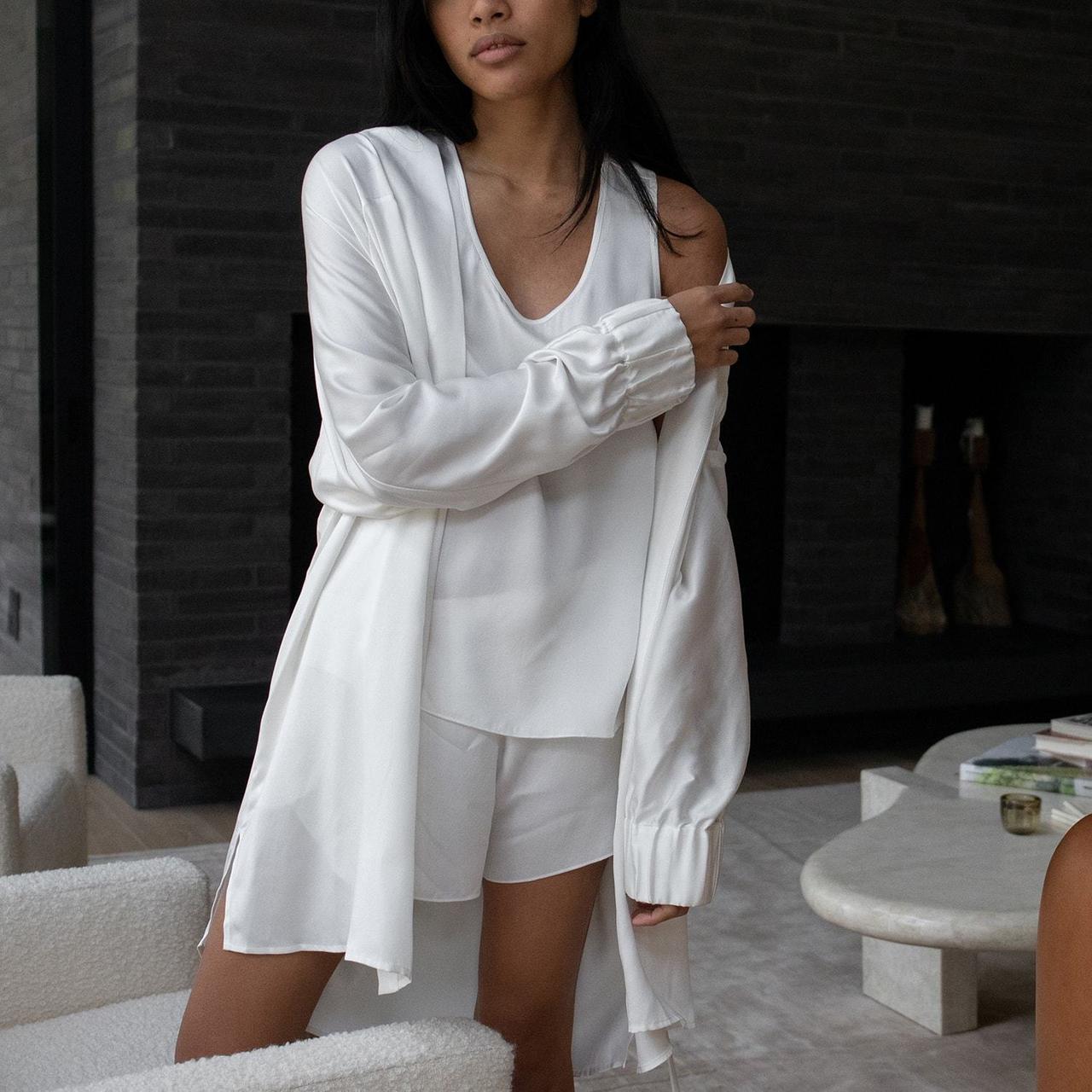 Luxe Loungewear
There's a reason Lunya's loungewear is so popular—who could resist the allure of soft, washable silk? This minimalist robe will be a versatile addition to your wardrobe long after the wedding day. (Psst, make it a chic bridal robe set by adding a pair of matching pajamas.)
Lunya washable silk robe in Starlight, $248, Lunya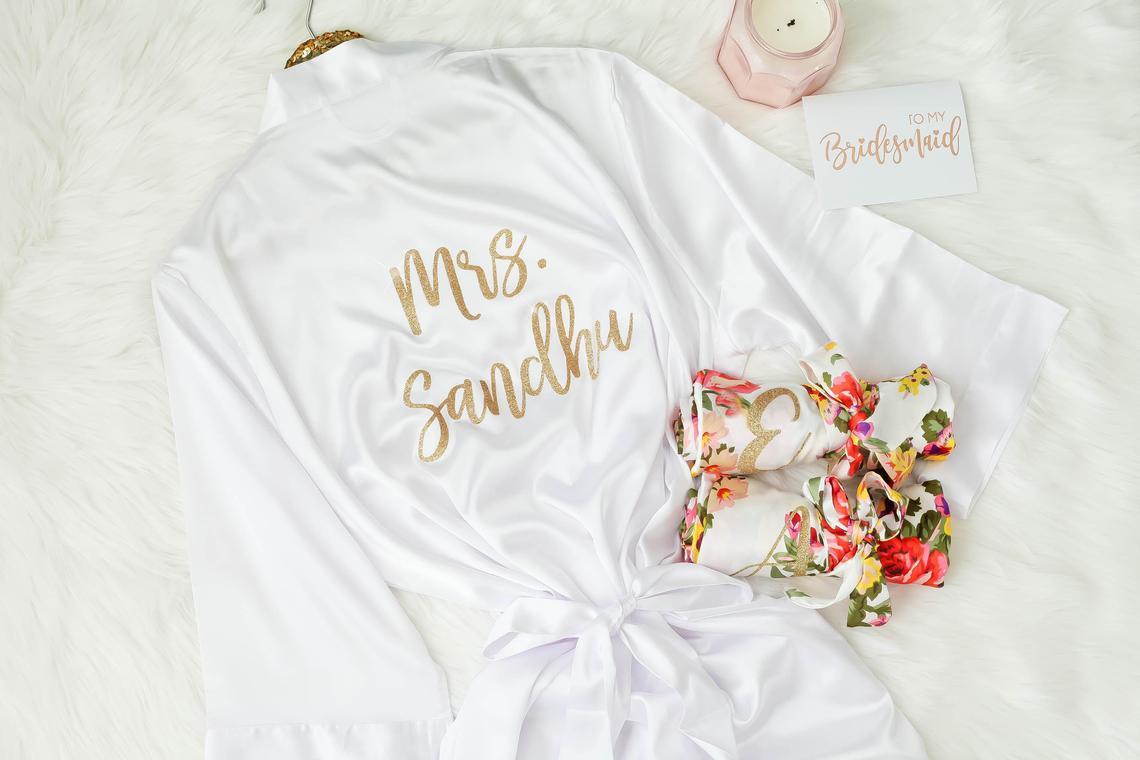 Glittering Gold
If you came here looking for personalized bridal robes, check out this stylish and affordable find.
Joyma Belle Gifts bride getting ready robe in White, from $16, Etsy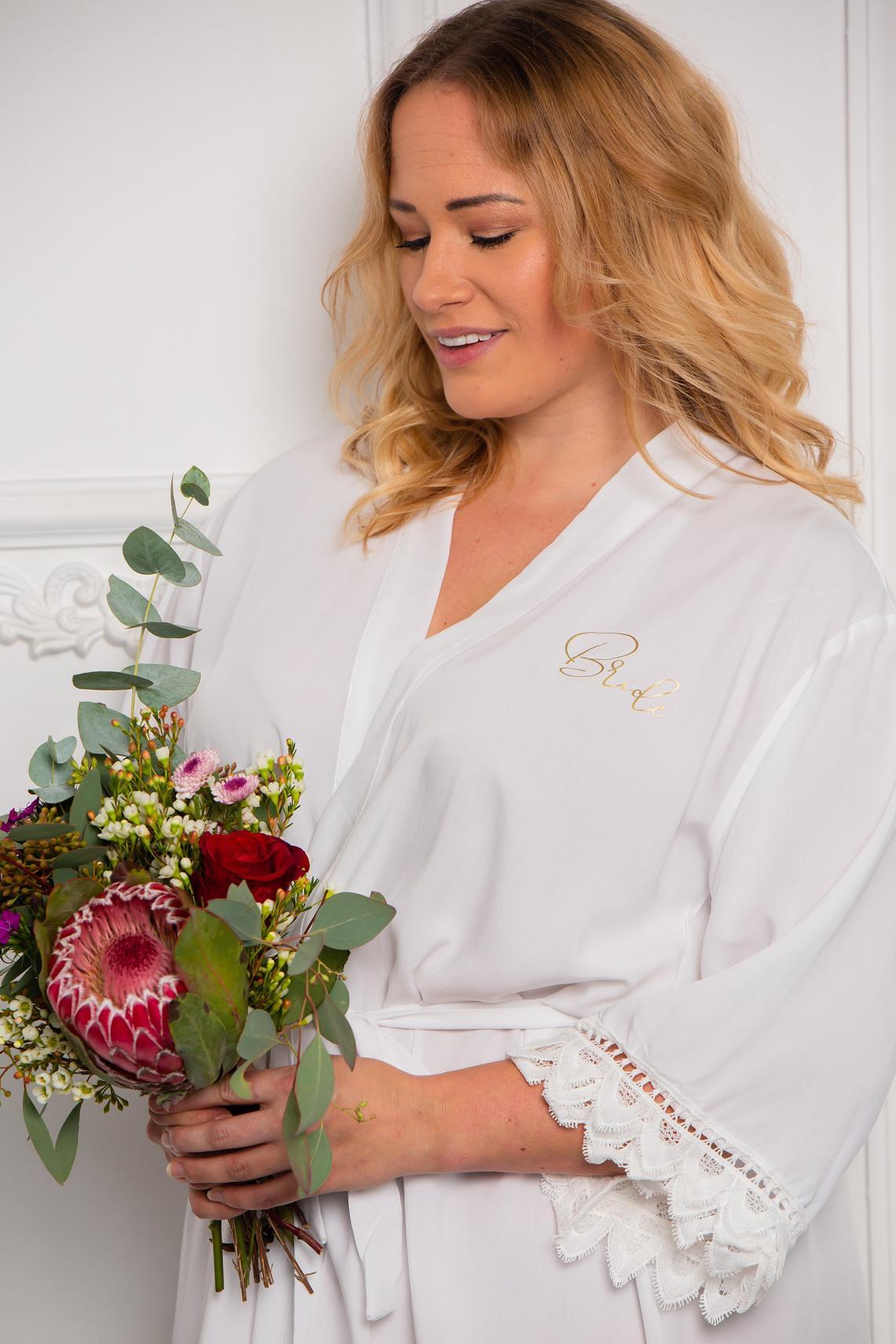 Simply Flattering
The best bridal robes are the ones that comfortably fit you, your style, and your budget. This cute cover-up comes in a range of sizes and can be ordered as is or customized with your monogram for a small extra fee.
My Lovely Pjs bridal robe in White, from $40, Etsy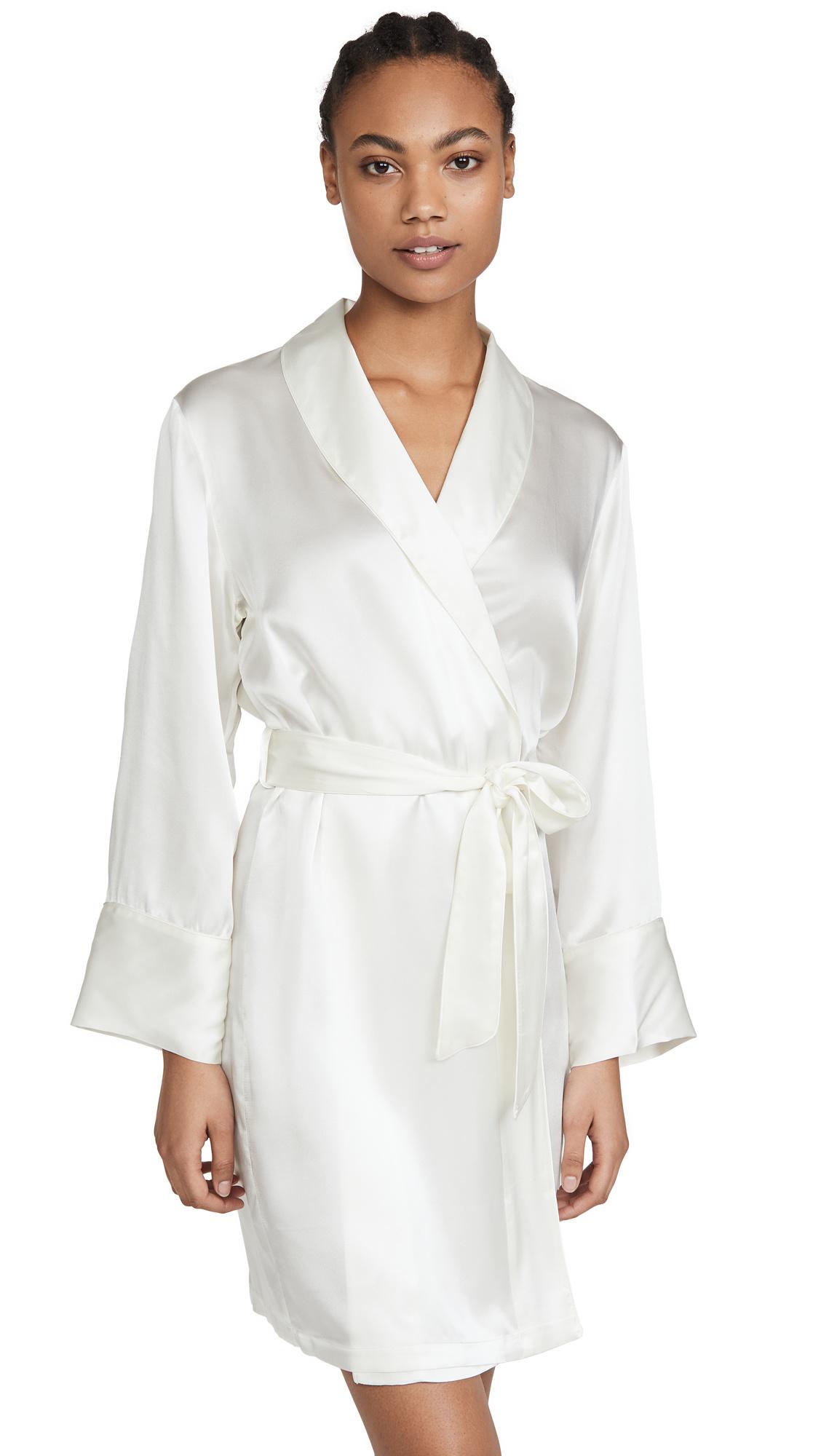 Silky and Sophisticated
As far as luxury bridal robes go, this one might just top the list. Made from a lightweight, silky material, you'll feel cool and comfortable all morning.
Journelle Charlotte short robe in Ivory, $224, Shopbop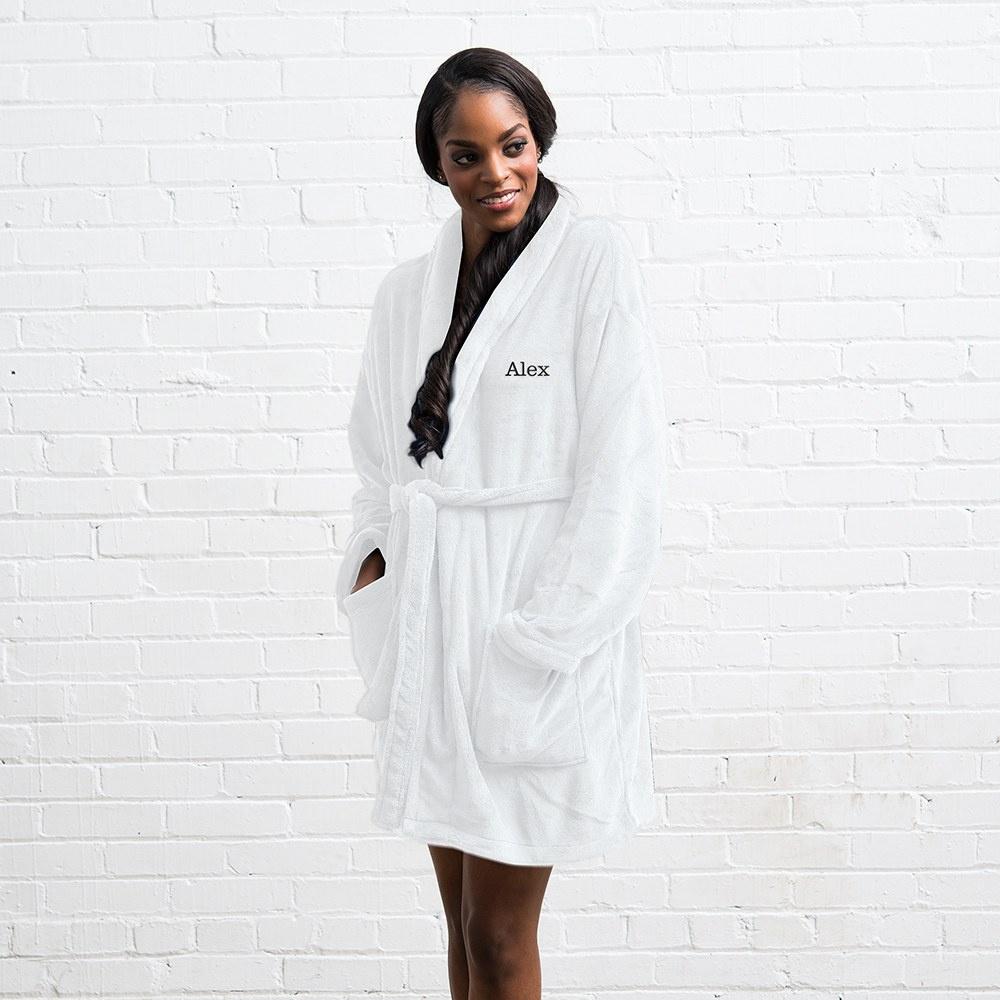 Cozy Fleece
There's no shortage of cute, custom bridal robes to choose from. We love this minimalist style from the WeddingWire Shop that can be monogrammed or embroidered with your name. Bonus: It has pockets!
WeddingWire Shop women's personalized embroidered fleece robe in White, $27, WeddingWire Shop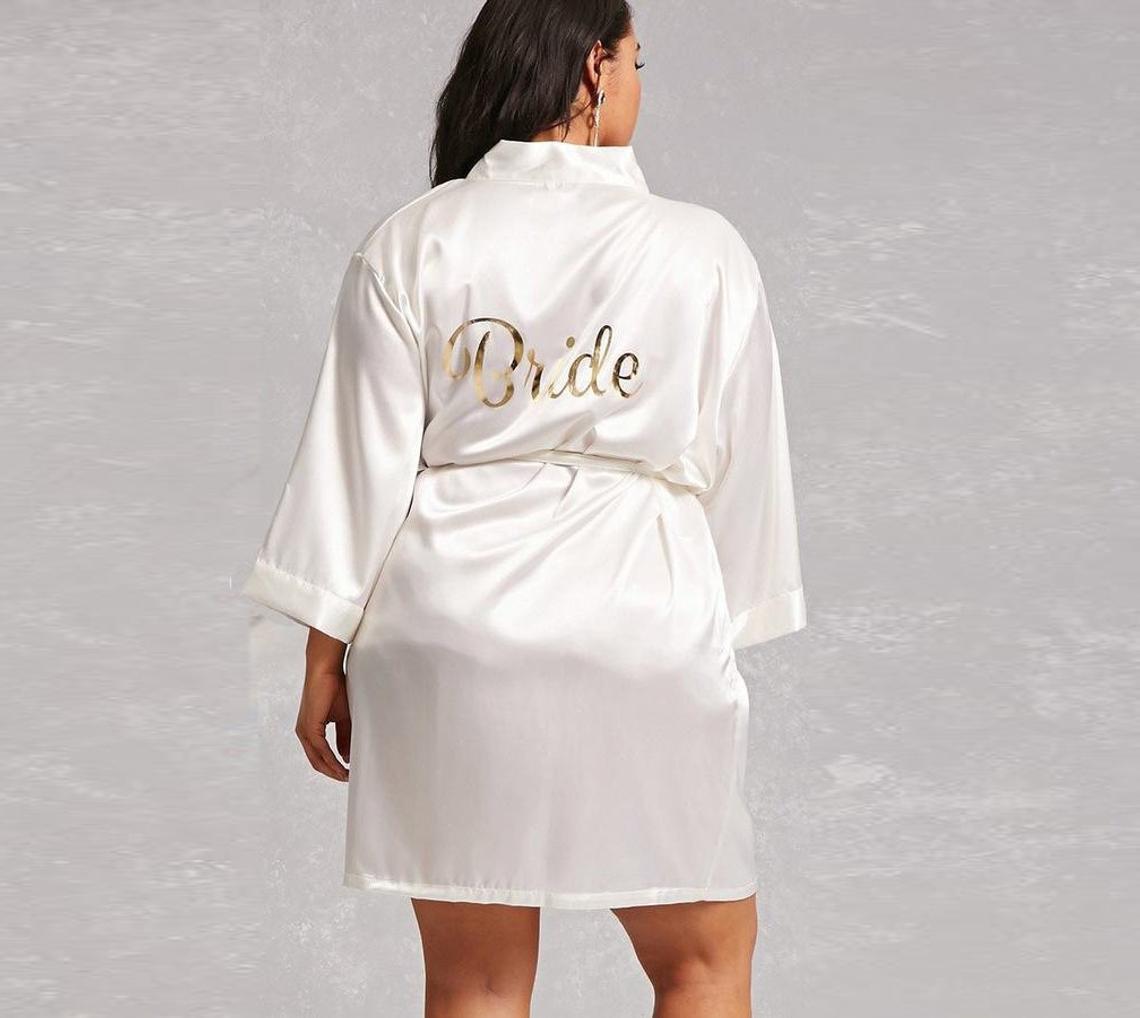 Boldly Bridal
Let your robe do all the talking with this chic, affordable option that reads "Bride" on the back in an elegant font.
Cute Sayings plus size bride robe, from $25, Etsy
Long Bridal Robes
The only rule when it comes to wedding fashion is staying true to you. If that means all things long and floaty, we've got you covered. Whether you want to stick with white or explore some more colorful options, one of these gorgeous wedding robes is sure to please.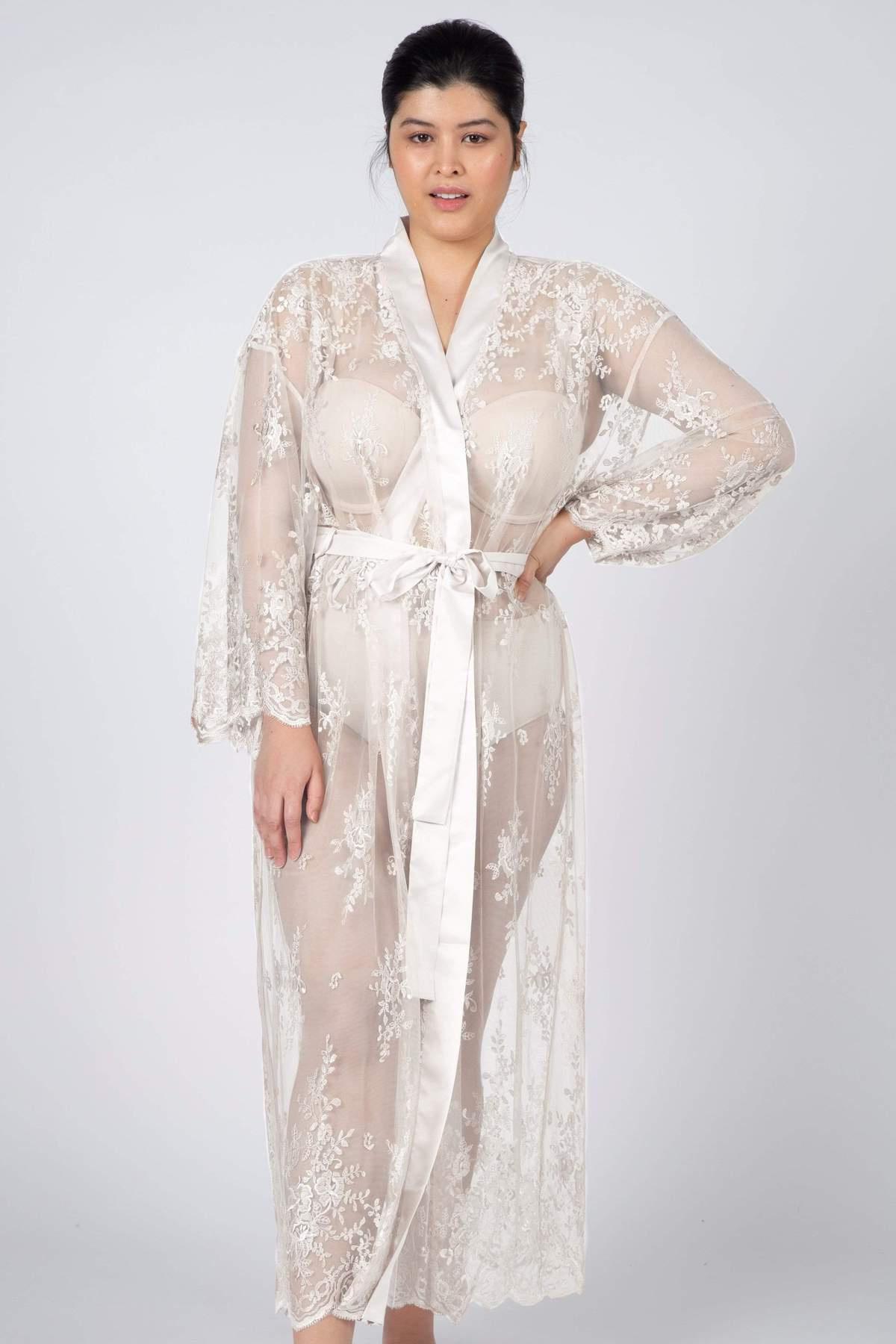 Elegant Embroidery
Searching for a stunning long bridal robe to get ready in? Look no further than this sheer, embroidered masterpiece. You can even transfer it to your daytime wardrobe after the wedding to wear as a statement piece with something casual.
Rya Collection Darling robe, $142, CoEdition

Sweeping Sophistication
This long bridal robe comes in a brilliant shade of white and features a unique and commanding silhouette. It's a little on the pricey side, but luxurious pima cotton and a cutting-edge style totally make up for it.
Lunya The Robe in White, $250, Lunya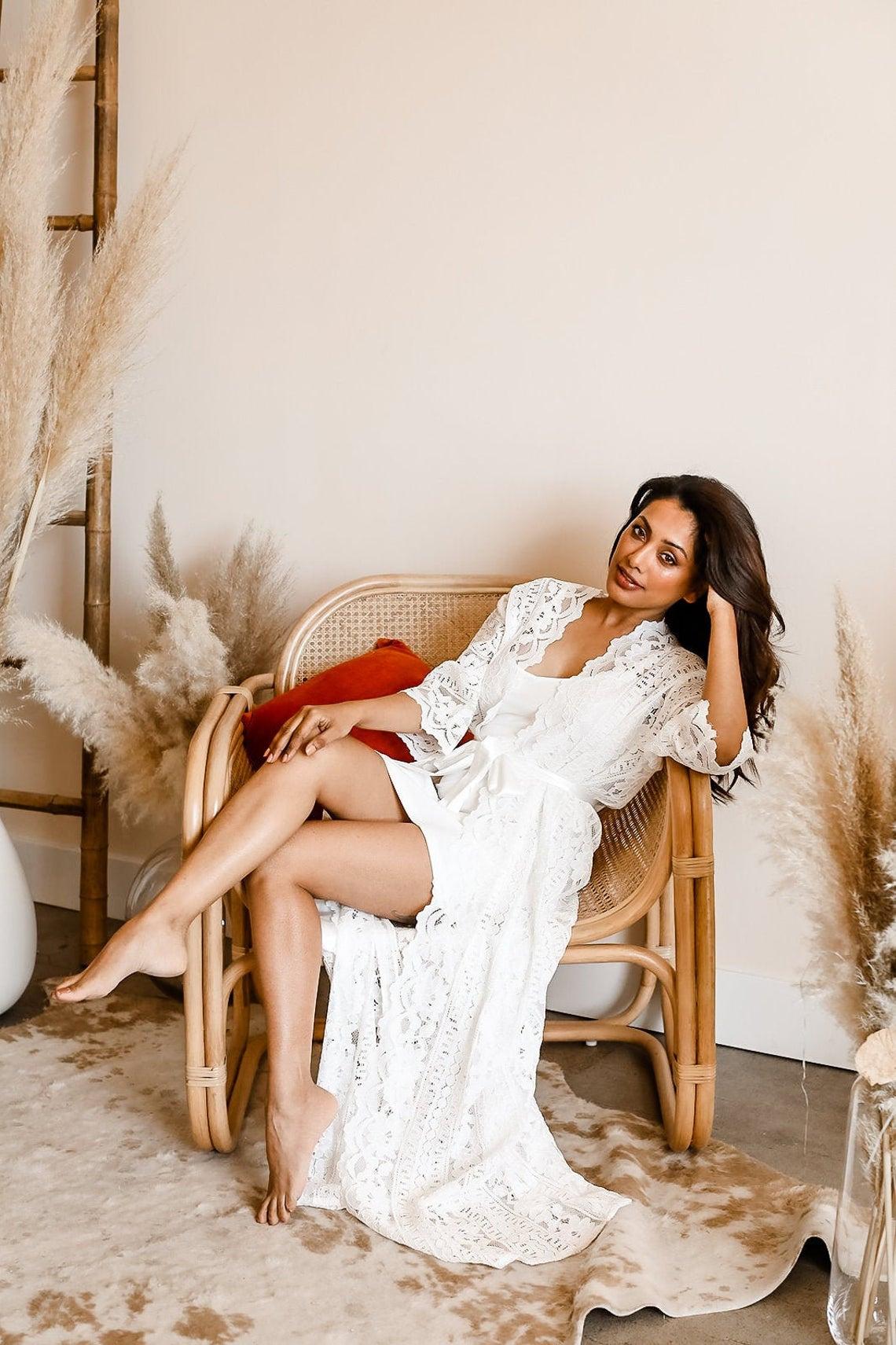 Floor-Length Lace
Planning a fairytale wedding? Or maybe you just want to feel like royalty on your morning-of? This long lace number is the bridal robe of our dreams.
Poppy Love Petal wedding bridal lace robe, from $94, Etsy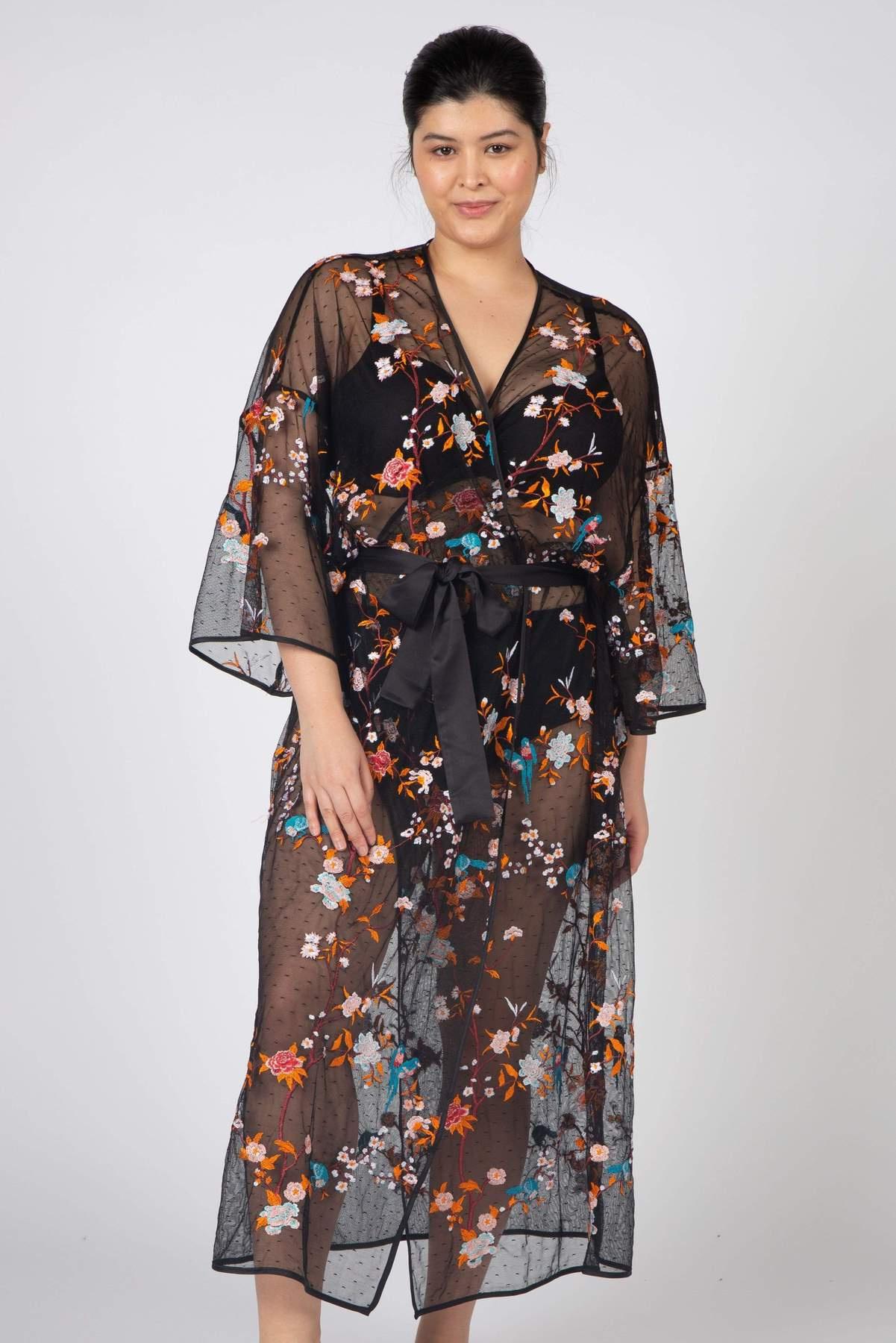 Artistic Appliqué
Bright floral embroidery isn't entirely traditional, but it's undeniably mesmerizing. We think this unique robe is 100% fit for a bride on her wedding day.
Rya Collection Bewitched Robe, $154, CoEdition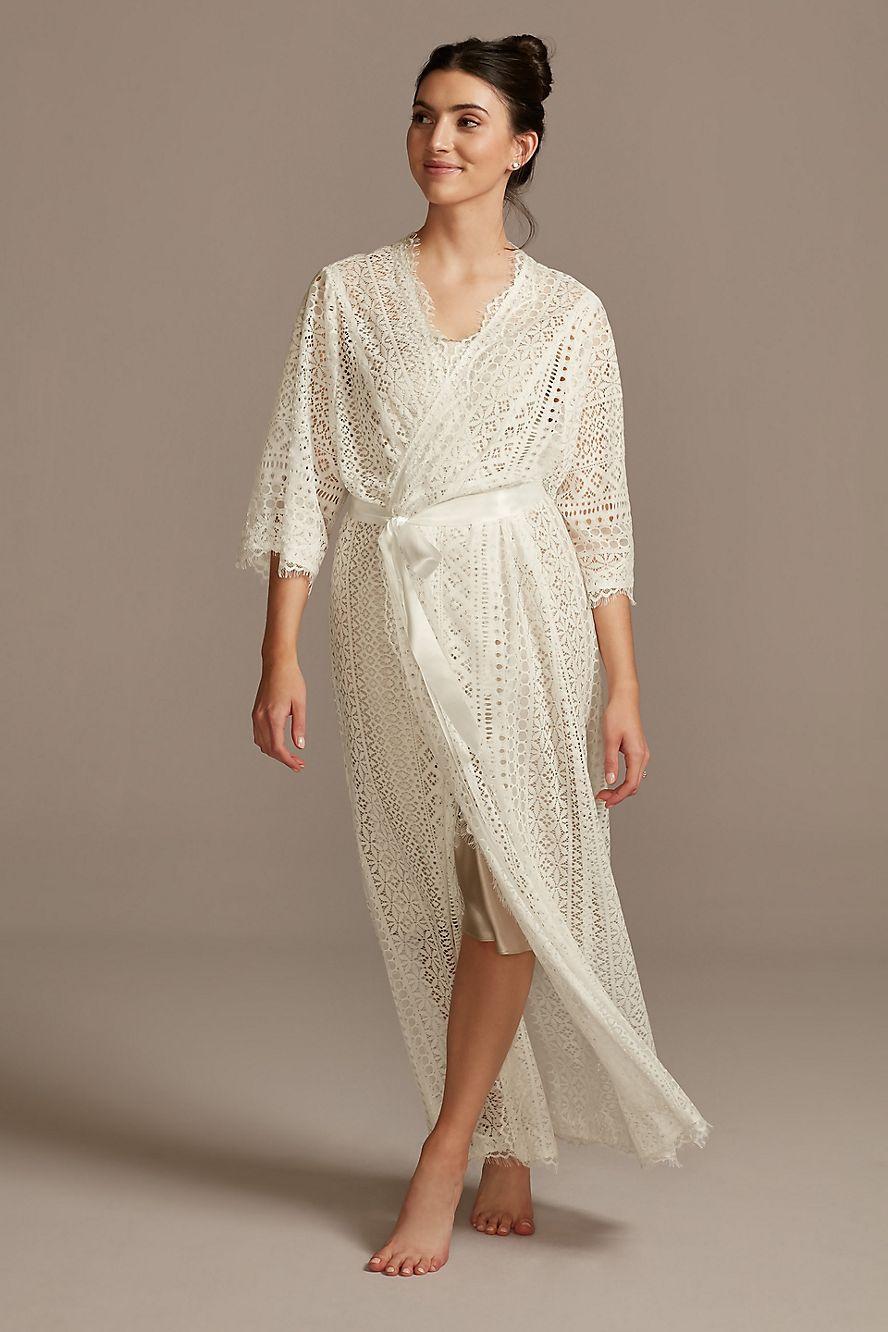 Elaborate Crochet
If you'd rather go with something a little more conventional, this long white bridal robe is a beautiful option. The elegant shade of ivory is beautifully traditional, while the crochet details make it a little more interesting.
David's Bridal crochet lace long robe with sash, $50, David's Bridal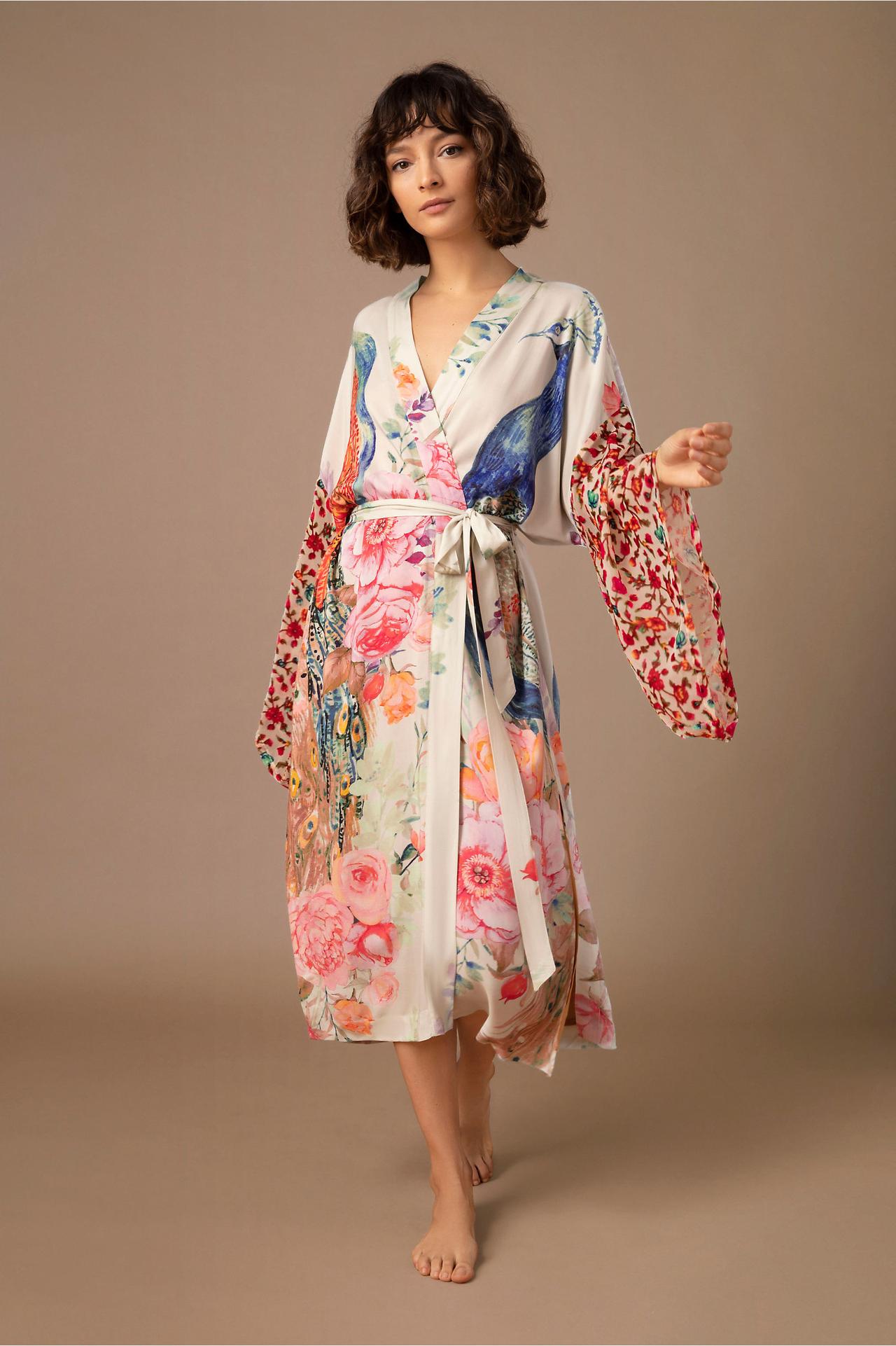 Prints and Patterns
Choose something that gives a nod to your venue. For example, this colorful kimono bridal robe is perfect for a garden or tropical destination wedding.
Aratta bird kimono, $188, Anthropologie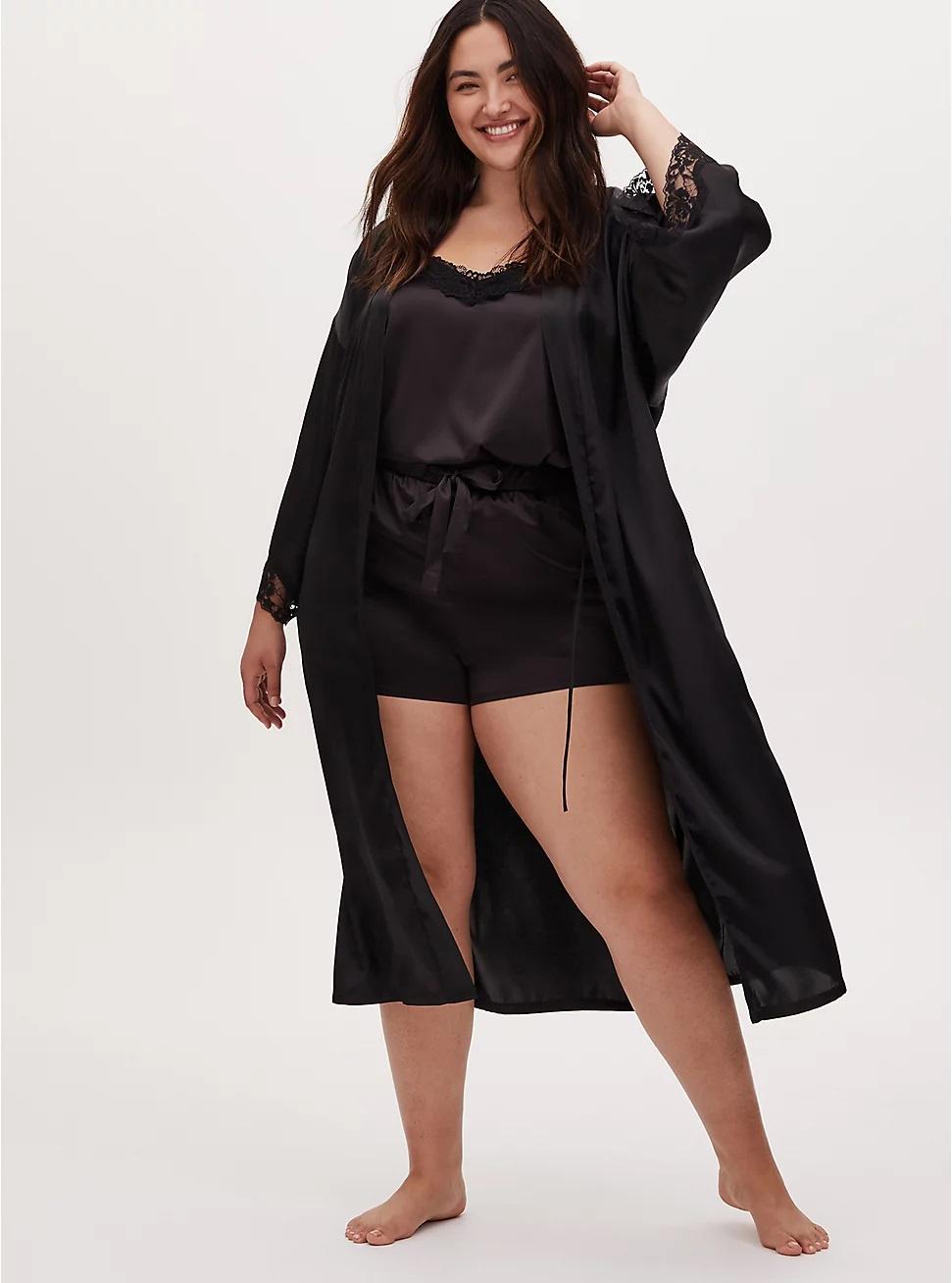 Sleek Satin
Like we said before, if darker colors are more your thing, go for it! This sophisticated black cover-up will look just as good in your getting-ready photos as something white.
Torrid black satin & lace trim self tie long robe, $60, Torrid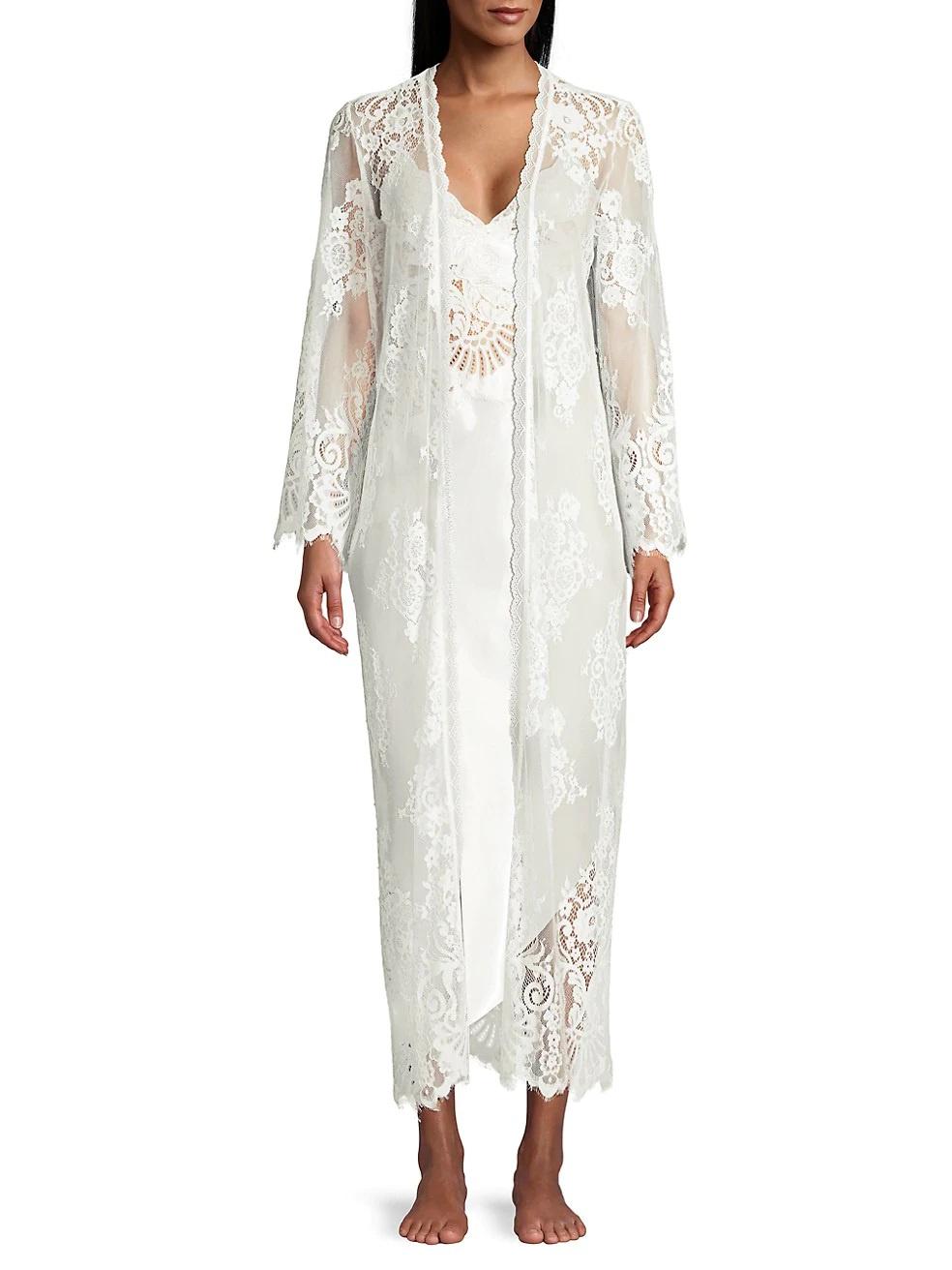 Fancy Florals
White lace and delicate florals make this light and airy robe deserving of any bride.
Jonquil floral lace robe, $132, Saks Fifth Avenue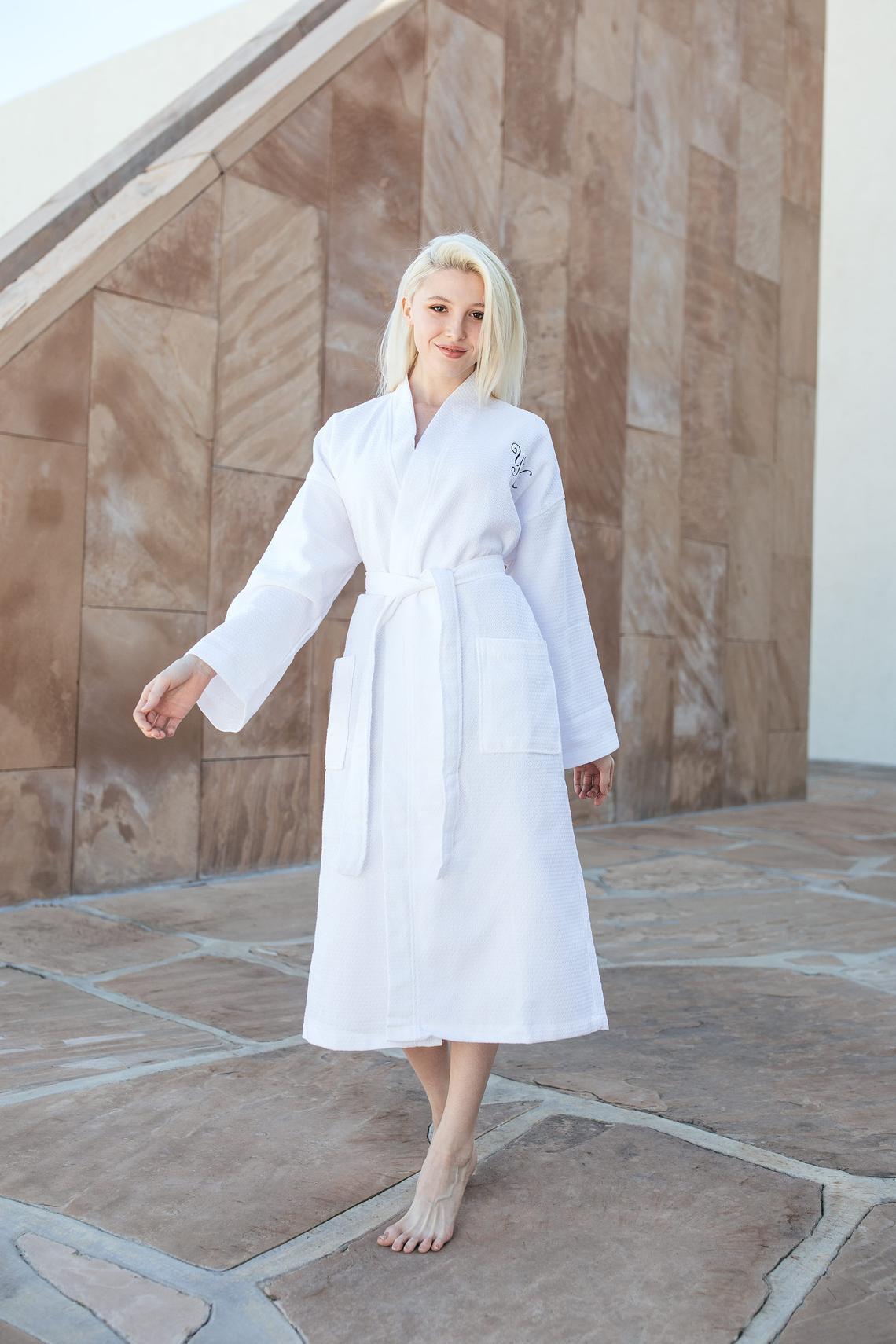 Cozy Cotton
Cotton bridal robes are a warm and cozy alternative to cool, satin cover-ups. This one can be customized with your name or monogram for an extra-special touch.
Embroidered Robes long cotton wedding robe, $30, Etsy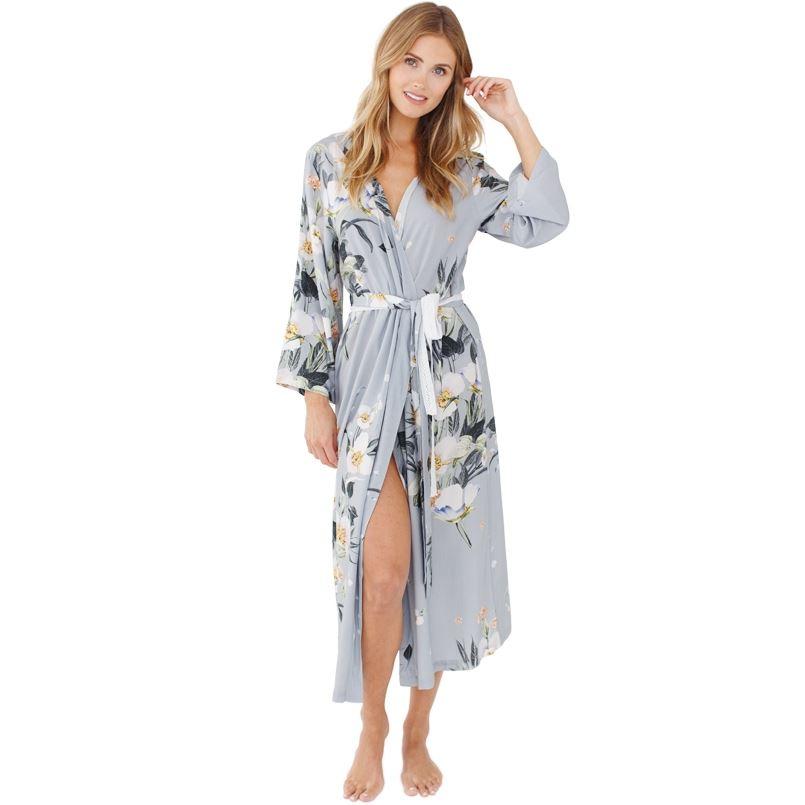 Something Blue
Floral bridal robes are always a popular choice. Make your getting-ready outfit your something blue for the big day with this pretty, patterned outfit.
Plum Pretty Sugar Lovestoned ankle length floral robe, $73, Plum Pretty Sugar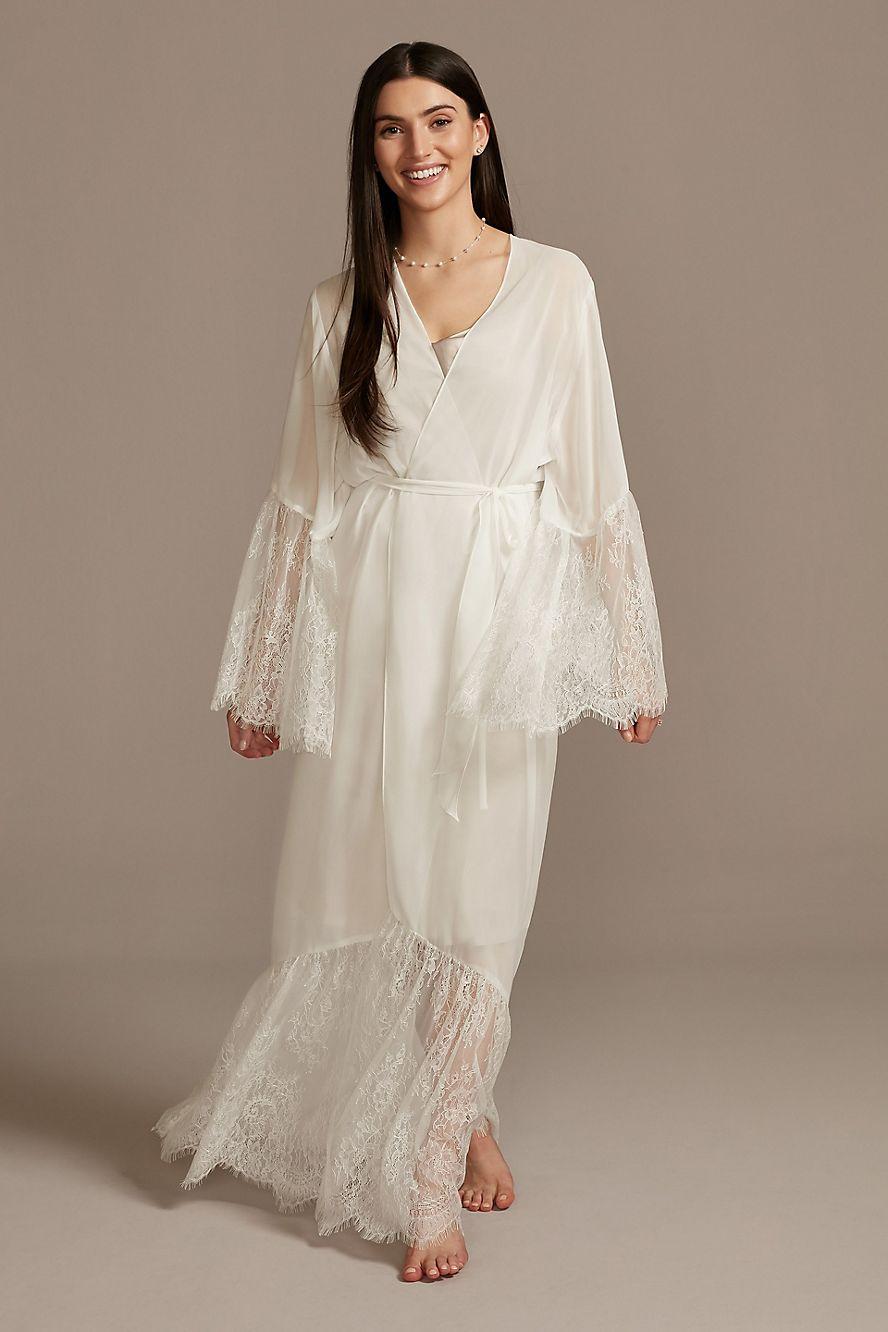 Ethereal and Elegant
This dreamy floor-length robe is every boho bride's dream, and the eyelash lace trim is simply stunning.
David's Bridal chiffon floor-length robe with eyelash lace trim, $50, David's Bridal