If you're in the process of building your wedding vendor team, we recommend taking the time to decide which businesses you'd like to support. Fortunately, in Boston, there are lots of creative wedding professionals who can turn your vision into reality. We're featuring seven of the top Black-owned wedding businesses in the Boston area, including a photographer, florist, DJ, cake baker, and more. These pros have received many glowing reviews from past clients, and several have won multiple Couples' Choice Awards. There are certainly many other Black-owned wedding businesses in the Boston area, be sure to check out WeddingWire's new Diversity filter to find more Black-owned wedding businesses, as well as those that are Asian-owned, Hispanic or Latinx-owned, LGBTQ+-owned, Native American-owned, Veteran-owned and Woman-owned, in your area.
Flavio Debarros started taking photos over a decade ago, and after completing a two-year photography program at the Boston University Center for Digital Arts, launched his own wedding photography business. Not only does Flavio's fine art photography win raves from couples, so does his relaxed and kind demeanor. When working with a couple on their wedding day, Flavio particularly relishes the portrait session, often after the ceremony. "I love spending that time with the couple," he says. "They're on cloud nine, and so in love, gazing at each other. It's my opportunity to get creative with them and document those first moments of them being officially married."
After beginning her career working at a nonprofit organization where she planned events for heads of state and other government officials, Myriam Michel turned her sights to weddings. "I became really good at working within a budget, time management, and logistics," she says. "The design element is the fun part of the process." She loves creating strong relationships with her couples and their families. "I really try to be an ally for my couples, an ear that will listen to them," she says. "I thrive on the 'big reveal'—when the couple sees the reception for the first time, and I can see the amazement and wonder in their eyes. All of their hard work has come to life and it's such a great culmination."
From DJs to bands, ceremony musicians to lighting, entertainers, photography, videography, and more, Entertainment Specialists is a full-service wedding company. Owner and DJ/emcee extraordinaire Mike Amado started his career as a college radio DJ, then began managing several local bands before creating Entertainment Specialists. Currently, Mike's company manages a diverse group of DJs, bands, and performers, from Irish step dancers to African drummers, Spanish-speaking DJs, and many more. Entertainment Specialists has won eight Couples' Choice Awards, as well as other local and national prizes.
Initially planning a law career, Carlene O'Garro opted to follow her passion and enrolled in culinary school. From there, she started her business, Delectable Desires, supplying cafes throughout Boston with freshly-baked breakfast pastries, while perfecting her cake flavors, fondant work, and styles. "My cake designs are edible art, very clean, detailed, tall, and delicious," she says. When working with a couple, her goal is to capture their vision and personality through her desserts. Her proudest moment has been designing her younger brother's wedding cake. "I cried with emotion while designing it," she recalls.
Ligia Centeno has loved makeup since she was a teenager and thirteen years ago took her passion to the next level. She worked for a bridal makeup company, then spread her wings and started her business. "I realized that the whole I time I worked at my prior company, I never once worked on a brown face," she says. "I saw this as an opportunity to work with women like me, that had been underserved in the wedding industry. In order to be more inclusive, I chose a diverse group of women in order to entice women of all ethnic backgrounds." Ligia's goal is to enhance a bride's natural beauty, and to make them feel comfortable and confident on their big day. "Part of getting made up is not only to look beautiful, but also to feel beautiful," she says. Not only has Ligia won numerous Couples' Choice Awards, she was also featured on the reality show Married at First Sight. "I take great pride in having experience working with brides of all skin tones, and being Afro-Latina, which helps me connect with many brides," she says. "Moreover, I love the idea of creating art in different canvases; it's fun! Not only that, no bride should ever feel left out in any service area when it comes to her special day."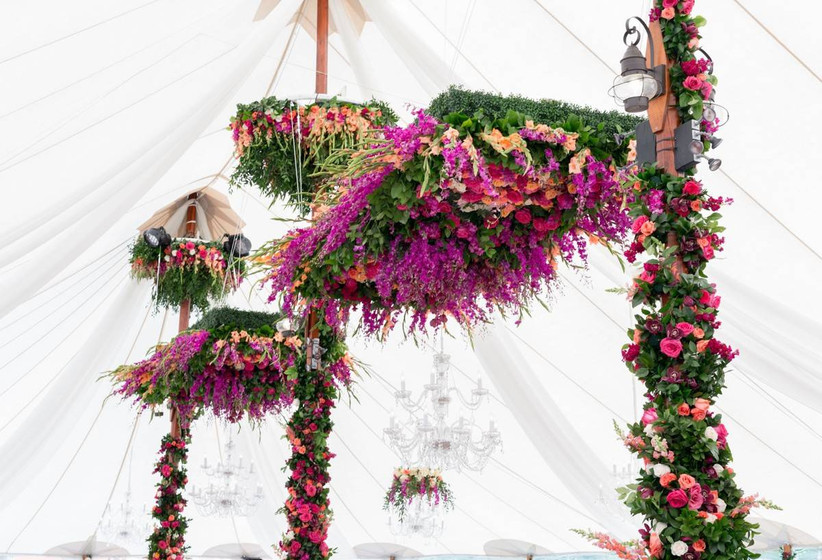 Based in Lynn, Erica Jones of O Luxe Design is known for her creative and unique floral arrangements. The Couples' Choice Award-winning florist also provides event decor, rentals, and linens to help complete the look. Says one former client: "Erica and her team are incredible! They were a pleasure to work with for our wedding and made all of my floral wedding dreams come true. I was quite particular about my vision for our florals, and was so appreciative of how attentive and patient Erica was with me."
For David Hill, film started out as a hobby, but soon became a career. His Boston-based Together Forever Films is a team of videographers that are known for their modern fine art wedding films. Couples rave not only about their amazing final product, but also how comfortable they felt while working with him. "David kept everyone laughing and relaxed while capturing great moments," says one former client. "He worked well with other vendors while collaborating with them for creative shots…and he made me feel like I wasn't on camera. With his beautiful, creative video I will be able to cherish these important moments forever."