When you think "bachelorette party," you probably think a sunny beach or famous American city. But browse through these five bachelorette party destinations in the Midwest, and you'll realize that a great time with your gals can be had all over our great nation—even smack-dab in the middle of it. In fact, some of America's most interesting, up-and-coming cities are located in this region, so whether you live there now, are getting married there, or just want to check it out with your besties, there's no time like your bach party to make your mark on the Midwest.
Check out some of our favorite bachelorette party destinations in the Midwest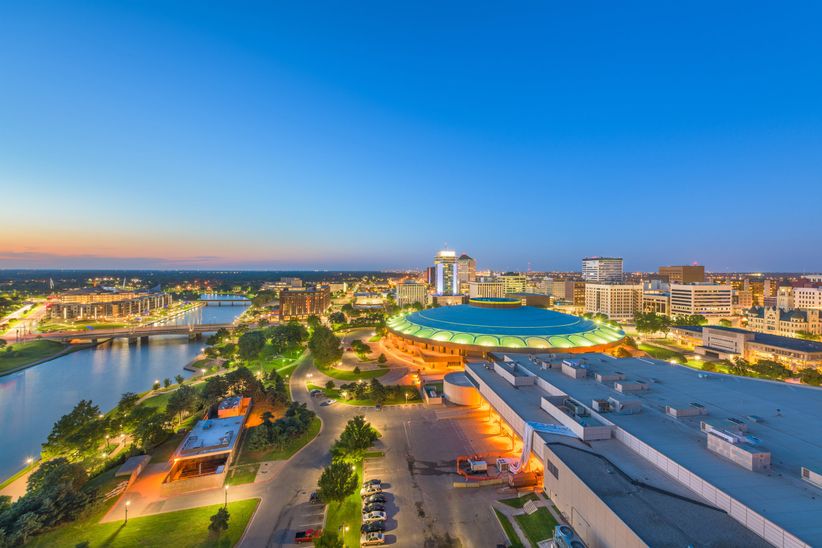 Wichita, Kansas
Thrillist recently named this unassuming pocket of culture in Kansas "one of the coolest cities in America" that "doesn't even realize it yet." With an inimitable mix of Old West vibes, Native American culture and modern amenities, Wichita is certainly one of the best bachelorette party destinations in the Midwest. Try a self-guided tour of the city's best breweries (Nortons is a fave—try their bourbon-barrel aged barleywine and thank me later), wear your comfy shoes to take on some of the city's collection of 30-plus museums (seriously!), and snap a selfie in the charming, lamp-lit Old Town district (where drink specials abound). For entertainment, head to Gallery Alley—a literal alley off a street-turned-art exhibit and music venue, where the party can get pretty rowdy—or grab expertly crafted cocktails at the chic Ambassador Hotel bar. You'll swear you took a wrong turn and ended up in Brooklyn.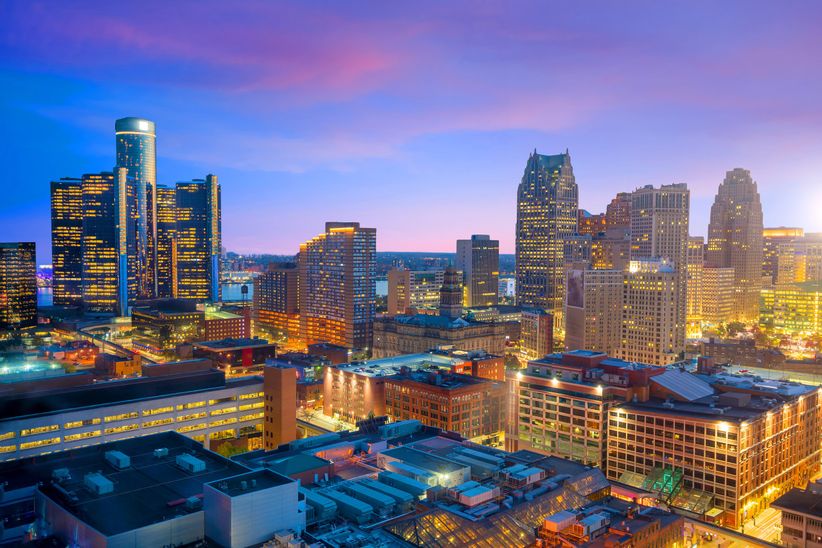 Detroit, Michigan
Unless you've been living outside Earth for the past decade, you might have heard that Detroit has enjoyed quite the renaissance recently. And it's on its way to returning to its hotspot-of-the-Midwest status—but still in that sweet spot where it's got all the trappings of a great urban getaway, but for less money than you and your group would spend in a city like New York or LA. Spend a day getting pampered in the opulent spa at the MGM Grand Casino Hotel (and maybe spend the night getting lucky at the blackjack table…), take a "pedal pub" tour of the city fueled by your feet and your favorite brew courtesy of Michigan Pedaler, and tour the iconic Fisher Building to get your fill of Detroit's iconic art deco style. When the sun goes down, there's plenty to do, but the smart choice is jazz: the epic Baker's Keyboard Lounge is the city's longest-running jazz spot, and will give you and your gals the taste of old Detroit you'll surely be craving after a few days in this historic town.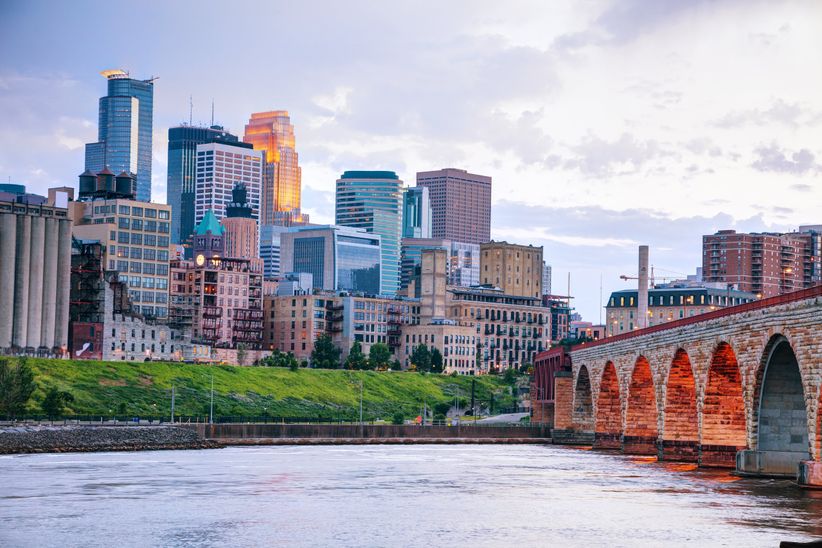 Minneapolis, Minnesota
A Midwest destination for art, food, culture and kindness (the expression "Minnesota Nice" is a thing, who knew?), Minneapolis is becoming more happening by the minute. Start at the Ivy Spa Club downtown, where you can work up a sweat at yoga or bootcamp classes, then relax in the hot tub and sauna lounges. Once your group is feeling beautified, hit the town in style with one of Minneapolis's many food and drink tour options—good luck getting everyone to decide between pizza tour and brewery tour! (Maybe just do both?) If shopping's on the agenda, you're just a stone's throw from the Mall of America—what bachelorette party wouldn't love that?—but you'll also find a collection of artisan shops and local goodies in the North Loop area. When it's time to go out, put the Icehouse on your itinerary—Minneapolis is a famous music city (it was the birthplace of Prince!), and this live-music venue with an amazing cocktail bar is a must-visit.
Lake Geneva, Wisconsin
For a departure from all of the bachelorette parties you've been seeing in your Instagram feed lately, gather up your most adventurous pals and head to this bucolic paradise located southwest of Milwaukee. Postcard-pretty year-round, it boasts everything from scenic swimming holes, kayaking and ziplining in warmer months to skiing, apple picking and vineyard tours when the weather cools. If not everyone in your bridal party is the adventurous type, don't fret: Lake Geneva is also an amenities-packed resort town, with world-class spas, shopping and dining—so you can all get in a heart-thumping hike at the Four Seasons Nature Preserve in the morning and still make your hot stone massage at Avani Spa by afternoon. Best of all, it's so scenic, if all you want to do is book a suite at a resort with your crew and lounge on lakefront beach chairs all weekend long (with Champagne!), that'll be more than encouraged. There might not be any bar-top dancing in this bachelorette party destination in the Midwest, but of off-the-beaten path is your style, Lake Geneva might be worth a look.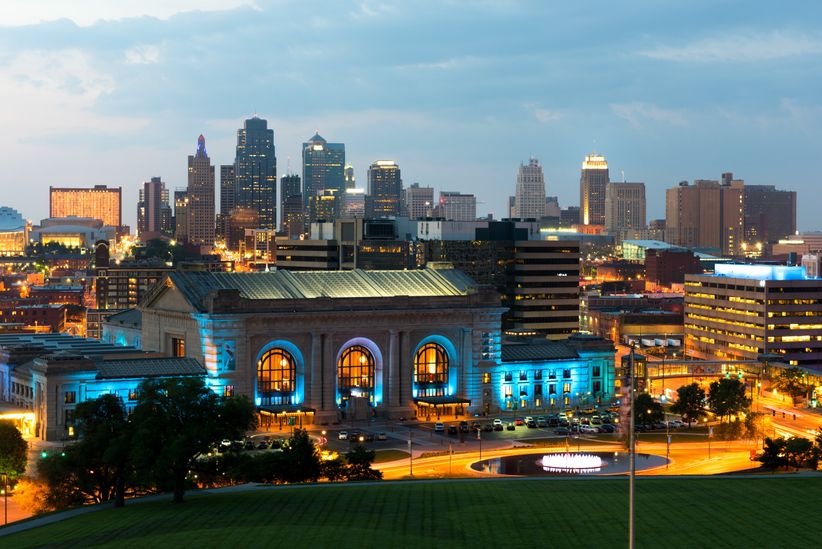 Kansas City, Missouri
This powerhouse little city in Missouri packs a punch as a bachelorette party destination in the Midwest for those looking to kick back and have fun. With a seemingly endless array of jazz and blues clubs, casinos, unbelievably good BBQ joints and artsy neighbs to explore, your girl gang will have no problem filling up an itinerary for a Kansas City bachelorette party. For a laid-back day, hit the Legends Outlets for a little shopping, get blowouts at the top-rated Spa on Penn, and stroll the unique gallery scene in the Crossroads Arts District. To amp things up and party harder, there's nowhere better than the Power and Light District, a one-of-a-kind dining, drinking and entertainment destination in Kansas City's downtown that boasts more than 50 restaurants, live music venues, events, clubs and amazing people watching potential. Post up in one of the complex's unique themed bars (Irish pub, anyone?) or spend the night bar-hopping—you'll be spoiled for choice! Just don't forget to eat plenty of BBQ—did I already mention that?