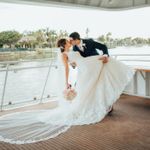 Laura
Planning our wedding the first time was a lot of fun, but having to change everything due to Covid… not so much. Message me if you want suggestions on... View More
Planning our wedding the first time was a lot of fun, but having to change everything due to Covid… not so much. Message me if you want suggestions on vendors in Naples, Florida!
Happily married 🎉
July 25, 2020

Save the Date vs Wedding Invite Timing
Amber
, on August 16, 2022 at 10:24 AM
Hiiii everyone! I am getting married 4/28/23 and feels like it is right around the corner. We will be taking engagement pics next month (maybe lol). But I am torn on if and when to send out Save the...